The new Icarus IoT board from Actinius, uses the Nordic nRF9160 SiP, a powerful yet low power system in a package designed for use with GPS and LTE-M & NB-IoT cellular data, also found in Ruuvi node which we covered a few months ago. The board's purpose is for mobility and ease of project tracking anywhere, and can be found in application scenarios such as fleet management and security, cargo tracking, or asset monitoring, and many more.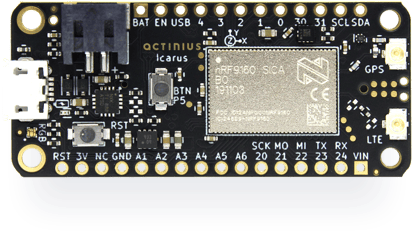 The board has power inputs for solar panel, USB or LiPo/Li-Ion Battery, which widens the boards mobile nature, and on-site, in-the-field capability. Since the form factor follows Adafruit Feather, the Icarus board benefits of additional component options for prototyping and DIY electronics projects.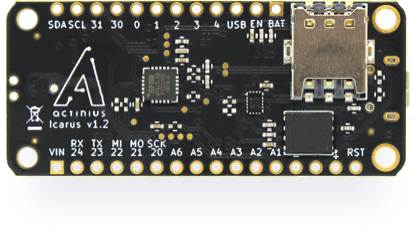 The nRF9160, by Nordic Semiconductor, is a SiP (System in a Package) that carries an extensive line of embedded software and hardware. As we had reported the nRF9160 SiP low-power IoT solution consists of a global multimode LTE-M/NB IoT modem, an Arm Cortex-M33 core with Arm Trustzone security, assisted GPS, and flash memory. The whole SiP is housed in a 16 x 10 x 1.2 mm case and soldered to the Adafruit Feather compatible Icarus IoT board.
The Icarus has 1 MB Flash, 256 KB RAM, and interfaces are as follows:
USB (via FTDI UART Bridge)
up to 18x General Purpose IO
up to 6x 12-bit, 200 ksps ADC with EasyDMA
up to 4x SPI master/slave with EasyDMA (can be mapped to any pin)
up to 4x I2C master/slave with EasyDMA (can be mapped to any pin; 1 preconfigured for onboard I2C peripherals and default I2C pin headers)
up to 4x UART (also with CTS/RTS) with EasyDMA (can be mapped to any pin; 1 preconfigured for onboard USB-UART Bridge)
I2S (Inter-IC Sound Interface) with EasyDMA digital microphone interface (PDM) with EasyDMA (can be mapped to any pin)
4x pulse width modulator (PWM) unit with EasyDMA (can be mapped to any pin)
Serial Wire Debug (SWD) on 6-pin TagConnect footprint on the top plus programming pads on the bottom side
Security
ARM Trustzone
ARM Cryptocell 310
SSL/TLS
Supported by the OTAU Platform of Actinius for always secure and up-to-date firmware
Power Functions
Can be powered from any combination of USB, Battery, or VIN (e.g. solar panel)
Input voltage – 4.35V – 10.2V
Max Input voltage (safety rating): 28V
Over-voltage & under-voltage protection
Low-noise, low power, switching power supply, with output up to 400mA
USB-friendly Li-Ion/LiPolymer charger with MPPT
Physical Attributes
Dimensions – 50.8 mm x 22.8 mm
Fully compatible form factor and pinouts with Adafruit's FeatherWing spec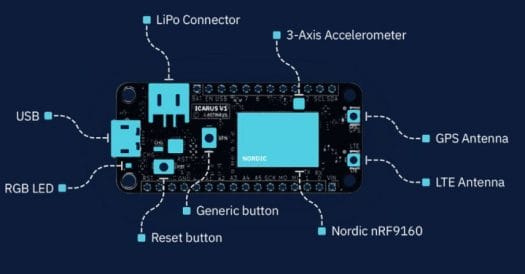 AFAICT, there's no information about software on the product page, but Adafruit reports the board runs Zephyr OS by default, and the company is planning for a version of the board with a Microchip SAMD processor to enable Arduino (and CircuitPython) programming.
The maker of Icarus is offering a 3 Month free e-sim with 10 MB of data in select countries. The price at this time is €99,50 (excl. VAT), and the board can be purchased online directly from the Actinus website.

Stephen started writing about technology after publishing sci-fi short stories. His first White-Paper, written in 2008, was well received and inspired him to continue writing about technology. Today he writes in the technology space full time, covering a multitude of topics. During the time he wrote part-time he edited hundreds of titles for large publishers, in science and technology. He lives in Staten Island, with his wife and children.