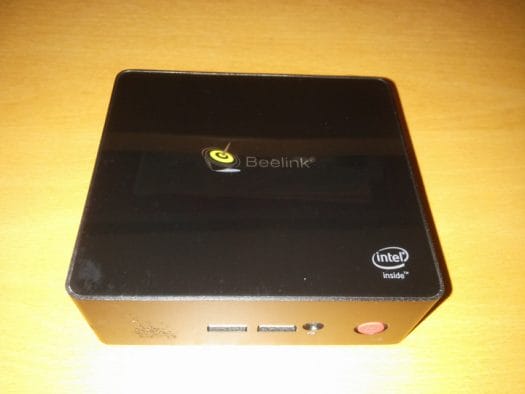 [Update December 14, 2019: We've now found out that Ubuntu 18.04 can work fine on Beelink J45, but the Realtek Ethernet driver needs to be manually installed]
Beelink has added a new mini PC to their 'Gemini' range (X45 and X55) namely the Beelink J45 (aka Beelink Gemini J45). What is rather unusual about the naming of this mini PC is that it uses the slightly older Intel Apollo Lake Pentium J4205 CPU which is a quad-core 4-thread 1.50 GHz processor boosting to 2.60 GHz with Intel's HD Graphics 505.
The J45 is another 'NUC' style mini PC and physically consists of a 115 x 102 x 43 mm (4.53 x 4.02 x 1.69 inches) box case with a front panel that includes the power button, a headphone jack and a couple of USB 3.0 ports and then on the rear, two more USB 3.0 ports, two HDMI (1.4)ports up to 4K @ 30 Hz, and a gigabit Ethernet port. On one side is a micro SD card slot. The full specifications include: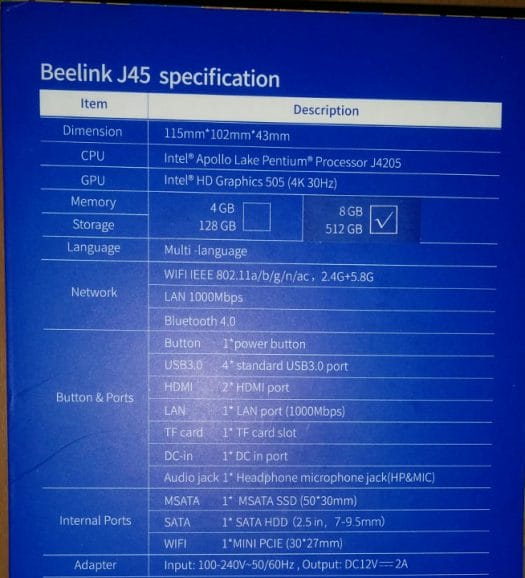 The J45 comes with either a 128GB or 512GB (as tested in this review) mSATA with pre-installed Windows 10 Pro (version 1803 OS build 17134.407) together with either 4GB or 8GB (as tested in this review) soldered LPDDR4 RAM. The J45 also supports the addition of an optional 2.5" SSD: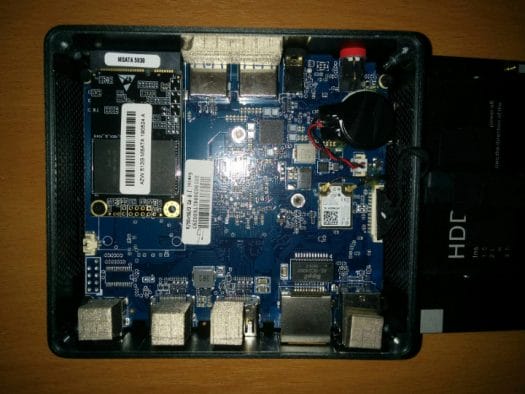 In the box you get a couple of HDMI cables, a mounting bracket for attaching the device to behind a monitor together with a power brick and cable and a manual: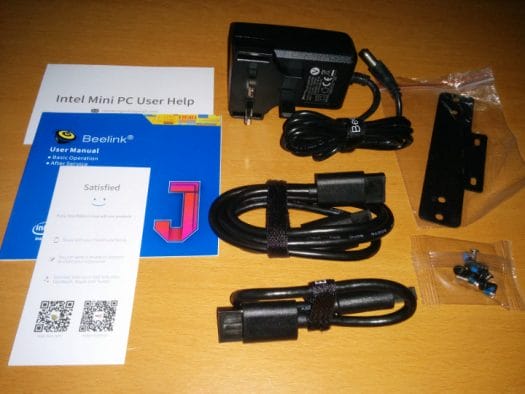 Starting with a quick look at the hardware information shows it is aligned to the specification:
After fully updating Windows to version 1903 OS build 18362.267 (which took time) I ran my standard set of benchmarking tools to look at performance under Windows:
The results need interpreting carefully otherwise they could be misleading when compared to other Intel mini PCs. This is because mini PC benchmark results are heavily influenced by the quantity and type of memory and storage installed: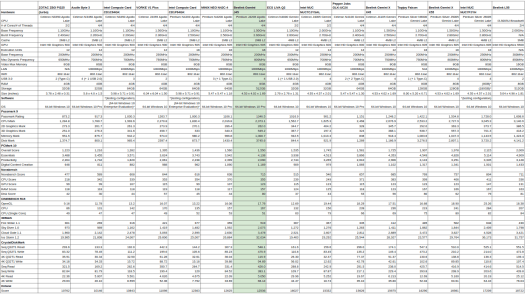 Broadly speaking however the J45 benchmarking performance appears comparable with the low end of the latest Gemini Lake processors with the exception of the JavaScript engine's performance (Octane 2).
Additionally, I also tested with Geekbench 4 and got a single-core score of 1547, a multi-core score of 4565 and an OpenGL score of 10228: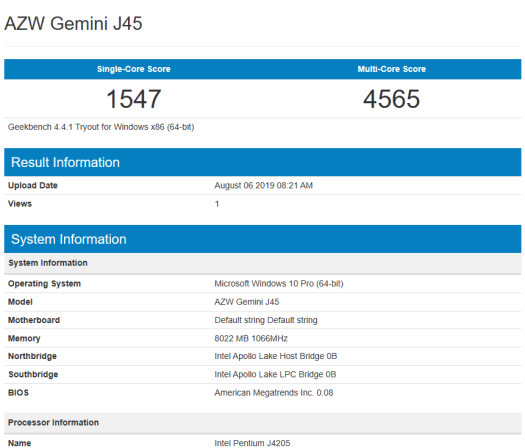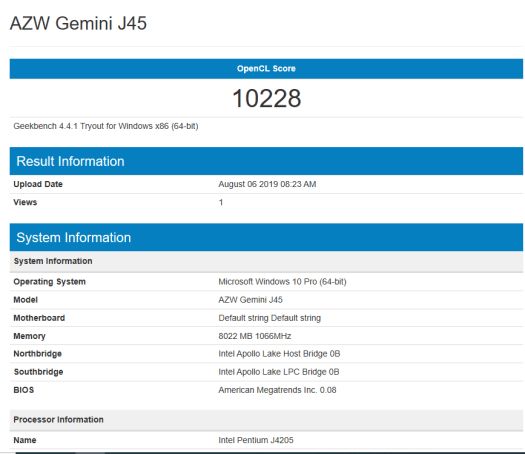 Whilst the Windows benchmarks indicate comparably good mini PC performance, I next looked at real-world usage and the performance of the GPU by playing videos under Windows using both Edge and Chrome browsers.
In Windows both 4K @ 30fps and 4K @ 60fps videos played fine in Edge and Chrome: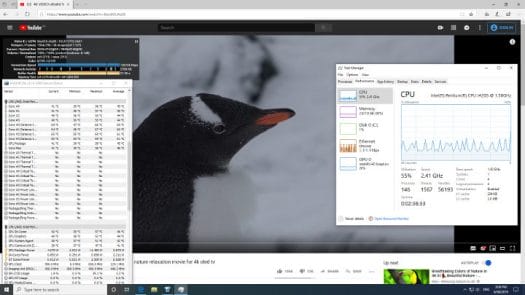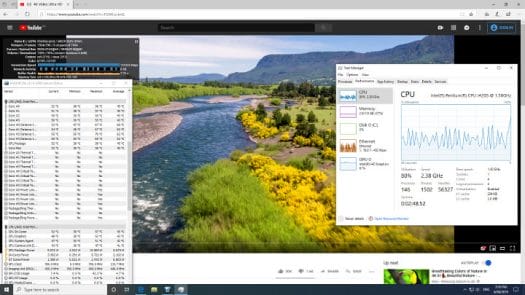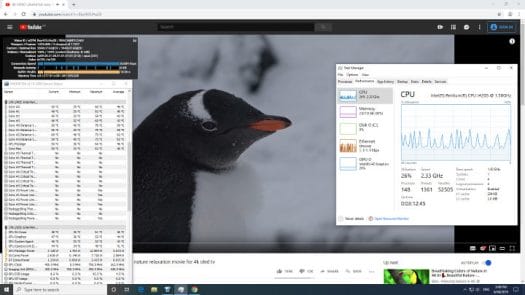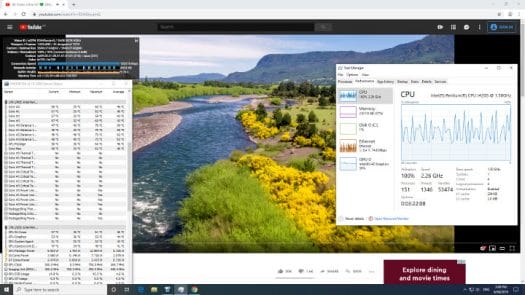 Videos played using Kodi on Windows with both VP9, H.264, and H.265/HEVC codec encoded video, used hardware for decoding and played fine: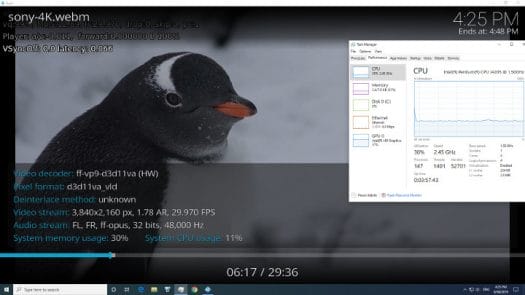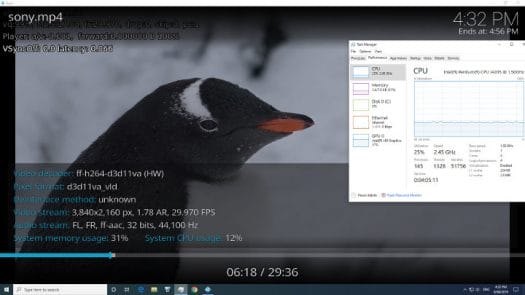 I measured 33db right next to the device when the fan was at its lowest and up to 42db at its loudest when it became audible under load.
I also briefly looked at gaming performance. Playing CS:GO on Windows with the default settings resulted in a frame rate average of a rather low 11 fps:
Changing the video settings to low and dropping the resolution to 720p and the frame rate average nearly doubled to 23 fps: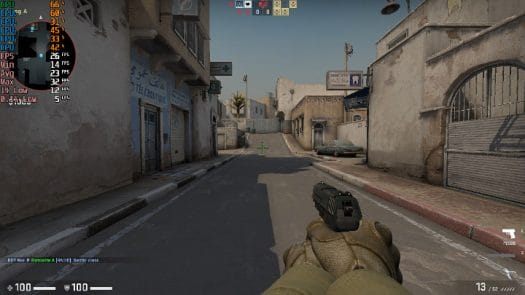 I also installed and ran the UNIGINE Heaven benchmark under Windows with it scoring 119 at 4.7 fps: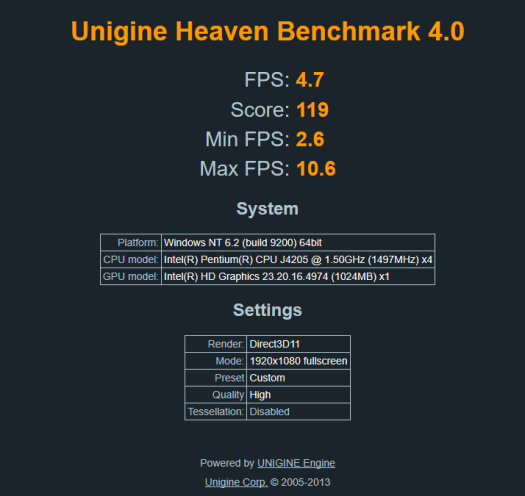 Therefore the J45 offers limited gaming performance.
The BIOS is fully unlocked and a brief overview is available in the following video:
Finally, I shrunk the Windows partition and created a new 100GB partition so I could install and dual boot Ubuntu using an Ubuntu 18.04.3 ISO: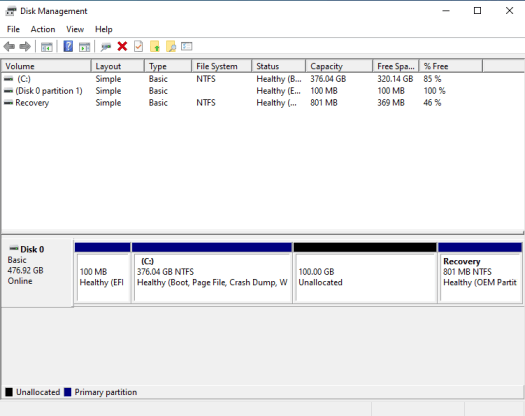 However, after installation, I found that the system was unstable and unsuitable for Ubuntu as I encountered problems when running anything that loaded the system. For example, just performing a simple 'sudo apt upgrade' would not execute successfully. When connected via wired-ethernet the command would cause the ethernet to drop after which only a reboot would restore the connection. If the command was run when only connected via wireless then the device would simply power off in the middle of running the command. These failures were repeatable when using just a live USB drive to boot from. I also tried other Ubuntu releases and Debian 10 and running Ubuntu directly from an installed SSD rather than the included mSATA drive however the connection and stability problems still existed. I reached out to Beelink however I didn't get a definitive answer on whether the device should work properly with Ubuntu or whether I had a faulty unit. Since someone else has also experienced similar issues as noted in the Beelink forums I can only conclude that the J45 in its current configuration is unsuitable for Ubuntu.
Overall the device performs quite well in Windows and is worthy of consideration as a Windows mini PC considering the included Windows 10 Pro license and the larger and faster storage configurations through using an mSATA rather than eMMC and also given the performance is comparable with the low end but seemingly non-existent latest Gemini Lake processors. It should probably be avoided if Ubuntu is required.
I'd like to thank Beelink for providing the J45 for review. It currently retails at around $299 for the tested configuration on sites such as Amazon, Gearbest, or Aliexpress.

Ian is interested in mini PCs and helps with reviews of mini PCs running Windows, Ubuntu and other Linux operating systems. You can follow him on Facebook or Twitter.