ARM TechCon is Arm's premier industry event, where developers, analysts, and media gather from all around to hear the latest from the semiconductor giant. ARM TechCon 2019 has marked the 15th annual event hosted in San Jose.
Arm TechCon 2019 showcased some of the industry's best products and solutions in the market. Embedded Computing Design hosted a Best in Show Awards showing some of the most innovative solutions from the even. One of the notable award recipients is the Ellisys Bluetooth Vanguard Protocol Analysis System.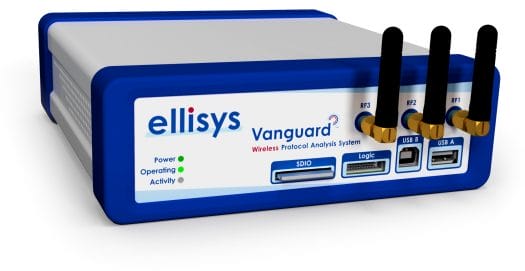 Ellisys Bluetooth Vanguard Advanced All-in-One Bluetooth Analysis System is being regarded as the most advanced and comprehensive Bluetooth Protocol analyzer ever made mostly because it delivers new advances designed to ease the increasingly complex tasks of Bluetooth developers and many more.
Building Bluetooth based applications can be a daunting challenge, especially when working with the wrong tools/equipment. Aside from Bluetooth wireless traffic debugging, other information can help understand the full situation, which is something that the Ellisys device excels in. The Ellisys Bluetooth Vanguard can capture HCI traffic, WPAN traffic, GPIOs, Wi-Fi traffics, or even raw spectrum information concurrently with the Bluetooth traffic. The Protocol analyzer is based around a fully integrated hardware design choice as compared to a modular design approach.
The Vanguard supports one-click concurrent and tightly synchronized capture of:
Bluetooth Classic (2x, BR / EDR2 / EDR3, all 79 channels concurrently)
Bluetooth Low Energy (2x, 125k / 500k / 1M / 2M, all 40 channels concurrently)
Wi-Fi IEEE 802.11a/b/g/n/ac (3×3, 20 / 40 / 80 MHz) [ENT]
WPAN IEEE 802.15.4 (all 16 2.4GHz channels concurrently) [ENT]
2.4 GHz Spectrum Energy [PRO]
USB HCI (1 port), UART HCI (2 ports) and SPI HCI (2 ports) [PRO]
Generic UART, SPI, I2C and SWD [PRO]
Logic signals [PRO]
Audio I2S [PRO]
Wireless Coexistence Interface 2 (WCI-2) [PRO]
The Ellisys Bluetooth Vanguard features a reconfigurable radio concept. Reconfigurability means that the analyzer can be updated by software to support new features or even disable existing features without changing anything on the hardware level like the addition of features such as enhanced AES security, Connectionless Broadcast, 2Mbps BLE speed enhancement, and many more.

Ellisys is also introducing the Bluetooth Capture Diversity, a disruptive co-operational replication of a whole-band capture engine. Here both device's antennas can be angularly displaced on the analyzer unit and placed at optimal locations by the user to help in improving the spatial volume of the reception for testing packet error rate. This approach is expected to help improve the capture process and results in reductions of received packet error rates.
The Ellisys Vanguard is not just your typical Bluetooth analyzer; it is a mile ahead of typical Bluetooth analyzer, especially with its ability to capture all 16 WPAN channels used in the 2.4GHz band, including associated RF characteristics, all in precise synchronization with all other traffic streams captured by the analyzer. With the Vanguard, you can capture traffic from the likes of Thread, Zigbee, 6LoWPAN, RF4CE, basically everything in the IEEE 802.15.4 standard.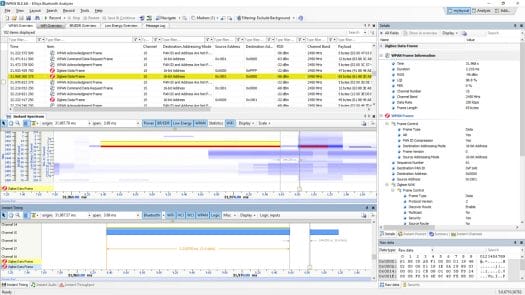 The device also provides support for Bluetooth Mesh network topologies, Integrated Audio Analysis, Precision Timing, Free lifetime software updates, and many more.
The new advanced features provided by Ellisys provide our teams with tools that substantially increase visibility into the workings of Bluetooth technology," said Miles Louis Smith, Senior R&D Engineer, Test Group, Nordic Semiconductor. "We use the sniffer to diagnose complex timing issues that other sniffers might not be able to capture. Due to the unique radio architecture of the Ellisys sniffer, we can capture all packets regardless of the timing. The reconfigurable hardware is very flexible, and the Ellisys team provides great support to help us get products to market sooner.
The Ellisys Bluetooth Vanguard is available in different configuration packages, but no information is available about the pricing unless contacted privately. More information about the product is available on the product page.

I enjoy writing about the latest news in the areas of embedded systems with a special focus on AI on edge, fog computing, and IoT. When not writing, I am working on some cool embedded projects or data science projects. Got a tip, freebies, launch, idea, gig, bear, hackathon (I love those), or leak? Contact me.