Despite wear-leveling techniques, eMMC flash memories tend to wear out over time as they have limited write cycles. So we've seen in the past the importance of wear estimation in eMMC flash chips, and methods to limit write operation such as disabling logging when possible or write the log to RAM with log2ram in order to extend the life of flash-based storage devices.
My Xiaomi A1 smartphone basically became unusable after a little over a year due to eMMC flash issues, but that was not that big of an issue since I could just get another phone and the most important data is saved in the cloud nowadays.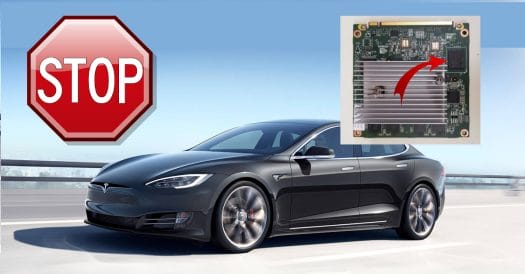 That's one thing when it happens to a phone, and another when it happens to your car, as some Tesla S & X owners realized when they lost access to the control screen in the car because the eMMC flash was worn out.
You'd think this should not stop people from driving, but since most features are controlled by the touch screen, one driver had the experience while driving in the rain and his car fogged out, and obviously, the navigation system does not work either leading another person to pay $175 to reflash the firmware. They had not figured out the eMMC flash was dying at the time, so the fix only worked for a couple of months.
So what happened exactly? InsideEVs reports this affects vehicles based on Tegra 3 based MCU (Media Control Unit) v1 that runs Linux, and stores the logs in /var directory since Tesla engineers did not disable those logs nor redirected them to the RAM. It worked well during the first few years, but apparently, firmware got larger from 300 MB to 1GB over the years leaving less space for the logs. That's a problem because wear-leveling is less effective if there's less space as the same sectors keep being written too.
A company called Gruber Motors offers to repair those boards by replacing the 8GB eMMC flash with a larger 16GB flash in order to give it more space to perform wear-leveling operations. The alternative is to purchase a new $1,800 MCU, not including installation fees.
As you may be aware, Tesla switched to Intel for their MCUv2 board, and they selected a 32GB eMMC flash so it should help. despite the new board adding extra features such as YouTube and 3D gaming. But Jason Hughes, from 057 Technology, explains excessive (and unnecessary) logging still happens in the software of the new cars, and to avoid further issues he currently moves the logging to RAM in his cars. However, this penalizes performance a little since RAM is limited.

Hopefully, Tesla will soon release a fix so that the eMMC flash in their MCU boards last longer.
Via Hackaday. Thanks to Zoobab for the tip.

Jean-Luc started CNX Software in 2010 as a part-time endeavor, before quitting his job as a software engineering manager, and starting to write daily news, and reviews full time later in 2011.