Yesterday, we wrote about the new Bluetooth LE Audio standard which promises smaller Bluetooth audio devices, or longer battery life, as well as support for multi-stream and broadcast audio.
But there has been some other Bluetooth developments with the release of Bluetooth 5.2 specification on December 31st, and the announcement of the first Bluetooth 5.2 SoC courtesy of Silicon Labs.
Bluetooth 5.2 Main Changes
Bluetooth 5.2 builds upon Bluetooth 5.1 with the following key changes:
Enhanced Attribute Protocol (EATT) – Improved version of the Attribute Protocol (ATT), which supports concurrent transactions, allows the interleaving of L2CAP packets relating to ATT packets from different applications and allows the ATT Maximum Transmission Unit (MTU) to be changed during a connection. This can reduce latency and improves the responsiveness of Bluetooth LE applications.
LE Power Control – Devices can dynamically optimize the transmission power used in communication between connected devices with BLE receivers now able to monitor signal strength and request transmission power-level changes in connected devices Benefits of the LE Power Control feature include:

Reduction of overall power consumption
Improvements in reliability through the active maintenance of receiver signal strength
Improvements relating to coexistence with other 2.4 GHz wireless devices (Also applies to WiFi and other 2.4 GHz protocols)

LE Isochronous Channels – This feature is primarily designed to support LE Audio, specifications multi-stream and broadcast, and allows the communication of time-bound data to one or more devices for time-synchronized processing. The Bluetooth SIG expects that multi-language audio systems will become possible thanks to LE Isochronous Channels.
Silicon Labs BG22 Secure Bluetooth 5.2 SoC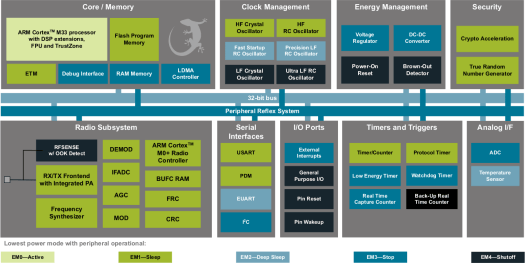 Silicon Labs BG22 (EFR32BG22) key features & specifications:
MCU – Arm Cortex-M33 @ 76.8 MHz with DSP and FPU
System Memory – Up to 32 kB RAM data memory
Storage – Up to 512 kB flash program memory
Wireless

2.4 GHz radio operation
Protocol Support

Bluetooth 5.2 Low Energy
Optional direction finding using Angle-of-Arrival (AoA) and Angle-of-Departure (AoD)
Bluetooth Mesh
2.4 GHz Proprietary

Radio Performance

Sensitivity

-98.9 dBm @ 1 Mbit/s GFSK
-96.2 dBm @ 2 Mbit/s GFSK
-106.7 dBm @ 125 kbps GFSK

TX power up to 6 dBm•
Current – 2.6 mA Rx; 3.5 mA Tx @ 0 dBm; 7.8 mA Tx @ 6 dBm

Peripherals

12-bit 1 Msps SAR ADC
Up to 26x GPIO pins with output state retention and asynchronous interrupts
8-channel DMA Controller
12-channel Peripheral Reflex System (PRS)
4x 16-bit Timer/Counter with 3 Compare/Capture/PWM channels
1x 32-bit Timer/Counter with 3 Compare/Capture/PWM channels
32-bit Real Time Counter
24-bit Low Energy Timer for waveform generation
1x Watchdog Timer
2x USART (UART/SPI/SmartCard (ISO 7816)/IrDA/I2S)
1x Enhanced UART (EUART)
2x I2C interface with SMBus support
Digital microphone interface (PDM)
Precision Low-Frequency RC Oscillator enabling single-crystal operation
RFSENSE with selective OOK mode
Die temperature sensor with +/-2 degree C accuracy

Security

Secure Boot with Root of Trust and Secure Loader (RTSL)
Hardware Cryptographic Acceleration for AES128/256,SHA-1, SHA-2 (up to 256-bit), ECC (up to 256-bit), ECDSA, and ECDH
True Random Number Generator (TRNG) compliant with NIST SP800-90 and AIS-31
ARM TrustZone
Secure Debug with lock/unlock

Supply Voltage – 1.71 V to 3.8 V single power supply
Power Consumption

3.6 mA Rx current (1 Mbps GFSK)
4.1 mA Tx current @ 0 dBm
8.2 mA Tx current @ 6 dBm
27 μA/MHz in Active Mode (EM0) at 76.8 MHz
26 μA/MHz in Active Mode (EM0) at 38.4 MHz
1.40 μA EM2 DeepSleep current (32 kB RAM retention and RTC running from LFXO)
1.75 μA EM2 DeepSleep current (32 kB RAM retention and RTC running from Precision LFRCO)
1.05 μA EM3 DeepSleep current (8 kB RAM retention and RTC running from ULFRCO)

Temperature Range – -40 °C to 125 °C
Packages

QFN40 – 5 x 5 x 0.85 mm
QFN32 – 4 x 4 x 0.85 mm
TQFN32 – 4 x 4 x 0.30 mm
Developers will be able to get started using EFR32BG22 SoC starter kit and Thunderboard EFR32BG22 evaluation kit, plus Simplicity Studio which includes network analyzer and energy profiler tools, Bluetooth stacks, demos, and mobile apps.
Target applications include Bluetooth mesh low-power nodes, smart door locks, personal healthcare and fitness devices, as well as asset tracking tags, beacons and indoor navigation systems that would benefit from the direction finding capabilities from some of the SoC from BG22 family.
Silicon Labs BG22 SoCs will be available in March with price starting at 52 cents US in high volumes. are planned to be available in March, The development kit will also launch in March with price starting at $19.99 US (MSRP). More details can be found on the product page.

Jean-Luc started CNX Software in 2010 as a part-time endeavor, before quitting his job as a software engineering manager, and starting to write daily news, and reviews full time later in 2011.