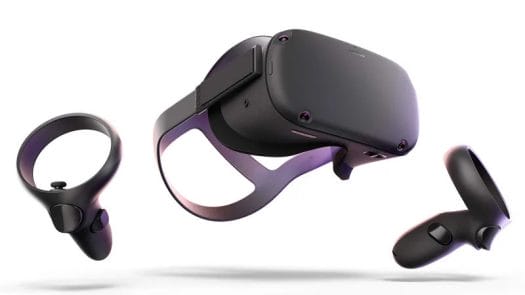 Hey, Karl here. I wanted to share some experimenting I did with the Oculus Quest we purchased as a family gift for Christmas. One of the features I was looking forward to was wirelessly streaming VR games from my PC.  It is not officially supported by Oculus but Virtual Desktop allows you to do this. Virtual Desktop is an app that can be purchased through the Oculus store.
Unfortunately, there are a couple of steps that need to be taken to stream VR to the headset. Oculus forced VD to remove the emulated VR feature in its official store version. Once it is purchased you can then sideload the emulated VR version through Side Quest. Side Quest is a simple tool that makes sideloading apps easy and has a bunch of demo and games that aren't in the Oculus store. The instructions are easy to follow on the Side Quest website. I wanted to share a quick tip on how I was able to get a near-perfect experience.
Little background
All devices connecting to access points/routers have to share timeslots. Each access point/router has a radio(s) in them. Up to 3 in the most high-end devices. As you add devices the more sharing has to be done. Virtual Desktop recommends an 802.11ac access point/router. That is to try to give a blanket statement that should work in most situations. The problem is this is considered a real-time application and latency is the enemy.  What works well now can be interrupted by Suzy watching 4K Netflix. I wanted to have the best experience possible regardless of what other members of my family are doing at any given time. So what I did was to pair my Quest with an old router (with DHCP turned off) and didn't connect any other devices to it.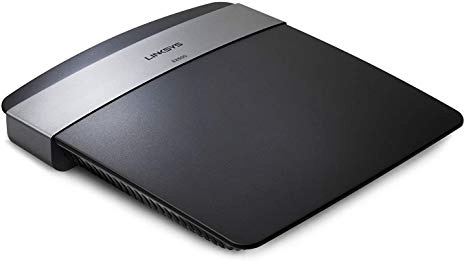 It worked flawlessly.
My setup and a little history
I know not everyone can do this but wanted to share. I installed infrastructure cable for a living many moons ago. When I bought my house I wired every room with Cat6 and coax. I have 3 small switches. One at the cable modem and router. One in my office/workshop, and one in my living room. All just random Gigabit switches. We have been streaming since we got our Nvidia Shield in 2015 initially via remote servers then from my local pc. Before I had a gaming PC we used Nvidia's GeForce Now. It worked very well for us but we grew out of it wanting to play newer AAA titles. In 2017 we got a PC to game with and have been using Nvidias in-home game-streaming feature since.
Both GeForce Now and in-home game-streaming has worked out well for us. I get to keep the machine in my office and living room pretty clear of technology. One thing I would point out….we may have just adapted to the latency. We still have a good time…..we don't do much competitive gaming except Fortnite….but that is still just for fun.
My PC hosting the VR games is wired to an Ethernet switch and the dedicated access point is wired in the living room. I know this is not always feasible for everyone but if you can you should. As you can see below we have quite a few devices.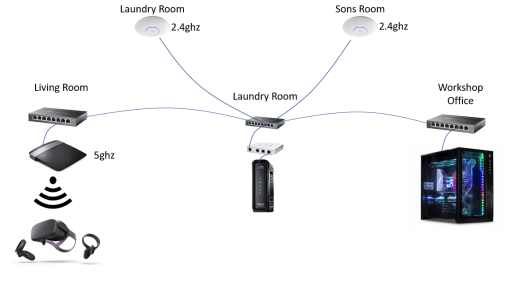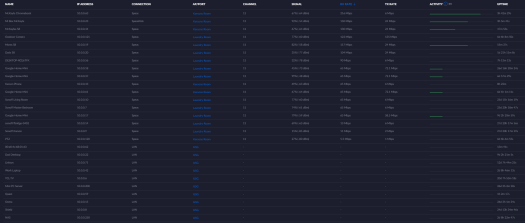 Ryzen 3700x with Nvidia RTX 2060. And the most important part is being connected via Ethernet.
Not only VR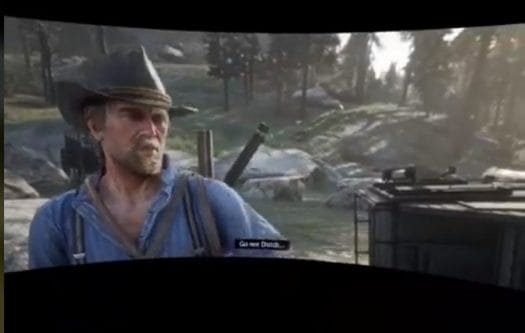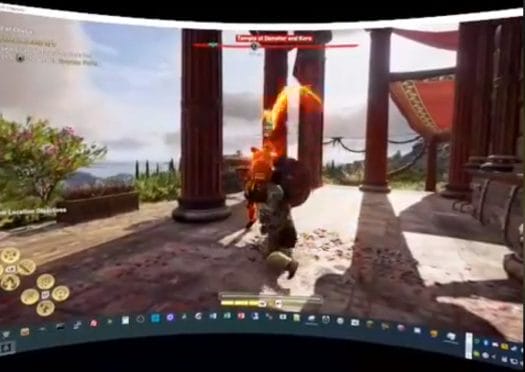 Another neat thing we have been doing is Game streaming and VR streaming at the same time….huh…what you talkin bout Willis. What I mean by that is Gamestream to the Nvidia Shield and use its controller as an input then start Virtual Desktop on the Oculus and stream the screen to the headset. It is a unique experience. Nothing is saying that this can't be done at your pc but it's sick that this even works. Playing on a screen that you have to turn your head to see the entire screen is an experience. The quality is not like playing on the TV but it is still pretty neat. My son enjoys playing Fortnite like this.
I ran into an issue once where my fps were limited to 30 and the experience was not ideal. It just turned out to be a glitch. Anytime I had fast movement there were big jumps in frames. It was very distracting. After rebooting it went away but while trying to deduce what this major hitching was I did some testing. My conclusion is that I need to make sure the fps of the game are at least the fps of the Quest at 72fps. I had to reduce the settings in the game to achieve this. I could not tell any visual reduction doing this as the Quest is not as crisp as looking at a monitor or TV anyway.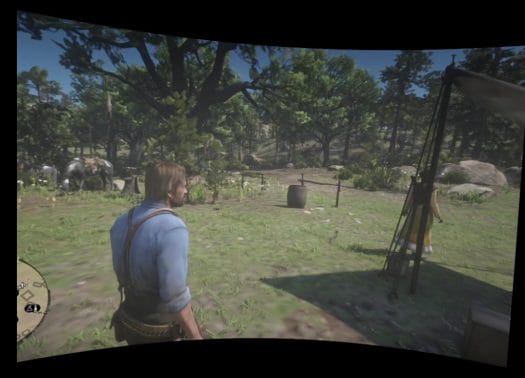 One final note….I have to say that the latency running Virtual Desktop is not bad in my experience. Like I stated before, we have been doing in-home Game streaming on the Nvidia Shield. When doing this dual streaming session I noticed that the audio is almost 100% in sync between what I hear coming out my TV and what the Quest plays. This shows to me that wireless Streaming to the Quest is very close to streaming to the Shield and is doing a good job keeping up with a wired connection.
Settings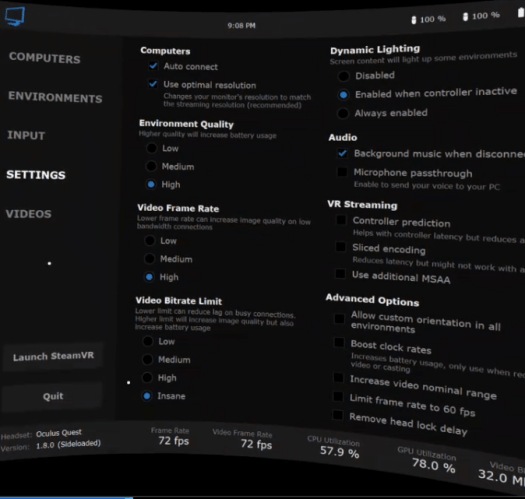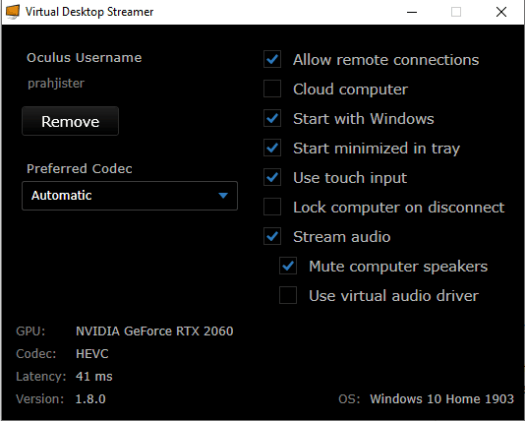 Summary of Oculus Quest Tips & Tricks
What I am suggesting is getting any dedicated 5 GHz access point in the room that you are streaming to for the best experience possible and your gaming PC attached via Ethernet. Even if you can't have it in the same room I would suggest a dedicated access point. I did purchase a Unifi AP-AC-Lite but after testing I am going to use the old Linksys E2500 in the living room and finally upgrade one of my old 2.4 GHz Unifi AP's.
One final thing to note…I was able to stream a game from my PC to the headset….then back to the PC via Sidequest tool called Scrcpy and capture via OBS and stream to YouTube. It did glitch one time….but still pretty cool it was possible.

Karl is a technology enthusiast that contributes reviews of TV boxes, 3D printers, and other gadgets for makers.