Building a small cluster of Raspberry Pi boards or/and other compact single board computers requires you to handle power and cooling issues, as it may not be practical to have one power supply per board, and since boards are close to each other heat may build up.
There are already off-the-shelf solutions such as rackmounts for Raspberry Pi SBCs or carrier boards for multiple Raspberry Pi Compute Modules but more often they do take not take care of all issues like mounting, power, and cooling. ClusterCTRL Stack offers a solution that can power up to 5 Raspberry Pi SBC's via a 12V/24V power supply and control up to two fans. If you could also 3D print an enclosure for your cluster in order to attach the fan.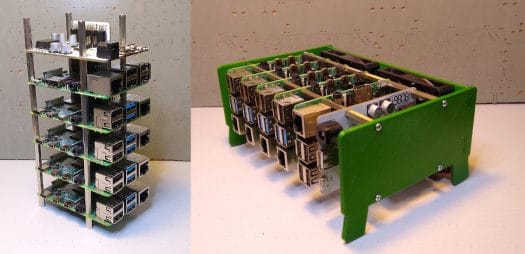 ClusterCTRL Stack is comprised of two boards with the following key features and specifications:
Controller Board

Power Input – 12-24V PSU.
Power Output

20-pin header with 2x5V and 2xGND for each board.
1x USB Type-A port 5V power output to power a USB switch for example.
Onboard 10 Amp 5.1V DC-DC regulator (2 Amp allowance per Pi).

6-pin header for monitoring of Raspberry Pi (1 GPIO pin per Pi).
Connectors for 2 independently controlled fans.
Configuration/Control Interface – 1x Micro USB to control individual Pi power, fan, auto power on, voltages, etc.

Passive backplane

20+6 pin connectors (top) for ClusterCTRL Stack Controller.
20-pin connector for each of the five regular-sized Raspberry Pi (B+/2/3/3+/4).
Connects GPIO BCM18 of each Raspberry Pi to the controller's monitor header in order to turn on/off the corresponding fan as needed (P1/P2 = FAN1 and P3/P4/P5 = FAN2).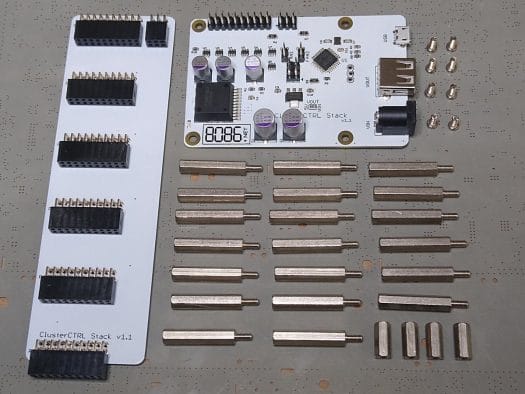 The kit includes the controller and backplane boards, as well as standoffs and screws. So you'll need to provide a 12-24 V power supply with 5.5 mm 2.1/2.5mm barrel jack (60 Watts+), Raspberry Pi boards or compatible, and optionally 2x 70 mm 5V fans, a micro USB cable to connect to the controller board, and a Gigabit Ethernet Switch. The enclosure can be printed using those files.
Used in standalone, the kit will simply turn on each Raspberry Pi with a one-second delay after the power is applied, and BCM18 GPIO will be monitored to turn on/off the corresponding fan. You can install any OS, but you'll need to modify /boot/config.txt on each Raspberry Pi as follow to automatically turn on the fan (at 75°C)

dtoverlay

=

gpio

-

fan

,

gpiopin

=

18

,

temp

=

75000

If you'll get more control over your cluster if you install clusterctrl software and connect it to another Raspberry Pi via the micro USB port with the features including:
Control power for each Raspberry Pi individually.
Measures both the voltage supplied to the Raspberry Pi and the 12-24V input voltage.
Configure power-on state (each individual Pi can be set on/off by default).
The easiest way to make a Controller Pi (Raspberry Pi board with clusterctrl software is to flash the pre-built binary to a MicroSD card. You could also install it manually on other OS images, but it gets a little complicated. You'll find three methods to install clusterctrl software on the official website.
ClusterCTRL Stack is sold for $99 plus shipping on Tindie. As an aside, it's made by 8086 Consultancy company that previously designed Cluster HAT enabling the connection of up to 4 Raspberry Pi Zero to one Raspberry Pi 2/3/4 board.

Jean-Luc started CNX Software in 2010 as a part-time endeavor, before quitting his job as a software engineering manager, and starting to write daily news, and reviews full time later in 2011.