Last year we saw QuickFeather board featuring EOS S3 Cortex-M4F MCU with embedded FPGA, which was a crowdfunding project. This year the company has launched its smart hearable reference design based on a similar processor by QuickLogic. The device is dedicated to "Voice-Initiated, Hands-Free, Alexa Built-In Devices with Close-Talk Support."
QuickLogic's smart hearable reference design is based on the company's Open Reconfigurable Computing (QORC) which supports a complete open-source set of development options for the MCU and FPGA devices. It is also built on the EOS S3 Voice Processor and the QuickFeather open source development kit. This can enhance the user experience with a longer battery life of the device.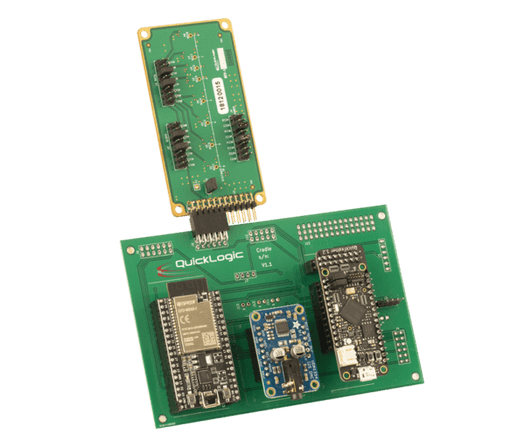 The EOS S3 Arm Cortex- M4 processor features Low Power Sound Detection (LPSD) technology along with DSP Concepts' TalkTo noise suppression and beamforming technology for the directional transmission of signals. It also comes with Alexa Wake Word engine technology, an algorithm that activates the device only if specific keywords or "wake-word" are present in the external audio stream.
The reference design is for users wanting to evaluate and develop their own prototypes for smart hearable applications. It also allows optimizing the design for battery-powered use cases. "The development kit has also passed Amazon certification for Close Talk dev kits and Alexa Close-Talk Hearable and Wearable products."
Working with QuickLogic's Smart Hearable Reference Design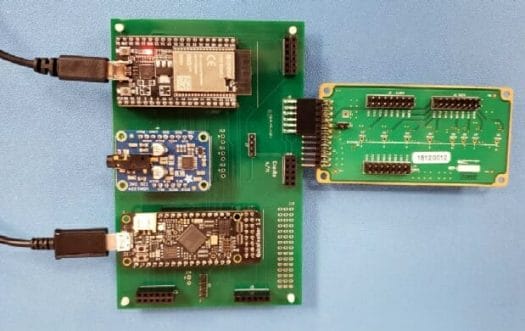 Brian Faith, the CEO of QuickLogic, says
"OEMs and ODMs can use the design along with the QuickFeather development kit as a sandbox for the product development which has already gone through the AVS certification process on the reference design with Amazon. Hence, the fact that QuickLogic has built all of this on the QuickLogic Open Reconfigurable Computing platform, which integrates with the SensiML AI Software Platform, makes it much easier for users to innovate in familiar development environments, speeding time-to-market and reducing risk."
The reference design includes:
QuickLogic QuickFeather Development Kit with the EOS S3 Low Power Voice Processor with software development tools

Espressif ESP32-WROVER-E WiFi Development Kit for WiFi connectivity

Adafruit I2S Audio Decoder for supporting playback from Alexa Voice Service directly to a standalone speaker

QuickLogic microphone daughtercard that supports variable microphone spacing

QuickLogic sturdy PCB cradle to reliably connect all components together
The device is available for $149 USD on QuickLogic's website. For more information visit the official product page. You can also find the "Quick Start" documentation (PDF) on the product page.

Saumitra Jagdale is a Backend Developer, Freelance Technical Author, Global AI Ambassador (SwissCognitive), Open-source Contributor in Python projects,  Leader of Tensorflow Community India and Passionate AI/ML Enthusiast