The few microcontroller boards that get Ethernet, are often limited to 10 Mbps or 100 Mbps, but the LP-AM243 LaunchPad development kit comes with two Gigabit Ethernet ports controlled by the newly announced 800 MHz Texas Instruments Sitara AM243x Cortex-R5F microcontroller with industrial communication and security features.
TI Sitara AM243x Cortex-R5F microcontroller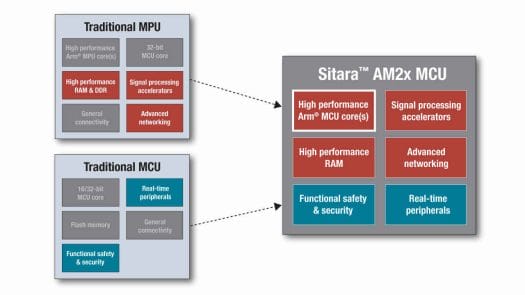 The Sitara AM243x is the first family of microcontrollers part of the larger Sitara AM2x MCU series that, a bit like NXP i.MX RT crossover processors, aims to combine the advantages of traditional microcontrollers and microprocessors by leveraging the real-time capabilities of the former and the high performance of the latter, but in a way optimized for industrial communication and safety.
The Sitara AM243x family is comprised of three processors with one, two, or four cores with the following key features and specifications:
CPU

AM2431 – Single-core Cortex-R5F real-time core @ 800 MHz with 128KB
TCM
AM2432 – Dual-core Cortex-R5F real-time core @ 800 MHz with 64KB TCM per core
AM2434 – Quad-core Cortex-R5F real-time core @ 800 MHz 64KB TCM per core
Cache – 32KB ICache and 32KB DCache per R5F core with SECDED ECC on all memories
Single-core isolated Arm Cortex -M4F MCU @ 400 MHz with 256KB SRAM with SECDED ECC

System Memory

2MB shared SRAM with ECC
External LPDDR4, DDR4 memory types supported

Storage I/F

2x MultiMedia Card/Secure Digital (MMC/SD), one 4-bit for SD/SDIO, one 8-bit for eMMC
1x General-Purpose Memory Controller (GPMC) – 16-bit with 133 MHz clock or 32-bit with 100 MHz clock
1x Flash Subsystem (FSS) that can be configured as Octal SPI (OSPI) flash interfaces or one Quad SPI (QSPI)

Networking/Communication interfaces – 2x Gigabit Industrial Communication Subsystems (PRU_ICSSG) with optional support for Profinet IRT, Profinet
RT, EtherNet/IP, EtherCAT, Time-Sensitive Networking (TSN), and other Networking Protocols
High-speed serial interfaces

Integrated Ethernet switch supporting up to 2 RGMII (10/100/1000) (Gigabit Ethernet) interfaces compliant with IEEE 1588, Energy-efficient Ethernet (802.3az)
Single-lane PCI-Express Gen2 controller (PCIe)
1x USB 3.1-Gen1 Dual-role Device (DRD)
1x Serializer/Deserializer (SERDES) to support PCI-Express Gen2 and USB SuperSpeed Gen1

General peripherals

6x I2C, 9x UART
12-bit Analog-to-Digital Converters (ADC) up to 4 MSPS
8x multiplexed analog inputs
7x Multichannel Serial Peripheral Interfaces (MCSPI) controllers
3x General-Purpose I/O (GPIO) modules for up to 198 GPIOs

Industrial peripherals

9x Enhanced Pulse-Width Modulator (EPWM) modules
3x Enhanced Capture (ECAP) modules
3x Enhanced Quadrature Encoder Pulse (EQEP) modules
2x Modular Controller Area Network (MCAN) modules with full CAN-FD support
2x Fast Serial Interface Transmitter (FSI_TX) cores
6x Fast Serial Interface Receiver (FSI_RX) cores

Security

Secure Boot, secure storage
Cryptographic acceleration – AES up to 256-bit, 3DES up to 168-bit, MD5, SHA1, up to 512-bit SHA2, DRBG with true random number generator, PKA (Public Key Accelerator) to Assist in RSA/ECC processing
Trusted Execution Environment via Arm Trustzone

Functional safety support
Package

441-pin FCBGA 17.2 x 17.2 mm package, 0.8-mm pitch
293-pin FC/CSP (Flip-Chip Chip Scale Package) 11 x 11 mm package, 0.5-mm pitch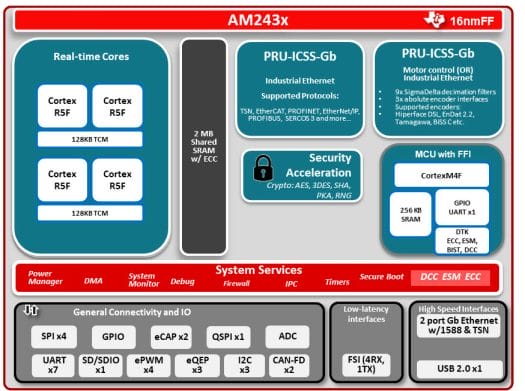 Texas Instruments claims 10 times the processing performance of other solutions, considering support for Gigabit Ethernet, instead of just 100 Mbps in other solutions, albeit the high-end 1GHz NXP i.MX RT1170 crossover Cortex-M7/M4 "processor" also supports two Gigabit Ethernet interfaces with AVB and TSN support.
Gigabit Ethernet and other features make the AM243x microcontrollers suitable for high-end applications such as factory automation, robotics, automotive systems, and sustainable energy management. One specific use case would be predictive maintenance to reduce downtime on factory floors, and since power consumption is under 1W while active, existing power resources can be extended to lowering both the operating costs and energy footprint.
LP-AM243 Launchpad development kit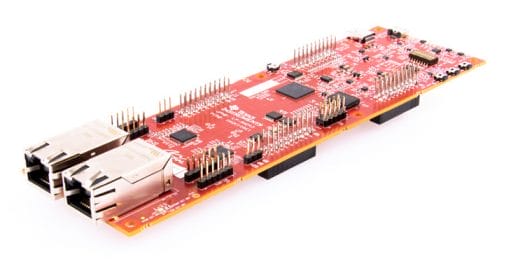 The best way to evaluate the new microcontroller is through the LM-AM243 LaunchPad development kit with the following specifications:
SoC -TI Sitara AM2434 quad-core Cortex-R5F @ 800 MHz + 1x Cortex-M4F @ 400 MHz microcontroller
Storage – 512Mbit QSPI flash
Networking – 2x Gigabit Ethernet RJ45 ports capable of 1Gb or 100Mb speeds
Expansion

Dual 40 pin BoosterPack plugin module interface
CAN transceiver

Debugging – On-board XDS110 debug probe emulator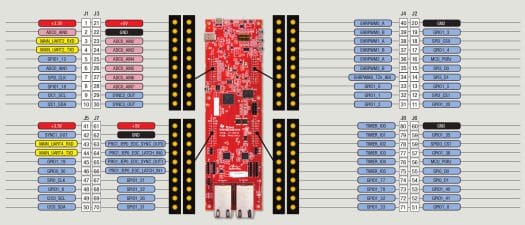 Texas Instruments provides an out-of-the box experience page with a getting started guide, a benchmark demo, access to the MCU SDK for Windows and Ubuntu with examples, and more resources. You can also find the datasheet and a 7410 pages long technical reference manual for the processor itself on TI developer website.
Availability and Pricing
Texas Instruments says preproduction versions of the AM2431, AM2432 and AM2434 microcontrollers are now available with pricing starting at US$6.05 for 1,000-unit quantities, but when I go to the AM2431's product page I can only find it for $12.97 for 1k orders. The AM243x LaunchPad development kit can be purchased for US$89 directly on TI website.

Jean-Luc started CNX Software in 2010 as a part-time endeavor, before quitting his job as a software engineering manager, and starting to write daily news, and reviews full time later in 2011.