When a VGA monitor does not start at all, a common reason is that one or two capacitors are damaged. All you need to do to repair it is to replace them, and you're good to go. It's quite easier than you think, and I'll show you how.
I was tasked with repairing a VGA monitor, namely an LG Flatron W1934S, that would not turn on anymore. All I could see what the blue power LED blinking regularly, about every two seconds. Since so far, I had a 100% success rate in failing to repair TVs, I was not confident, and I thought maybe the monitor is some special state making it not turn on, as it happened to me with another monitor a few years ago.
But a web search revealed the problem was probably a power supply board issue with one of the capacitors damaged and, in theory, all I had to do was to follow the steps in the video below. Safety warning: please note there are high-voltage capacitors so you'd better wait for a while after disconnecting the monitor from the mains before opening it.
So let's get started. The first step was to remove the stand which was not super complicated except I had to pull very hard to take it out. Then we were told to remove the back cover of the display. That's nice, but I had no clear idea how to do it as I could not find any screws. It turns out the technique is to use an old credit card or a screwdriver to popup the back cover. I went with the latter and did a dirty job of it…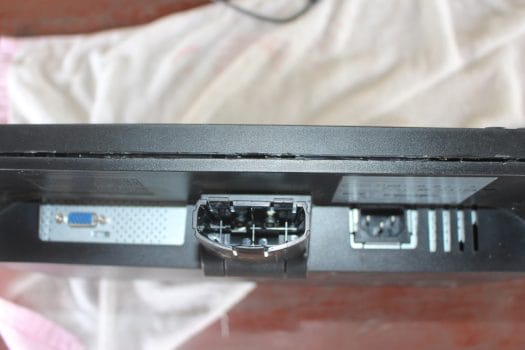 But at least managed to open it, and the following steps included unplugging several cables.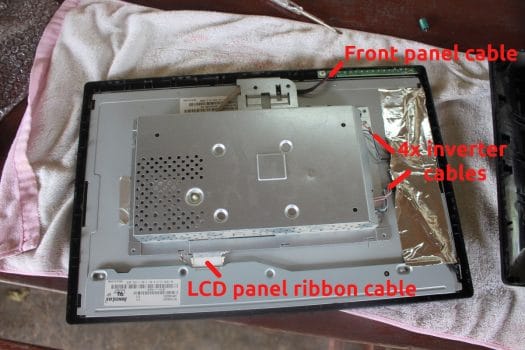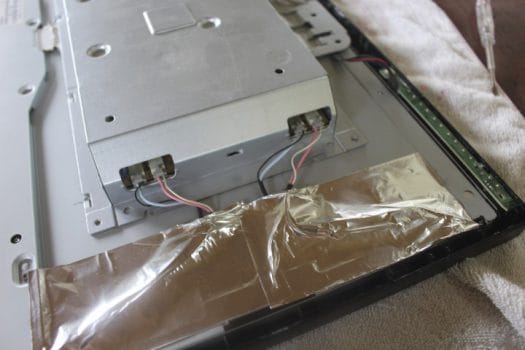 We can now take out the main block that contains the power board and a smaller A/D board.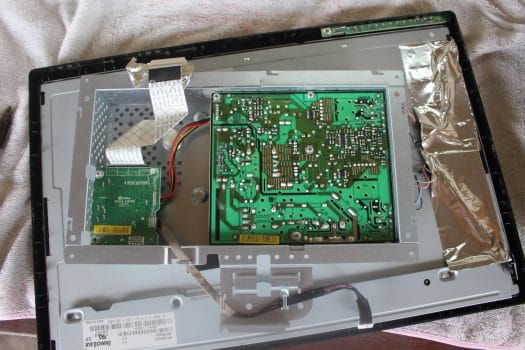 We'll need to disconnect the cable running from the analog board to the power board, and loosen four screws from the latter to take it out, and at this point, it was clear what the problem was with a swollen C812 capacitor.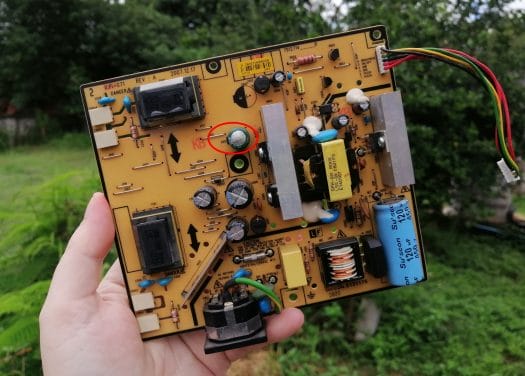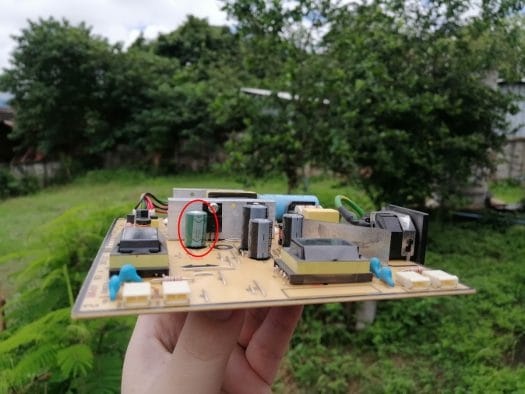 So no need to check anything with a multimeter or an oscilloscope, a visual inspection of the board could immediately detect the issue. I even asked on Twitter using the first photo (minus the red highlight) for fun, and many people guessed it right, so it indeed appears to be quite a common problem.
So I purchased a few 1000uF/10V capacitors online, and equipped with a solder pump and a soldering iron, I removed the damaged capacitor before soldering one of the new components.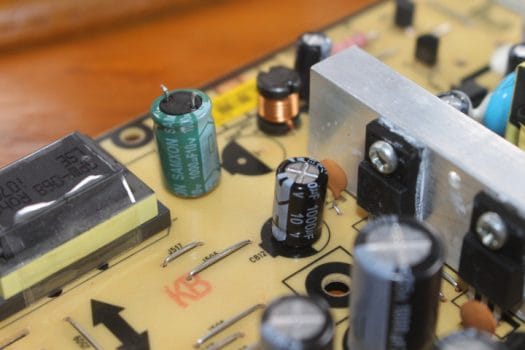 Now it's time to reassemble the VGA monitor, but before re-inserting the back cover that is a pain to take out, I tested the monitor, and… success!!! Woohoo!!!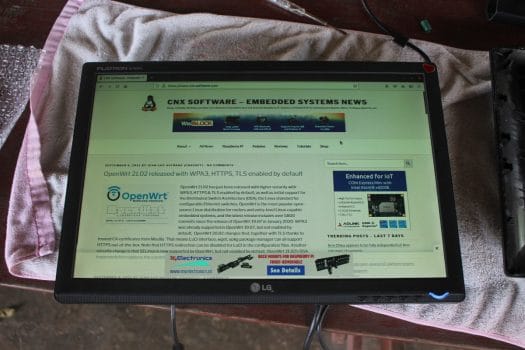 I reassembled everything, and I've now got a working VGA monitor. Total hardware cost for the repair: 24 Baht for 10 capacitors, or around 74 cents (7.4 cents per capacitor). Newly acquired knowledge: priceless!

Jean-Luc started CNX Software in 2010 as a part-time endeavor, before quitting his job as a software engineering manager, and starting to write daily news, and reviews full time later in 2011.