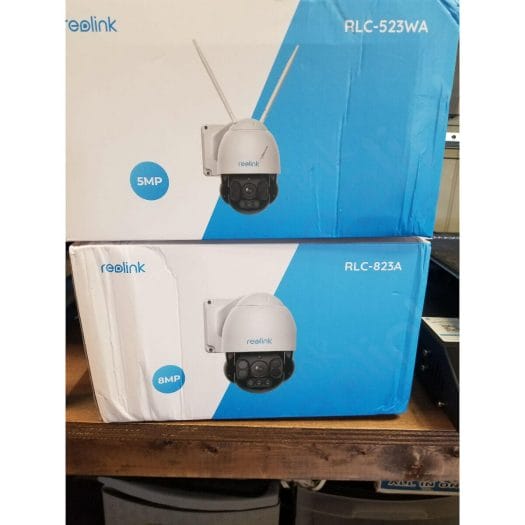 Hello, Karl here with a security camera review. I'll start out by thanking Reolink for sending over two cameras to review: RLC-523WA (WiFi) & RLC-823A (PoE). I already had a couple of cameras from Reolink that my buddy had recommended a long time ago. And had a positive experience so I agreed to review these higher-end models.
My setup with Blue Iris, unRAID
I have been running unRAID for quite a while now to simplify my server requirements. I was running several small SBC's and a standalone NAS drive and consolidated them onto my main rig. AMD has pushed desktop core counts with their Ryzen CPUs and I have cores to spare. I started with a 3700x giving 2 cores to applications leaving me with 6 cores for my VM's but recently upgraded to a 3900x. I now give 3 to applications and 9 cores for my VM's.
I started using Zoneminder as a free open source NVR solution with my Reolink cameras. It works but the experience was not good. I dealt with it for a long time. My biggest complaint is the review process. If I was trying to find a clip or scrub footage it was a super slow process. Enter Blue Iris. It is a paid application and the biggest downfall is it is a Windows application. While looking around recent docker images I saw someone created a docker image for unRAID and gave it a shot. It's pretty stable considering it's using Wine for emulation. It's not the best experience but vastly superior to Zoneminder even with this emulation.
In summary, I have Blue Iris running in a docker that stores footage to my SSD cache drive. Footage is deleted after 2 weeks. Blue Iris is definitely the most CPU-intensive task and with 4 cameras I average about 7-8% CPU utilization per unRAID while everything else is idle including a Windows VM.
Multiple Configs are possible
There are several ways these cameras can be used. Some involve monthly recurring costs. I'll start with the way that I am using and I call it a hybrid approach. As stated previously I run my own NVR for storage and object detection, but I also use Reolink's mobile app for any remote monitoring. It was easier for me. I didn't have to open ports and fool with exposing Blue Iris to the internet.
One option is to use the cameras solely for remote monitoring through the Reolink app. This would definitely reduce the usefulness of the cameras.
Another one is to use the cameras' built-in processing and SD card storage. The app has some pretty customizable options and seems like a viable option if a server is out of the question. I did not test this out but can see this as a low-risk option for privacy-conscious users.
You can also subscribe to a couple of tiers of paid service and have everything stored on a remote server. I am not a big fan of this for several reasons. Here is a snapshot of current pricing.
Unboxing and specifications
Physically the cameras are nearly identical with the exception of the antennas for the wireless version as well as power delivery. I personally would never use the wireless version and in all cases recommend the PoE version.
Here are the specs I pulled from Reolink's website. Nearly identical as well. The most notable difference is the format. I apologize I lost the pictures I took for the PoE unboxing.
Image Quality and Zoom for Reolink RLC-523WA & RLC-823A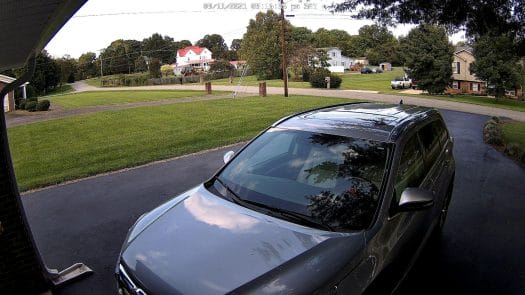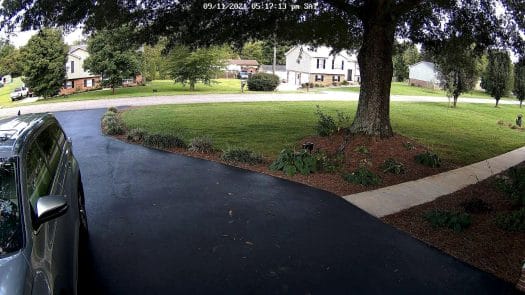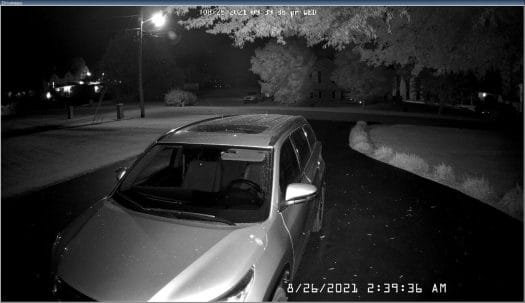 I generated these images with a built-in snapshot tool in Blue Iris.
For comparison here are some pictures from my older models. Still quite good but I can see a difference in quality.
Optical Zoom testing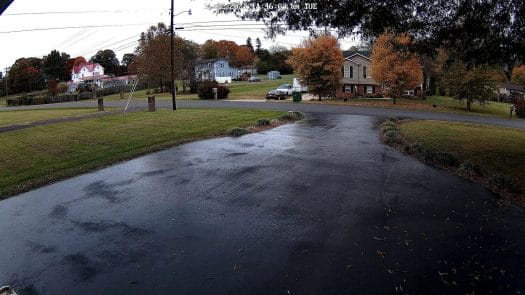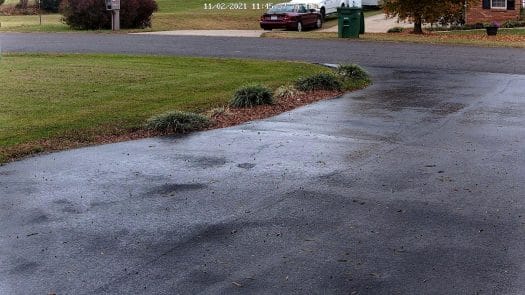 Optimizing NVR resources
As previously stated, with these 4 cameras, I am running at about 7-8% CPU usage. After adding cameras, I was met with quite a bit higher CPU usage so I did some optimizations to reduce CPU load. The first thing I learned about are sub-streams. It turns out that all of my cameras are able to provide 2 discrete RTSP streams. 1 higher quality and 1 lower quality. I knew that it was there but didn't grasp why until I started researching. I assumed the lower quality stream was for remote streaming outside of the local network. That one is a no-brainer. I found this explanation if you want to go into more detail.
The main stream is used for:
Direct-to-disc recording
Single-camera live viewing and recording playback
Audio
The sub stream is used for everything else:
Multiple-camera viewing
Motion detection
Alert snapshots
etc.
Additionally, I capped the live feed and recording to 10 fps. This was able to reduce my CPU usage to about half of what it was compared to using the main stream for everything.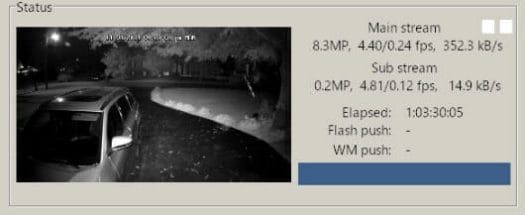 One last thing I did was add a cache drive to my system and move all the dockers to it. I can't believe I went so long without a cache drive. It is such a big performance improvement. One negative side effect is that I no longer hear the HDD noise when something is recorded. You might ask why this is negative. The HDD churning was an audible warning sign that something was going on. I spend a lot of time at my desktop on Zoom calls and it is an early warning sign that someone is going to be visiting me in my detached office/workshop.
Mobile App, Google Home, and annoyances
I am an Android guy so I only have experience with the Android version of its mobile app. I found the app to be easy to use and can't recall any notable issues in the couple of years I have been using it. All settings are done through the app and easy to figure out. Remote access just works. I didn't have to do anything special like open ports to make it work.
On the packaging, it said Google Home integration. I was really curious what this meant with a camera system. In my case, it turns out that I am able to cast cameras to my Nvidia Shield with the keywords "show camera x" where x is the name of the camera I set in the application. Admittedly I don't use this feature that often. I mostly watch TV at night when I receive no visitors but it is really cool. If I had a nest hub I could see myself using this more frequently. I still think it is brilliant and super useful but wish it would be taken one step further and upon an alert automatically cast to a device. This could get intrusive without proper configurability and the ability to snooze the automation.
I do have one pesky issue that I was unable to figure out how to overcome and that is the camera's home position. I have tracking turned on. The camera's built-in processing allows you to set the camera to track either people or cars in the settings. I have it set to people. I have been unable to figure out why but sometimes the camera doesn't go back to its home position after tracking stops.
Damn spiders. I am not an arachnophobe but they are a pain in the butt. Not the spiders themselves but their webs. Now that we are in the fall season here in NC I seem to have to clean spider webs off of the cameras almost daily. 1 web across the FoV and I get tons of false alarms. It is just something you have to deal with. I know this has nothing to do with Reolink but wanted to include it in this post. Now that I am writing this I may try spraying some bug repellent around the cameras to help.
Misc Features
There are some features that are included but I didn't use them.
2-way audio. Didn't use it once other than to test. It works but not that well.
Spotlight. Also didn't feel like it was necessary. I want to be more discreet with my monitoring and bright light at night kind of ruins it. The built-in IR light works perfectly well with night vision.
Siren. Ugh, I couldn't imagine turning this on in my neighborhood. To me, these are all gimmicky features.
One other feature I tried was the patrol feature. You can set multiple points and have the system move between each point but it is not configurable enough for me. My camera just turned around in a big circle. This could be improved a lot.
Privacy and Wrap Up
Including my past experience with Reolink, I have had a very positive experience other than the few noted exceptions. When it comes to privacy, I would never install a camera inside my home. I have trust issues when it comes to this. Amazon and Google record audio. I don't see what would stop any company from doing this if they could make a dollar. If remote access wasn't so valuable to me I would take the extra step and block all outbound traffic. Getting anything useful from my outdoor cameras is negligible so I don't sweat it.
Thanks for sticking with me. If you would like to pick up the wireless version (Reolink RLC-523WA) they are available on Amazon and are currently selling for about $210 with a $50 coupon. I do recommend the PoE version (Reolink RLC-823A) and it seems to be currently out of stock on Amazon. Just like all popular electronics supply seems to be affecting Reolink as well. Reolink has a ton of different models and products for various budgets and requirements and could easily recommend any model considering my past experience.

Karl is a technology enthusiast that contributes reviews of TV boxes, 3D printers, and other gadgets for makers.