MangoPi-Nezha MQ tiny developer board with Allwinner F133-A (aka Allwinner D1s) RISC-V processor with 64MB on-chip RAM has just launched on Crowd Supply for $39, and delivery is expected in July 2022.
The 4x4cm development board comes with a MicroSD card slot, display and camera interfaces, an on-board microphone, as well as WiFi connectivity, two USB Type-C ports, and two 22-pin headers for expansion.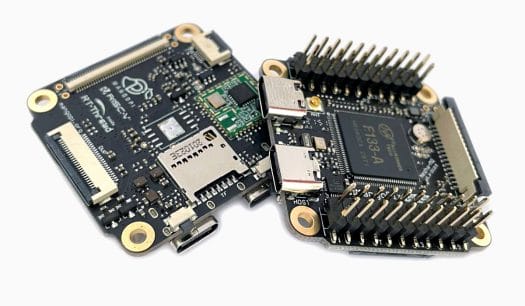 MangoPi-Nezha MQ specifications:
SoC – Allwinner F133-A 64-bit RISC-V processor @ 1 GHz with 64 MB DDR2
Storage

MicroSD card slot
Footprint for SPI NAND/NOR flash

Display I/F

15-pin FPC connector Raspberry Pi DSI display
40-pin FPC connector for RGB display with 4-wire resistive-touch interface
6-pin FPC connector for capacitive touch

Camera I/F – 24-pin DVP interface (usable as RMII)
Audio – On-board microphone, audio output via 2-pin header (unpopulated)
Connectivity

2.4 GHz WiFi 4 via Realtek RTL8189 module plus u.FL antenna connector
10/100Mbps Ethernet (RMII) via DVP camera interface (add-on board)

USB – 2x USB Type-C ports with one USB OTG port and one USB host port
Expansion – 2 x 22 pin expansion headers
Misc – Boot/Fel & Reset buttons
Power Supply – 5V via USB-C port
Dimensions – 4×4 cm (four fixed assembly feet)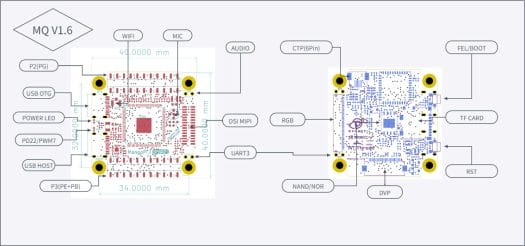 MangoPi-Nezha MQ RISC-V developer board can run Linux-based operating systems such as Tina Linux (OpenWrt) or lightweight version of Debian, in combination with LVGL open-source graphics library to design GUI on the platform. But since the crowdfunding campaign is managed by RT-Thread, the board can also run RT-Smart described as "a high-performance microkernel operating system for professional, real-time applications". The company further explains
microkernels fill the gap between traditional real-time operating systems (RTOSs) and heavier solutions like Linux. As a result, platforms like RT-Smart tend to do a better job of balancing real-time performance, cost, security, and startup speed.
Since we've written several times about RT-Thread real-time operating system, including a getting started guide for Bluetrum AB32VG1 RISC-V Bluetooth audio board, I asked the company about the differences between RT-Thread and RT-Smart, especially they share the same Github repository, just in different branches. I was pointed to an article on opensource.com that describes both OS, and includes a table showing the main differences (Note RT-Smart used to be called RT-Thread Smart):





RT-Thread

RT-Smart

Supported chips
Cortex-M/R, RISC-V RV32IMAC (and similar), Cortex-A MPU
MPU with MMU, such as ARM Cortex-A and RISC-V

Compiling
The kernel and application are compiled into an image program.
The kernel and application can be separately compiled and executed.
Memory
Runs on a linear address space (even with MMU) and uses virtual addressing with the physical address

Runs on a 32-bit system with the kernel running on more than 1GB, the user-space process has full 4GB address space, and both are isolated from each other. Peripheral drivers must access peripherals with virtual addresses.
Running errors
When an application fails, the overall system collapses.
When an application fails, it does not affect kernel and other process execution.
Running model
Multi-thread model
Multiprocess model (multithread is supported within the process, and kernel threads are supported by the kernel)
User model

Single-user model

API
RT-Thread API, POSIX PSE52
RT-Thread API (on kernel and userspace), plus a full POSIX API
Real-time

Preemptive hard real-time system

Resource utilization
Very small
Relatively small
Debugging
Generally debugged through an emulator
Supports GDB debugging and no emulator
required
RT-Thread also compares the MangoPi-Nezha MQ against three other small Arm and RISC-V WiFi boards including the first Allwinner D1 development board, Raspberry Pi Zero W, and the lesser-known SIN-V3S SDK board.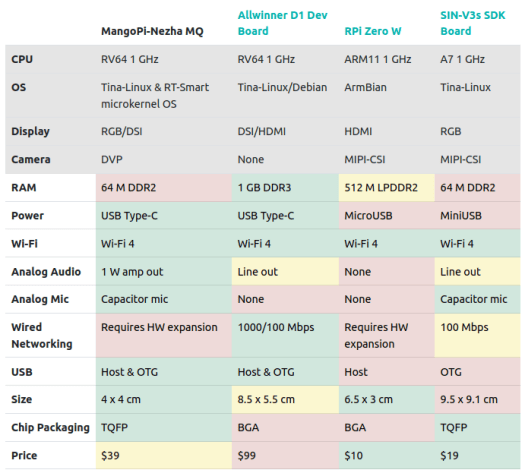 The $39 price tag is not overly attractive here, even with free worldwide shipping. and I assume there may be several reasons with Allwinner trying to ride the RISC-V hype, and profits being shared between RT-Thread for software development and MangoPi for the hardware. A more direct competitor might be the Sipeed Lichee RV RISC-V starter kit that goes for about $23.90 + shipping with Allwinner D1, 512MB RAM, HDMI video output, and a WiFi+Bluetooth module. It should also be noted that a MangoPi MQ Dual is also coming with the same PCB as MangoPi-Nezha MQ, but an Allwinner T113-S3 dual-core Cortex-A7 processor with 128MB RAM replacing the RISC-V processor.

Jean-Luc started CNX Software in 2010 as a part-time endeavor, before quitting his job as a software engineering manager, and starting to write daily news, and reviews full time later in 2011.