The Oosto Vision AI Appliance is a palm-sized "near-edge" device based on the NVIDIA Jetson Xavier NX system-on-module and running the company's neural network models for video analytics that are optimized to support low-power devices, as opposed to servers with powerful GPUs.
It's not actually a new device, as the light gold color of the enclosure below looks like a model from AAEON, and indeed, it looks just like the AAEON BOXER-8251AI embedded box PC. That most probably means AAEON provides the hardware, and Oosto installs their video analytics software unto the device. It's still interesting to look into the announcement, and Oosto has a TCO calculator that will put into context the cost involved in specialized B2B or B2G (business-to-government) solutions.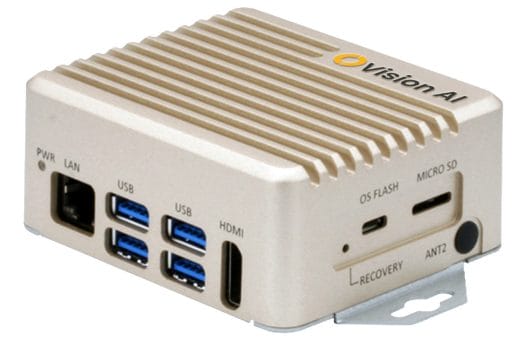 Oosto video analytics software appears to focus on facial recognition for touchless access control and to help law enforcement apprehend suspects (from a watchlist) and help de-escalate potential threats with real-time alerts.  The short video below demonstrates the capabilities of the software.
The press release highlights the following advantages of using the Oosto Vision AI Appliance over a more traditional server + GPU solution:
TCO (Total Cost of Ownership) Savings
Higher accuracy with Oosto neural networks for video analytics trained on low-quality images.
Better uptime & scalability – When new video streams are added, IT administrators can simply add more Vision AI Appliances without taking the entire system down, improving overall uptime.
IT simplicity – The edge device does not take up space in a rack, consume much power, or place a burden on cooling. Fanless devices usually last longer leading to fewer failures and an overall reduction in cost, and channel redundancy.
Enterprise-class failover – If an appliance fails, the Oosto Vision AI Appliance can provide real-time failover to a secondary, low-cost appliance. If there are enough cameras an "edge cluster" can be formed and the solution designed for redundancy and load balancing between the appliances.
Data security – Oosto claims "the Vision AI Appliance is a purpose-built closed-box for video processing" with "the surface area for attacks on the appliance significantly less than traditional servers".
There are often comments about the cost of industrial/enterprise hardware, including the recent $2,000 NVIDIA Jetson AGX Orin developer kit, Oosto's TCO calculator puts the price of this type of hardware and associated cost into context. The table below shows the estimated costs for an installation of 50 cameras for facial recognition comparing server + NVIDIA A2/A30 GPU systems to a fleet of Oosto Vision AI appliances.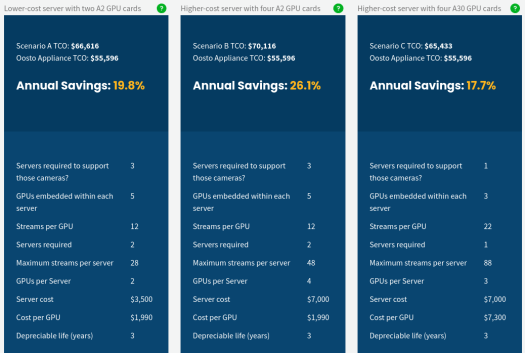 The comparison includes the annual costs of hardware, GPUs, power and cooling, and facial recognition software, but apparently not maintenance costs. The server systems are estimated to cost between about $65,000 to $70,000 per year, against a little over $55,000 for a fleet of edge computers with similar features. As a side note selecting 48 cameras bring the cost of the middle solution to a little over $58,000, so depending on the configuration savings may be limited.
Nevertheless, the point is that, for instance, a $2,000+ based NVIDIA Jetson AGX Orin 64GB hardware may end up being cost-effective if it replaces a $5,000+ server, and we have to look at the specific applications, requirements, and total cost of ownership which can easily reach several hundred thousand dollars to find out if a particular platform is cost-effective.
Back on topic, more details about the Oosto Vision AI appliance and related video analytics software can be found on the product page.
Thanks to TLS for the tip.

Jean-Luc started CNX Software in 2010 as a part-time endeavor, before quitting his job as a software engineering manager, and starting to write daily news, and reviews full time later in 2011.