In the first part of MECOOL KP1 smart projector review, I checked out the package content, projector design, and integrated HDMI stick running Android 11 TV, before going through the setup wizard, and trying the projector with Android 11. I've now spent more time with the device, so I'll report my overall experience.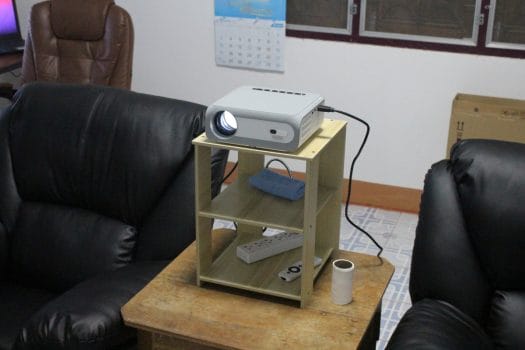 The best way to install the projector is probably to mount it on a ceiling or a wall, but in my case, I just placed it on top of a shelf itself placed on top of a table to adjust the height for a comfortable viewing experience from our comfy seats.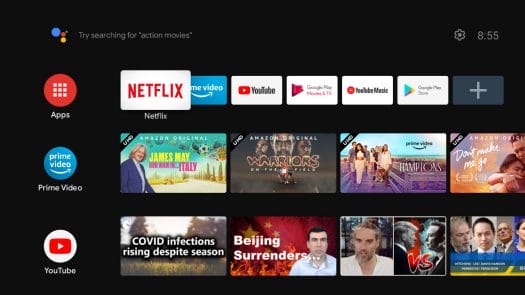 As we've seen before, the projector will boot directly to the Android 11 TV launcher from the included MECOOL KD5 TV stick.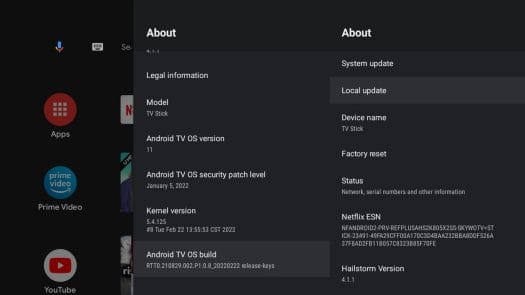 Android 11 TV OS runs on top of Linux 5.4.125, as we can see it's a Hailstorm device that's certified for Netflix and an Electronic Serial Number (ESN). Note the Amlogic S805X2 processor found in the stick is mostly suitable for media consumption with a quad-core Cortex-A35 CPU @ 1.8 GHz, an entry-level Mali-G31 GPU, and a 1080p60 capable VPU. A few more system details can be found in the AIDA64 screenshots below (using Android TV OS will limit the number of apps we can install).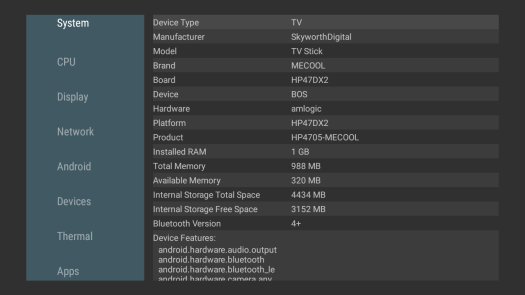 The hardware (TV Stick) seems to be based on Skyworth HP47DX2 TV stick design.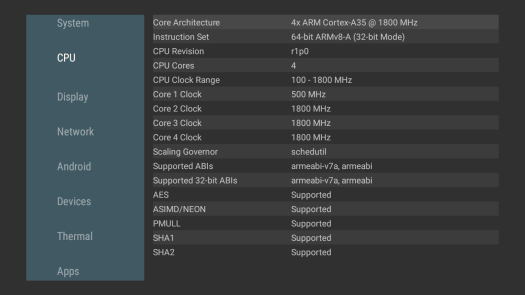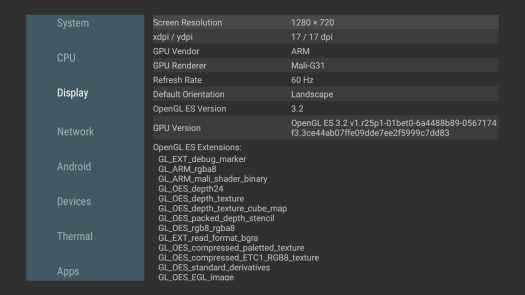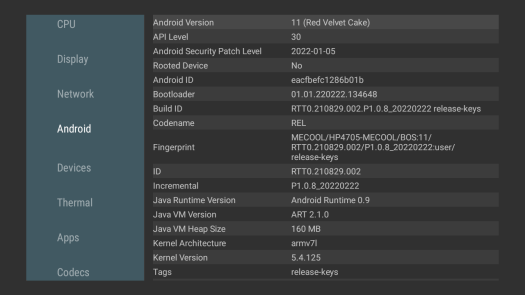 The included remote allows the user to control both the MECOOL KD5 stick and the projector's menu with the input button on the remote bringing the OSD to select the source USB, HDMI 1/2, AV, or TF (microSD card). So it offers a better integration that using a projector plus an external Android TV box.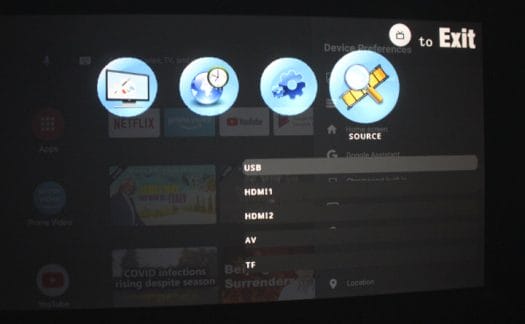 Moving to the left users can change the language (from a large choice of languages), restore factory defaults, adjust the sound mode,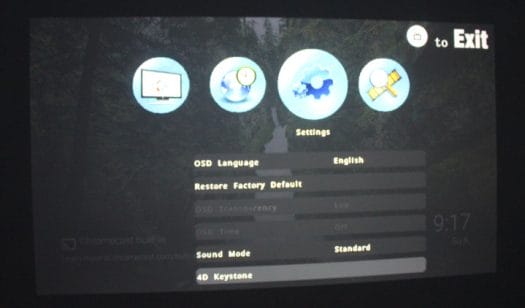 and set 4D Keystone correction parameters if needed.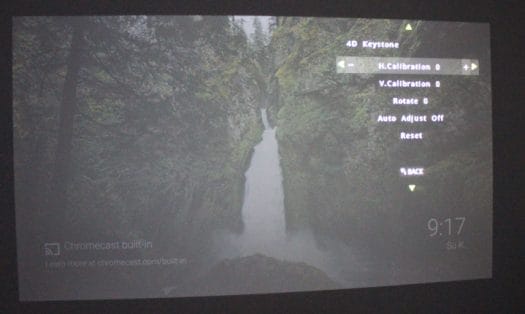 The Time settings is only just to set the Sleep Timer…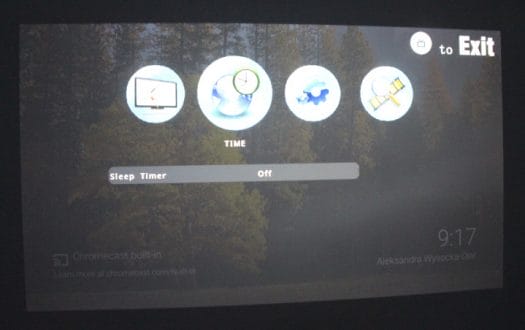 .. and the last section of the menu can be used to adjust the placement/orientation of the projector between front, rear,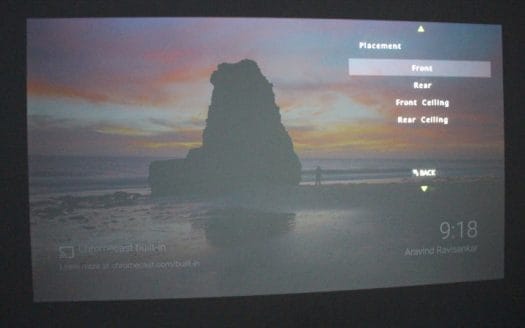 front ceiling and rear ceiling.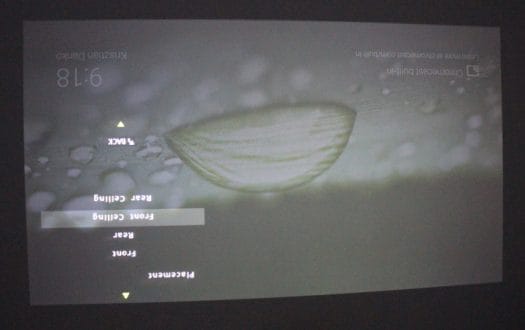 Finally, there's an option to select AV or PC HDMI mode to handle overscan.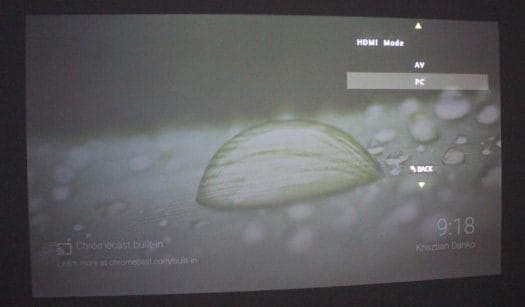 Since I don't subscribe to any premium video streaming services such as Netflix or Amazon Prime video, I mostly tested video playback with YouTube, and it worked well with the Full HD projector being a great upgrade to the 854×480 native resolution of the Rikomagic RKM R1 projector I used before. Another good point is the built-in speaker that's clear enough so that I did not feel the need to connect an external speaker as I did for the Rikomagic projector.
The Settings are standard for an official Android 11 TV device, so I won't go into great details, but I did try the built-in Chromecast function of the projector.
I had no trouble linking my Huawei phone with Chromecast, and playing a YouTube video streamed from my phone to the projector.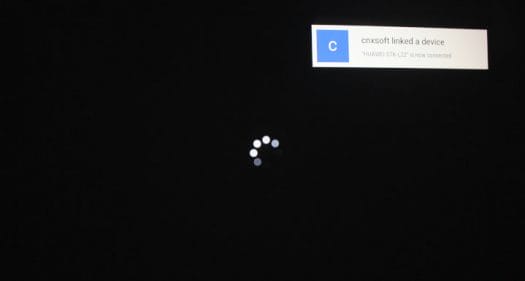 Provided you use the same account on your phone and the projector, you'll get access to the same videos on both devices, so I guess it's mostly useful to people who want to use their phone to select videos instead of the remote control.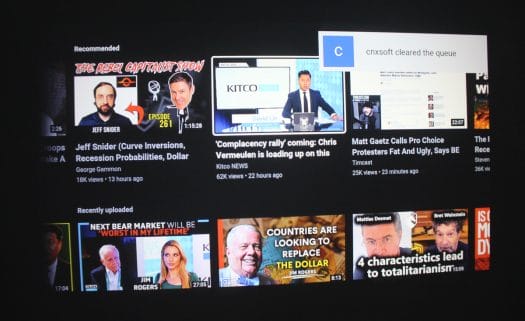 I could also connect my Ubuntu 20.04 laptop via Chromecast using the Cast function in the Google Chrome web browser.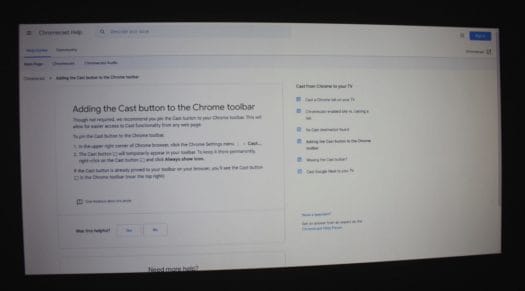 Quality does suffer that way, especially if you are going to display content with a lot of text, and it's best to connect your laptop with an HDMI cable whenever possible.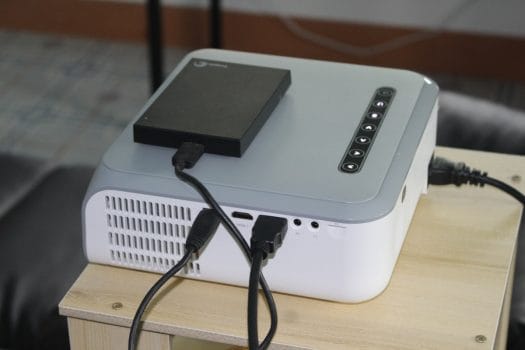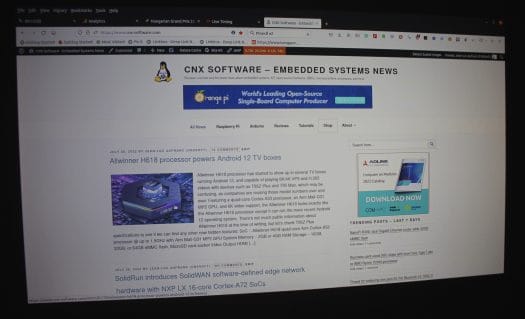 The text looks better in real than in the photo and only becomes blurry when we get close. The four corners also look clear to me, although the text in the center can be a little blurry too.
You'll also notice I connected a USB hard drive in the first photo above. I initially tried to use the USB port to connect a keyboard to take screenshots, but I quickly realized the way the hardware is designed it's not possible, and I had to use adb to take screenshots instead. That also means USB storage and microSD cards are not detected/accessible from Android. Instead, you'd need to select either the "USB" or "TF" options within the OSD as shown further above in order to launch an interface to play video or music, or watch photos from the storage device.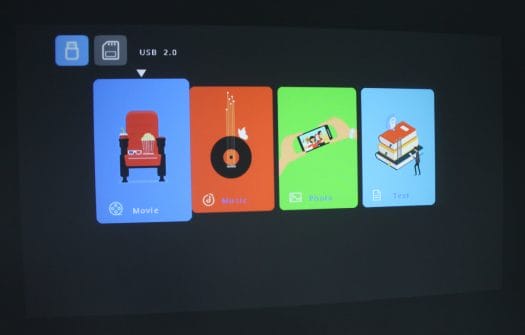 My hard drive is rather unusual and comes with four partitions (NTFS, EXT-4, exFAT, and BTRFS) with lots of files, including source code, and the projector will simply freeze when I click on Video since it has to scan the drive with millions of files. At this point, it's impossible to browse the menu, but I clicked again on the Input source button, selected USB again, and could see a "C" partition.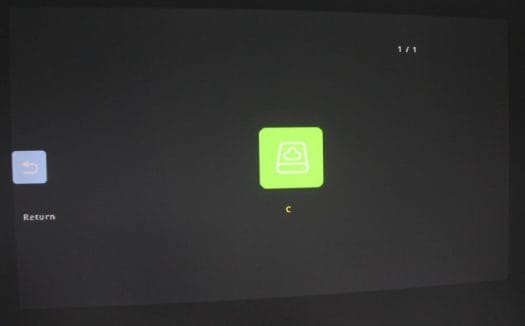 Then I can browse files, and play some videos…
but many end up with an "Unsupported File" error.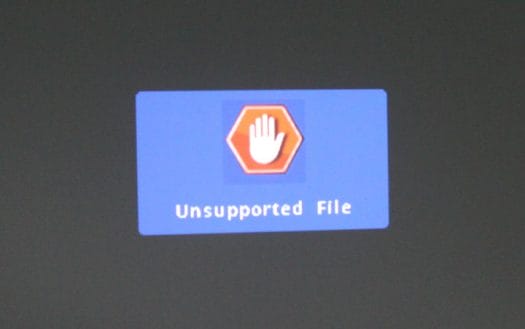 Each time I met an unsupported file, I had to press the back button several times to get back to the file manager, as a single press would just retry to play the video. Note that 4K videos will not play using the CPU integrated into the projector.
Conclusion
I'm pretty happy with the MECOOL KP1 Android 11 projector overall, although there are some shortcomings, some of which are probably unavoidable with this type of projector (e.g. noisy fan).
| PROS | CONS |
| --- | --- |
| Certified Android 11 TV OS with Netflix support | Noisy fan |
| Full HD projector with clear & bright images. | USB storage and microSD card are not recognized/handled by Android OS |
| Single remote for projector and integrated TV stick | Built-in media player to play videos from USB storage and microSD card is unimpressive |
| The built-in TV stick is replaceable and could potentially be upgraded | Low-end processor that's fine for media playback, but not much else |
I'd like to thank MECOOL for sending the KP1 smart projector for review. It is sold for $349 on the company's online store.

Jean-Luc started CNX Software in 2010 as a part-time endeavor, before quitting his job as a software engineering manager, and starting to write daily news, and reviews full time later in 2011.