CNXSoft: An other review by Ray for an Amlogic S905X powered TV box provided by Videostrong.
MECOOL BM8 specifications
The specifications are pretty standard, except for the large flash:
SoC – Amlogic S905X quad core Cortex A53 @ 2.0GHz with a penta-core Mali-450MP GPU
Memory – 2GB DDR3 RAM
Storage – 32GB eMMC flash + card reader for SD/SDHC/MMC cards
Video Output – HDMI 2.0 up to 4K*2K "super HD video" with HDR support and AV outputs
Audio Output – HDMI, AV, and optical S/PDIF
Connectivity – 10/100M Ethernet, dual band WiFi 802.11 b/g/n, and Bluetooth 4.0
USB – 2x USB 2.0 port
Supports HEVC (H.265) decoding
The TV box runs Android 6.0.
Unboxing
The box comes with 3 different Power Adapters, a HDMI cable, power supply and a completely oversized (20cm/5cm) remote control with  "learning modes ability". No manual was inside the box.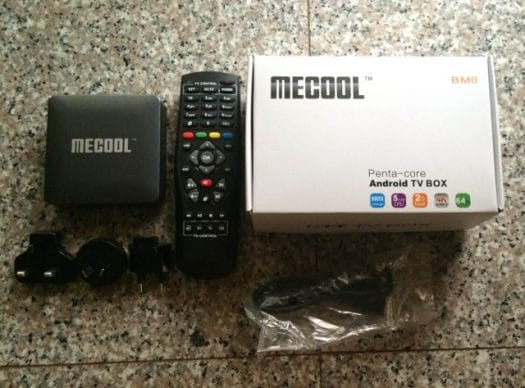 The Videostrong MECOOL BM8 is a 4-core Android TV box, very small and astonishingly smart. Both its length and width are only 95mm and the height is just at a amazing 19mm. You can hold it in your palm.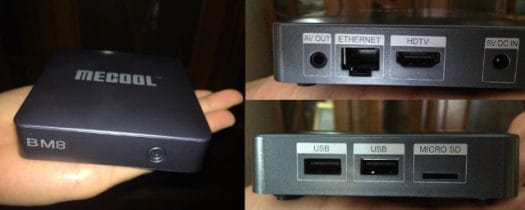 Review / Impressions
Videostrong MECOOL BM8 is one of the new Android 6.0 TV Box models in 2016. Android 6.0 is to improve user experience compared with other versions of TV Boxes. People can install or uninstall software, games and application programs more convenient and easily. Android 6 is supposed to handle the old memory handling of older Android versions better and more effective.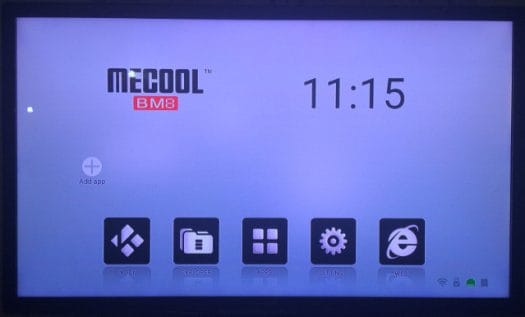 Videostrong MECOOL BM8 comes with Android 6.0.1 OS, an impressive 2GB RAM, and a massive 32GB storage. It provides users with a better experience to enjoy 4K Ultra HD video. Crispy Pictures and a fantastic sound quality are delivered by this very well designed box.
The device booted in just 13.8 seconds the first time, and the second time even faster. This box reboots in a shocking 11.4 seconds! Boot times are with a 500GB USB HDD and a MeLe F10 Deluxe remote. Those are the best results I ever saw so far with an Android box!
I tested Bluetooth with my iPhone 5S, and it worked flawlessly. MeLe F10 Deluxe air mouse also just worked with out issues. I could install all apps I wanted with the Google Play store.
Kodi is working in a glance, gone the times, where we have to wait endless time, before Kodi switched off, now in 1 to 2 seconds done. The Box comes with a Krypton 17.0 (compiled 28. July 2016.)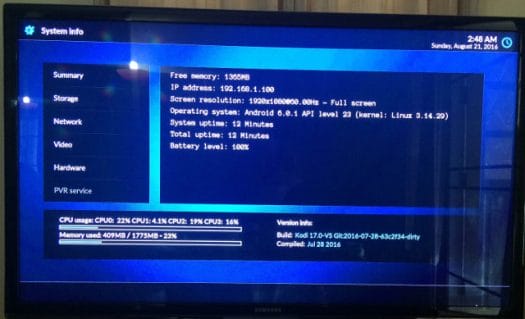 By my opinion not a good choice, Krypton Kodi is still in "pre-release" and if you want to install a "build" later on, you may have to uninstall and go for the latest Jarvis Release 16.1. Not many builds made for Krypton right now.
In the apps Section we find a Kodi ADD-ons updater. What this App really does, stays unknown, no update to find, because of the newest version already installed.
Truly one of the better boxes. I never have had any kind of "bad feeling", by using and testing this box. Big Points collect this box in the field of IPTV and streaming. Glas clear picture, crispy sound. I connected my Samsung Dolby Soundbar, and the result was great. So it should be and has to be!
I am not a big fan of fancy lab testing, these results are often not to read or to handle for the ordinary customers. A TV Box should give no headache, so easy is that, and I must say, this box gives the buyer no headache or trouble at all. I highly recommend this box for the average use.
Benchmarks
Vellamo 3.2:  Browser 2026; Metal 1057; Multicore 1520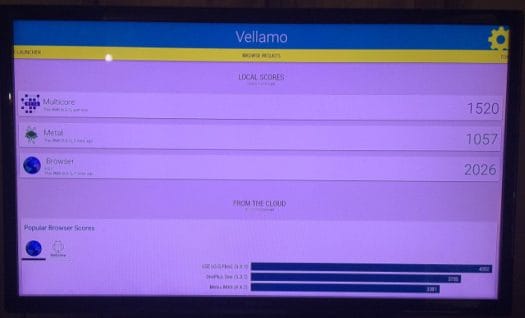 Antutu 6.2.1: Overall 34429;  3D 3026; UX 13714; CPU 12396; RAM 5293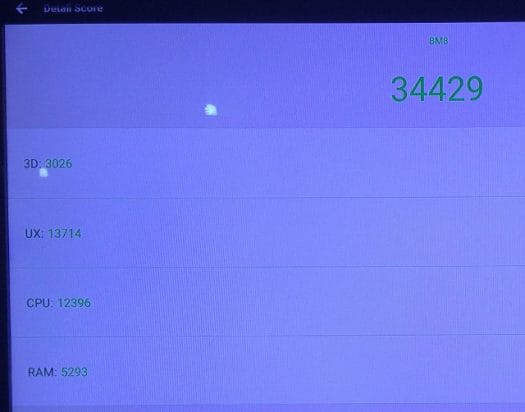 Conclusion
IPTV Fan? This Box is for you! Kodi Fan? This Box is for you!
Pros:

Speedy LAN, great Wi-Fi, perfect Bluetooth 4.0
Highly stable, smooth and fast firmware
Superfast booting
Nicely designed, small and compact
Very good value for the money
No temperature issues

Cons

Again the Remote, to huge, to unhandy
Wholesalers can purchase MECOOL BM8 from Videostrong on Alibaba. I could not find the device on any Chinese online stores at this time [Update: Geekbuying offers MECOOL BM8 for $68.99], but GearBest sells a similar looking – but with lower specs (1GB/8GB) – MECOOL HM8 TV box for $29.75 including shipping.