JeVois-Pro tiny AI camera was introduced last year with an Amlogic A311D processor with a built-in 5 TOPS NPU, and support for an Intel Myriad X or Google Edge TPU M.2 card all that in a compact 50x50x45 mm box.
The company has now managed to get hold of some M.2 A+E 2230 Hailo-8 modules delivering up to 26 TOPS of AI performance and is selling for JeVois-Pro ultra-compact deep learning camera with the Hailo-8 accelerator for $599 delivering up to 31 TOPS once we include the built-in 5 TOPS NPU.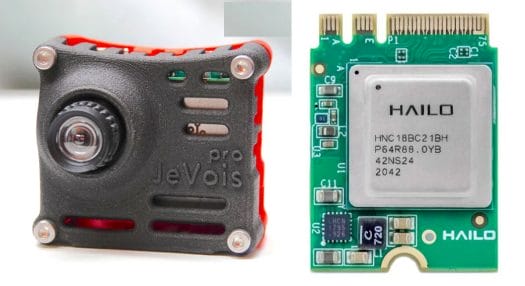 I won't go through the full specifications again, but in a nutshell, that's a camera designed for robotics projects, powered by an Amlogic A311D hexa-core Cortex-A73/A53 processor with 4GB RAM, a microSD card socket for the OS and data, and a 2MP Sony IMX290 Starvis sensor.
Since the system is quite compact and the AI accelerator fairly powerful, I asked the company about potential thermal issues, and they enable the fan by default when Hailo-8 is detected:
So far, thermal is good, the Hailo board reports typically around 50C once we turn on our fan at full speed. We set this as default when a hailo board is detected, because we don't yet have a simple way to let our fan driver know what the hailo temp is (maybe Hailo can add temps in some /sys/class/ entry in the future). Even though our fan is on the opposite side of the case, it still generates enough airflow to cool the hailo board by 10~15C when it is on vs off. If things get worse in the future, we already have a connector for a second fan on our main board, so we would ship a modified case front with a small 25mm fan blowing right onto the neural accelerator (in addition to the 40mm fan in the back).
The system can run pretty big networks such as a full YOLOv7 640×640 at 11.5 fps, or the smaller YOLOv5m 640×640 at 40fps, resnet-50 at 228fps, and is quite more capable than when fitted with a Google Coral TPU Edge that is only capable of running small Mobilenets networks and the likes. We can check the capabilities of the camera with the Hailo-8 module in the video below.
JeVois also released some benchmarks using the CPU, Amlogic NPU, Coral Edge TPU, and Hailo-8 accelerator. But note that those results do NOT represent the peak performance of these accelerators, and only results with the Jevois-Pro unit due to its limitation. These include a PCIe x1 interface (Hailo support PCIe x4), the processor is slower than on some other test systems, and the USB 3.0 capable Myriad X chip is only connected over a USB 2.0 interface. That's why you may see higher or lower numbers for Hailo-8, Myriad X, or Coral Edge AI accelerator on other systems.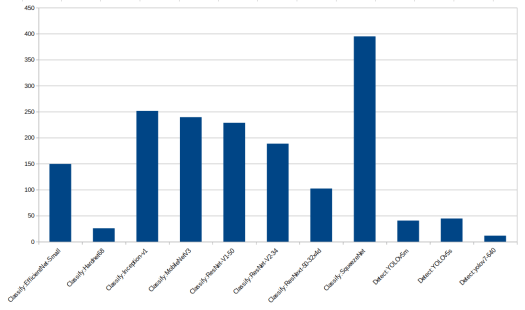 Classify tests use 224×224 RGB images, and Detect (YOLO) tests 640×640 RGB images. Sadly a direct comparison between various accelerators is not possible as most benchmarks are different, and/or with different inputs.

Jean-Luc started CNX Software in 2010 as a part-time endeavor, before quitting his job as a software engineering manager, and starting to write daily news, and reviews full time later in 2011.