The Arylic A50+ is a stereo audio streamer with a built-in power amplifier and support for wireless networks such as WiFi and Bluetooth as well as wired connections such as Ethernet, Analog RCA Line In, optical S/PDIF input, Subwoofer Out, and USB host port. All you need to do is connect the Arylic A50+ amplifier to passive speakers, and you can then easily stream music from streaming services such as Spotify, Tidal, or Qobuz in high-definition audio with the company's 4STREAM app or another compatible app. Multiple A50+ wireless amplifiers can also be connected through your house to enable multiple rooms and/or zones support.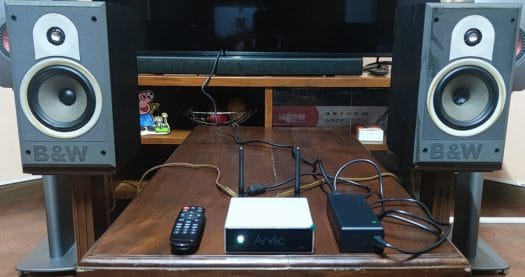 Arylic A50+ unboxing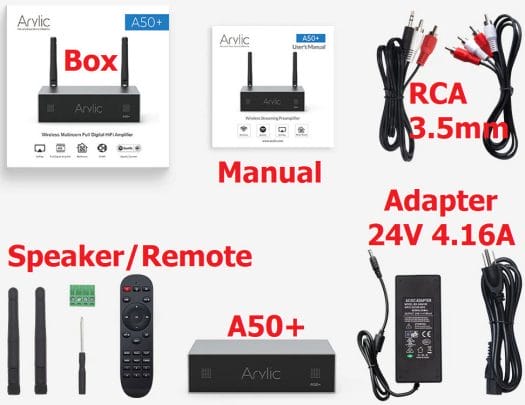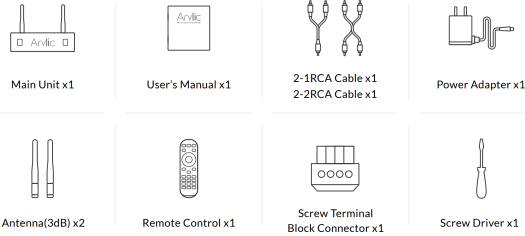 Arylic A50+ wireless amplifier teardown
We can open the device after loosening four screws and have a look at the various electronic components used in the design. The main board, named Up2Stream A50Pro, consists of 5 important integrated ICs: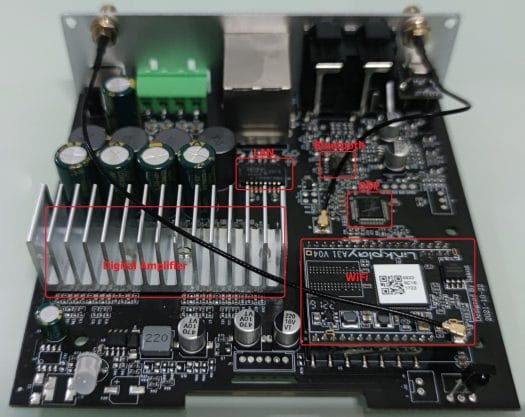 Those include: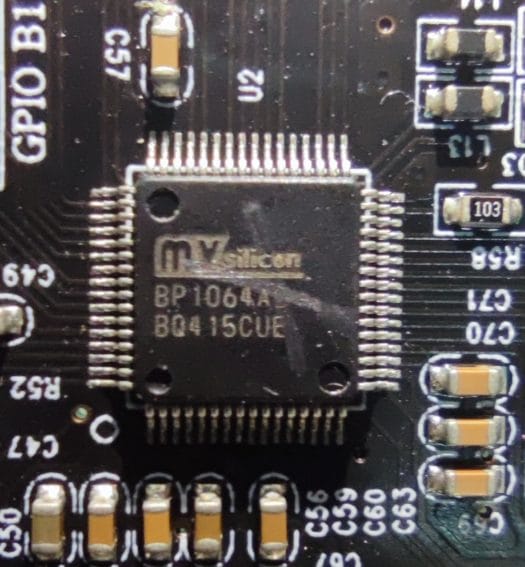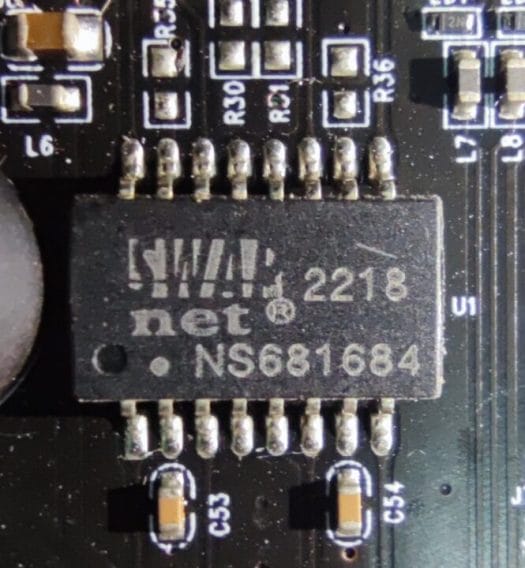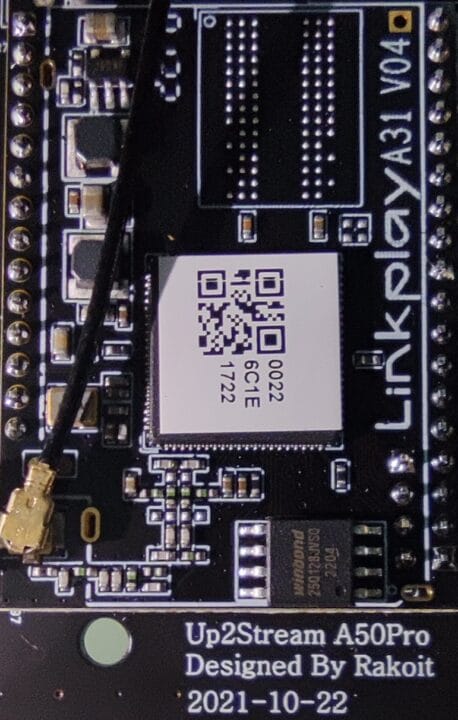 Main features of Arylic A50+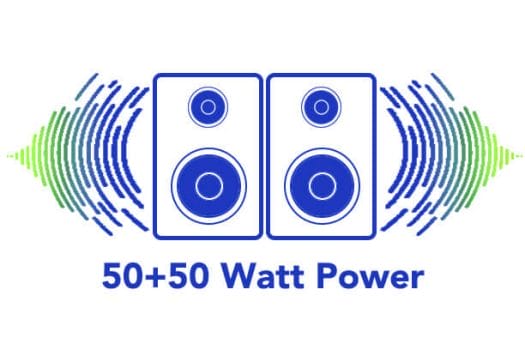 Built-in digital stereo amplifier that can drive speakers directly with 2x 50W speakers @ 4 ohms or 2x 30W speakers @ 8 ohms.
Streams music via WiFi or Bluetooth 5.0 at a range of up to 15 meters
Supports various streaming protocols: Spotify Connect, Airplay, Qplay, DLNA, UPnP, etc…
Support various streaming services such as Spotify, Deezer, Tidal, Qobuz, iHeart Radio, TuneIn, Napster, and more
Supports streaming from online service sources, smart device memory, USB Flash drive, NAS, Bluetooth, and analog input.
Supports iTunes and audio streaming can be done on your computer as well.
Multi-room and multi-zone streaming enabled with multiple A50+ wireless amplifiers connected to the same network.
All music sources can be re-streamed in sync with other Arylic models.
Support high-quality music streaming up to 24-bit, 192kHz
4STREAM app available for iOS and Android
Free OTA updates for future new features.
Comes with a remote control, so it can also be used without a mobile phone
Subwoofer output to connect an external active subwoofer
Bass-treble adjustment via app or remote control
Playlists can be preset on the remote control for a one-button playback
Arylic A50+ specifications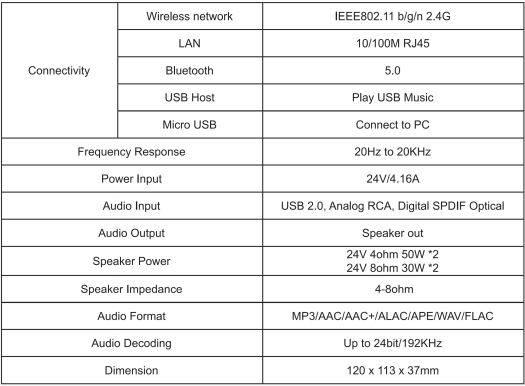 A wide range of ports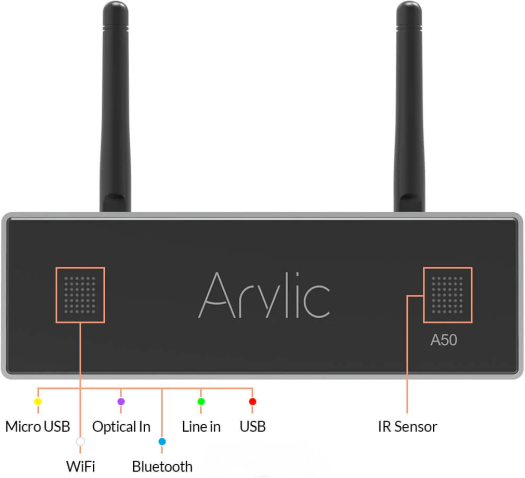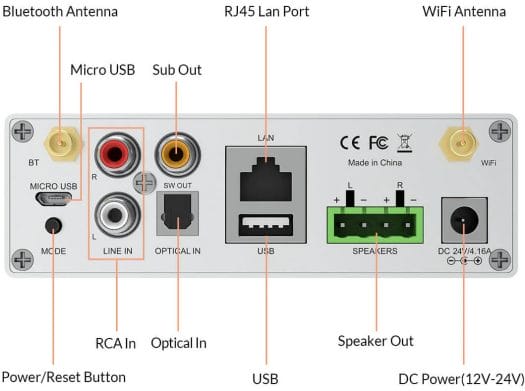 Status LED
IR receiver for the remote control
Bluetooth antenna connector for better Bluetooth signal strength
Micro USB port to connect to an external USB DAC to enhance the quality of the analog audio signal.
Mode button

Short press the button once: select the input signal.
Short press the button twice: connect and pair Wi-Fi or Bluetooth again.
Short press the button 3 times: return to factory settings.
Press and hold the button once: power on/off

LINE IN for external audio sources (RCA connector)
SW OUT to connect an external active subwoofer.
OPTICAL IN – Optical S/PDIF input connector
LAN – RJ45 Ethernet connector for LAN connection
USB host port to play audio files from a USB flash drive.
4-pin speaker terminal to connect passive speakers
WiFi antenna connector
DC Power – 24V/4.16A input
Remote control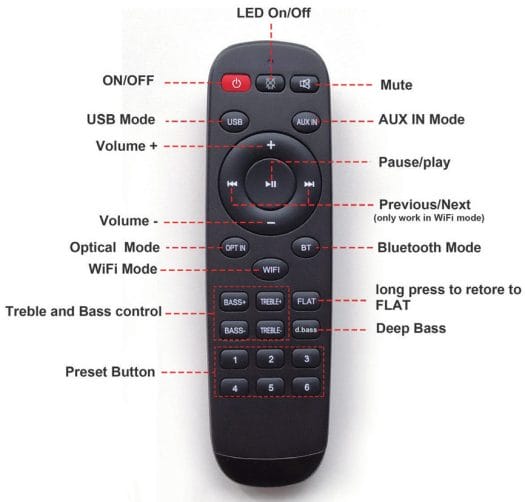 Connection diagram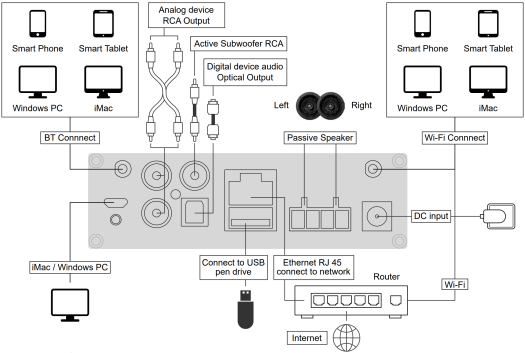 Getting started with the 4STREAM app
Download the 4STREAM application from the App Store for iOS devices and the Google Play Store for Android devices. The application supports English, Spanish, French, German, Italian, Portuguese, Korean, traditional Chinese, simplified Chinese, and Japanese.
The application consists of three main items with Browse, Device, and Settings. Let's have a look at all three.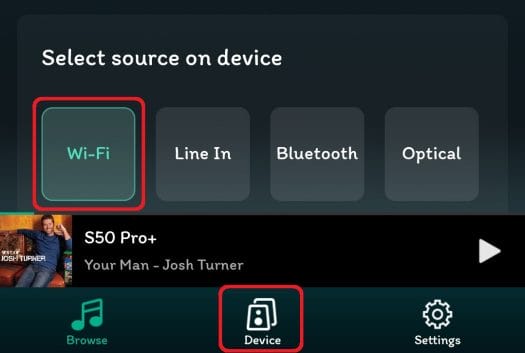 Device – Used to connect a new device
Let's use WiFi as an example. We'll need to follow four steps:
Power on the device and connect your mobile device to your local network.
Go to your mobile device's WLAN settings, and connect your phone to SoundSystem_ xxxx SSID (Short press the Reset button if the hotspot is not found)
Open the 4STREAM application, and follow the instructions in the application.
Select a 2.4GHz Wi-Fi network (only 2.4GHz networks will appear), enter the router password, and wait for device initialization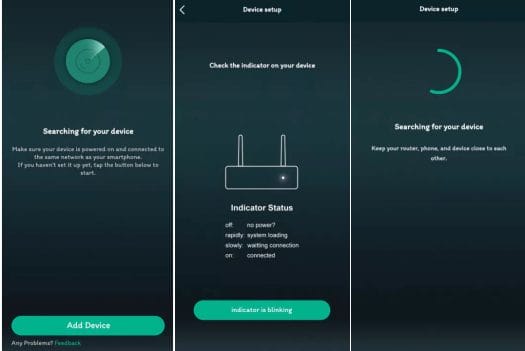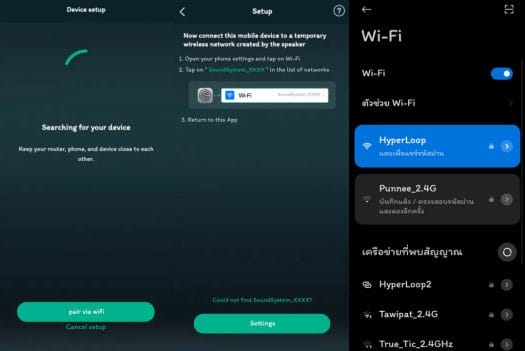 Notes:
If you have multiple A50+, or other Arylic devices connected to the same router, the router password is now saved.
Some Android phones may ask you to allow the use of the SoundSystem WiFi network. Please select "Yes". If "No" is selected, you will not be able to set up the system successfully.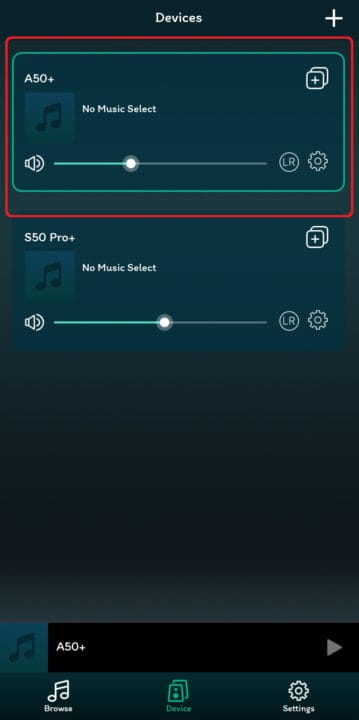 Our A50+ amplifier now shows up in the app together with the S50 Pro+ wireless pre-amplifier we have just reviewed. You can check other methods such as Bluetooth and Ethernet in our earlier review.
Settings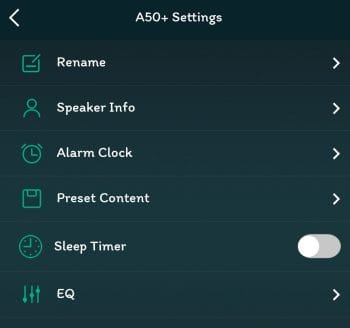 Let's go through the six options from the Settings section.
Rename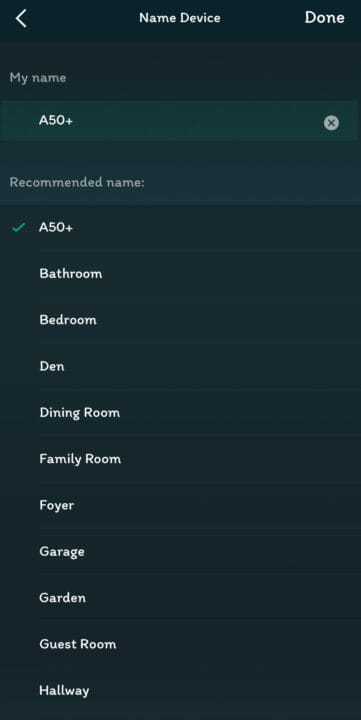 We can change the name of the device to something more meaningful
Speaker Info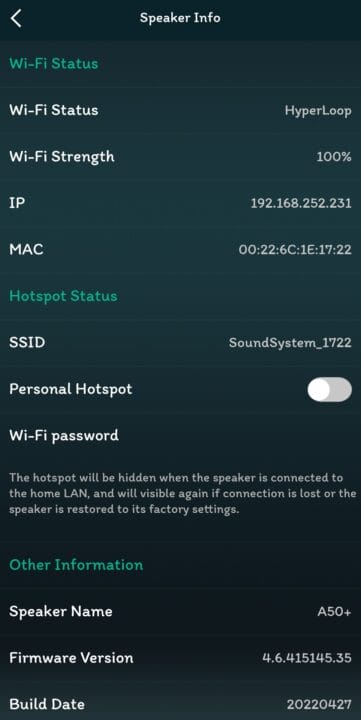 It displays the information of the connected device such as the IP address, the MAC address, the SSID, and more.
Alarm Clock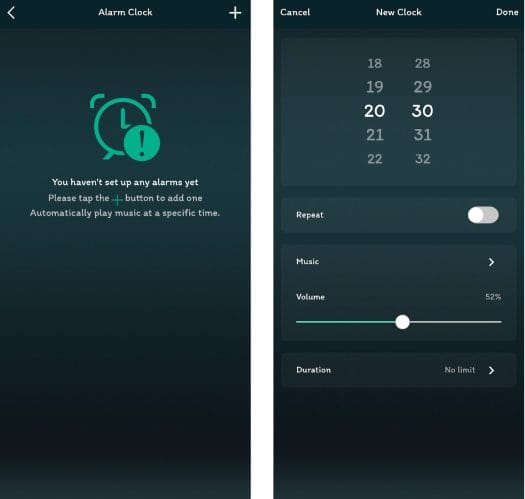 We can set the time to start the device automatically, for example, to play music in the morning to wake us up.
Preset Content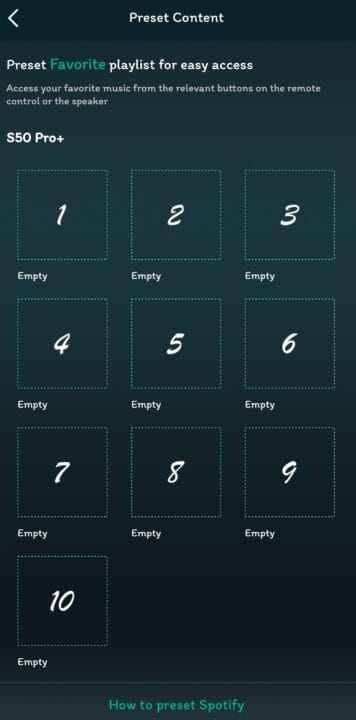 We can define up to 10 presents for our preferred playlists in the app. The first six can be accessed with the preset keys from the remote control as well.
Sleep Timer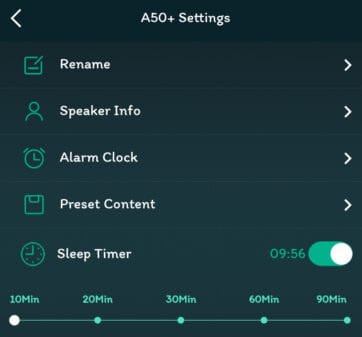 This is used to enable an automatic shutdown after a period of time defined by the user, and up to 90 minutes.
EQ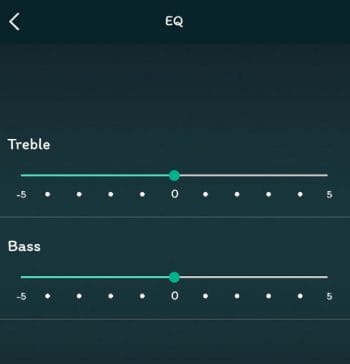 Equalizer function to adjust Treble and Bass values.
Browse
That's where you will be playing music from online streaming services such as iHeartRadio, Spotify, Tidal, Qobuz, and Deezer all of which may require account registration.
Audio test with the Arylic A50+ wireless stereo amplifier
Test requirements
For the purpose of this test, we choose to play music from the TIDAL Hi-Fi wireless streaming app. The connection is easier than with the pre-amplifier, since an amplifier is integrated and we can just find a pair of passive speakers to connect to the Arylic A50+ and listen to music.
We'll need the following
4STREAM app
TIDAL Hi-Fi streaming app
Arylic A50+ wireless stereo amplifier
B&W DM500 series speakers by Bowers and Wilkins

Wiring
Wiring could not get any simpler, as we just had to connect the left/right speaker cables from the B&W DM500 series speakers to the Arylic A50+ speaker terminal.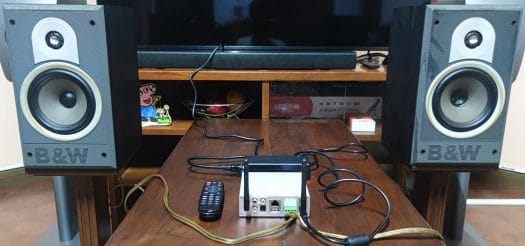 Connecting to the TIDAL app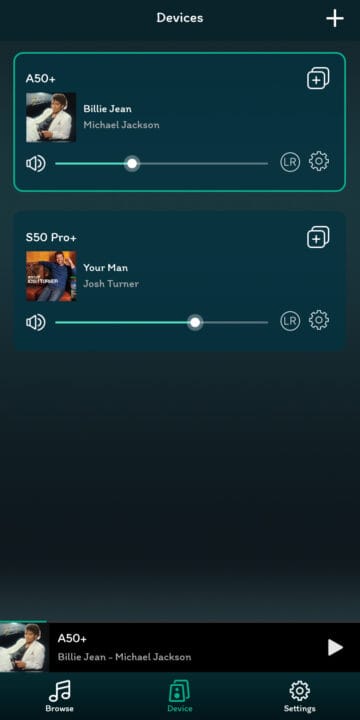 Country music test
The song chosen for the test was Your Man by Josh Turner from the album Best Of streaming from the Tidal app.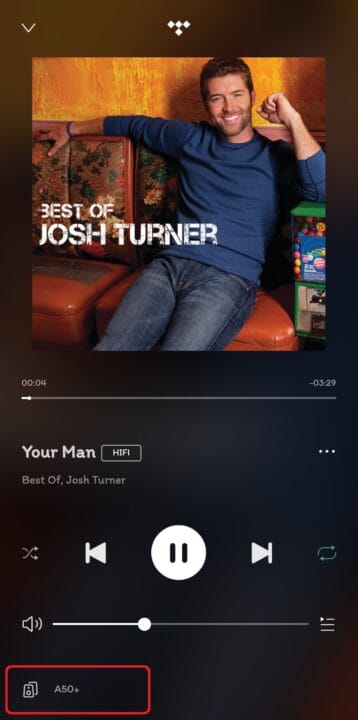 The song "Your Man" is particularly striking with the unique vocals of Josh Turner, especially the deep bass. The volume is constant, and the atmosphere of listening to music is comfortable and enjoyable.
We did not adjust the equalizer, treble, and bass in the 4STREAM app in order to listen to the unmodified sound from the original song.
Note: The audio tested through the Tidal app is copyright protected. The reviewer has no intention of infringing on the copyright of the song in any way. Therefore, only short videos were recorded up to 2 minutes long, and not the complete song to use as an example.

You can listen to the Arylic A50+ compared to the Arylic S50 Pro+ from our review "Arylic S50 Pro+ Wireless Stereo Preamplifier Review".
Pop-dance and R&B audio test
The song chosen for this test was Billie Jean by Michael Jackson, and part of the Thriller album on the Tidal app.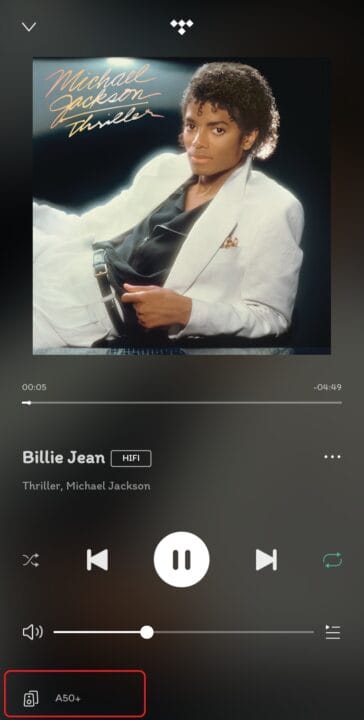 Billie Jean's song stands out for its unique rhythm, fun drum beats, and low bass. If you watch the music video, you'll see the artist's dance moves following the rhythm smoothly with the music until the end of the song.
Conclusion
The Arylic A50+ is perfect for listening to music in small rooms with an area not more than 4 x 4 meters, or larger rooms with the Arylic A50+ and several sets of speakers covering the whole area. That would be using the Multiroom/Multizone feature and combining the Arylic A50+ with wall-mounted or in-ceiling speakers so can play music in various rooms/areas in the house, so we can enjoy listening to music wherever we move. That is truly a music paradise.
The Arylic A50+ is an entry-level Hi-Fi audio system whose main highlights include support for modern wireless music streaming, and a built-in digital power amplifier that delivers music at an affordable price. The wireless stereo amplifier is sold for $199 on the Arylic.com website. We'd like to thank Rakoit for sending Arylic A50+ Wireless Stereo Amplifier, and the S50 Pro+ pre-amplifier for review.
This post is a translation of the review on CNX Software Thailand by Ninephon Kongangkab

Jean-Luc started CNX Software in 2010 as a part-time endeavor, before quitting his job as a software engineering manager, and starting to write daily news, and reviews full time later in 2011.