AXERA AX620A is a high-performance, low-power AI SoC with a quad-core Arm Cortex-A7 processor and a 14.4TOPs @ INT4 or 3.6TOPs @ INT8's NPU that is slightly inferior to the Amlogic A311D, and mainly used for AI vision applications.
With high computing power and built-in image processing capabilities, the AX620A can support a wide range of AI workloads. It also offers low power consumption with low standby power and fast wake-up, so the chip can be integrated into battery-powered products.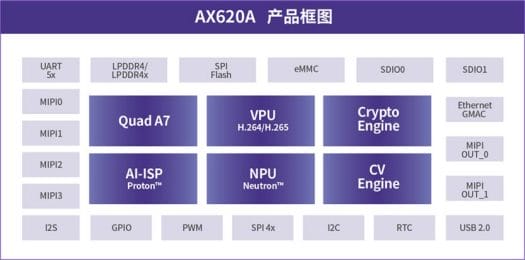 AXERA AX620A specifications:
CPU – Quad-core Arm Cortex-A7 @ 1.0 GHz with 32KB L1 I-cache + 32KB L1 D-cache per core, 256KB L2 cache, FPU and NEON
NPU – 4 TOPS @ INT4, 3.6 TOPS @ INT8 with support for Imagenet, AlexNet, VGG, ResNet, GoogLeNet, Faster R-CNN, SSD, FPN, Yolo V3, and other neural networks.
ISP

Proton AI-ISP up to 4Kp30
4 channels of camera support up to 4x 1080p30
Support for a variety of CFA modes, such as RGGB, RGB-IR, RCCB, and other patterns.

Memory I/F – Up to 4GB LPDDR4/LPDDR4x, 32-bit width, up to 3733Mbps
Storage I/F – Up to 2TB eMMC 5.1 flash, 4-bit parallel NAND Flash, SPI NAND flash
Video Unit

H.264 video decoder 1080p60
JPEG Baseline decoder 1080p60
H.264/H.265 video encoder 4Kp30, multi-stream real-time encoding capability 4K @ 30fps + 1080p @ 30fps + 720p @ 30fps
JPEG Baseline encoder 4Kp30

Video Input

4+4+4-lane MIPI CSI interfaces or 4+2+2+2+2-lane MIPI CSI interfaces
4+4+4-lane MIPI CSI interfaces or 8+4-lane Sub-LVDS interfaces
Up to 4x sensor inputs at the same time
Up to 2.5Gbps per lane interface

Video Output

2x MIPI DSI output interfaces
Up to 4Kp30 output
Up to 1.5Gbps per lane interface

Audio – I2S, external Audio Codec support
Networking – 1x Gigabit Ethernet with support for RGMII or RMII mode
USB – 1x USB 2.0 Host or Device
Other interfaces – Multiple I2C, SPI, UART, and PWM interfaces
Package – 14mm x14mm FC-CSP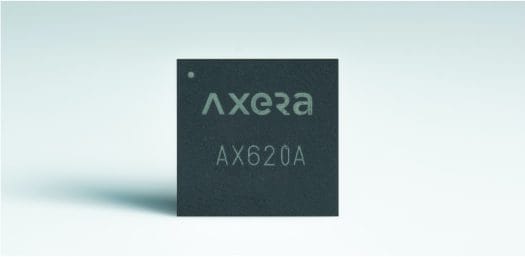 AXERA has developed the AI ISP image processing technology in-house with the combination of the ISP and NPU improving the performance and features compared to more traditional ISPs. The AX620A's AI ISP is said to achieve "excellent image quality" in low-light environments and does so that a low power consumption of around 1 Watt, and it may be integrated into other Edge AI chips. Let's wait and see.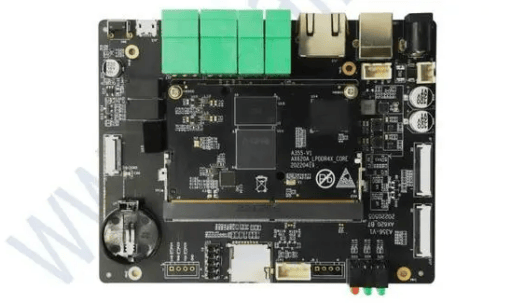 We found what appears to be the official AX620A development board in an article posted on Baidu which comes with 2GB RAM and 8GB eMMC flash and offers a range of ports including Gigabit Ethernet, two MIPI CSI interfaces, one MIPI DSI display interface up to 4Kp30, two relays, two RS485 interfaces, and more. What's not shown in that article is software support, but AXERA's GitHub, has some code with Pipeline examples of AX620A's ISP, image, NPU, and other modules, as well as the sample code for computer vision. The AX620A SDK is based on Debian 11 Linux.
You may also visit the product page to get more information, but there are only a few details beyond the hardware specs.

Li Zexi became a part-time writer for CNX Software in 2022 and works as a software engineer in an embedded software company in China. He's been passionate about embedded development and the Internet of Things for many years, with extensive industry experience, and a new and unique vision!