SONOFF has rolled out smart switches in the market for years, and for each iteration, they make their devices smaller and more capable. The latest ZBMINI Extreme Zigbee Smart Switch or ZBMINIL2 or ZBMINI Extreme for shorts is what we will review today. Take note that there are both Zigbee and Wifi versions that come with the same form factor, we will walk through the Zigbee version first and we will review the WiFi version – SONOFF MINI Extreme (MINIR4) – later on.
The ZBMINI Extreme is designed to work without a Neutral (N) line. Those who have difficulty wiring the N line to the switch will definitely love this. In many locations, the Neutral (N) line is not wired and would require a lot of work and expenses for cabling. SONOFF ZBMINI Extreme eases that challenge since there's no need for the Neutral wire at all. This review will go through an unboxing, some specifications, explain how to operate the device, show how to set it up with Home Assistant, and go through some sample use cases.
ZBMINI Extreme Unboxing
The package of the ZBMINI Extreme is surprisingly as big as its predecessor, however, once you have unboxed there is plenty of space, partly because of the foam frame for protection purposes. This device is actually small as its name implied. As usual, the package comes with a Quick Guide. The color of the package is orange which means it is a Zigbee product, while the Wifi products are typically in green color. It's a good idea to differentiate between versions.
Specifications
MCU – Silicon Labs EFR32MG22 Arm Cortex-M33 @ 76.8 MHz Zigbee microcontroller with up to 512 kB flash, up to 32 kB RAM
Connectivity – Zigbee 3.0
Input – 100-240V ~ 50/60Hz 6A Max
Output – 100-240V ~ 50/60Hz 6A Max
Dimensions – 39.5 x 32 x 18.4mm
Casing material – PC V0
It's highly recommended to check the max power consumption of the appliance that you want to use together with the ZBMINIL2 as the maximum is 6A. This is to avoid damage to equipment as well as a good electrical safety practice.
Dimensions and Features
ZBMINI Extreme form factor is 40% smaller when compared to the predecessor: the SONOFF Mini R2. Its dimensions are 39.5 x 32 x 18.4mm while the popular SONOFF Mini R2 measures 48 x 46 x 30 mm. It's ideal to use in places where you have limited space e.g. behind a junction box.
From the picture below, you can see compare the size of different SONOFF devices (left to right): MiniR2 (WiFi), MiniR2(ZB), and ZBMINI Extreme. I love the size! In addition to installing it inside a  junction box, you could also integrate it into other devices such as home appliances due to ZBMINI Extreme's small size. For example, it would be possible to convert a non-IOT device to a smart device such as a desk lamp, a tower lamp, or even a ventilation fan.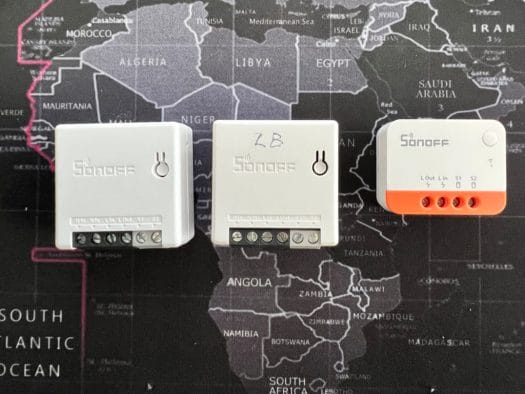 As mentioned in the introduction, a unique feature of the ZBMINI Extreme is that it works without a Neutral line (N). In some countries, the light switch may not have the N line wired, hence, this will help a lot without much of modification work to your home. The ZBMINI Extreme can be managed by an application on a mobile phone or computer and can be set up to schedule on/off times or with a count-down timer and supports simple automation by working together with other devices. It will make our life simpler and more convenient.
The wiring diagrams above show how to connect the ZBMINI Extreme to a two types of switches and a load. The switch only needs the L line and  S1 and/or S2 port to connect to an external switch. It would then work in two ways: from the physical switch and from the application. You can also wire a 2-way physical switch control. For those who have experience with the SONOFF Basic, this is different as the Basic model doesn't have a port to connect an external switch, and it only enables control from the application or tiny button on the device that is not convenient to access.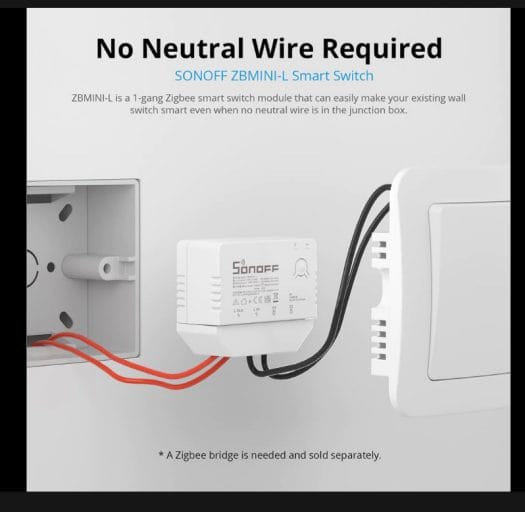 With its small form factor and the ability to connect to an external switch, the ZBMINI-L2 can transform an ordinary switch that has only the L line into a smart switch as shown in the picture above. It's very convenient for houses where family members are familiar with traditional switches, e.g. elderly people, and the newer generation that may be more tech-savvy can enjoy the extra features enabled by the mobile app such as scheduling, timers, count-down, and simple automation by working with other devices. So it's the best of both worlds!
ZBMINI Extreme operation instructions
There are multiple ways to control the SONOFF ZBMINI Extreme switch. The most simple approach is to use their own application – eWeLink which is available on both iOS and Android. You can also manage it from a PC via a web browser but it requires the "Advance Plan" license for eWeLink with a yearly subscription. In case you use eWeLink, you need an additional Zigbee bridge/Hub device acting  as a gateway to communicate with the ZBMINI Extreme using the Zigbee protocol. The Zigbee bridge will send/receive commands between the eWeLink cloud and ZBMINI Extreme. SONOFF have their own Zigbee Bridge / Hub product too, they are SONOFF ZBBridge Pro or SONOFF NSPanel Pro. The quick installation with eWeLink is shown below.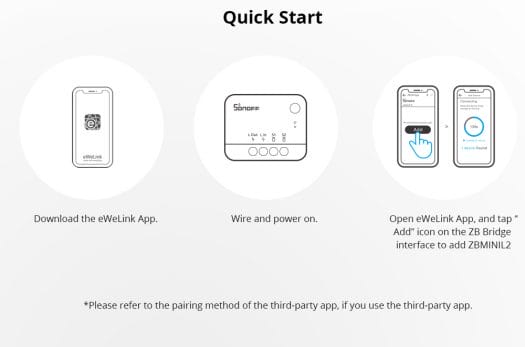 But in this review, we will show you how to manage the ZBMINI Extreme using another approach namely with integration with Home Assistant home automation framework. Home Assistant is a very popular open-source software, contributed by lots of great people around the world. We will use Home Assistant version 2023.2.0 installed on a Raspberry Pi 4 SBC with 4GB or 8GB RAM and a 128GB SD card. We won't use an external Zigbee Bridge, and instead, we will make use of a Zigbee USB Dongle that connects directly to the Raspberry P i4  USB port. For the dongle, we have a Conbee II Zigbee USB dongle to create a Zigbee network in order to communicate with other Zigbee devices
How to use Home Assistant with ZBMINI Extreme switch
Home Assistant is one of the most popular Smart Home Software. You will need to set up Home Assistant on a local server first. The local server can be a Raspberry Pi or Intel Mini PC from various brands. As mentioned before, you need to have Zigbee USB Dongle connect to the Home Assistant server to communicate via Zigbee protocol to Zigbee devices e.g. ZBMINI Extreme.
SONOFF also have their own Zigbee USB dongle: the SONOFF Zigbee 3.0 USB Dongle Plus, but you can select Zigbee Dongle USB from any other brand such as the Conbee II from Dresden Electronic which we are using with a Raspberry Pi 4 in this review. Once you have a Zigbee USB dongle, you'll then need to integrate it into your home automation framework. There are various Zigbee integrations for Home Assistant, but I would recommend either Zigbee Home Automation (ZHA) which is quite easy to install/set up from the Home Assistant GUI, or Zigbee2MQTT. Both have lots of users with plenty of Zigbee end devices supported.
Next, we will hook up ZBMINI Extreme to some traditional devices in our home. Refer to the diagram below as a guideline showing how to wire the power cable to it. Make sure the mains are turned off during installation. We have two diagrams as examples: a desk lamp and a ceiling light.
After you have wired the cable between ZBMINI Extreme and the device, you will want to connect an external switch to S1 and S2.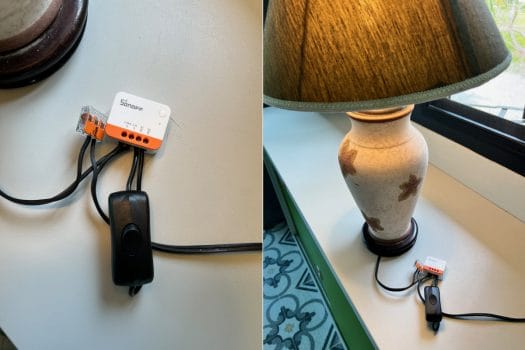 Once the wiring is completed, we can double-check the connection before during on the mains.  You will see the LED flashing on the SONOFF ZBMINI Extreme meaning it is waiting for set up, and if not you can reset it by pressing the small button on the device for 5 seconds until the LED starts flashing. The next step is to add the ZBMINI Extreme to Home Assistant. We will demonstrate it by using a mobile phone on which the Home Assistant Companion app is already installed. You can download it either from the App Store (iOS) or Google Play (Android). Prior to adding the device, make sure you have installed a Zigbee Integration into Home Assistant. In the steps below, we use ZHA integration.
First, go to Settings -> Devices & Services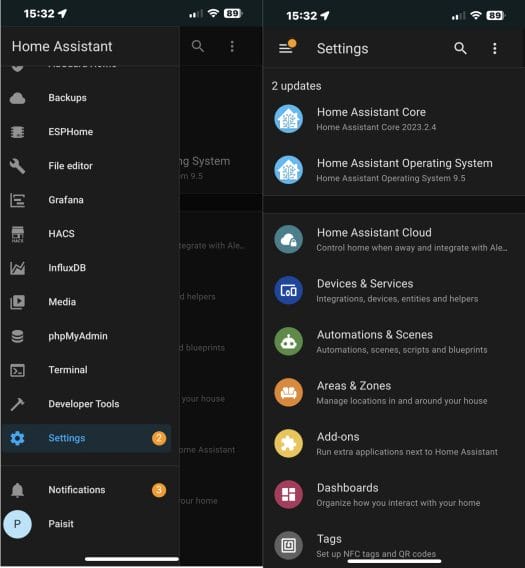 Then select Add Integration -> Add Zigbee Device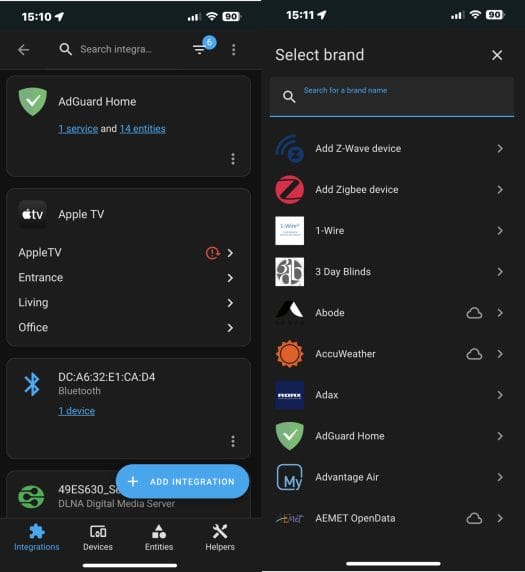 After that, Home Assistant will scan unconfigured Zigbee devices, and once it finds one it will let us know and allow us to optionally set the name and area for the device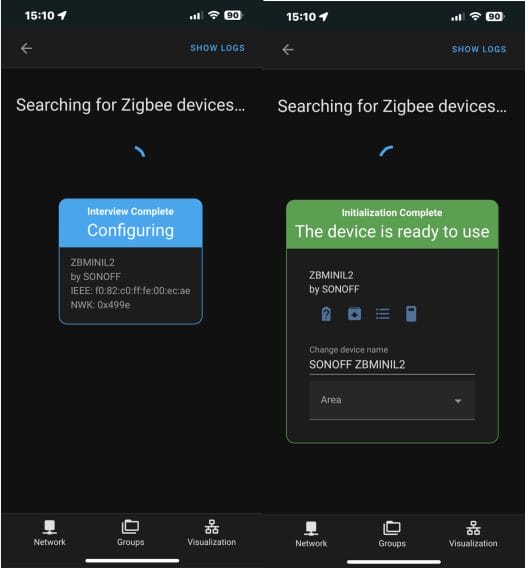 That is done for a quick setup!
We can now navigate to see the device information such as status and settings (PowerOn State or Startup Behaviour). Of course, you can start to control the switch to on/off status from the Home Assistant application and create automations such as a trigger by time or state from another device. Some common use cases include scheduling on/off lighting at night or triggering the light with a motion sensor.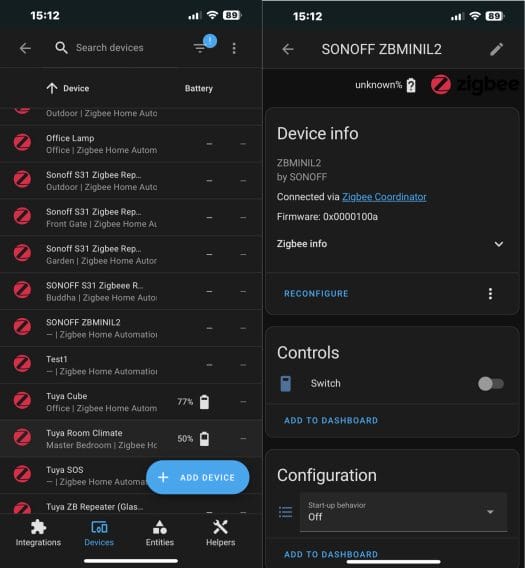 SONOFF ZBMini Extreme use cases
As a smart switch, the SONOFF ZBMINI Extreme can be used to switch on and off lights or home appliances as long as the power consumption does not exceed the specifications (6A). This smart switch can be used together with either the eWeLink application or Home Assistant to enable an on/off schedule, a timer, a count-down timer, and so on. My favorite use case is to use it as a smart switch to turn on/off my ventilation fan or DIY air purifier for which we can write a simple rule/automation with data from other inputs, e.g. PM25 sensor, to reduce the power consumption of the air purifier. Keep in mind that this is only to switch a device on/off, and it can not control the speed of the fan.
Overall, I enjoyed the SONOFF ZBMini Extreme with its super small form factor and rich capabilities including Home Assistant integration which open up more possibilities in real-world applications. I'd like to thank ITEAD for sending the SONOFF ZBMINI Extreme (ZBMINIL2) for review. It can be purchased for $13.99, and shipping is free as long as your order is over $89. You can also get a 10% discount when using the CNXSOFTSONOFF coupon code.

Computer Engineering who previously worked with multinational IT company, rich experience in IT infrastructure, has a passion on Internet Of Thing i.e., Smart Home, Smart Farm as well as interested on Sustainability such as renewable energy, organic farming