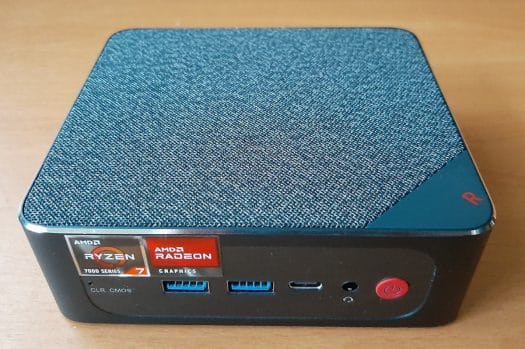 Previously I reviewed Beelink's SER6 Pro mini PC when it was released with an AMD Ryzen 7 6800H processor, mentioning that a 'refreshed' model had since been released. Beelink have kindly sent me this updated model which now uses an AMD Ryzen 7 7735HS. Given this is virtually an identical processor with just a 50 MHz improvement to the boost frequency, this review will look at confirming that the Windows performance is just as good as before and also revisiting the issues faced previously with the USB4 port. Spoiler alert: the USB4 now works perfectly!
Beelink SER6 Pro 7735S specification
Beelink list the SER6 Pro 7735HS specifications as: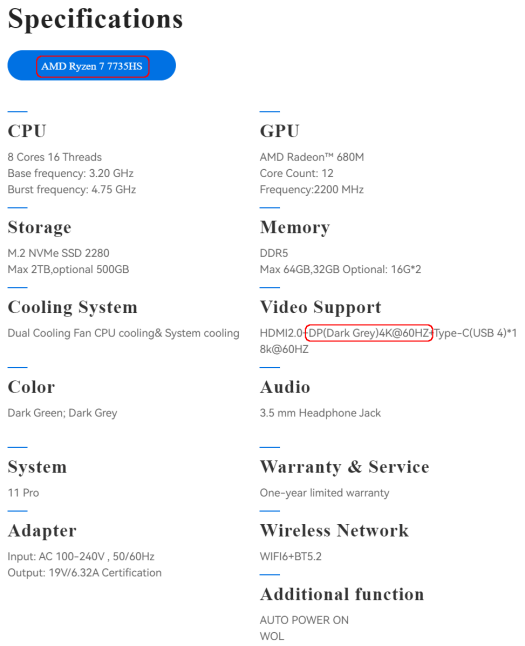 with the only differences to the original SER6 Pro being firstly the AMD Ryzen 7 7735HS processor which has a Max Turbo Frequency of 4.75GHz, and secondly that two variations are also available: one with ports exactly the same as the original SER6 Pro and the other which swaps out an HDMI port for a DisplayPort.
Product overview
Overview of hardware
The Beelink SER6 Pro mini PC physically consists of a 126 x 113 x 42mm (4.96 x 4.45 x 1.65 inches) square metal case with a colored breathable/waterproof fabric-covered top. As an actively cooled mini PC, it uses AMD's Rembrandt-R (or Rembrandt Refresh) Ryzen 7 7735HS processor which is an eight-core 16-thread 3.2 GHz mobile processor boosting to 4.75 GHz and includes AMD Radeon 680M graphics that has 12 graphics cores at a frequency of 2200 MHz.
The front panel has an illuminated power button, a 3.5mm headphone jack, a USB4 port, dual USB 3.2 Gen 2 ports, and a reset pin-hole 'CLR CMOS'. The rear panel includes a 2.5 gigabit Ethernet port, a USB 3.2 Gen 2 port, a USB 2.0 port, and a power jack. Also included on the rear panel, but depending on the variation, are either dual HDMI 2.0 ports or an HDMI 2.0 port and a DisplayPort 1.4 (the review model):

Internally included is an M.2 2280 NVMe PCIe Gen 4.0 SSD drive (the review model included a 500 GB Kingston SNV2S/500G drive complete with Windows 11 Pro installed) and this in turn covers an M.2 2230 WiFi 6 (or 802.11ax) Intel AX200 card which also provides Bluetooth 5.2. There are also two SODIMM memory slots supporting up to 64 GB of memory and the review model included two sticks of Crucial 16 GB DDR5 4800 MHz memory for a total of 32 GB: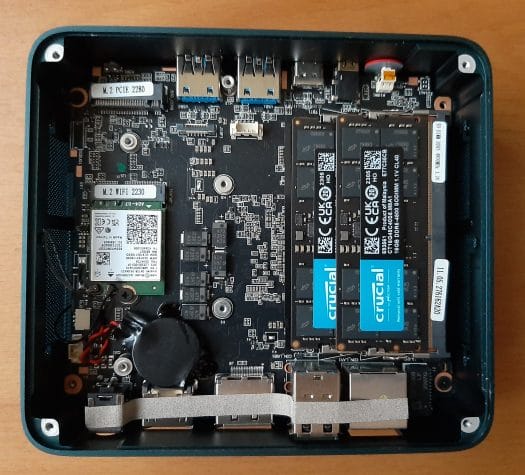 Also included in the bottom of the device is a plastic bay that supports adding a 2.5" SATA drive for increased storage and the bay also incorporates a small fan to cool both the drive and the motherboard/memory above it.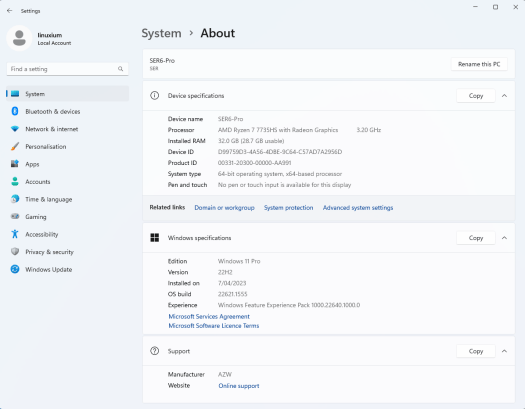 In the box, you get a 120.08W (19.0V 6.32A) power adapter and cord, both a short and a longer HDMI cable, a VESA mounting bracket together with a small packet of miscellaneous screws, a replaceable but different colored fabric top and a multilingual user manual.
Overview of software
The Beelink SER6 Pro came installed with a licensed copy of Windows 11 Pro version 21H2 build 22000.1281 which I upgraded to the latest 22H2 build 22621.1555 for testing purposes: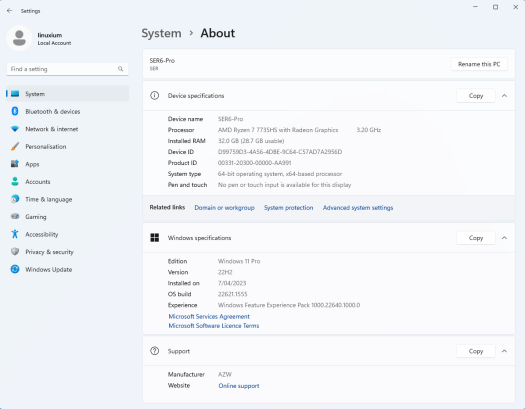 Key Observations
A quick look at the hardware information shows it is aligned with the specification: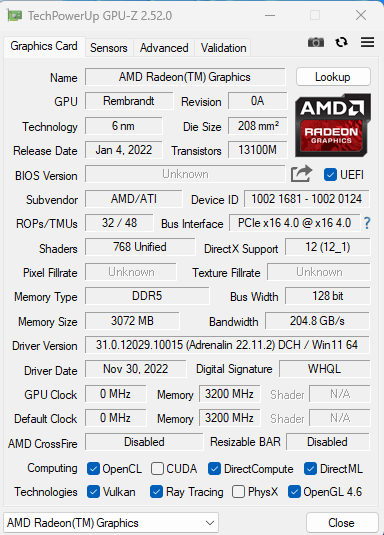 The processor's 'Power Limits' (PL) are configured with 'PL1' set to 38 watts and 'PL2' set to 45 watts which is the same as the Thermal Design Power (TDP):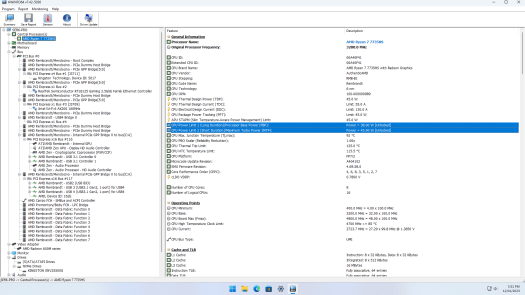 The memory is configured to run at its maximum speed of 4800 MHz:
The 2.5 gigabit Ethernet uses a Realtek RTL8125 network interface controller and the WiFi 6 uses an Intel Cyclone Peak AX200 M.2 2230 card which supports 2×2 WiFi 6 technology which theoretically could deliver a throughput of up to 2.4 Gb/s as well as providing support for Bluetooth 5.2: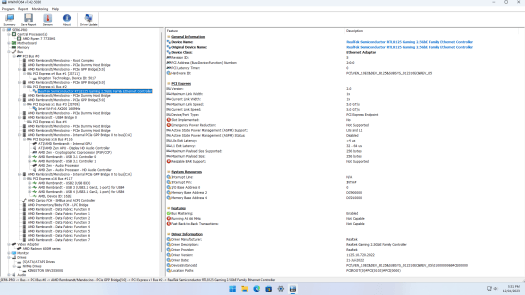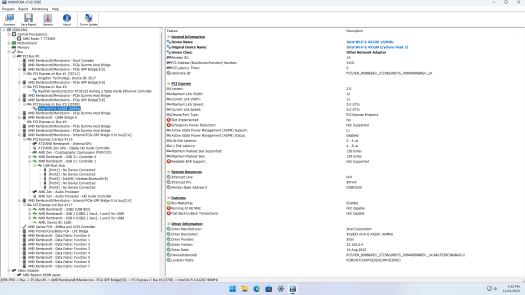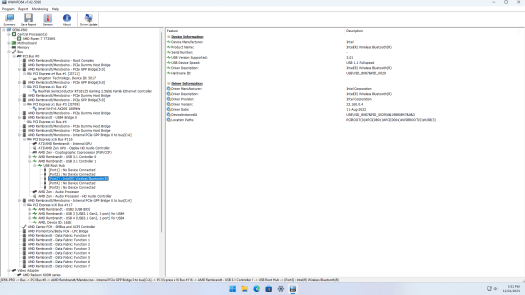 The specification lists all of the Type-A USB ports as 3.2 Gen 2 so I tested them using a Samsung 980 PRO PCle 4.0 NVMe M.2 SSD housed in an 'USB to M.2 NVMe adapter' (ORICO M2PAC3-G20 M.2 NVMe SSD Enclosure) which showed that all the 'blue' USB ports were indeed USB 3.2 Gen 2×1 i.e. 10 Gbit/s: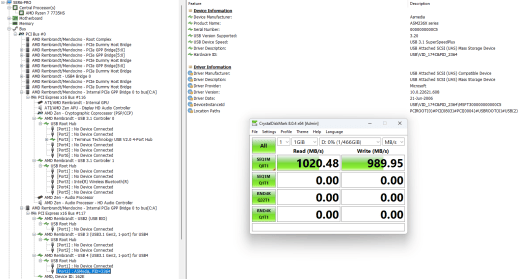 and that the 'black' rear USB port was the USB 2.0 port: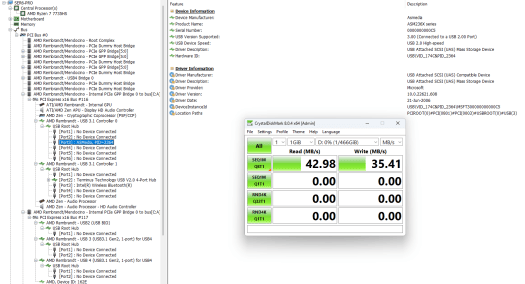 There is also a USB4 port which when tested also ran as USB 3.2 Gen 2×1 i.e. 10 Gbit/s: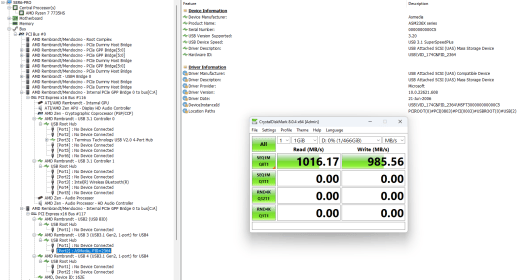 Windows 11 Performance on Beelink SER6 Pro 7735HS

I first set the power mode to 'High performance' and ran some well-known benchmarking tools to look at performance under Windows.
Storage performance from the M.2 NVMe was: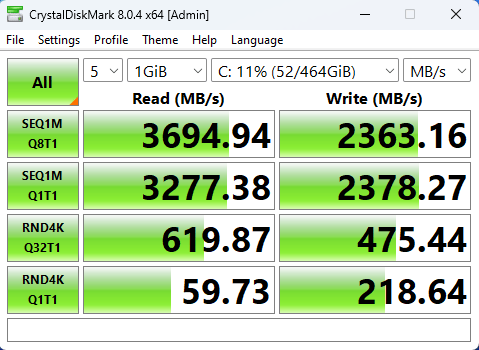 The overall Windows performance was:
with CPU performance measured as:
and iGPU performance measured as:
For real-world testing of the iGPU, I played various videos in Edge and there were no issues encountered playing videos up to 4K 60 FPS: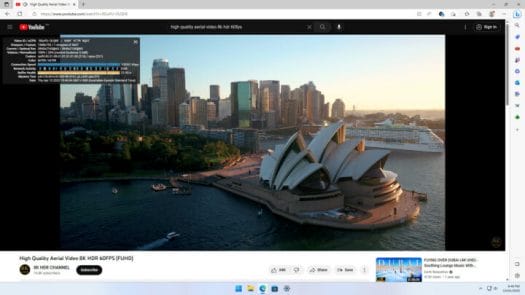 I also briefly looked at gaming by testing Shadow Of The Tomb Raider (SOTTR) under Steam. At '1920×1080' resolution using the 'high' preset default settings, the built-in benchmark averaged 36 FPS: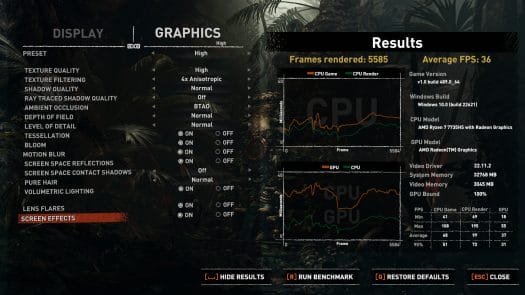 With the 'low' preset default settings the benchmark average improved to 48 FPS: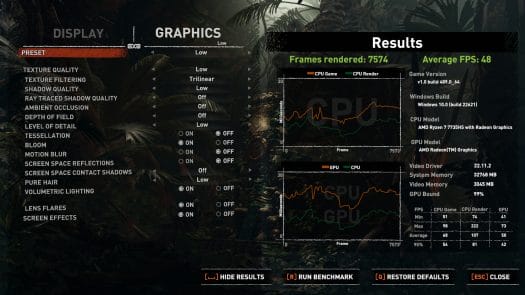 Network Performance Check
Network connectivity throughput was measured using 'iperf3'. The 2.5 gigabit Ethernet port performed as expected at around 2.37 Gb/s: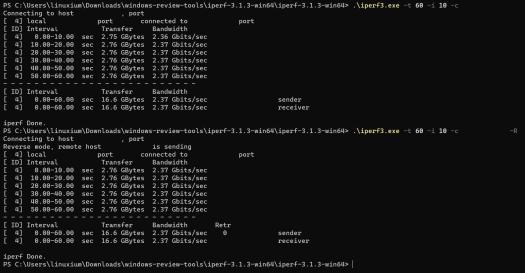 WiFi performance was also as expected with download on the 2.4 GHz band averaging 178 Mb/s and upload averaging 164 Mb/s: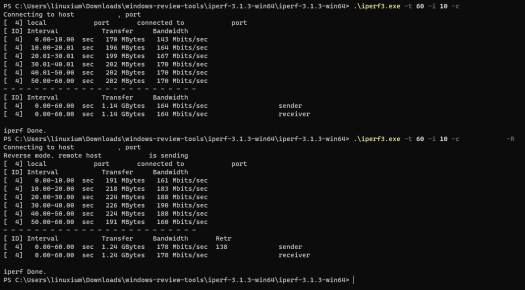 For the 5 GHz band, download was 554 Mb/s and upload averaged 557 Mb/s: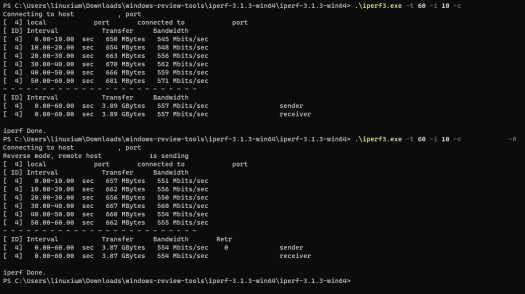 Thermal Performance Check
Running Cinebench R23 saw the CPU temperature rise to a peak of 89.1°C: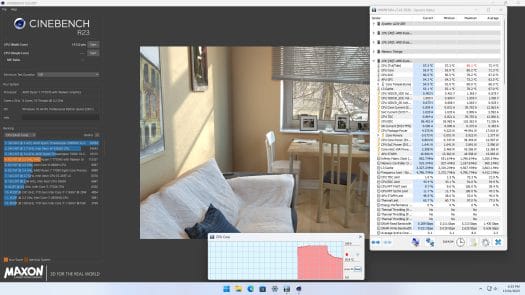 The Beelink SER6 Pro includes two fans which are hardly audible during normal use and only reached 42 dBA on my sound meter next to the device during the testing.
USB4 Revisited
Unlike when I tested the original Beelink SER6 Pro, this time there were no problems when connecting an eGPU to the device's USB4 port: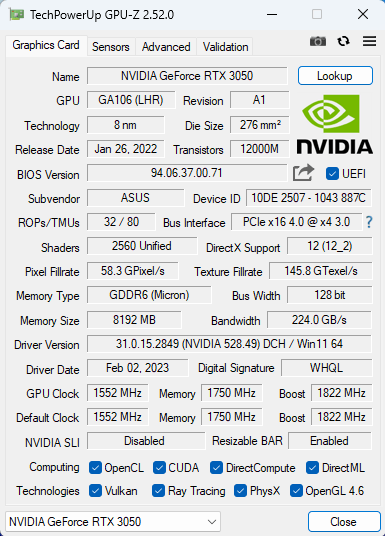 As a result, I was able to test the USB4 port using the same mix of eGPUs (XG Station Pro and ADT-Link R43SG), Thunderbolt (TB) 3 and TB4 cables, and different Thunderbolt enclosures (with JHL6340 and JHL7540 controllers) similar to when struggling to test the original SER6 Pro.
Using a TB3 cable with the ADT-Link R43SG eGPU connected using a JHL6340-based enclosure yielded the now expected 20 Gb/s result: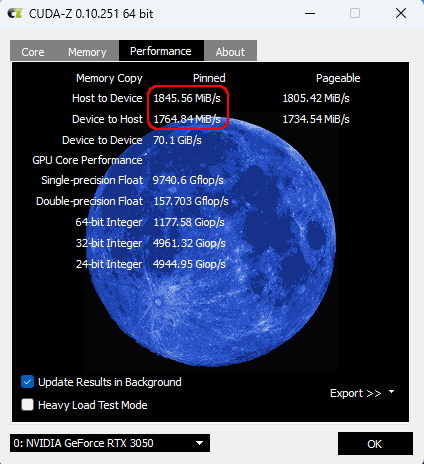 Replacing the cable with a TB4 one doubled the performance to 40 Gb/s: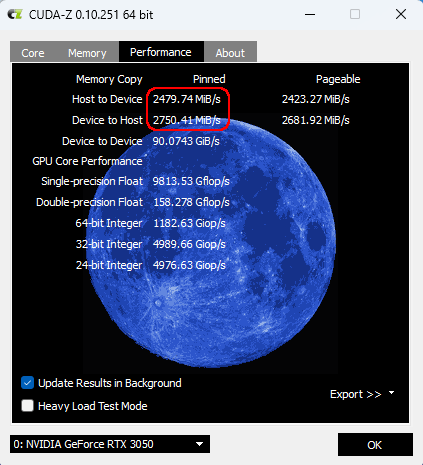 Finally, switching the enclosure to use a JHL7540-based one resulted in the best performance just like before:
I first tested SOTTR gaming performance using the XG Station Pro (which uses a JHL6340 controller) together with a TB4 cable: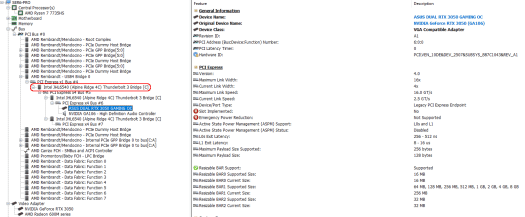 which gave an average FPS of 78 with 'high' preset: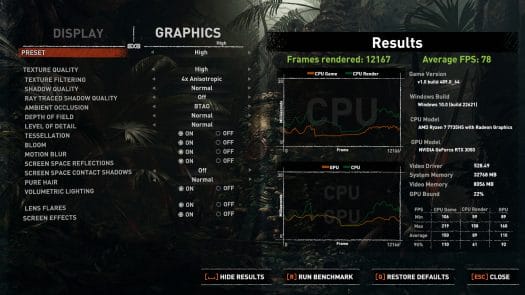 I followed this by running Unigine Heaven which resulted in an average FPS of 129.0:
I then reconnected the ADT-Link R43SG eGPU using a JHL7540-based enclosure with a TB4 cable:

which resulted in an improved average FPS of 90 in SOTTR: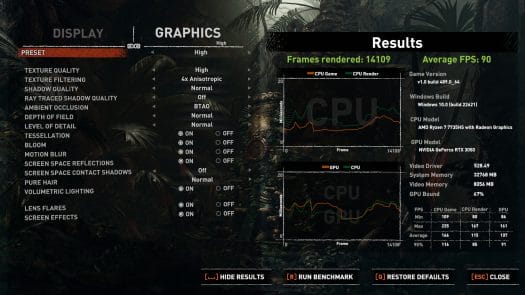 and an improved average FPS of 132.5 in Unigine Heaven: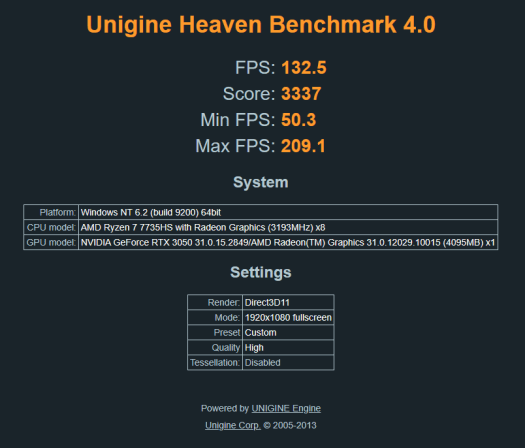 Interestingly these eGPU results are noticeably lower than those from the original SER6 Pro testing. Prior to making a direct comparison of all the results, I first ran Geekbench 5.4.6 to ensure like-for-like: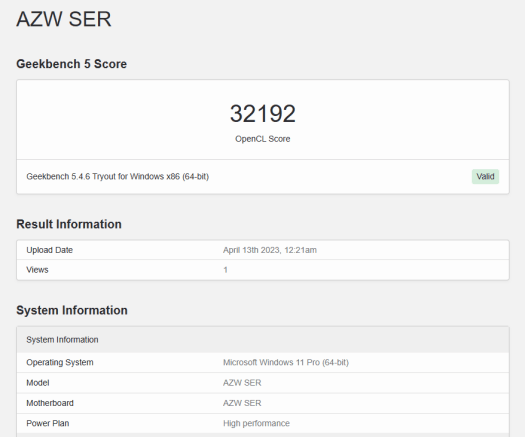 The actual comparison shows that the 'device-only' benchmarks were virtually identical between the two processors: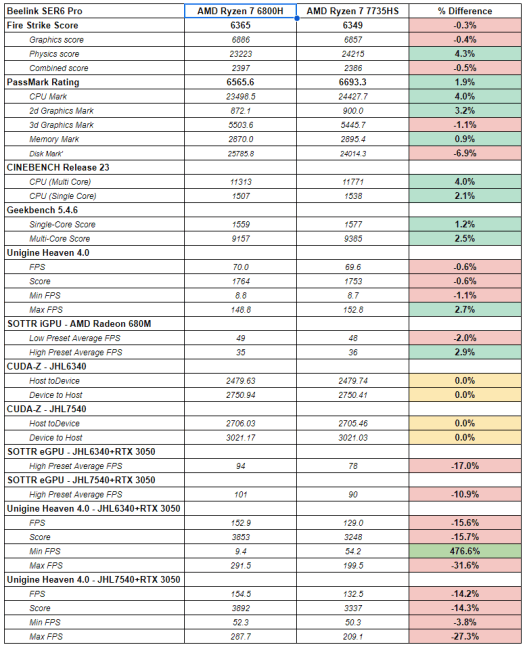 however, the eGPU performance appears to be affected due to poorer CPU rendering: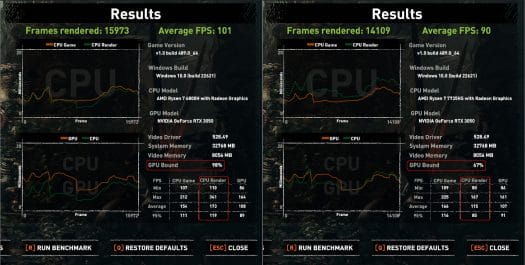 The exact cause for this remains unknown even after further testing. But it must be noted that the original SER6 Pro results were only obtained after a clean Windows installation and addressing the many issues encountered in getting the eGPU to be recognized which required the repeated installation and removal of various drivers before it finally worked. Consequently, the credibility of the original eGPU results is in doubt and probably should be ignored for the time being as the point of the testing was to confirm that the USB4 worked.
Summary
The performance of the Beelink SER6 Pro 7735HS is very good and the inclusion of a DisplayPort allows further flexibility for monitor/display choice. The fully working USB4 port provides the additional functionality of TB4 although without the guarantee of speed compatibility which is evident when using TB3 cables with the port. Attention to the various port versions should be taken, as, for example, to be able to use three HDMI monitors, both an 8K USB-C to HDMI cable and a DisplayPort 1.4 to HDMI adapter are required as well as an HDMI cable.
I'd like to thank Beelink for providing the Beelink SER6 Pro 7735HS for review. This refreshed version can be found on Beelink store for $649, as well as on Amazon and Aliexpress.

Ian is interested in mini PCs and helps with reviews of mini PCs running Windows, Ubuntu and other Linux operating systems. You can follow him on Facebook or Twitter.