SONOFF has been producing a wide range of new products over the years, and since the beginning of the year, the company introduced various new products and features including the iHost Smart Home Hub local hub which no longer requires cloud connectivity. The one we are going to review is the Ultimate Smart Touch Wall Switch (also known as the SONOFF TX Ultimate). SONOFF stated that they wanted to provide a new experience with their smart switch. Initially, we couldn't imagine what new experiences a smart switch could offer. When we think of SONOFF, we usually associate it with affordable smart switches that are durable and perform as expected, not stylish or feature-rich devices. However, the SONOFF TX Ultimate comes as a complete package with light, color, sound, and touch.
SONOFF has also expanded the touch area, so there's no need to worry about missing the button while pressing it. Once touched, it provides haptic feedback to ensure the touch work, along with additional sound feedback. Furthermore, it has RGB LEDs surrounding the switch which add a colorful look. But that's not all, SONOFF has also considered the preferences of younger users who may want the appearance of the smart switch to match their surroundings. This can be achieved by changing the cover or faceplate. Well, it gonna be an enjoyable review experience.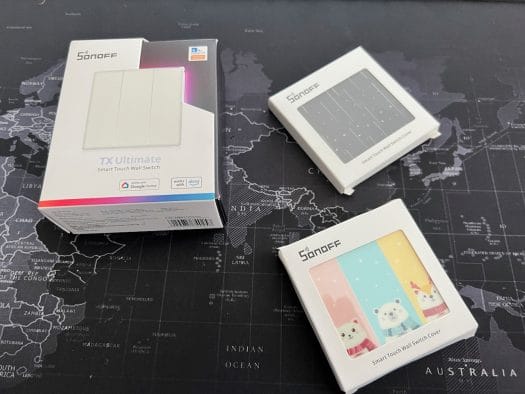 SONOFF TX Ultimate unboxing
Inside the package, you'll find the smart switch itself and a quick user manual, just like before. The cover comes in standard white color. If you want to change the cover, you'll need to purchase additional ones. Changing the cover is not so difficult, you can simply use your hands to remove the old one and insert the new one. Currently, there are two additional options available: a black cover with star patterns and a cartoon pattern. We're not sure if there will be more new covers released in the future, but it's definitely a new experience that we haven't seen in smart switches before.
The build quality of the materials used is very good. It's made of high-quality plastic that feels solid and durable. When changing the cover, there's no need to worry about it breaking. In comparison to the previous model, where the glass panel had a higher risk of cracking, this is a significant improvement.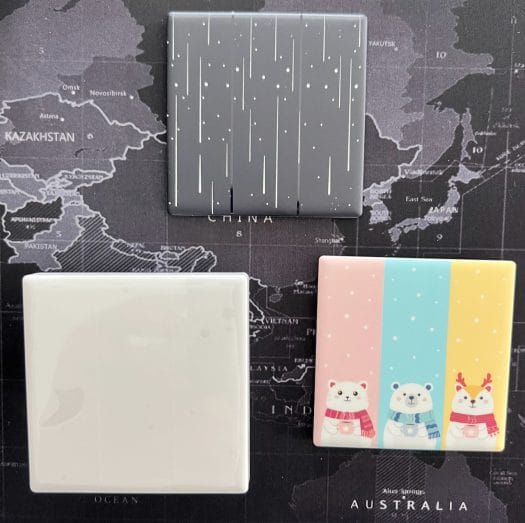 What's inside
When we take a look inside, we can see 28 RGB LEDs surrounding the switch on all sides, capable of displaying different colors individually (likely WS2812B). There's a small motor that creates vibrations. What's important is that it leverages an ESP32, a highly popular and versatile microcontroller chip as the processing unit, which DIY enthusiasts will likely appreciate, as it allows for flashing other firmware such as Tasmota or ESPHome. Additionally, there are clearly marked pins (Tx Rx Gnd) in the center of the board which makes it convenient for flashing. SONOFF deserves praise for this flexibility because they have provided users with the freedom to choose according to their preferences.
Specifications
Initially, this product has been released with the EU/86 form factor, and the US version is expected to be available shortly. The number of buttons available remains the same, ranging from 1 to 3 gangs. We recommend choosing a model with more buttons, as you can repurpose unused buttons for Scene Control, which is more cost-effective than purchasing additional devices i.e., buttons later on.

Features
The touch area is significantly larger compared to previous models, making it much easier to press. The feedback effects after pressing can be customized according to personal preferences, such as light, sound, and vibration.
There are multiple control methods available, such as single press, swipe left or right, up or down, or using multiple touch gestures (multi-gesture).
There are various ambient light modes available, including Night, Party, Leisure, and Color, which provide a colorful and entertaining lighting experience.
The Do Not Disturb feature allows users to schedule specific times when they do not want the switch's light to bother them, making it particularly suitable for bedrooms.
Voice control is available using popular platforms like Alexa, Google, and Alice.
A gateway function is provided for the child switches, such as the SONOFF Scene Controller R5, to enable wireless two-way communication with the switch.
Standard features/functions provided in previous models of SONOFF Smart Switch. These include creating Scenes, scheduling timers, setting inching mode, and LAN control.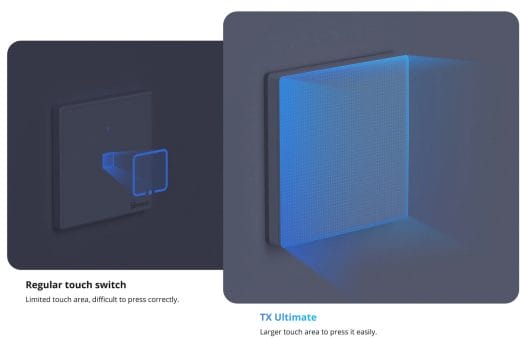 SONOFF TX Ultimate testing with eWelink and Home Assistant
This Smart Switch still requires both N and L wires. After connecting the wires to the back according to the standard diagram, you can use the eWeLink app as the user interface, just like previous SONOFF Smart Switches. Registering with eWeLink follows the same process as other SONOFF Smart Switches. The setup process is similar to previous models, with the addition of customization options for effects and ambient light, as shown in the screenshots.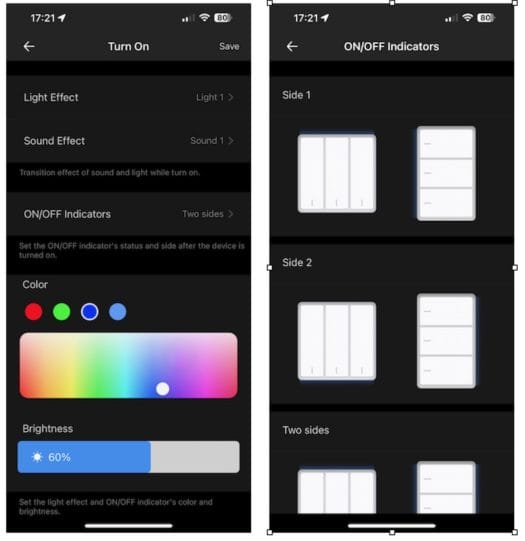 Let's take a look at this short video demonstrating the usage. I must say that there are so many combinations that it can be overwhelming. It's safe to say that SONOFF has really changed its direction to cater to our customization preferences.
In addition to controlling the smart switch using the eWeLink app, we also tried integrating it into Home Assistant using the AlexxIT/SONOFFLAN integration. Unfortunately, we found that not all features were available yet, only basic functions like turning it on and off. The configuration and control of the LED were not there. Nevertheless, we anticipate that we may have to wait for the integration to undergo further testing or for someone to create a template specifically for this model in Tasmota or ESPHome firmware. Stay tuned.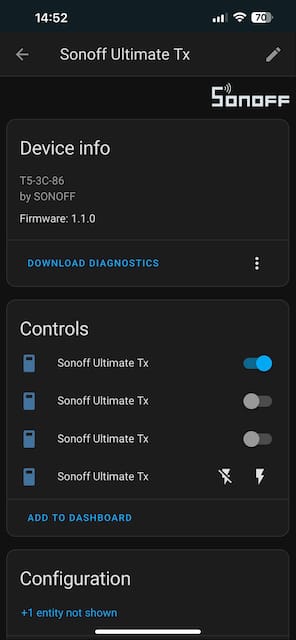 Conclusion
We find that there is nothing quite like this in the market. It's futuristic, fancy, easy to use, highly customizable, and stylish. The material quality has improved compared to previous models with glass touch panels. It allows for personalization by changing the covers provided by SONOFF. They have addressed the shortcomings of earlier models, such as increasing the size of the touch area, almost covering the entire screen.
Additionally, control is not limited to just pressing, but also includes swiping, which is easier than pressing. The physical touch aspect is comfortable as well, with precise and responsive feedback. The fancy features exceeded our expectations. We had fun customizing colors, lights, sounds, and effects. It even allows for creating vibration responses. Now, they have delivered a product that offers a wide range of possibilities.
Moreover, it is designed to facilitate DIY use on other platforms such as Tasmota or ESPHome. This product caters to those who are tired of traditional smart switches and want to try something fun, for the purpose of, showcasing to friends, room decoration, or changing ambient settings to suit moods. We believe it won't be long before we see more of these smart switches in the market, and SONOFF has taken the lead with the TX Ultimate Smart Switch.
We would like to thank ITEAD for providing us with the SONOFF TX Ultimate Smart Touch Wall Switch for review. It is available for purchase on the company's online store at a price of $29.90 for the 3-gang model tested. If you want additional black covers or covers with star patterns or cartoon designs, they are available for an extra $3.99 per gang. Use the coupon code CNXSOFTSONOFF for a 10% discount.

Computer Engineering who previously worked with multinational IT company, rich experience in IT infrastructure, has a passion on Internet Of Thing i.e., Smart Home, Smart Farm as well as interested on Sustainability such as renewable energy, organic farming