CZUR ET24 Pro is a professional book scanner with 320DPI optional resolution (delivering up to 24MP images) that works with Windows, macOS, and Linux via a USB port, or even in standalone mode through an HDMI port that could be used for business presentations.
When CZUR contacted me about reviewing a scanner, I was not sure it would be interesting, but then I was intrigued because it looks like a bedside light and I had never used this type of scanner.  So I decided to give a go, and here I am with a review sample. It looks like it should be especially useful for people scanning a lot of documents or books as it's designed for speed and should significantly improve productivity over a traditional scanner with a cover, while hopefully keeping the quality. But we'll check that in the full review.
CZUR ET24 Pro specifications
Optical resolution – 320 DPI
Max resolution – 24MP (5696 x 4272) with 24-bit color depth
Max. document size – 480×360 mm (for reference A3 is 420 x 297 mm)
Max. document thickness – 50mm
Light sources

Built-in LED array, white 2-level
Attachable LED light, white 1-level

Scanning speed – 1.5s per page
OCR – Over 180 languages recognized
File formats (output)

Searchable – Word, Excels, TIFF, PDF
Others – JPG, PDF

Interfaces –

USB device port
HDMI up to 1080p60

Dimensions – 362.45 x 351.5 x 149.30 mm
Weight – 1.5kg
The company provides software working with Windows XP, Win 7/ 8/10/11 32/64-bit, macOS 10.13 and above, and Linux. The software comes with plenty of features such as auto finger removal, auto page-turn detection, OCR, automatic page splitting, and so on. The ET24 Pro can be controlled by software and various remote control as we'll see in the unboxing section.
Unboxing
I had not looked at the dimensions of the scanner, and I was surprised at the size of the package when I received it since it's also as big as a 3D printer package.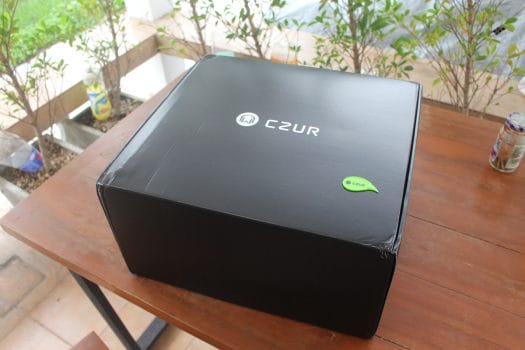 Here's the device itself. I told you it looks like a lamp…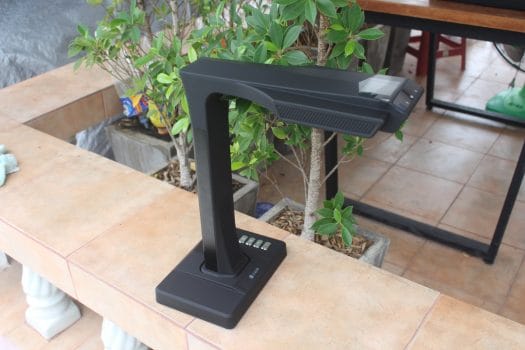 The head comes with a camera and two LED light strips…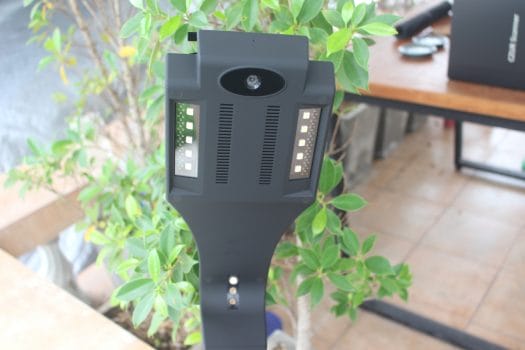 The top of the head comes with some touch buttons (microphone, camera, power on/off) and a small display.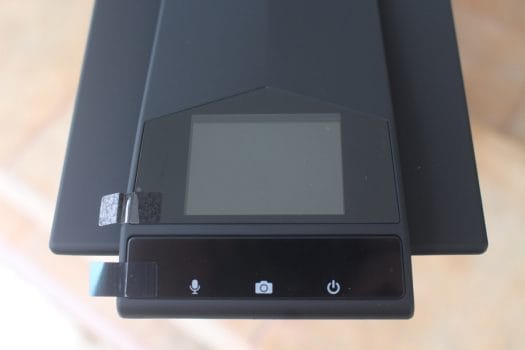 The base features some buttons to turn on/off the light, zoom, and scan…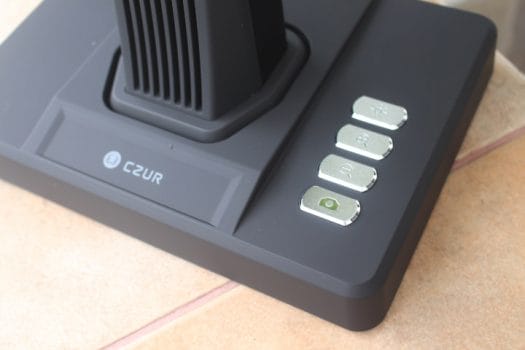 and the rear panel include an HDMI output port, a Reset button, a USB port for "buttons", a USB device port to connect to a host, a DC power jack, and an On/Off switch.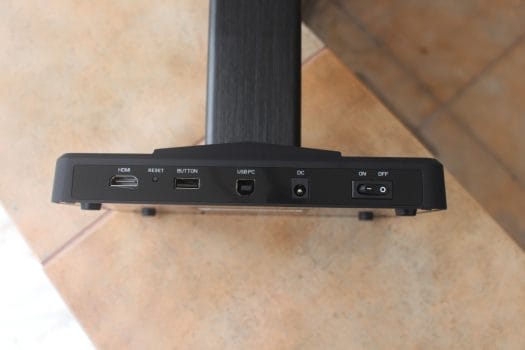 The package includes many other accessories with a 9V power supply and US, UK, and EU plug adapters, a USB device cable, a USB button to more conveniently take scans, a USB foot pedal to free your hands while scanning, two finger cots to help flatten the book during scanning, the side light for glossy magazines, a CDROM with the software, a small guide to download the software if you don't happen to have a CD drive, and a more detailed Getting Started Guide. There's also a black mat that only partially shows in the photo…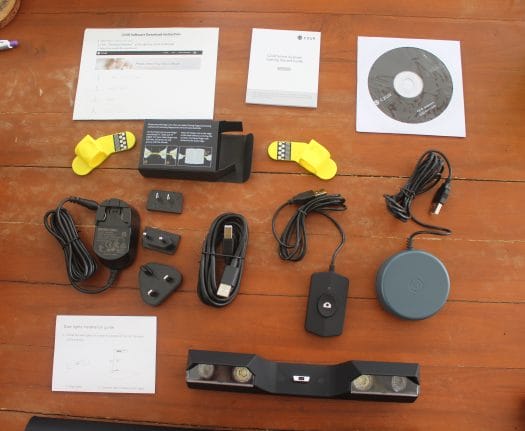 Teardown attempt
The presence of USB and HDMI ports and the shape of the base led me to think the main board was placed into the base so I attempted a teardown.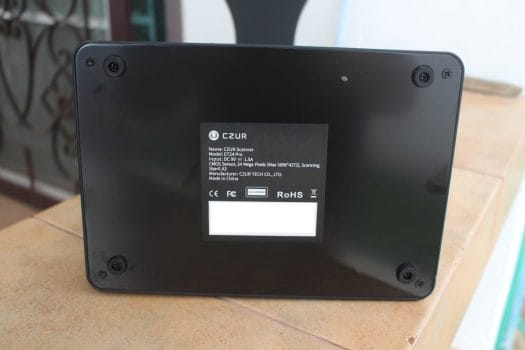 I could take out the bottom cover after loosening the eight crews, but there's no main board here and instead, we can see two boards, one with all the ports and the other for the buttons with long cables that connect to the mainboard in the head of the ET24 Pro scanner.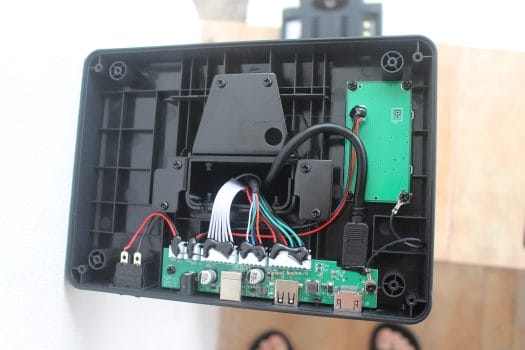 It looks possible to open the head too, but there aren't any screws, and plastic parts are likely attached with easy-to-break clips. So I don't want to take the risk at this stage of the review.
HDMI mode with CZUR ET24 Pro book scanner
I put everything back together to give the device a quick try in HDMI mode.  I just connected the power supply and an HDMI cable to a full HD projector, and pressed the switch to turn the device on.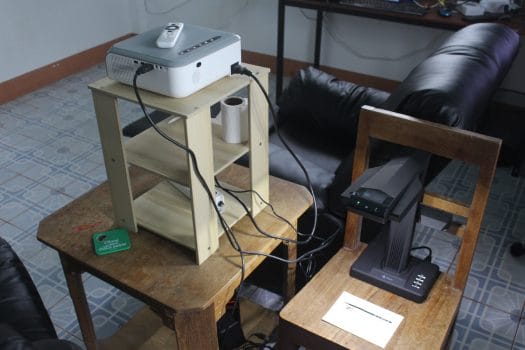 I used the download instructions document, and the larger text is easily readable, but the smaller grey text is unreadable. Maybe it's to be excepted as what we see on the wall is a video…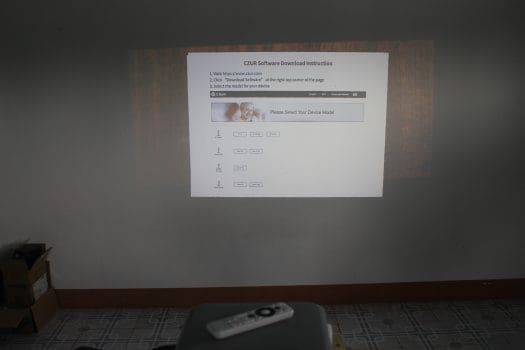 If I place the black mat, we only see the document on the wall. It's up to you whether you prefer to see the table or chair in this case.
I also connected the scanner to an HD Ready TV, and the quality is about the same as with the projector.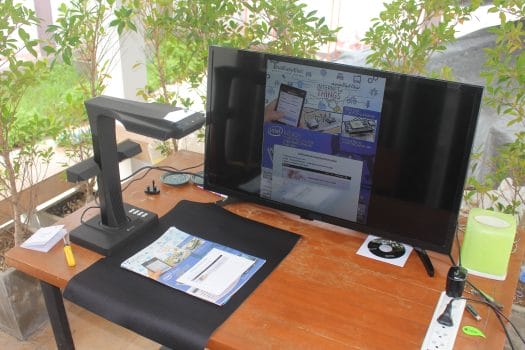 That will be all for today. In the second part of the review, I'll connect the CZUR ET24 Pro scanner to a Ubuntu 22.04 laptop to try scanning and more advanced features like finger removal, OCR, etc… I'll also test various capture methods including with the foot pedal, and compare productivity against a printer/scanner by scanning several pages from a book or magazine to see how much time can be saved with a professional book scanner.
I'd like to thank CZUR for sending the ET24 Pro for review. The device can be purchased on their shop for $689, but they have a 20% discount coupon code 10CZUR for their tenth-anniversary event.
Continue reading: CZUR ET24 Pro book scanner review with Ubuntu 22.04 Linux

Jean-Luc started CNX Software in 2010 as a part-time endeavor, before quitting his job as a software engineering manager, and starting to write daily news, and reviews full time later in 2011.