Texas Instruments has introduced the TRF7970A NFC Transceiver " speeds designs with easy-to-configure software that helps developers bring peer-to-peer, ultra-low-power capabilities to more applications".
Here's an excerpt from the press release:
Raising the standard for ultra-low-power near field communication (NFC) devices, Texas Instruments Incorporated (TI) (NYSE: TXN) today announced the industry's lowest power contactless short-range communication transceiver. Ideal for infrastructure devices, the new TRF7970A extends battery life up to 2 times longer than competitive products, as it provides eight selectable power modes ranging from <1 uA in power-down mode to 120 mA in full-power mode. The transceiver comes with easy-to-configure software to help developers get started quickly. Royalty-free stacks are compatible across a broad range of ultra-low-power MSP microcontrollers. Additionally, developers are able to directly access all control registers, allowing for easy fine-tuning of various parameters for the highest performance in every application.
You can also read the complete TRF7970A press release on TI News website.
Here are some features and benefits of the TRF7970A NFC platform:
Industry's lowest power NFC device supporting up to 2 times longer battery life with eight selectable power modes (Power modes range from <1 uA to 120 mA)
Supports a wide range of communication options with peer-to-peer communication, reader/writer capability and card emulation
Supports two crystal oscillator frequencies: 13.56MHz or 27.12MHz frequencies give engineers more flexibility in speed and cost options for their designs
Large 128 byte FIFO buffer for NFC communications allows developers using microcontrollers with low MHz to create products capable of handling large data transfers
Compliance with ISO/IEC 18092 and ISO/IEC 21481 standards gives developers the ability to create globally interoperable products
NFC software stack libraries and an innovative RF field detector allow for easy development efforts and robust, cost effective designs
NFC Peer-to-Peer Initiator as well as Active and Passive Target Operation are available for MSP430™ microcontrollers
Supports multiple reader/writer protocols and includes demo software stacks for reader/writer mode ISO/IEC 15693, ISO/IEC 18000-3, ISO/IEC 14443A/B and FeliCa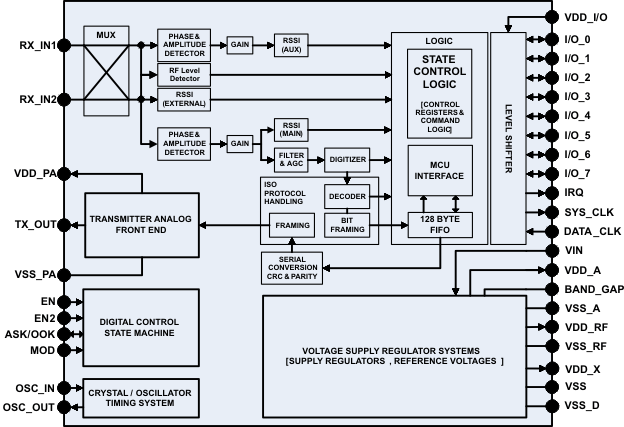 Texas Instruments also provide a development board,  the TRF7970A EVM, with the following features:
NFC Modes (RFID Reader\Writer, Peer to Peer and Card Emulation)
ISO15693 standard based transponders
ISO14443 standard based transponders (Types A&B)
FeliCa based transponders (UID read only)
Standalone Polling Mode for quick demonstration of transponder detection
Communication with Host Software Graphical User Interface (GUI) via USB VCP
MSP430F2370 Ultra-Low Power microcontroller with JTAG connectivity to development environment for custom firmware development.
Parallel or SPI connectivity via zero ohm jumpers
Logic Analyzer/Oscilloscope test points for relevant signal observation during code development
SMA (edge mount and through-hole) pads for connecting customer designed antenna.
Texas Instruments provides sample source code in C language and a GUI executable for the devkit.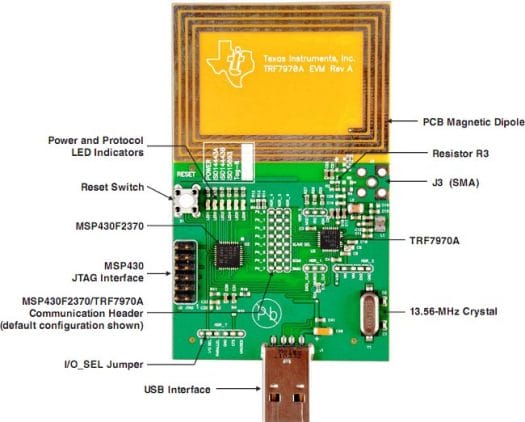 The evaluation module TRF7970AEVM can be purchased online for 99 USD.
For further details on TRF7970A Transceiver IC, please visit http://focus.ti.com/docs/prod/folders/print/trf7970a.html and you can go to http://focus.ti.com/docs/toolsw/folders/print/trf7970aevm.html for more information on the TRF7970A Evaluation Module.

Jean-Luc started CNX Software in 2010 as a part-time endeavor, before quitting his job as a software engineering manager, and starting to write daily news, and reviews full time later in 2011.