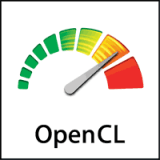 OpenCL (Open Computing Language) is a multi-vendor open standard for general-purpose parallel  programming of heterogeneous systems that include CPUs, GPUs and other processors. OpenCL provides a uniform programming environment for software developers to write efficient, portable code for highperformance compute servers, desktop computer systems and handheld devices. OpenCL standard is managed and defined by the Khronos Group.
The latest version (OpenCL 1.1) was ratified by the Khronos Group on the 14th of June 2010 and adds significant functionality for enhanced parallel programming flexibility, functionality and performance including:
Host-thread safety, enabling OpenCL commands to be enqueued from multiple host threads.
Sub-buffer objects to distribute regions of a buffer across multiple OpenCL devices.
User events to enable enqueued OpenCL commands to wait on external events.
Event callbacks that can be used to enqueue new OpenCL commands based on event state changes in a non-blocking manner.
3-component vector data types.
Global work-offset which enable kernels to operate on different portions of the NDRange.
Memory object destructor callback.
Read, write and copy a 1D, 2D or 3D rectangular region of a buffer object.
Mirrored repeat addressing mode and additional image formats.
New OpenCL C built-in functions such as integer clamp, shuffle and asynchronous strided copies.
Improved OpenGL interoperability through efficient sharing of images and buffers by linking OpenCL event objects to OpenGL fence sync objects.
Optional features in OpenCL 1.0 have been bought into core OpenCL 1.1 including: writes to a pointer of bytes or shorts from a kernel, and conversion of atomics to 32-bit integers in local or global memory.
You can download OpenCL 1.1 Specification free of charge. The specifications are 385 pages long, if you just want to have a look at OpenCL API, please have a look at the 6 pages OpenCL 1.1 API Quick Reference card.
Online documentation is also available for OpenCL 1.1.
The OpenCL programming language used to write computation kernels is based on C99 (So it looks very much like C programming) with some limitations and additions. It omits the use of function pointers, recursion, bit fields, variable-length arrays, and standard C99 header files.The language is extended to easily use parallelism with vector types and operations, synchronization, functions to work with work-items/groups. It has memory region qualifiers: __global, __local, __constant, and __private. A lot of built-in functions are also added. The file extension for OpenCL files is usually ".cl".
There are several companies providing OpenCL development kits:
Apart from those SDK, OpenCL is currently used in WebCL, another standard that aims to bind javascript to openCL. A example of such implementation is Samsung's WebCL Prototype for WebKit. WelCL is also supported by Firefox as long as your graphic card and corresponding driver support OpenGL ES 2.0. You can see a video of Samsung's demo code adapted to the WebCL binding in Firefox showing OpenCL is 20 times faster than the default javascript engine.
Linaro (Non-profit organization working on Linux for ARM) also considers developing an OpenCL toolchain based on GCC or LLVM.

Jean-Luc started CNX Software in 2010 as a part-time endeavor, before quitting his job as a software engineering manager, and starting to write daily news, and reviews full time later in 2011.