Texas Instruments has just announced the new Sitara AM335X Processors and the low cost Beaglebone development board. The low cost Cortex-A8 SoCs start at 5 US dollars per piece and are aimed at upgrading ARM9 solutions (software compatible) and adding new features such as 3D interfaces and touch screen, high resolution displays with faster performance.
Texas Instruments says you could take those new upgraded products to market within 6 months thanks to their inexpensive development board (Beaglebone) and complete SDK.
There are six models in the Sitara AM335X series:
AM3552: Cortex A8 up to 720 MHz.
AM3554: Cortex A8 up to 720 MHz with 3D Graphics (PowerVR SGX GPU).
AM3556: Cortex A8 up to 720 MHz with programmable real-time unit (PRU) @ 200 Mhz.
AM3557: Cortex A8 up to 720 MHz with PRU @ 200Mhz and EtherCat.
AM3558: Cortex A8 up to 720 MHz with 3D Graphics and PRU @ 200 Mhz.
AM3559: Cortex A8 up to 720 MHz with 3D Graphics, PRU @ 200 Mhz and Ethercat.
They offer two type of packages for all models above:
15x15mm: Up to 720 Mhz, 2x USB 2.0 OTG + PHY, 2-port switch EMAC and PRU
13x13mm: Up to 550 Mhz, 1x USB 2.0 OTG + PHY, single port EMAC and PRU with reduced I/O pins.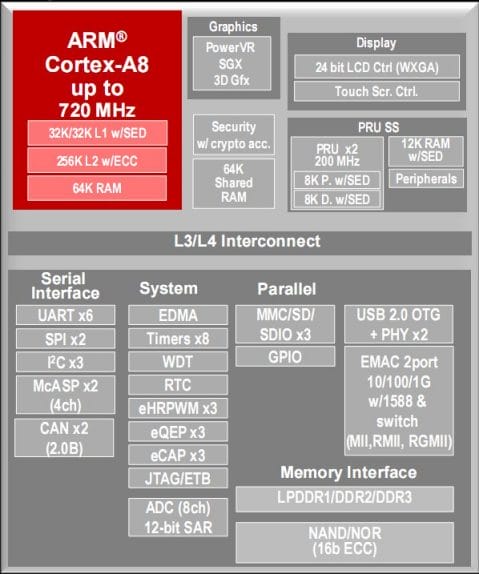 The AM335x series processors include support for LPDDR1, DDR2, and DDR3 memory types and NAND and NOR flash. Some models will embed a 3D graphic accelerator and/or a PRU module and all are equipped with a security/crypto engine.
The AM335x SoCs also provide a 24-bit LCD controller supporting WXGA (1280 x 720) resolution, as well as a touchscreen controller. There are however no hardware video decoders (e.g. H.264) found on most of TI's OMAP and Sitara processors, but since those are industrial processors this may not be an issue and it would still offer better video quality than the ARM9 SoCs they are supposed to replace.
AM355x family also provides several serial and pararell interaces and system features:
Serial Interface:

6x UART
2x SPI
3x I2C
2x McASP (Multichannel Audio Serial Port) with 4 Channels
2x CAN 3.0B bus

Parallel:
System:

Enhanced DMA (EDMA)
8x Timers
Watchdog
Real-time clock
3x eHRPWM (Enhanced High Resolution. Pulse Width Modulator)
3x eQEP (Enhanced Quadrature Encoder Pulse)
3x eCAP (Enhanced Capture Module)
JTAG/ETB
12-bit SAR ADC (8 channels)

Ethernet: 2x EMAC Port 10/100/1G (MII/RMII and RGMII support)
USB: 2x USB 2.0 OTG + PHY
TI claims the power consumption can be as low as 7mW of power in standby and 700mW in active operation which would enable fanless and battery-powered devices.
Beside the low cost Beaglebone, Texas Instruments also provides a fully featured 995 USD evaluation board featuring a 7″ touchscreen LCD: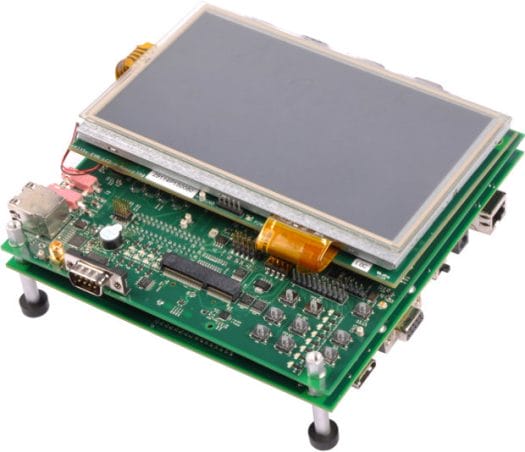 This development board is built around a AM3358 with 512MB of DDR2 RAM, a 7″ LCD touchscreen and can access to all peripherals. The board also offers TI's WL1271 single-chip 802.11b/g/n + Bluetooth device and is said to be one of the first boards to enable Wi-Fi Direct.
On the software side,  Full SDK will be available for Android (Gingerbread), Linux 3.10 and Windows Embedded Compact 7. Some source code is already available on gitorious at http://gitorious.org/rowboat/vendor-ti-beaglebone and the Linux EZ Software SDK for Beaglebone and AM355x-EVM will be  made available sometimes in November.
3 RTOS will also be support the platform:
Nucleus® RTOS from Mentor Graphics.
Neutrino® with graphics software from QNX Software Systems pre-loaded and optimized for the AM335x ARM Cortex-A8 MPUs to ease programming and enable applications with advanced user interfaces
Wind River's VxWorks real-time operating system.
For those of you who do not need/want to use an operating systems, TI can provide the StarterWare software stack allowing developers to program these microprocessors like a microcontroller.
The Sitara AM3359 and AM3358 have begun sampling now, but all models will be mass-produced by Q2 2012. Beaglebone development board will be available end of november (you can pre-order it however) and TI's AM335x EVM (TMDXEVM3558) will be available in December. TI is also currently designing Application-specific reference designs based on the AM335x ARM Cortex-A8 microprocessors that will be available later this year and in 2012.
Further information can be found on Sitara AM355x page.

Jean-Luc started CNX Software in 2010 as a part-time endeavor, before quitting his job as a software engineering manager, and starting to write daily news, and reviews full time later in 2011.