Marvell announced that its Foresight Platform, powered by Marvell ARMADA 1500 HD Secure Media Processor System-on-a-Chip (SoC), will be officially used by Google TV (replacing Intel CE4100 SoC) and be introduced at CES 2012.
The company said Google TV smart TVs, set-top boxes (STB) and blu-ray players based on its platform would be available later this year.
The Foresight Platform uses Marvell's Qdeo video processing technology designed to deliver improved 3D video, rich audio, 3D graphics and TV-friendly Web content thanks to noise reduction, de-interlacing, low bit-rate internet video enhancement and other enhancement techniques such as Adaptive Contrast Enhancement (ACE) and Intelligent Color Remapping (ICR).
ARMADA 1500 (codenamed 88DE3100) contains Marvell's ARM v6/7-compatible PJ4B SMP super-scalar dual-core CPU. The chip is designed to enable PC-like processing power to support Web browsing with support for Flash and other key technologies – with the aid of more than 6000 Dhrystone MIPS of computing horsepower, FPU v3.0, 512KB of L2 cache and WMMX2.
The chip also offers VMeta, a multi-format video decoder/encoder/transcoder that can decode up to two simultaneous 1080p streams encoded with different codecs such as H.264, VC-1, MPEG2/4, VP8, AVS, etc…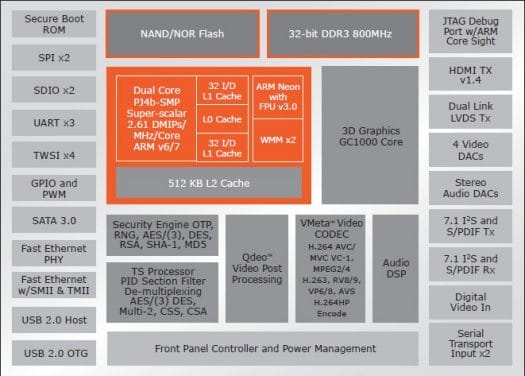 Marvell ARMADA 1500 key features and benefits:
Hardware-accelerated, dual-stream multi-standard, video decode and audio decode that allows playability of a wide range of content
Low-power SoC enabling fanless design
Qdeo video processing to enhance the viewing experience
Integrated Marvell dual-CPU SMP cores at 1.2 GHz for faster loading times and highperformance for many networked, Java, and Media applications.
Full suite of integrated peripherals (such as USB, Ethernet, HDMI, SATA, and SDIO)
Turnkey reference designs of connected applications for fast time-to-market
The Foresight Platform is Google TV reference design and includes the Armada 1500 (88DE3100) , Marvell 88DE6010 DTV analog front-end companion chip, 1GB of DDR3 memory and 4GB of NAND flash. An hybrid NIM TV tuner is also included, as well as touchscreen support and a Wi-Fi/Bluetooth connectivity chip (Marvell 87×7).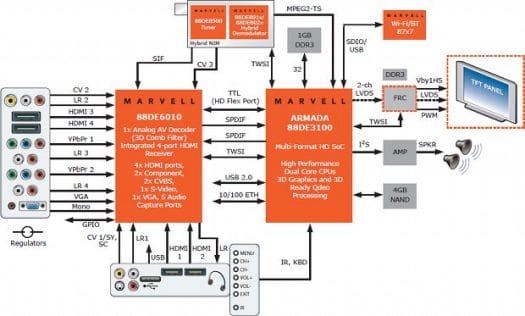 The Foresight platform comes with a software development kit (SDK) that includes:
High-end Android-based and low-end Linux-based solutions
Android SDK
Google TV
Connected applications and base TV software stacks
DVD/VCD/CD-DA navigation
HDMV, BD-J stack
Customizable OSD
You can have a look at a typical Digital TV software architecture running on Marvell Foresight platform below, showing the application layer, middleware (including Android libraries and Dalvik), device drivers and the Linux operating system.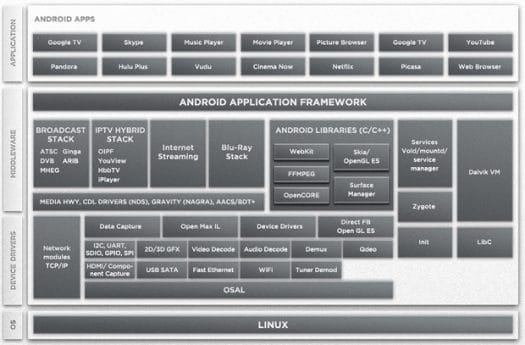 The platform supports the following software standards:
Broadcast: ATSC, DVB, MHEG,CI+, ARIB, Ginga, Tru2Way, CableCard
3D Video: Sensio
Protocols: HLS, DASH, DLNA, CEA-2014, RVU
Graphics & Video API: DirectFB, OpenGL ES and OpenMax IL
and many common applications such as Adobe Flash, Netflix, Skype, Hulu Plus, Vudu, Pandora, YouTube, Picasa, Flickr and iPlayer.
The SDK is not available online, so you'll have to contact Marvell to get the Foresight reference design and corresponding Android and Linux SDK.
Further information is available on Marvell Armada 1500 page.

Jean-Luc started CNX Software in 2010 as a part-time endeavor, before quitting his job as a software engineering manager, and starting to write daily news, and reviews full time later in 2011.