The Hackberry "development board" is now available for sale on Miniand. This board powered by AllWinner A10 processor comes in 2 versions:
512 MB RAM version – Available now for $60
1GB RAM version – Available by the end of the month for $65.
Both boards features a 4GB Flash, a SDHC slot, 2x USB 2.0 port, 10/100 Ethernet, Wi-Fi, HDMI & composite outputs, headphone & microphone ports and a IR sensor.
The good thing is that serial interface and FEL connectors will be soldered on the board for easy debugging and recovery.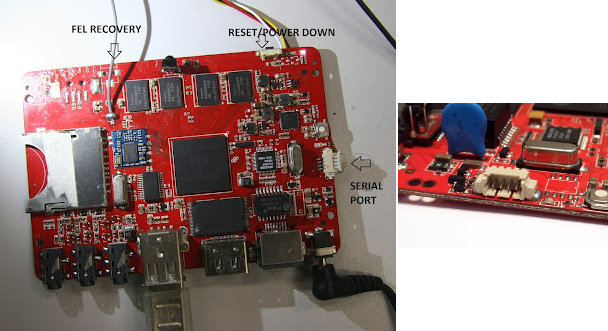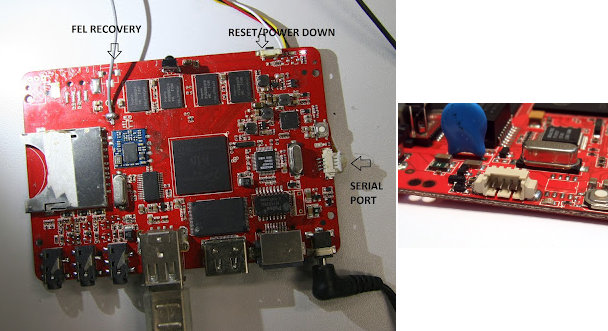 The FEL recovery port allows to reflash the board using Livesuit. As a side note, Henrik, a developer involved in Allwinner A10 software development, has done some work to reverse engineer FEL USB protocol, wrote a small program to enter into Livesuit mode with an SD card (Go to the bottom of the page section "Forcing FEL boot mode without bsp/recovery/usbboot button" for details) and the fel utility, a "script interface for talking to the FEL USB handler built into the CPU". I haven't really checked this into details, but the way I understand it, it will eventually be possible to access the serial console via FEL using a USB gadget driver.
As I mentioned in my previous post, I hoped the 1GB version to be sold for $60 or lower, but it's finally sold for $65, which is still OK, but $18 (DHL) shipping makes the 512 MB version cost $78, so I still prefer the Mele A1000 which is also hackable, has more features, and can be found for around $83 including shipping via China Post. It would become more interesting if Miniand had a low cost shipping option as well, as it would decrease the cost and the likelihood of paying custom duties in some countries. (btw, I've just learned there is a ~100% custom duty on imports > $50 in Brazil. This is insane!)