There are now many cheap Android mini PCs and media players running Android. The hardware is usually OK, the firmware is good enough most of the time, but I find the software lacking. Here are 5 Android apps that should improve your Android TV experience.
ES File Explorer File Manager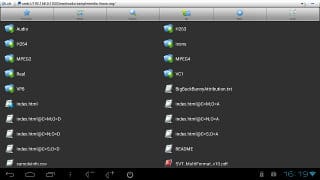 Android media devices often come with a custom file manager, but I found it lacking features (e.g. SAMBA/CIFS, directory copy…), or something features are present but not really working. ES File Explorer File Manager is a free app that can help you exchange files between your internal storage, SD card, USB mass storage devices, a Network Attached Storage, Bluetooth Devices, FTP servers and even Cloud based services such as Google Drive or Dropbox.
I mainly use this app to play videos from a Windows share (SAMBA/CIFS) in a PC or a NAS.
MX Player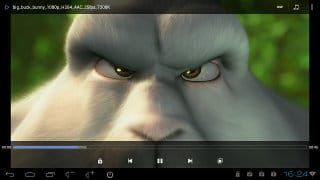 mini PCs (aka HDMI TV Sticks) and set-top boxes always come with pre-installed media players since video playback is one on their main functions. However, as I reviewed devices, I found out that those apps could not always play many video formats. To work around this issue, I always install MX Player, a free media player for Android that supports hardware video decoding, but also software video decoding if the later is not available for a given codec. Software decoding is optimized to your hardware (ARMv6, ARMv7, ARMv7 + NEON) and can take advantage of multi-cores allowing it to play 1080p video using software decoding on multi-core processors. One single core Cortex A8 processors currently used on most mini PCs (I haven't seen dual core mini PCs yet), it can decode up to 720p smoothly via software.
It also offer several aspect ratio settings (e.g. fit to screen) which are not always available on stock media players.
NULL Keyboard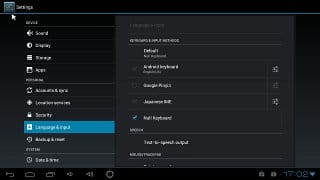 NULL Keyboard is a keyboard that does nothing, an invisible keyboard. At first, you must think this is a really really stupid and useless app! However, if you've ever used one of those mini PCs or STBs with a USB or wireless keyboard, you'll always see that annoying virtual keyboard pop-up, when you press Enter on your real keyboard, it will just display the current key selected on the virtual keyboard, and the backspace does not work.
The free NULL Keyboard app fixes that for you. After installation, simply go to Settings->Language & input, and set NULL keyboard as the default keyboard (Click on screenshot to enlarge). Now, let's say you want to do a Google search in the Android browser, first select the search field with your mouse, track pad, or whatever pointing device you use, the virtual keyboard won't show up (Good!), you will be able to type your search query, and press Enter to start the search. This will work for all applications.
DroidMote Client and Server
Instead of using a remote, or wireless keyboard/mouse, you may want to use your tablet or smartphone are a remote control. This is possible with Droidmote Client (Free) and Droidmote Server ($2.54). Droidmote Client is installed on your mobile device, and Droidmote Server is installed on a rooted media device. The latter handles the commands sent by the client over Wi-Fi and convert those into input event in Android. All Google Play market apps in cheap Chinese mini PCs and set-top box are actual hacks, purchasing apps may not work properly. In all fairness, I haven't tried Droidmote application myself, but the video demo below seems pretty good albeit a bit dark.
Android Transporter or other Wi-Fi mirroring apps.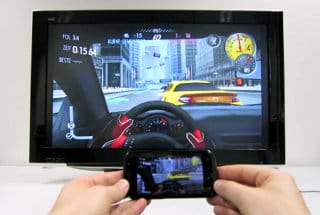 In some cases, you may want to mirror your smartphone display to the big screen for example, when playing a racing game or looking at pictures with family and/or friends. This is possible thanks to Wi-Fi mirroring where the mobile device encode the video output to h.264 (via the hardware video engine), and transmits the data to device connected to a TV (or a smart TV) that decodes video and display it on the TV via HDMI. E.S.R Labs has an Android application in development called Android Transporter that does just that, and a new standard called Miracast has been designed to handle Wi-Fi mirroring and make different devices compatible. E.S.R Labs demoed their Android Transporter on the Raspbery Pi last month, but the Raspberry Pi is not the ideal hardware for this task as it is kind of bulky (I can't believe I wrote that! :p) and requires an external Wi-Fi dongle. mini PCs are smaller, more powerful and come with built-in Wi-FI making a neater and cheaper solution than the Raspberry Pi would.
There is just one just problem. Those type of app are not yet available, but E.S.R said they would eventually release the software when it's more stable, and once Miracast Certified devices become available we should hopefully see apps to add this feature to existing devices.
What do you think about those Android apps for mini PCs and set-top boxes? Do you have other favorite apps that are especially suited to Android media players? Let me know in the comment section.

Jean-Luc started CNX Software in 2010 as a part-time endeavor, before quitting his job as a software engineering manager, and starting to write daily news, and reviews full time later in 2011.