Zero Devices Z900 HDMI Stick hardware is very similar to CX-01 as it has the same Telechips TCC8925 Cortex A5 processor, 512 MB RAM and 4GB Flash memory. The only key difference is the presence of a microSD card slot which is lacking on CX-01 mini PC.
It ships in the same package as Zero Devices Z802 mini PC, and the only difference is the lack of marking to tell the device name. Let's open the box and see what's inside.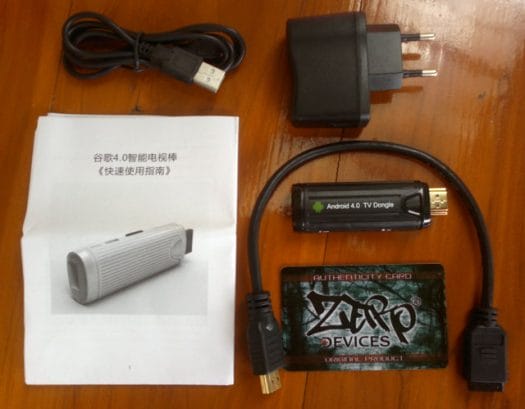 The package contains from top left to bottom right:
USB to mini USB cable to connect the power
5V/1A power supply
Documentation in Chinese and English
mini HDMI to HDMI cable (about 30 cm long)
Z900 Android TV Stick
Zero Devices Authenticity Card.
The Authenticity Card is used to register your device on Zero Devices website and access a VIP area with access to support forums, a download section and more. At this time, The VIP area is still work in progress however.
I've tried the HDMI to mini HDMI cable on my TV, but it's a bit too short for the mini PC to full rest on the table, so it's just hanging by the TV if I use this cable. But since I prefer a direct connection this is not a problem for me. I connected the mini USB to USB cable directly to the TV, and did not use the power adapter, as I know it's sufficient for Telechips TCC8925 platforms. Finally I added a USB mouse (my USB keyboard was not properly recognized) and after about a minute, the Android home screen appears with a live wall paper.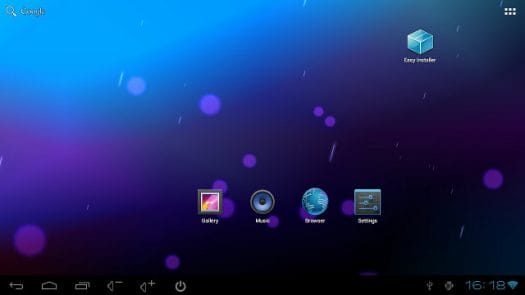 The device was configured with Chinese display, and I've changed the language to English (US) before taking the screenshoot above. It's a standard Android home screen, which I do not find the best on TV, but you can always install a TV Launcher app. The good thing is the power button which allows to put the device in standby mode, and you can bring back Android with a simple mouse click.
The "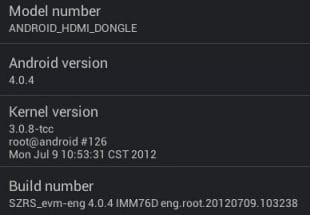 About device" section shows they did not really provide a model number and gave a standard ANDROID_HDMI_DONGLE name, Android 4.0.4 is running on the device, with kernel 3.0.8 which is standard for Android ICS. Going further into the settings menu, I could find CEC support which should allow you to control your device with your TV remote as long as your TV supports CEC, Wifi Direct support, but no 3G or Bluetooth section.
I've had no problem installing different apps via Google Play, and there are about 20 APK in the flash that you can install with Easy Installer. The device is not rooted, but I had no problem rooting it with unlockroot. The firmware appears to be much more stable than CX-01, and I never encountered the kind of slowdown with high CPU usage I experienced with CX-01 during the few hours I used it.
As with CX-01, there are three players installed:
ES Media Player
PPTV Pad
Video Player
Z900 HDMI TV Stick has the same issue playing "high bitrate" 1080p videos over the network as CX-01, but I found it to play many different video codec/containers with the players pre-installed:
H.264 codec / MP4 container (Big Buck Bunny), 480p/720p – OK | 1080p – buffering a lot
MPEG2 codec / MPG container, 480p/720p – OK | 1080p – Some short (1 second) buffering occurred
MPEG4 codec, AVI container – OK
VC1 codec (WMV) – FAIL
Real Media (RMVB) – FAIL
MOV file from Kodak camera – OK
FLV videos – Some videos can play, some can't
WebM – 480p/720p – OK | 1080p – lots of buffering
MKV (several codecs) – OK, but no AC3 audio.
MX Player should be able to play videos that failed, although it may have to use software decode to do so.
Time for some benchmarks.

CX-01 has a score of 2216, so Z902 is about 5% slower on this benchmark, mainly because of CPU tests, but for some reasons is faster with 3D graphics. You may have noticed the frequency is 625 MHz whereas in CX-01, TCC8925 is clocked at 812 MHz, which may explain the lower CPU performance. Both Antutu and Quadrant reports that the frequency can be set between 343.75 and 625 MHz. It's interesting because 625 MHz is not an option in the kernel config, and I wonder why they decided to lower the frequency that much. Another finding is that the memory available for Android/Linux is reported to be 390MB whereas for CX-01, Quadrant reports 512 MB. I wonder if the lower operating frequency and correctly setup memory could be the reason Z900 is more stable. Quadrant benchmark fails to start, as with many other devices.
One key advantage of Z900 over CX-01 is the microSD card slot. I tried it with a microSD card with a ext-4, but the system does not appear to support this, but there's no problem accessing FAT-32 partitions on the SD card. It's not always easy to insert the microSD card and my card got stuck in the device twice. I could retrieve it by opening the device, and found that you need to incline the microSD card slightly upward to insert it properly.
Luckily opening the device is straightforward. Look at your device with the microSD and USB port and turn 180 degrees to the other side, and lift the clip with a flat-head precision screwdriver.
Right, the picture above is not super clear, but at the top right, you've got the "mainboard" with Telechips TCC8925, the Memory, and all the ports, at the bottom right, you can see a module with the Wi-Fi Module and Flash, and the microSD card is at the back. The metallic shield / heatsink? on the left was glued on top of the CPU. I could not find potential pins to connect a serial port on any of the boards.
The device is pretty good with 3 main issues:
Network performance, as it does not appear to be able to play video smoothly with bitrate > 6 Mbps.
USB keyboard can not be used properly. It appears to be detected, but does not to be ale to handle key presses correctly.
It's possible to insert the microSD card incorrectly and it gets stuck inside the device.
The first two can hopefully be fixed with a firmware update, and the third one is not a major issue, but can't be fixed easily, however once you know how you have to insert the card that's not a problem anymore.
Zero Devices Z900 is available for $75 on Asiapads. That's quite a steep difference compared to CX-01 ($50), but it includes a microSD card slot, a power supply and HDMI cable (Although I don't find use for the last 2 personally). The main advantages for this stick is the microSD card slot and better firmware compared to CX-01 (for now), and lower power consumption compared to AllWinner A10 devices (I haven't measured, but Smallart U-Host won't boot when only connected to the USB port of my TV). The company also targets commercial applications such as digital signage, conversion of standard TVs to smart TVs in hotels, etc.. where lower power consumption may be a slight advantage (TCO).

Jean-Luc started CNX Software in 2010 as a part-time endeavor, before quitting his job as a software engineering manager, and starting to write daily news, and reviews full time later in 2011.