Yesterday, I published some pictures of MK908, and this morning I updated it to the latest firmware, so it's time to review this mini PC powered by Rockchip RK3188 quad core Cortex A9 SoC.
First Boot, Settings, and First Impressions
First of all, the firmware update has not changed the Home Screen, and we still get a standard Android Home Screen with an animated wallpaper. Screenshot and volume buttons are shown in the status bar, but there's no soft power button, and no full screen button. Hopefully the power button can be added in next firmware update, and as we'll see later the lack of full screen button is not really an issue.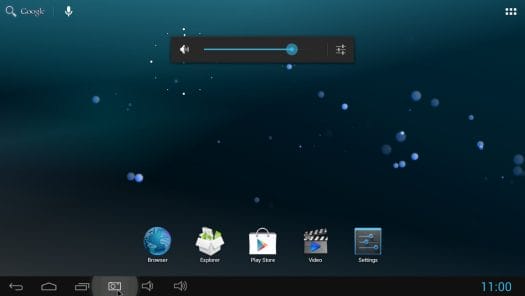 As usual,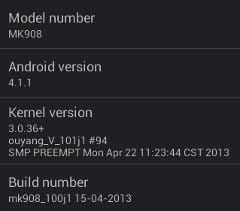 I've gone to the settings menu to configure Wi-Fi, and I had no problem to connect. The device also supports Bluetooth (built-in), and you can setup to device with VPN, as a hotspot, and add an Ethernet or 3G USB dongle. So connectivity options look pretty good although I've only tested Wi-Fi. There's an HDMI section that let you chosee between 1080p, 720p, 576p or 480p at either 50 or 60 Hz, and you can also zoom in/out to adjust the UI to your screen. However, there's no option for HDMI audio output, so the audio will just be downmixed, and HDMI audio pass-through is not available. There are plenty of options available in Developer options including USB debugging, CPU usage, GPU usage and many more.  In the "About TV" section, we'll find the model number (MK908), and the device is running Android 4.1.1 with Linux kernel 3.0.36+.
I've installed about 20 applications with Google Play including Antutu, ES File Explorer, MX Player, Temple Run 2, YouTube, Facebook.., and I had not problem here, which is quite rare. The firmware is already rooted, so you can install applications requiring root access such as Titanium backup.
All applications could run smoothly, except some games are not playable with a keyboard and mouse (Note to self: Buy some Bluetooth game controller… Done!). I could play Angry Birds Star Wars, and TurboFly HD demo, but other games such as Subway Surfers and Shadow Guns requires some other input device. I could seldom see the CPU use the full 4 cores, except with benchmarks. But to push the device a bit, I installed a large game and run Video to MP3 app in the background while playing TurboFly HD (3D games), and the device could handle the load without issues.
The device feel very snappy, everything is very smooth and responsive, and it did not hang, crash or suddenly reboot during my few hours of testing, so the firmware is stable too. For those of you who worry about overheating, you don't need to be, as MK908 does not get hot, just a little warm, thanks to the internal heatsink.
MK908 Video Playback and Wi-Fi Performance
There are 4 media players pre-installed:
ES Media Player
Video Player
PPTV Phone
Video
But I just install MX Player, as this is one of the best player available,. If the codec is not supported by hardware, it will switch to software mode, so I made sure that H/W decoding is enabled for the video I tested.
I started testing with samplemedia.linaro.org videos from a CIFS/SAMBA share in Ubuntu:
H.264 codec / MP4 container (Big Buck Bunny), 480p/720p/1080p – OK, but for 1080p, the video plays for 1 or 2 seconds, then freezes to buffer a few seconds, then plays normally until the end. So this issue is minor.
MPEG2 codec / MPG container, 480p/720p/1080p –  OK
MPEG4 codec, AVI container 480p/720p/1080p – OK, but same buffering issue for 1080p as H.264/1080p
VC1 codec (WMV) – Fail (buffering forever)
Real Media (RMVB) 720p – OK for RV8/RV9/RV10, but same buffering issue as H.264/1080p
WebM 480p/720p/1080p – OK
I've also played several full movies (AVI and MKV), and they could all play flawlessly. FLV videos also played fine, but MX Player switched to software decode for most videos. However, .MOV videos from my Canon camera will buffer, but none of the mini PCs or set-top boxes I own can play those files over Wi-Fi smoothly. I did not the play 1-2s, buffer, and play again issues I experienced on samples with any of the movies I tried.
One a side note, when you play videos on this system, the status bar will automatically hide, so you can enjoy the movie full screen.
Since Wi-Fi performance seems quite good, I've also tried higher bitrate videos:
ED_HD.avi (1080p MPEG-4 – 10Mbps) – Starts out pretty good, but after a while the audio starts to cut intermittently, and in some scenes the bitrate must be too high, and video playback is affected as well.
big_buck_bunny_1080p_surround.avi (1080p H.264 – 12 Mbps) – Very choppy, and audio cuts though the full videos.
hddvd_demo_1080p.mkv (1080p VC1 – 17.5 Mbps) – It plays, but it just have to buffer the video every 10 seconds or so.
Again, I haven't seen any Android devices pass this test over Wi-Fi, and it's the only devices that nearly managed to play Elephant Dream smoothly.
I've also tested some videos and one audio filewith common Audio codecs:
DTS (Audio file) – Only static noise
AC3 – OK
Dolby Digital 5.1- OK
Dolby Digital+ 7.1 – No audio
Dolby TrueHD 5.1 & 7.1 – OK
DTS-MA- OK
DTS-HR – TBD, as the video fails to play.
So it seems there may be more work to be done for proper audio support.
It did not try XBMC, but Liliputing did test it, and it does not work very well for now. XBMC 12.1 won't run at all. XBMC 13 Alpha 2 will run, but there's no hardware video decoding support, and many playback issues.
Finally, I've copied one video (278 MB) between the network share and the NAND flash to test Wi-Fi performance and it  took exactly 3 minutes (1.54MB/s), and it's one of the fastest devies, but still slower than Measy U2C which only took 2m46s (1.67MB/s).
Both Antutu 3.3 and Quandrant Standard Edition could run in the device, which is quite rare for the latter.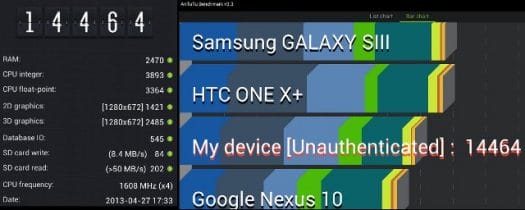 Without surprise the Antutu score (14,464) is excellent, although below the scores achieved on RK3188 tablets (18,000), but this also seems to be the case Antutu score are lower on mini PCs than tablets. As a comparison, Antutu gets up to 10,000 on MK808 (Finless ROM), but Finless ROM will also be available with MK908, and some others RK3188 mini PCs, so I'm pretty sure the score will increase with time. You'll also notice this score puts MK908 on par with Google Nexus 10 and just a bit lower than HTC One X or Samsung Galaxy S3.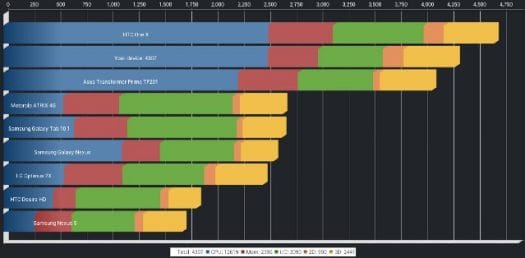 The Quandrant score (4307) also shows the great performance of the device.
For some 2D and 3D tests looked choppy on both benchmark, although I could see most GPU tests were rendered at 50 to 60 fps. I'm not sure what causes this, and I cannot experience this issue with standard applications and games.
Rockchip RK3188 can support 1.8GHz in theory, but is clocked at 1.6GHz here, and I think it's the same for tablets currently sold. I don't know if it is a limitation due to the silicon, or overheating.  When I look at the system information section of the device, I can see the CPU frequency ranges between 312 and 1608 MHz, the screen resolution is 1280×672, there's a total of of 2048 MB RAM, and 1432.80 MB are available (after running Task Killer). The 8GB NAND flash is partitioned with a 1GB partition called "Memory" in Antutu (660 MB free) and a 5818 MB partition called "SD card" (5798 MB free).
Conclusion
MK908 is the fastest mini PCs I've ever used, it just feels blasting fast, and the firmware is also stable, which to be honest, I did not expect since this is based on a new processor. Wi-Fi performance is excellent, and the status bar hides automatically when playing videos either with MX Player or YouTube. Video playback is pretty good too, but there's still need to be some improvements, mainly because some VC-1 videos fail to play, and some audio codecs does not seems to be support DTS and DD+ 7.1. I'm a bit confused to why DTS-MA works however. The lack of soft power button is also a negative.
But overall, the positives far outweigh the negatives, which can all be fixed by firmware update. Speaking of which, I've been told the device would get a new firmware with Android 4.2 within one week.
Geekbuying sells the device for $89.99 including shipping, and it's also available on some Aliexpress stores for the same price. It's nearly double the price of RK3066 based device with similar features, albeit with less memory and processing power, but if you run many applications it's definitely worth it.

Jean-Luc started CNX Software in 2010 as a part-time endeavor, before quitting his job as a software engineering manager, and starting to write daily news, and reviews full time later in 2011.