Matricom sent me one of their latest G-Box Midnight MX2 media player based on AMLogic AML8726-M6, with 1GB RAM, 8 GB flash, running Android 4.2, and with full support for XBMC. This is an update of the G-Box Midnight based on AML8726-M3 which supports XBMC in Android, as well as XBMC Linux thanks to community builds.
Specifications:
SoC – Amlogic AML8726-MX Dual Core Cortex A9 CPU + dual core Mali-400 GPU
System Memory – 1GB DDR3 RAM
Storage – 8GB Flash + SD card slot (Up to 32GB)
Video Output – HDMI v1.4, composite (CVBS) and component (YUV)
Audio Output – HDMI, AV, and SPDIF
Connectivity – 802.11b/g/n internal Wifi + 10/100 Ethernet Port
USB – 4x USB 2.0 Ports (1 might be OTG)
IR sensor
Power Supply – 5V/2A
The hardware and software is very similar to Tronsmart Prometheus (See review), as both are based on AML8726-MX, run Android 4.2 and support XBMC. To make things even more interesting, both are about the same price, and sell for $99. G-Box Midnight MX2 can be purchased on Amazon, and if you've previously bought a G-Box Midnight, you can get $20 discount with 9BVTY875 coupon. Matricom provides support on MX2 Forum, which is a plus if you don't like to be left on your own when a problem occurs. Another key advantage of the box is that it provides OTA update, something I've never seen in other mini PCs or set-top box I've tried, and will avoid you going through, sometimes cumbersome, update procedures.
G-Box Midnight MX2 Unboxing Pictures
I've received the device in the following package.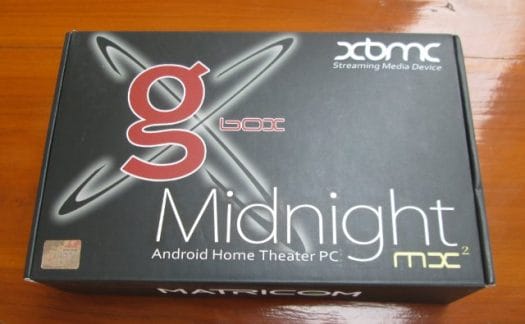 The box contains G-Box Midnight MX2 set-top box, a user's manual in English and Chinese, an AV cable, a 5V/2A power supply, and an infrared remote control. There's also an A4 paper that serves as a quick start guide and provides warranty information. One interesting point is that you can update the box with a third party firmware WITHOUT losing your warranty. This is quite rare to be noticed. However, you'll be required to pay for shipping charge if you brick your device with such firmware.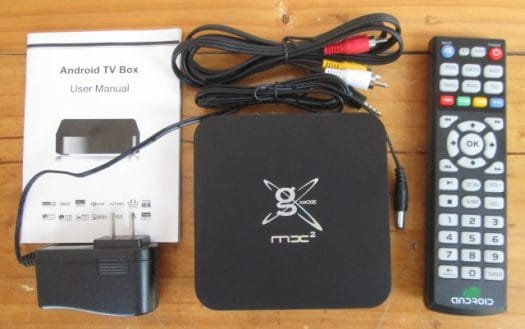 Let's have a closer look at the device's ports. On one side, we've got a USB port (OTG?), SPDIF out, AV out, HDMI out, Ethernet, and the power jack, and on another side, 3 more USB ports, and an SD card slot.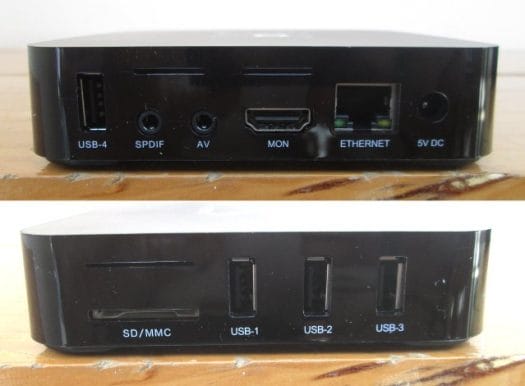 If you like unboxing videos, please have a look at the one I've shot.
First Boot, Settings and First Impressions
There's no HDMI cable, so let's find one to connect to the Box and the TV, together with an Ethernet cable for connectivity, and connect the power to get started. You'll also need to add 2 AAA batteries in the remote control. During the very first boot, you'll be taken through a wizard to select your Language (English, simplified Chinese or traditional Chinese), adjust the screen position if needed, and configure Ethernet and/or Wi-Fi. There are 2 launchers available: a stock Android Home Screen or the 3D launcher shown below. The custom launcher is IMHO much better when using an IR remote.
The 3D launcher will provide access to "Online Cinema" (XBMC/Netflix), Games, Video Chat, Settings, Web Navigation (with bookmarks to famous websites), and Local Apps (pre-installed Video, Music and Picture apps) sub menus. The interface feels just a little sluggish to me during the transitions, but still usable.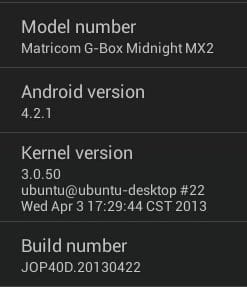 I've previously used a mini PC with stock Android and an IR remote control, and that was a pretty bad experience. But thanks to the 3D launcher and XBMC the experience is pretty good with the remote provided. However, if you're going to use other part of Android, it's not a good idea to use the remote, even though it has a "Cursor" button that allows you to move the cursor with the arrow keys. Please don't do it, this will be bad for your mental health and family harmony. Thank you. Seriously, I strongly recommend connect a USB or wireless keyboard or mouse, or purchase an RF remote with a gyro if you plan to do things like web browsing, or use other apps made for a touch screen.
In the settings menu, you'll have to option to configure Wi-Fi, Bluetooth and Ethernet for connectivity. The display menu will let you choose the video ouput resolution (480p/i, 576p/i, 720p50, 720p60, 1080i50, 1080i60, or 1080p60), as well as CVBS/YUV output modes. Unfortunately, my TV failed to detect both CVBS (composite) and YUV (component) outputs, and would just report "No Signal". The audio settings will let you choose between PCM (downsampling), SPDIF out, or HDMI pass-through. There are no Developer Options at all, as the menu is hidden. Finally, looking into the "About MediaBox" section shows the device name is indeed "Matricom G-Box Midnight MX2", and it's running Android 4.2.1 with Kernel 3.0.50. The firmware comes already rooted,
Google Play app in pre-installed, and I could installed all applications I tried such as ES File Explorer, Root checker, Antutu, Quadrant,Angry Birds Star Wars, YouTube, Facebook, etc… They could all run fine, but many Benchmark would just hand the machine. Interestingly, it's still possible to turn off the device with the remote when Android hangs, and it's a true power off (not standby), so a small micro-processor must be handling the remote power off button and the power logic.
Apart from the benchmark failing to run, the firmware was rather smooth, and stable. You can have a look at a 5 minute demo showing boot time, 3D launcher, XBMC menu and video playback performance, and settings "walk through". No commentary, only background music.
Video Playback in XBMC
Since the box is promoted as an XBMC device, I won't test video playback the usual way (e.g. MX Player), but I'll just use XBMC directly to play videos from SAMBA shares. XBMC is very smooth being rendered at about 50 fps.
Firstly, I tested the videos from samplemedia.linaro.org:

H.264 codec / MP4 container (Big Buck Bunny), 480p/720p/1080p – OK
MPEG2 codec / MPG container, 480p/720p/1080p – OK (sort of). It can play but the aspect is distorted like the videos play with an aspect ratio of 1:1 (square).
MPEG4 codec, AVI container 480p/720p/1080p – OK
VC1 codec (WMV), 480p/720p/1080p – OK
Real Media (RMVB) – RV8/RV9/RV10 samples all make XBMC exit (crash?).
WebM – 480p/720p OK, 1080p is very choppy. This is most probably because this is handled by the CPU instead of the video decoder.
Since I've connected the device via Ethernet, I've also tested some high bitrate videos:
ED_HD.avi (1080p MPEG-4 – 10Mbps) – Black screen audio only.
big_buck_bunny_1080p_surround.avi (1080p H.264 – 12 Mbps) – OK
h264_1080p_hp_4.1_40mbps_birds.mkv (40 Mbps) – OK
hddvd_demo_17.5Mbps_1080p_VC1.mkv (17.5Mbps) – OK, but I can see some artifacts at the beginning for 1 or 2 seconds.
The box passed all tests with videos with common Audio codecs:
AC3 – OK
Dolby Digital 5.1 / Dolby Digital 7.1 – OK
TrueHD 5.1 & 7.1 – OK
DTS-MA and DTS-HR – OK
I used audio downmixing to playback those files, but, at least in theory, you can also select HDMI or SPDIF pass-through if your equipment (TV / Home Theather) supports it.
Finally I've played several movies (AVI, MKV, VOB…), they could all play just fine, and I could not notice any audio/video sync issues.
Wi-Fi Performance
Time to disable Ethernet and connect to my Wi-Fi router to test Wi-Fi performance. I transferred a 278 MB video files between SAMBA and the internal flash, and at first I thought something was wrong with my setup, simply because the transfer took 2:00 (2.32 MB/s), which is must faster than any other mini PCs or set-top box I've tried before. The previous record was held by Measy U2C which managed to transfer the same file in 2m46s (1.67MB/s), so that's a massive 39% improvement over the best device I've tested. Just to make sure, I had to try the same test with MK908 again, and it would transfer the files at 1.44MB/s.
I had to try if high bitrate videos could be played smoothly:
big_buck_bunny_1080p_surround.avi (1080p H.264 – 12 Mbps) – OK
hddvd_demo_17.5Mbps_1080p_VC1.mkv (17.5Mbps) – OK
I also tried h264_1080p_hp_4.1_40mbps_birds.mkv for fun, but obviously 40Mbps is just too demanding for Wi-Fi, so after the first few seconds of playback the video became very choppy.
I'm not sure what they have done with Wi-Fi, but they have done it right, and made all other mini PCs and STBs look like junk when it comes to Wi-Fi performance. [Update: Wi-Fi performance seems to be a complex matter, and updating my router firmware changed the pecking order]
G-Box Midnight MX2 Benchmarks
Both Antutu and Quadrant hung the device at start time, so I used the remote to power off and on the media player, and decided to use another benchmark: Nenamark 2. Damn! Same results. OK, I thought, benchmark are not that important since it's a known platform, but let's check CPU information, with CPU / RAM / DEVICE identifier. Same result! It looks like this device really does not like to be ask "private questions". Finally, I was able to run Vellamo benchmark.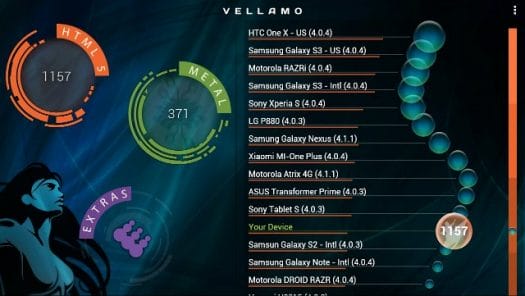 Vellamo HTML 5 score (1157) puts it between Sony Tablet S (Nvidia Tegra 2) and Samsung Galaxy S2 (Exynos 4210), which are also devices based on dual core Cortex A9 processor, so this score seems about right.
Inside G-Box Midnight MX2
After removing the four screws at the bottom of the enclosure, we can access at the hardware which is composed of a baseboard (HD18 V2.2) and a CPU board (A13_V1.0). After a quick search, we can find HD18 set-top box based on AMLogic AML8726-M3 which just looks the same, so I assume Matricom, or their manufacturer, used the same baseboard and casing design, and replaced the CPU module with one featuring AML8726-M6.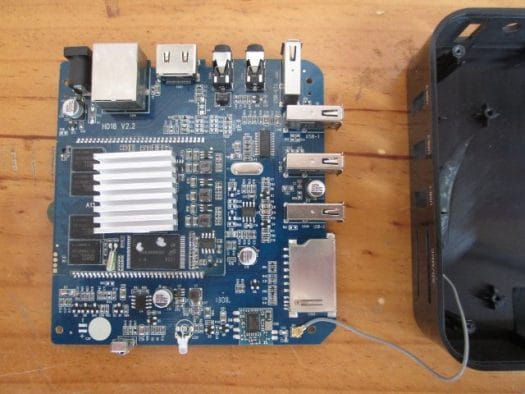 We'll find the connectors and components on this side of the board including the 4 USB ports, SPDIF, HDMI, and AV outputs, Ethernet and the Wi-Fi/Bt module (Realtek), the SD card slot, an LED, and the IR sensor. You'll also notice the heatsink on the processor to help keep the device cool during operation. I could not find connections for the serial console, maybe removing the heatsink would provide access to the right pads. As pointed out in one comment, the 4 pads on the left of the RAM chips could indeed be the UART connection.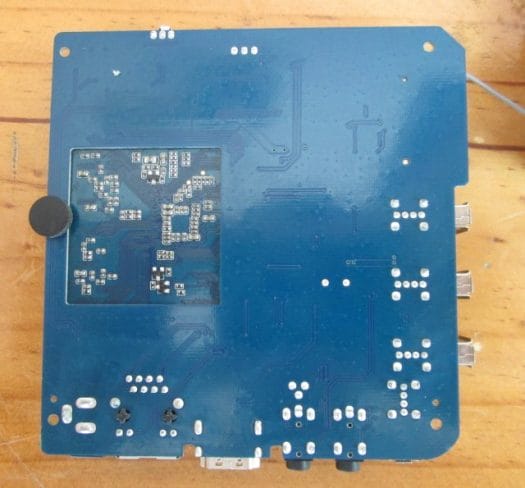 On the other side however, there's not much to see…
Conclusion
G-Box Midnight is one of the best media player I've reviewed. During my few hours of testing, it operated smoothly and, benchmark issues put aside, reliably. XBMC is working just fine, and it could play most files I threw at it. The exceptions being some MPEG-2 files with incorrect aspect ratio, Real Video files make XBMC exit, WebM 1080p can't be played smoothly, and Elephant Dream shows only a black screen. Audio decoding was perfect with all files I tried, and I did not experience any audio/video sync issues. XBMC results are actually very close to what I could achieve with Tronsmart Prometheus, especially since the latest firmware is said to fix audio/video sync issues. Two characteristics make this device stand above the rest:
OTA Updates – Not available on any other media players or mini PCs I've used. I haven't been able to try it as there's no update available right now.
Wi-Fi performance – 40% to 100% performance improvement over the competition.
If you're going to use this device mostly a a media player, the remote control is really nice to have, as you can just use it as a normal set-top box, with little things like a play/pause button not available with other devices. Real power off is also a positive as it's not seen in most other devices. However, to use any other Android apps, just get yourself another input device (keyboard, mouse or "fly mouse") for your own sanity.
The only major problem I encountered is that composite and component outputs do not work at all with my TV, so I don't know if I have a defective unit, or it's due to a firmware issue. There are also new things I'd like to be implemented like multi-user supports which is supposed to be implemented in Android 4.2, and a Miracast Display support in order to use your Miracast Certified tablet or smartphone as a Miracast Source.
Even though XBMC works very well in Android now, some of you may still prefer having XBMC running in Linux, and it's likely we'll eventually see builds for the G-Box Midnight MX2, as the community provided those for the first generation G-Box Midnight. You may have to be patient though.

Jean-Luc started CNX Software in 2010 as a part-time endeavor, before quitting his job as a software engineering manager, and starting to write daily news, and reviews full time later in 2011.