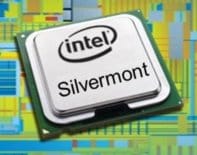 Intel has launched Silvermont, a new microarchitecture for low power SoC targeting smartphones, tablets, and servers in data centers. Silvermont SoC will be manufactured using 22nm Tri-Gate SoC process, and the company claims 3x times more peak performance than current generation Atom processors, or 5 times less power consumption at the same performance level.
Silvermont will be used in Bay Trail, Avoton,  and Merrifield processors:
Intel's quad-core "Bay Trail" SoC is scheduled for Q4 2013 tablets, and variants of the "Bay Trail" platform will also be used in market segments including entry laptop and desktop computers.
Intel's "Merrifield" is scheduled to ship to customers by the end of this year, and actual smartphones will show up in 2014.
Intel's "Avoton" will be used in low power microservers, and provide full server product capability that customers require including 64-bit, integrated fabric, error code correction, Intel virtualization technologies and software compatibility.
Intel will provide support for Android, Linux, and Windows devices for their new Atom SoCs.
A 1h20 webcast is available online for further details about Silvermont. The technical overview starts at 21:50 (Slide 15), and I'll give a summary of some of the most interesting points.
This new microarchitecture brings performance improvements thanks to:
Out of Order Execution engine enabling better single-threaded performance.
A new multicore and system fabric capable of delivering 8 cores.
New IA instructions and core technologies
as well as better power efficiency:
Wider dynamic power operating range
Enhanced power management
Fast standby entry/exit
The slide below clearly explains the different definitions between Architecture, Microarchitecture and SoC at Intel.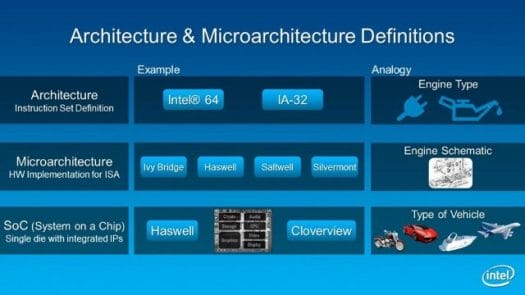 SoC based on Silvermont will support 1 to 8 cores, and multicore SoC will feature modules with:
Two cores
Coupled second-level cache (up to 1MB)
Dedicated point-to-point interface (IDI) to SOC providing independent read and write channels, higher bandwidth, lower latency, and OOO transaction support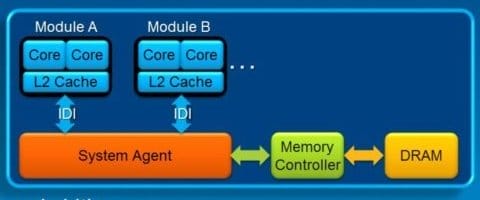 Frequency and power management can be adjusted per core.
New instructions are available to improve performance (Intel Core 2 64n ISA + Core Westmere SSE4.1, SSE4.2, POPCNT), and security (Westmere AES-NI, Intel Secure Key), and news technologies such as Real Time instruction tracing, Intel VT-x2, and support for McAfee DeepSAFE will be embedded in the new SoCs.
One of the most interesting part of the presentation is the comparison to competitors.
It's probably safe to use the "Small" competitor is ARM, and the "Large" competitor is AMD.  We already knew that AMD is not the best when it comes to power consumption, but what's interesting is that Intel seems to vastly outperform current ARM big.LITTLE SoCs and Tegra 3 (4+1 companion core) when it comes to its power/performance ratio of its future SoCs. This chart is obviously biased since it's there to show how good Intel microarchitecture is, but that still probably means Intel will be a serious competitors in the tablet and smartphone space, as long as they can also compete on price/performance and price/power ratios.
They also show very good performance and power improvement over the Saltwell microarchitecture both for single-thrreaded and multi-threaded use cases.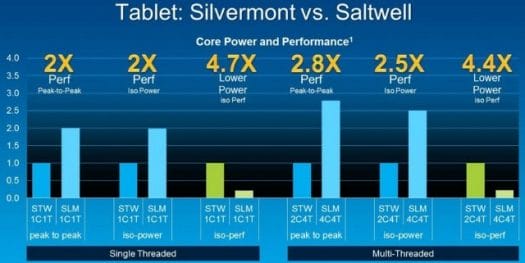 Peak to peak used the maximum frequency available, iso-power shows the performance improvement over the same power level, and iso-perf shows the difference in power consumption for a given performance metrics. STW stands for Saltwll, SLM for Silvermont. 1C1T = 1 Core 1 Thread, 2C4T = 2 Cores, 4 Threads, etc…
Going back to Intel vs ARM, they show how the Intel Dual Core Silvermont SoC outperforms ARM Quad core SoCs both in terms of performance and power consumption.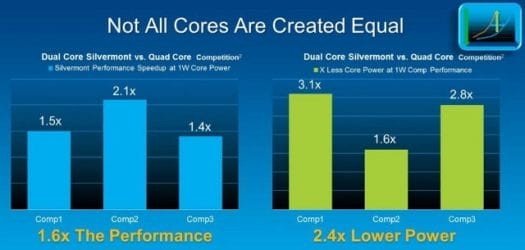 and a tablet comparison with expected results from Silvermont SoCs.
The benchmark used is SPECint*rate_base200, but the ARM tablets used are not described, and we just know they are similar configurations (e.g. number of cores, RAM, etc..), as the Silvermont solution.
We'll probably need to wait for actual hardware at the end of the year to make a fair comparison, but the results provided by Intel look very promising.
You can download the presentation's PDF for more slides.

Jean-Luc started CNX Software in 2010 as a part-time endeavor, before quitting his job as a software engineering manager, and starting to write daily news, and reviews full time later in 2011.