Geekbuying was kind enough to send me another RK3188 mini PCs for review. Tronsmart T428 is very similar to MK908 I reviewed earlier, with 2GB RAM and 8GB flash, but the latest device runs Android 4.2.2, its Wi-Fi module supports both 2.4GHz and 5GHz frequencies, and T428 can also be used as a Miracast Display. Geekbuying sells for the device for $96.99 including shipping, but before to buy the device I strongly recommend you read the review. I'll post some unboxing pictures first, then carry on with my first impressions, video playback capabilities, Wi-Fi performance and some benchmarks.
Tronsmart T428 Unboxing
I received the device is in the package below.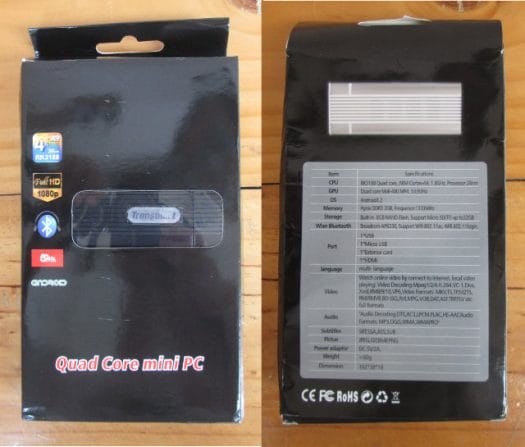 T428 comes with a short HDMI cable, a 5V/2A power supply, and a USB to microUSB cable for power.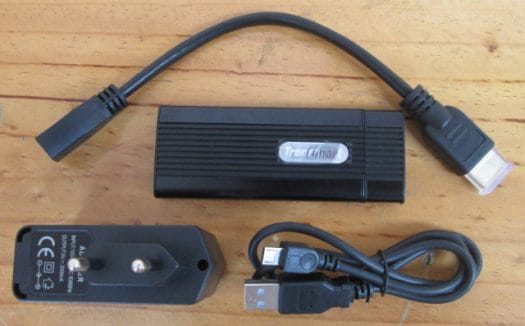 A close look at this mini PC shows the casing is made of plastic and metal (on the lengths), comes with an HDMI male port (my preference), a USB port, a microUSB port for power, an LED, a microSD slot, and a recovery button.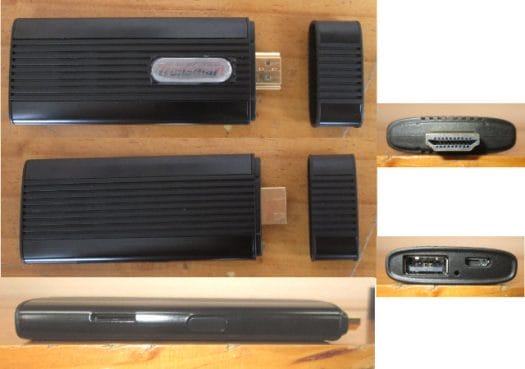 You can watch my unboxing video.
First Boot, Settings, and First Impressions
I've connected Mele F10 RF adapter to the USB host port, T428 to the HDMI port of my TV, and the power supply to the micro USB port of the device, and we're ready to go. After a little while, we get a standard Android Home Screen (All apps added by me).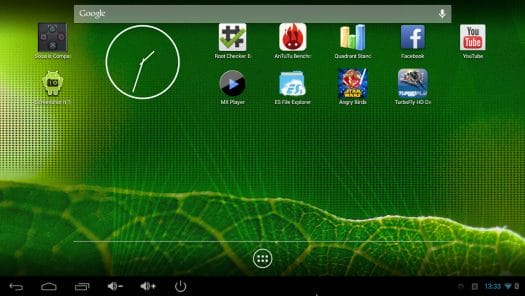 We've got Vol-/+ buttons, Power Button, and sometimes, but not always, the full screen icon… So mostly all good here.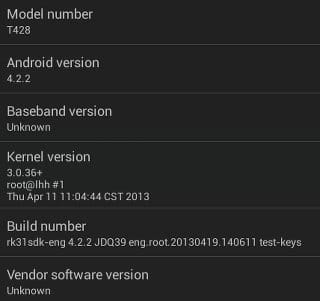 I've gone to the setup menu to configure Wi-Fi. The device also supports Wi-Fi direct, Bluetooth (built-in), and you can setup to device with VPN, as a hotspot, and add a 3G USB dongle, but there's no Ethernet option.  The screen section lets you select 1080p or 720p modes at either 50 or 60 Hz, as well as 576p50 and 480p60. There's also a slider to let you zoom in/out to adjust the UI to your screen. There's no option for HDMI audio output, so HDMI audio pass-through is not available. There are plenty of options available in Developer options including USB debugging, CPU usage, GPU usage and many more.  In the "About device" section, the model number is T428, and the device is running Android 4.2.2 with Linux kernel 3.0.36+… The firmware version is 2013/04/19.
I've installed several applications with Google Play including Antutu, ES File Explorer, Angry Birds 3D, MX Player, YouTube, Facebook.., and everything went smoothly. The firmware does not come rooted, but RK3188 rooting instructions (Windows only) worked fine.
All applications could run smoothly, and the firmware is stable, and the only issue I encountered, which I reckon is a major one, is that Wi-Fi signal will drop from time to time [Update: I resolved Wi-Fi stability issue by updating my router firmware, see CS868 review for details] .  T428 does not overheat. I've also managed to pair a Sixaxis game controller (not possible with MK908 firmware), but I haven't been able to play games yet, since more work is needed (Droidmote setup). But that's for another blog post. [Update: I wrote instructions showing how to play Games with a PS3 Bluetooth controller]
T428 Video Playback and Wi-Fi Performance
I've just installed MX Player to test video playback, making sure H/W decoding is enabled for the video I tested.
I started testing with samplemedia.linaro.org videos from a CIFS/SAMBA share in Ubuntu:
H.264 codec / MP4 container (Big Buck Bunny), 480p/720p/1080p – OK, but the video plays for 1 or 2 seconds, then freezes to buffer a few seconds, then plays normally until the end. So this issue is minor, and mainly annoying for reviewers…
MPEG2 codec / MPG container, 480p/720p/1080p –  OK.
MPEG4 codec, AVI container, 480p/720p/1080p – OK.
VC1 codec (WMV) – 480p/720p/1080 OK, but there' a thin line with artifacts at the bottom of the screen
Real Media (RMVB) 720p – OK for RV8/RV9/RV10.
WebM 480p/720p/1080p – OK
I've also tried several full movies (AVI and MKV), and I did not notice buffering issues. Video playback looks relatively bad here, but this is only a Wi-Fi issue, as the signal drops, and sometimes completely cuts off. [Update: A new router firmware mostly fixed the performance issue with this device, so I've also added audio codec and high-bitrate testing below]
T428 supports the following high-quality audio codecs:
AC3 – OK
Dolby Digital 5.1 and Digital+ 7.1 – OK
Dolby TrueHD 5.1 & 7.1 – OK
DTS-MA and DTS-HR – OK
Even after firmware update, higher bit rate videos can't play smoothly:
ED_HD.avi (1080p MPEG-4 – 10Mbps) – It seems to start out somewhat OK, but quickly become unwatchable.
big_buck_bunny_1080p_surround.avi (1080p H.264 – 12 Mbps) – The device can't play the video smoothly.
To confirm Wi-Fi sucks big time, I've copied one 278 MB file between the network share and the NAND flash, and it  took 4 minutes 04 seconds (1.14MB/s). I've never seen a device with such bad Wi-Fi before. Hopefully this is only a firmware issue. During the transfer in ES Explorer, I can see real-time transfer speed oscillate between 70KB/s and 1.50 MB/s. So it's not a constant speed, it fluctuates heavily, contrary to all other devices I've reviewed. I've also removed Mele F10 2.4GHz adapter, just in case it negatively affects Wi-Fi performance, but the result is the same when I use USB keyboard and mouse. There's an Android 4.1.1 firmware that may fix the issue, but I haven't tried it.

Wifi Update: After updating the router firmware, I can transfer the same 278 MB file in 3m 02s (1.53MB/s), at regular speed, and the Wi-Fi signal does not drop any more. Since I've updated the router firmware, I can't use my historical test results for comparison, and the only other device I've tested in this configuration is CS868 mini PC, which transfer tshe same file in 1m 30s (> 3MB/s). So even though Wi-Fi is snow table, and perfectly usable, the performance may not be optimal.
T428 Antutu and Quadrant Benchmarks
The device could achieve good results with both Antutu and Quadrant benchmarks.

With 15207 points, T428 scores a little higher than MK908 (14,464), but both are still on the same range. Finless ROM can boost the score to about 17,000.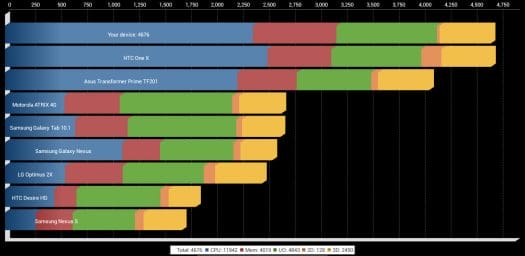 Tronsmart T428 gets about the same score as HTC One X smartphone (Snapdragon S4 or Tegra 3).
Contrary to MK908, 2D and 3D tests were very smooth in both benchmarks. System information section shows the frequency can oscillate between 312MHz and 1.6GHz, the SDK is rk31sdk, and the board is said to be rk30board. The resolution is 1280×672, there's 1606.7MB RAM available out of 1914.7MB (After running advanced task manager). The "internal partition" is 504MB large with just 76.41MB available, and there's 5.24GB available in the "NAND flash" (data partition) out of 5.82GB.
Inside Tronsmart T428
Sorry nothing here today. I've tried to open the device, but failed, as some part of the casing seem glued, and as I pushed the metallic part of the casing, I could see I bended them a bit too much to my taste. I've also been told there's no easy way to open it, so if you want an hackable device, this may not be the one for you.
[Update: Ian Morrison managed to open it (Click for pictures), but he mentions it's not designed to be opened, an you're likely to damage the case trying to do so]
Conclusion
Tronsmart T428 is fast, smooth and stable (as in no crashes or hung system) just like MK908, unfortunately Wi-Fi performance ruins it all.  This is a shame as all other aspects of. [Update: Wi-Fi has become stable after a router (TP-Link WR940N) firmware upgrade]. This device seems promising: Full screen and power buttons, Miracast Display support, all video codecs I've tried seems to be supported fine, support for 5GHz can help if there are lots of 2.4Ghz Wi-Fi hotspots in your location …
Considering the terrible Wi-Fi performance, I can't recommend Tronsmart T428 at this stage, and you'd better go with Tronsmart MK908 which works much better, at least until we're sure a new firmware can fix WLAN reliability and performance issues.
After resolving T428 / TP-Link router interoperability issues by updating the router firmware, my assessment of T428 has completely changed, and the device is actually pretty good, with only minor issues, such as an internal flash partition for apps that I find too small (504MB), and fills up too quickly, the lack Ethenet  support (USB dongle),  no support for HDMI pass-through…

Jean-Luc started CNX Software in 2010 as a part-time endeavor, before quitting his job as a software engineering manager, and starting to write daily news, and reviews full time later in 2011.