If you're mainly using your Android mini PC or STB to stream videos over the web or your local network, Wi-Fi performance is actually more important than CPU performance, and I've recently had quite a few issues with Wi-Fi with both T428 (RK3188 / Broadcom Wi-Fi module) and CS868 (AllWinner A31 / Realtek Wi-Fi module), which were only fixed after upgrading my router firmware. So I've decided to re-test most of the mini PCs I own with the upgraded router firmware, and the number are highly confusing, and I found out there's probably be no easy to way to estimate the overall Wi-Fi performance of any device, and it's most probably highly dependent on the router used, and its firmware version.
My router is TP-LINK WR940N, a 300 Mbps Wireless N router with three antennas. Since I bought it, I had never upgraded the firmware (3.9.18 Build 100104 Rel.36350n) from 2010. When I test Android mini PCs or media players, I always place the device is the same area which is about 5 meters from the router, but not line of sight, and I transfer a 278 MB file from a SAMBA share in a PC running Ubuntu. I use ES File Explorer to perform the transfer, and I check the time with a stop watch. I write the time, and calculate the throughput. In theory, the NAND flash write speed could also be a bottleneck, but considering the throughput are always less than 3MB/s, and the file is only 278MB, which is less than the amount of RAM, I believe it should not impact the results.
Here are the results I got with the old router firmware since I started doing this test.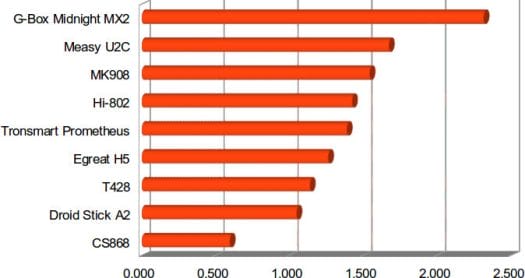 Matricom G-Box Midnight MX2 is the fastest by a wide margin, and T428 and CS868 have pretty poor performance because they often lost the signal during the transfer.
As I explain in CS868 review, upgrading the router firmware completely changes the performance of CS868, and improves T428 significantly. So equipped with my "new" router with firmware 3.13.9 Build 120201 Rel.54965n, I tested the devices again to see if results would be much different, and if we could find some patterns, e.g. Realtek Wi-Fi module perform better or not. I performed the file transfer three times on each device, to make sure there was not too much variation between transfers.
The updated results show CS868 far ahead, while G-Box Midnight MX2 is not that good anymore, and may have been negatively impacted by my router firmware upgrade. That's the complete opposite of earlier results.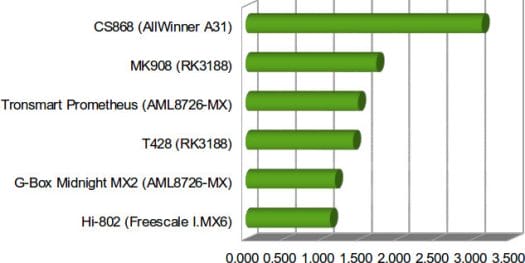 The table below shows more details about the tests and the devices.
Product
Time 1
Time 2
Time 3
Throughput (MB/s)
Connection Speed /
Signal Strength
Wi-Fi Module
Firmware / Build Number
Remark
Hi-802 (Freescale I.MX6)
03:32
04:33
04:25
1.112
150Mbps (Good)
Realtek RTL8188CUS
R13.4-rc2 V1.65.3
Slow microSD, high CPU usage (around 6 to 7)
G-Box Midnight MX2 (AML8726-MX)
04:20
03:44
03:44
1.178
150Mbps (Excellent)
Realtek RTL8188EUS
JOP40D.20130422
Highly Variable speed (Up to 2.6 MB/s)
T428 (RK3188)
03:02
03:15
03:32
1.416
65Mbps (Excellent)
Broadcom AP6330
Rk31sdk-eng 4.2.2 JDQ39 eng root 20130419
Highly variable speed (Up to 1.7 MB/s), lost signal once, and cancelled test
Tronsmart Prometheus (AML8726-MX)
03:05
03:10
03:08
1.481
150Mbps (Excellent)
Realtek RTL8188EUS
JOP40D.20130307
Constant speed around 1.5MB/s, high CPU usage (4 to 5)
MK908 (RK3188)
02:47
02:30
02:47
1.723
150Mbps (Excellent)
Broadcom AP6210
mk908_100j1 15-04-2013
Constant speed around 1.7MB/s
CS868 (AllWinner A31)
01:30
01:30
01:28
3.112
150Mbps (Good)
Realtek RTL8188EUS
fiber_onda809q9-eng 4.1.1 MASTER eng ok 20130506
Constant speed around 3MB/s
Measy U2C (RK3066)
02:40
N/A
N/A
–
135Mbps (Excellent)
Mediatek MT5931
B12_RK3066_Public_V411_121224
Worked the first time, but then failed to transfer the file completely 4 times, so I gave up
I dropped E-Great H5 and Droid Stick A2 from the tests due to lack of time, and Measy U2C is not included into the chart because it could not reliably transfer the file, and I only managed to fully transfer the file once, over 5 attempts. This also happened once with T428, but the 3 other tests worked.  As I previously assumed, the connection speed, be it 65 Mbps, 135 Mbps or 150 Mbps, does not actually matter. The conclusion of those tests is a bit disappointing, as the only one I can make is that you can't really make conclusions. If I had only use the original router firmware, I would have said CS868 Wi-Fi is a disaster, but after firmware upgrade of the router, CS868 is the best ever mini PC I've ever seen when it comes to Wi-Fi throughput, and is clearly ahead of any other devices. Bear in mind CS868 only has a chip antenna, and can still easily outperform other device with an standard internal antenna.
With regards to Wi-Fi modules, Realtek RTL8188EUS is both at the top of the chart and the bottom with the new router firmware, so the overall performance seems to depend on overall system design, and the interoperability with the router. One of the advantage of devices based RTL8188 is that the drivers source code is available, Mediatek MT5931 source has recently been "leaked", but I don't think Broadcom IC source is available.

Jean-Luc started CNX Software in 2010 as a part-time endeavor, before quitting his job as a software engineering manager, and starting to write daily news, and reviews full time later in 2011.