I usually spend most of my time writing about low cost hardware in this blog, but in this post, I'll deal with higher-end and more expensive devices based on Freescale i.MX6 with Cornfed CONSERVER Server System and corresponding CONSERVER motherboard, as well as Ventana Network Processing Boards.
Cornfed CONSERVER
Conserver is a low power high-performance ARM processor server system based on Freescale i.MX6 with 4GB RAM, Gigabit Ethernet, and SATA.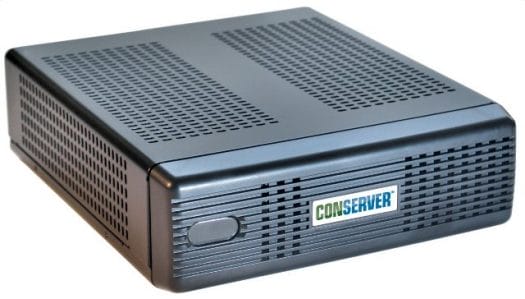 The hardware specifications are as follows:
SoC – Freescale i.MX6Q Quad Core ARM Cortex A9 processor @ 1.2 GHz
System Memory – 4 GB DDR3 RAM
Storage – ?? GB NAND Flash + 1x SATA2 connector for HDD/SSD
Connectivity – 1x Gb Ethernet port
USB – 4x USB Host ports
Video Output – 1x HDMI port
Misc – RS-232 Serial port
Power Supply – 35W Internal AC Power Supply
Dimensions – Mini-ITX form factor
The system is preloaded with Ubuntu, and can be customized with wireless connectivity, or DC power supply, and mounted via DIN rail or Vesa mounting system.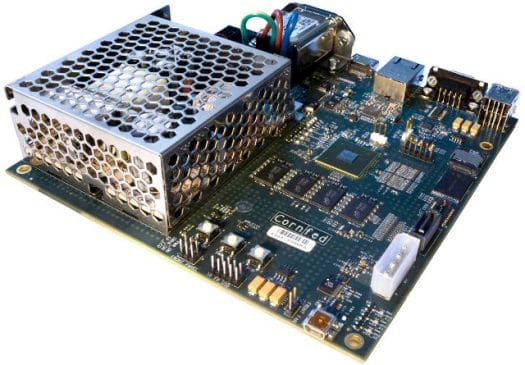 You may think "This is the system I've been waiting for!", until you actually have to pay the bill, as CONSERVER server system costs $649. If you only need the motherboard, you can get it for $449. There's also just a 30-day warranty… [Update: The price has been lowered to $579 for a full system with 4 GB DDR3 and a 1 TB 7200 RPM hard drive, the motherboard is now available for $349 with power supply, and warranty has been extended to 60 days]. Further information is available at cornfedservers.com
Ventana Network Processing Boards
Ventana network processing boards by Gateworks Corp are a bit different as they offer one or more Gigabit Ethernet ports, mini PCie slots, and they are industrial grade boards. All the six SBC computers for network processing are based on Freescale i.MX6 processors, but the low-end model starts with a dual-core processor @ 800MHz with one mini-PCIe slot, and the best performing model features a quad-core processor @ 1GHz board with 6 mini-PCIe slots, and high definition video support.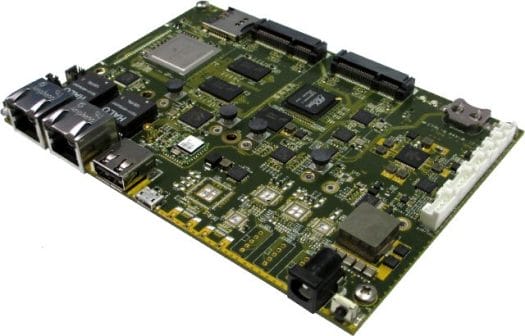 The six boards can be differentiated as follows:
GW5100 – i.MX6 Dual @ 800MHz, 512MB RAM (default), 1x GbE, 1x Mini-PCIe, 35 x 100mm
GW5200 – i.MX6 Dual @ 800MHz, 512MB RAM (default), 1x GbE, 1x mSATA, 2x Mini-PCIe, 70 x 100mm
GW5300 – i.MX6 Quad @ 1GHz, 1GB RAM (default), 1x GbE, 1x mSATA, 4x mini-PCIe, 105 x 100mm
GW5310 – Same as GW5300 but without video/audio support
GW5400 – i.MX6 Quad @ 1GHz, 1GB RAM (default), 1x GbE, 1x mSATA, 6x mini-PCIe, 140 x 100mm
GW5410 – Same as GW5410 but without video/audio support
and they share the following specifications:
SoC- Freescale i.MX6 Dual @ 800MHz, or i.MX6 Quad @ 1GHz
System Memory – 512 MB to 2GB (GW5100 and GW5200) or 4GB (for Others boards)
Storage – 256 MB Flash upgradeable to 2GB (all) + mSATA and microSD card slot (except GW5100)
Cellular Support – Built-in modem for GW5100, 1x SIM Socket for GW5200, 2x for GW53x0, and 3x for GW54x0
Mini-PCIe slots – 1x for GW5100, 2x for GW5200, 4x for GW53x0, 6x for GW54x0. More with expansion board.
Connectivity – 1 to 2 Gb Ethernet ports. More with expansion board.
Video/Audio ports – HDMI out, CVBS in (All models), GW5200 adds LVDS out and mic/speaker, GW53x0 boards add HDMI in and CVBS out on top of that, and GW54x0 boards also support component output.
I/O ports:

Serial – TTL, RS232 and RS485 (exact configuration depends on model)
Digital I/O
USB – 1x OTG (all) + 1x USB Host on GW5300 and greater

Misc – RTC with battery, voltage & temperature monitor; 3D accelerometer/magnetometer (except for GW5100), optional GPS receiver, PoE support, etc…
Power Supply – 8 to 42V for GW5100, 8 to 60V for others.
Typical power consumption – 2 to 5 Watts depending on model
Operating Temperature – -40 to +85C
The company provides OpenWrt and OpenEmbedded Linux Board Support Packages (BSP) for the boards.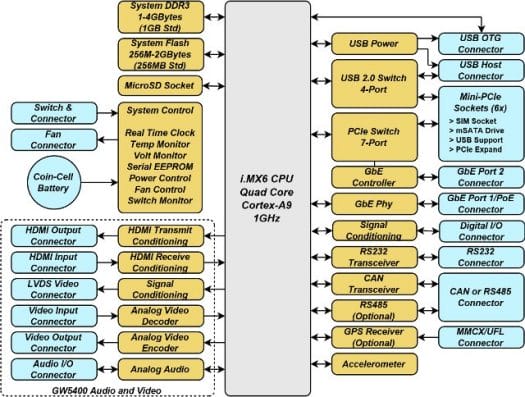 If you feel you don't have enough ports such as mini-PCIe slots or Ethernet ports, the company provides the following expansion modules:
GW16081 Mini-PCIe Expansion Module – 7x Mini-PCIe. LinuxGizmos reports 3x boards can be stacked to get 24x extra Mini-PCIe slots
GW16082 Mini-PCI Expansion Module – 4x Mini-PCI
GW16083 GbE Expansion Module – 4x Gigabit Ethernet
GW16084 Fiber SFP Expansion Module – 2x SFP Fiber cage
Ventana GW5400 and GW5410 boards and corresponding development kits are available now, GW5100/GW5200 will be available in Q3, and GW5300/5310 boards in Q4. GW16081 mini-PCIe, and GW16082 Mini-PCI expansion boards appear to be available now, whereas Gb Ethernet and Fiber expansions modules will be available in Q4. Pricing can be provided upon request. You can checkout Gateworks Ventana products table for further details.

Jean-Luc started CNX Software in 2010 as a part-time endeavor, before quitting his job as a software engineering manager, and starting to write daily news, and reviews full time later in 2011.