If you are on the go it may be problematic to keep your smartphone or/and tablet batteries charged at all times. You can always buy extra batteries but you need to remember to charge them before you go, and they may not hold enough power for your needs. Kobion is trying solve this problem with the "Smart Charger", a charger powered by Butane holding up to 37.2 Wh of power (about 5 to 10 times a typical smartphone's battery capacity) that you can carry around with you. The charger is in development, and the company is looking for funds in Indiegogo, asking for pledges of $59 (early bird), and then $69 to get the product manufactured at a low cost. You'll also need to add $5 for shipping.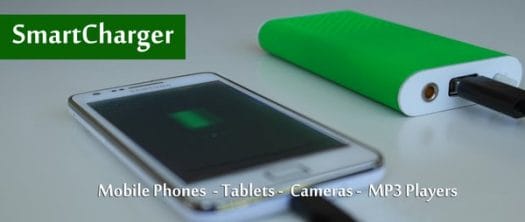 Here are the technical specifications:
Dimensions – 120 x 60 x 20 mm
Weight – Around 200 grams (empty)
Nominal Energy – 37 Wh
Charge Voltage – 5V
Charge Current – 1A
Tank Capacity – 0.06 Liter
Charging port – Standard A Type USB
Chassis – Aerospace Aluminum
Type of Fuel – Butane
Here's a demonstration showing how you can refill the charger, connect it to your smartphone via the USB port, and start the charger in less than 27 seconds.
This looks pretty neat, if you ask me.
But let's compare it to an equivalent USB power bank. Typically, USB power banks capacity is expressed in mAh, so let's convert 37.2 Wh into mAh first with the formula:
milliampere-hours = (watt-hours × 1000) / volts
37.2 Wh is then equivalent to 7440 mAh, if my calculations are correct.
You can find 8000 mAh USB power banks for less than $30 on Dealextreme and Aliexpress, so the Smarter Charger costs over twice as much. For some unknown reasons, 30,000 or 50,000 mAh USB power banks are about the same price as, or even cheaper than, 8000mAh ones. I haven't looked into it in details, but Butane price is also certainly much higher than electricity price.
Let's compare dimensions and weight too. 8000mAh USB powered banks weight about 200 to 250 grams, which is about the same as the Smart Charger. Dimensions are also about the same. It's a draw here.
Then there's the question of durability. USB power banks I've seem claim they can be recharged about 500 times, enough for a few years. I'd guess the Smart Charger is likely to last longer, but since it is a newer product it's difficult to evaluate. Any comments of this point?
However, the Smart Charger is a clear winner when it comes to charging. It takes a few seconds to fully refill, whereas several hours are needed to fully recharge a USB power bank, and as long as you don't run out of butane, you will never run of power, even if you're in the middle of nowhere. I guess this can be interesting in places like where you may not have regular electricity, but you still need to use your phone.
You may find more information on their Indiegogo campaign, and/or ask questions on the Crowdfunding Forums. The charger should be delivered in November 2013.

Jean-Luc started CNX Software in 2010 as a part-time endeavor, before quitting his job as a software engineering manager, and starting to write daily news, and reviews full time later in 2011.