I've shown some unboxing pictures and video of Jynxbox Android M6 earlier this week, and today I'll write a review of this AMLogic AML8726-M6 dual core Android media player. I'll start with my first impressions, go through the different settings, test video playback, wi-fi performance, and reports about different miscalleous tests: Bluetooth, USB mass storage, USB webcam, etc…
First Boot, Settings and First Impressions
First, you'll need to insert the provided AAA batteries in to the remote control. Opening the remote is a bit tricker than I would like as the cover does not come off that easily. Before powering up the device, I've connected the provided HDMI cable between the device and my HDTV, and an Ethernet cable to my hub. The first Ethernet cable would not click with in the device RJ45 connector, although it works with my laptop and other devices, but using another one worked just fine. Connecting the power adapter will boot the device immediately (no power button on the device), we'll quickly see an Android logo, and after a few more seconds we'll get the home screen shown below.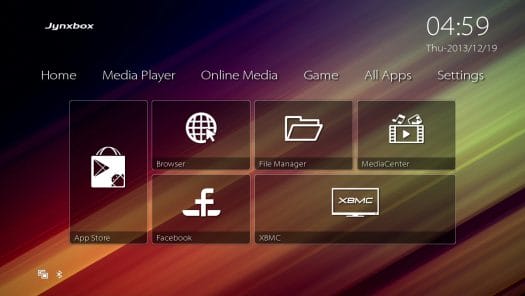 This launcher will provide access to Google Play store, the stock Android web browser, a file manager, a MediaCenter (not tested), the Facebook app, and XBMC Frodo 12.2. The top menu gives access to the Media Player section (3 apps for Picture, Music, and Video), Online Media (YouTube pre-installed only), Games (Angry Bird pre-installed only), the list of all Apps, and Settings.
There's no direct way, or I haven't found any, to switch to the stock Android home screen, but since the device comes with an IR remote, this type of interface is better to use. XBMC is also well suited to IR remote. However, if you're going to use other part of Android, and for user input, it's much better to get an RF remote / air mouse such. as . That's exactly what I've done for the first time setup, by connecting a Mele F10 air mouse. For the rest of the review, mainly XBMC, I've used the IR remote, and it's doing a good job there.
Lets' go through the settings menu, which looks the same as other AMLogic based Android TV boxes I've tried.
You'll have options to configure Wi-Fi, Bluetooth and Ethernet for connectivity. Bluetooth is not built-in, but I've added a Bluetooth USB dongle, and it was properly recognized. You can only use Wi-Fi or Ethernet at a time, not both. I've found that enabling Ethernet will stop Wi-Fi,m and vice versa, which is fine by me. There are also options to configure VPN, portable hotspot, and mobile networks, but I haven't tried any of these.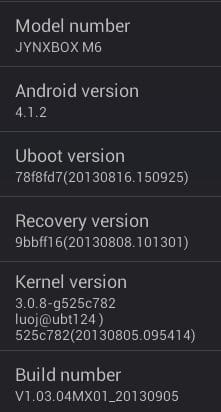 The display menu will let you choose different video output resolution (480p/i, 576p/i, 720p50, 720p60, 1080i50, 1080i60, or 1080p60), as well as CVBS/YUV output modes. The default resolution is set to 720p60. CVBS (composite) worked pretty well considering the resolution, but make sure you change the font size to HUGE to read anything clearly. YUV (component) output would only show in gray even after trying several combinations, as if only the luminance signal was available. Having said that, it's unlikely you'd use component output with this player, as there's no SPDIF output, so you'd get no audio, unless your audio systems accept HDMI in. There's also submenu to adjust the screen position in order to compensate for over/under scan. The audio settings will let you choose between PCM (downsampling), SPDIF out, or HDMI pass-through.
Jynxbox M6 has a 4GB flash, and the storage is partitioned so that apps get 1.29GB (258MB used), the internal SD card 894 MB, the rest being used by the system. Developer Options are already visible with lots of different options available, but not enabled by default. Finally, looking into the "About device" section shows the device name is  "Jynxbox M6", and it's running Android 4.1.2 with Kernel 3.0.8.
The firmware comes already rooted. I could install all applications I tried including ES File Explorer, Root checker, Antutu, Quadrant, Vellamo Candy Crush, Raging thunder 2, Sixaxis Controller, etc… All apps I tried could run just fine with the exception of Antutu which failed to run the 3D benchmark. The power button on the remote control, just put the device in suspend mode, and does not completely turn it off.
The firmware appears to be very stable, and  I did not experience a single crash or hand, and it's rather smooth considering it's a dual core media player. You can have a look at the demo below showing the custom launcher / interface, a settings walked through, and a test of XBMC to show the add-ons and hardware accelerated video playback. An interesting point is that XBMC comes with several add-ons pre-installed including Navi-X, Xunity Maintenance, Pandora, Simply Movies, etc.. These give you access to TV shows, movies, music, in more or less legal ways…
Video Playback in XBMC
XBMC is very much a key selling point of the device, as it's even a large part of the home screen, so I've used XBMC directly to play videos from SAMBA shares, just like I did with the GBox Midnight MX2. XBMC is rather smooth being rendered at about 35 to 40 fps @ 1280×720 resolution. The MX2 was a bit smoother at 50 fps.
I started with the videos from samplemedia.linaro.org:
H.264 codec / MP4 container (Big Buck Bunny), 480p/720p/1080p – OK
MPEG2 codec / MPG container, 480p/720p/1080p – OK.
MPEG4 codec, AVI container 480p/720p/1080p – OK
VC1 codec (WMV), 480p/720p/1080p – OK
Real Media (RMVB) – Do not play
WebM / VP8 – 480p OK, 720p seems like slow motion at time, 1080p is very slow with plenty of audio cuts. This is probably due to software decoding for this codec.
Since I've connected the device via Ethernet, I've also tested some high bitrate videos:
ED_HD.avi (1080p MPEG-4 – 10Mbps) – Black screen audio only.
big_buck_bunny_1080p_surround.avi (1080p H.264 – 12 Mbps) – OK
h264_1080p_hp_4.1_40mbps_birds.mkv (40 Mbps) – OK
hddvd_demo_17.5Mbps_1080p_VC1.mkv (17.5Mbps) – OK, but with some artifacts at the very beginning.
The box passed all high-end audio codec tests with flying colors:
AC3 – OK
Dolby Digital 5.1 / Dolby Digital 7.1 – OK
TrueHD 5.1 & 7.1 – OK
DTS-MA and DTS-HR – OK
Please note that I used PCM mode (audio downmixing) to playback those files, but HDMI pass-through should work as well, as long as if your TV or home theater system supports it. Some videos were a bit choppy however, due to high bitrate, but since this particular section of the video test aims at testing audio support, I ticked OK. [Update: The TrueHD 5.1 video had some audio cuts during video playback from the network. I also tried all videos from a USB drive, and they could all play.]
I ended the video test by playing several videos and movies using AVI, MKV, VOB, FLV… container formats. They could all play just fine, and I could not notice any issues such as audio/video sync issues or frame skipping, which have happened on other platforms.
Wi-Fi Performance
Time to disable Ethernet and connect to my Wi-Fi router to test Wi-Fi performance. As usual, I transferred a 278 MB video files between SAMBA and the internal flash. I repeated the test three times, and on average it took 3:28 (1.33 MB/s), which is not particularly fast compared to other android TV boxes and mini PCs, but still fast than G-Box Midnight MX2.

Please bear in mind there are many factors when it comes to Wi-Fi performance, and the results you've got with your setup may be completely different than the ones I've gotten here.
Miscellaneous Tests
Bluetooth
I've connected a USB Bluetooth dongle to the device, and the dongle was properly recognized. I could then pair it with my phone and transfer a file. However, the current firmware is not compatible with Sixaxis (no HCI library available), so your Bluetooth game controller will not work with the current firmware. Tested with that method.
External Storage
My USB flash drive was automatically recognized by the media player, so external USB hard drives should also work, provided there's enough power. I also inserted a microSD card in the device's reader, and it also work fine.
USB Webcam
I tested two webcams, an old Logitech webcam, and a noname webcam, and neither of them could be detected by the system. So Skype and Google hangout are not usable with the current firmware.
Gaming
I've tested 3 games: Angry Birds, Candy Crush, and Racing Thunder 2. They could all run, but as with all other Android TV box there are caveats. The IR remote can not be used to play any of these games, so you'll need to connect a mouse, or an air mouse to control the games.
I used Mele F10, and I could play the three games above. No problem (that I could find) with Angry Birds. Candy Crush is working fine, except that is you are connected via Ethernet, you won't be able to connect to Facebook to synchronize your levels. Switching to Wi-Fi fixes this. Racing Thunder 2 also ran smoothly, however it's quite awkward to control the game with the mouse, as you have to click left and right of the car to turn.
As mentioned in the Bluetooth section, wireless Gamepad (sixaxis) do not work. The best way to control the system with games is probably to use DroidMote app.
Jynxbox Android M6 Benchmarks
Antutu 4.x completed the benchmark early at it failed to run the 3D benchmark, and gave an irrelevant scores. Quadrant, and Vellamo run just fine however. An interested note is that Antutu detect the processor as being Samsung Exynso 4412, but CPU-Z and Quadrant confirmed the device features an AMLogic processor. The product name is stvmx, and the board name is stv_mbx_mx.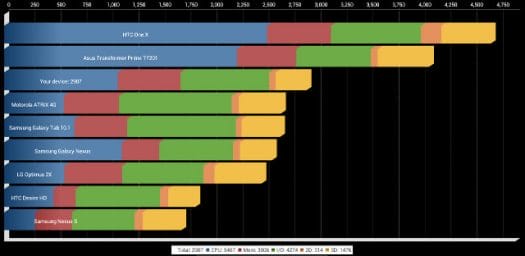 Jynxbox M6 gets 2907 points in Quadrant which is just on top of some older dual core systems such as Galaxy Nexus and Motorola Atrix 4G.
With Vellamo benchmark, the system got 425 points in the Metal test, and 1087 points in the HTML5 test, which again places it in the same performance range as Samsung Galaxy Nexus (running Android 4.3).
Inside Jynxbox Android M6
Once the firmware review was completed, I decided to give another try with opening the enclosure. After forcing a bit more than usual with a flat-headed precision screwdriver, I managed to open it via the opening at the button of the case, breaking one or two plastic clips in the process. You'll also have to unscrew four internals screw to completely remove the board from the case.
A Wi-Fi antenna with an SMA connector plug it connected to the plug, and a 3 to 4mm thick metallic round is fixed to the bottom of the case, which explains why the device is heavy (170g.) relative to its size.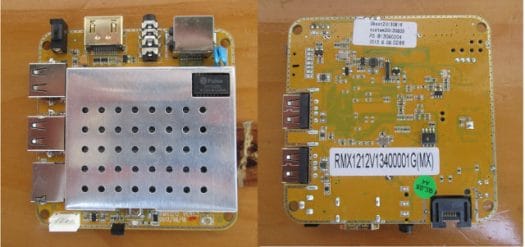 The top of the board features a large metallic shield, all the connectors, and at the bottom left, a 4-pin header that is most likely the UART pins used to access the serial console. The PCB markings shows RMX1212 as the board name. The MAC address starts with ACDBDA which belongs to "Shenzhen Geniatech", so they are probably the one who designed and manufactured the box.
Conclusion
Jynxbox Android M6 is another good Android media player based on AMLogic AML8726-MX. It's very stable, runs smoothly, XBMC is running great with lots of add-ons pre-installed, and it could play most video files I tested, except Real Media, and WebM/VP8 struggles at higher resolution (720p/1080p). Like other AMLogic boxes, it can't play Elephabnt Dream test files. Audio decoding was perfect with all files I tried, and I did not experience any audio/video sync issues. This device appears to have slightly better XBMC and video support than Matricom GBox Midnight MX2 and Tronsmart Prometheus, but I haven't tested these for a few months, and the updated firmware may have improved too.
The device is very small and nice, although it's some what heavy. But it appears to have been designed that way on purpose, so that it does not move around. The remote control is small and nice, and does the job in XBMC and the user interface, thanks to little things like a Play/Pause button, but for any other Android apps, you'd better use standard USB or Wireless keyboard and mouse, or an air mouse.
The are still a few downsides, but mostly minor depending on your usage. I only got a black and white  display with component (YUV) output, sixaxis Bluetooth game controller are not supported, neither are USB webcams. Contrary to many other products with are already running Android 4.2.2, the firmware is still based on Android 4.1.2, and features such as Miracast (Wi-Fi) Display are not available.
Jynxbox Android M6 has very similar hardware and features, notably XBMC support, compared to Tronsmart Prometheus (See review), and Matricom GBox Midnight MX2 (See review), and its strong points are a smaller, nicer form factor, and pre-installed XBMC add-ons. Having said that at $119 it's a little more expensive than both the G-Box Midnight MX2 ($97), and  the Tromsmart Prometheus ($89.99), but the former does not include an HDMI cable, and the later lacks a remote control.
I'd like to thanks theatertvbox.tv again for sending a unit for review.

Jean-Luc started CNX Software in 2010 as a part-time endeavor, before quitting his job as a software engineering manager, and starting to write daily news, and reviews full time later in 2011.