Atmel launched SAM D20 MCU family based on ARM Cortex M0+ last year, and at Embedded World 2014, the company has launched three new MCU families featuring ARM ultra low power core with SAM D10, SAM D11, and SAM D21 families and their corresponding Xplained PRO development boards.


Atmel four SAM D families target different applications and price points:
SAM D10 – The smallest member of the SAM D family in terms of memory, pin count, and features.
SAM D11 – Adds full-speed USB not available on the SAM D10.
SAM D20 – "Offers a rich set of peripherals, flexibility, and ease-of-use with low power consumption."
SAM D21 – Adds features such as full-speed USB, DMA, high-end timers/counters to D20 design.
I've compared the four families in the table below:
SAM D10
SAM D11
SAM D20
SAM D21
# MCU in Family
4
4
15
12
MCU Core
ARM Cortex-M0+ based MCU running up to 48MHz
Memory
8 to 16KB embedded Flash
4KB SRAM
16 to 256KB embedded Flash
2 to 32KB SRAM
Power Consumption
<70µA/MHz
DMA and Event system
Yes
SERCOM (Serial Communication Modules)
3x in SAM D10D
2x in SAM D10C
3x in SAM D11D
2x in SAM D11C
6x in SAM D20J and SAM D20G,
4x in SAM D20E
6x in SAM D21J and SAM D21G
4x in SAM D21E
USB
N/A
Full-Speed USB Device
N/A
Full-Speed USB Device and embedded Host
ADC/DAC
12-bit ADC (SAM D10D: up to 10 channels; SAM D10C: 5 channels) ; 10-bit DAC
12-bit ADC (SAM D11D: up to 10 channels; SAM D11C: 5 channels) ; 10-bit DAC
12-bit ADC (SAM D20J: 20 channels; SAM D20G: 14 channels; SAM D20E: 10 channels) ; 10-bit DAC
12-bit ADC (SAM D21J: 20 channels; SAM D21G: 14 channels; SAM D21E: 10 channels) ; 10-bit DAC
Hard touch support
Yes
Package
14- and 20-pin SOIC and 24-pin
32-, 48- and 64-pion QFP and QFN
Development can be performed with Atmel Studio and Atmel Software Framework, and several evaluations kits, namely Xplained Pro boards, and corresponding expansions boards: QT1 for touch controller, I/O1 adding a light and temperature sensor, a micro SD card and hardware to test UART, SPI & I2C, PROTO1 adding a bread-boarding area, and OLED1 for an 128×32 OLED display with LEDs and buttons.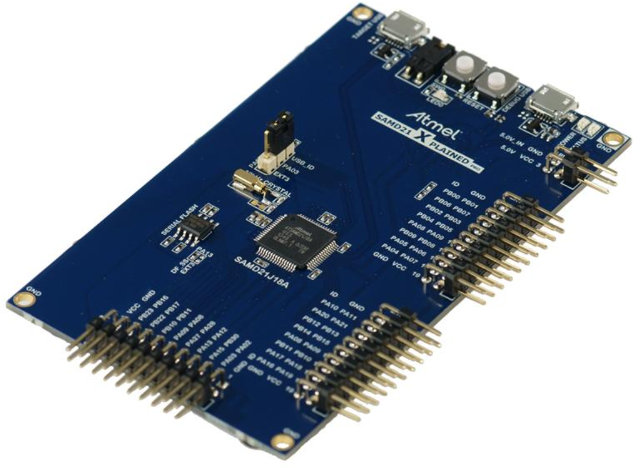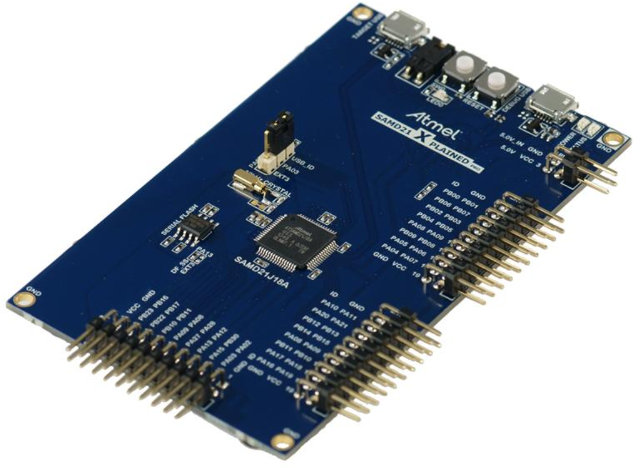 SAM D21 samples and tools are available now with volume production in May 2014, but you'll have to wait a little longer for SAM D10 and D11 families with engineering samples and tools scheduled for Q2 2014. SAM D21 Xplained PRO evaluation kit can be purchased for $39, and appears to be in stock. You can find details for each one of the 35 Cortex M0+ MCU on Atmel's SAM D page.