When I review media player or development boards, I'm often asked about power consumption figures. One way to measure power consumption is to use a Kill-a-Watt, but for low power devices it's not always accurate enough, and it also includes the heat dissipation from the power adapter, which may or may not be useful depending on what you want to measure. For USB powered devices or boards, an easy way to measure power consumption is to use CHARGER Doctor, a small $5 USB dongle that displays both voltage and current alternatively. Unfortunately, most products I've received lately use barrel type connectors, so this little tool has not been as useful as I hoped. The only solution is then to measure voltage and current with a multimeter. Voltage is measured in parallel, so you just need to point the multimeter's leads where you want to perform the measurements. However, the current is measure in series, so you need to insert the multimeter in the circuit somehow. A few possibilities:
Unsoldering a component on the board to place the multimeter in series.
Cut one wire of the power cable to insert the multimeter.
Get and make a board to insert the multimeter.
Solutions 1 and 2 are not really desirable, so I decided to look into solution 1, and since I could not find any board that could match my requirements, I decided to work out a solution by myself allowing various power inputs and outputs.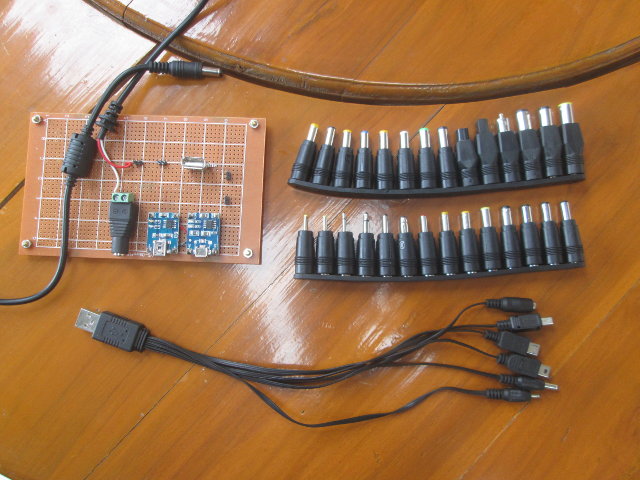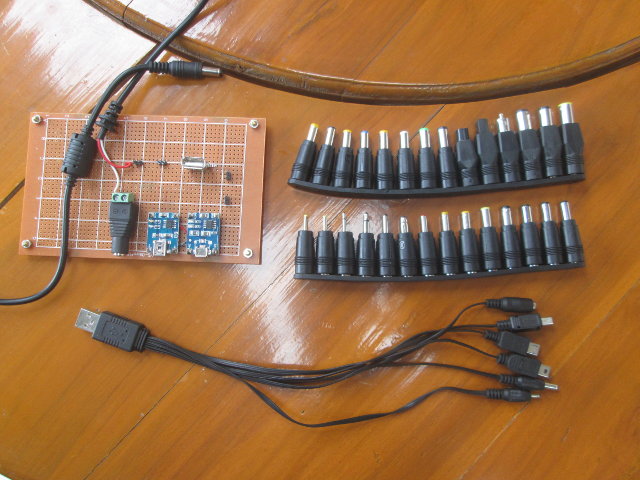 The board can take power adapter using micro USB, mini USB or 5.5/2.1mm barrel connectors, 32 different output connectors thanks to two cables, and header pins are used to connect the multimeter's leads.
Here's the different components required for this solution:
If you purchase everything from scratch the cost would be around $35.
In case the introduction is not clear, the board description below may help.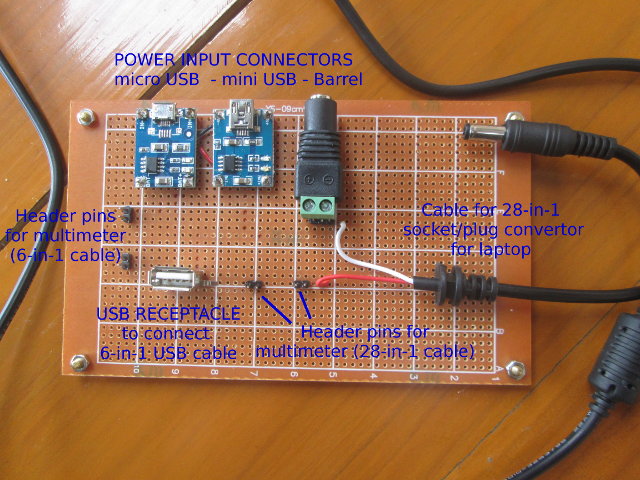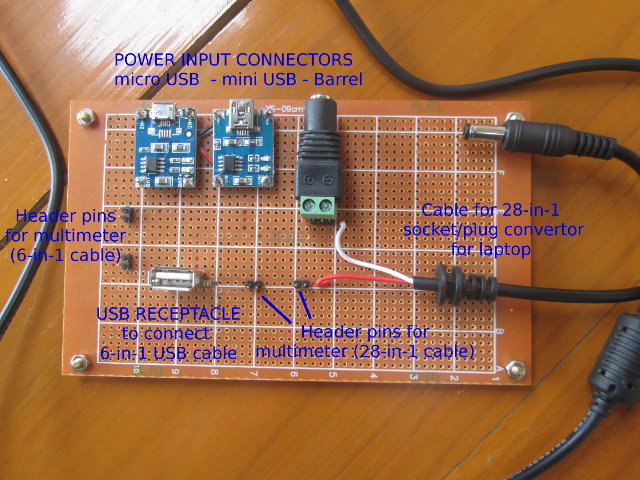 Iv'e also included the back of the board with the soldering for reference.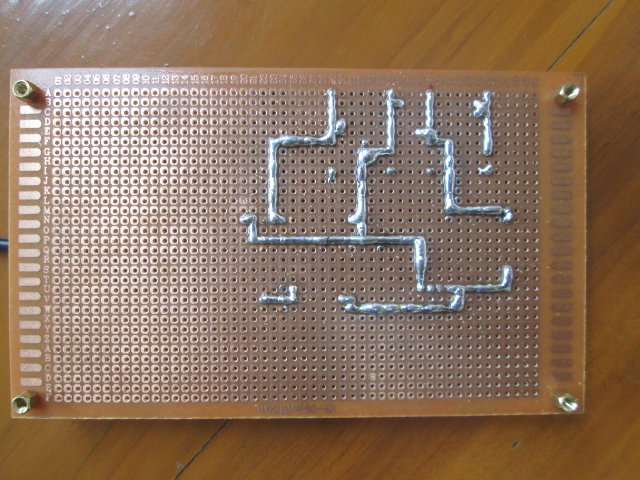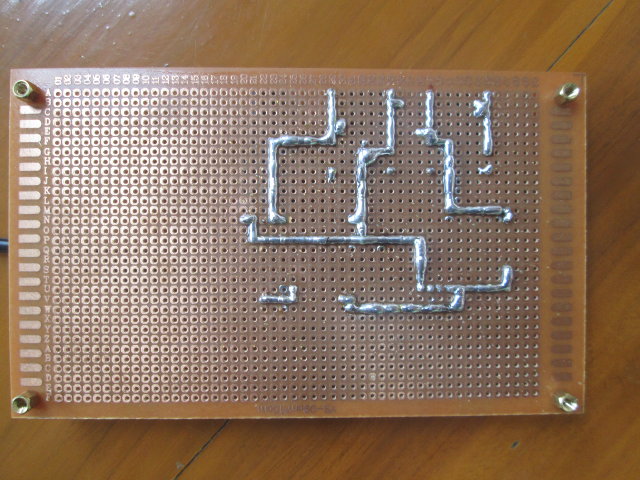 After double checking I had not made a mistake inverting GND and VCC, which could be fatal, I tried it out by making some power measurements with Tronsmart Vega S89 Elite.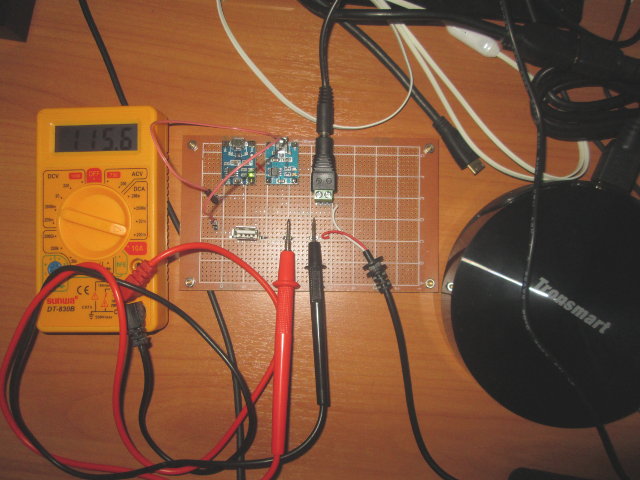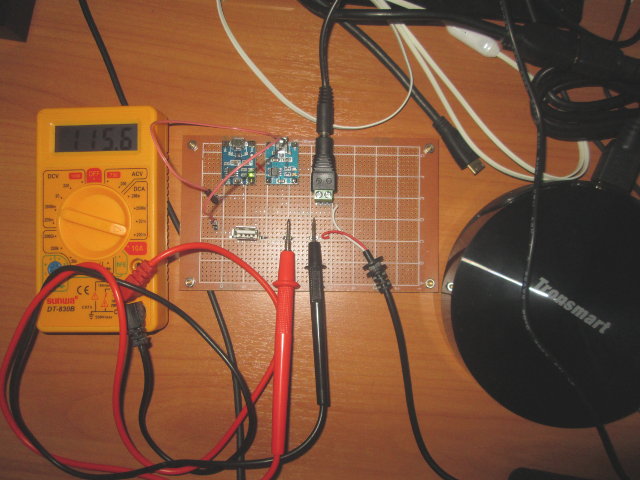 In power off mode, I get 115 mA (~ 575 mW @ 5V), so I'm confident it's working just fine… Unfortunately, I quickly realized something is wrong as the boot does not complete most of the time, as it reaches 1A, the boot just simply stops, or I just get a blue screen. Only once or twice did I managed to get to the home screen (about 0.52A after most background tasks are done), but starting an app will hang the system most of the time. So I've tried to replace the multimeter by a breadboard female to female cable, and everything works normally. So I suspect the contact surface with the leads is not large enough, or the multimeter introduces some noise that disturbs the device…. I'll get some crocodile clips to see if things work out better…