$25 GL.iNet 6416A is an Hackable OpenWRT Router with Easy UART and GPIO Access
There are plenty of low cost routers supporting OpenWRT, but GL.iNet 6416A has several advantages compared to devices like TP-Link WR703N. Both are based on Atheros AR9931, but GL.iNet router has more memory and storage (64MB RAM + 16MB Flash vs 32MB RAM + 4MB Flash), two Ethernet ports instead of just one, and 6 GPIOs, the serial pins, and power signals (5V, 3.3V and GND) are all easily accessible via though holes or headers. Gl.iNet 6416A can be purchased for about $25 on DealExtreme or Amazon US
, and it used to be listed on eBay, but is now out of stock.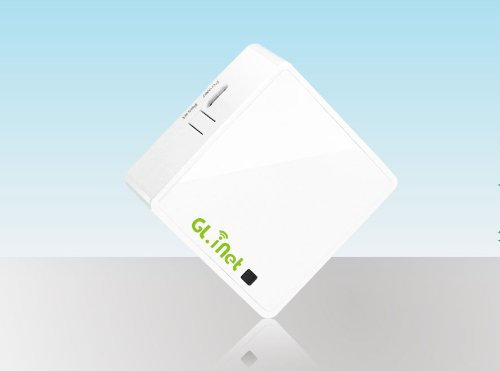 Gl/iNET 6416A specifications:
Wi-Fi SoC – Atheros AR9331 MIPS processor @ 400 MHz
System Memory – 64MB RAM
Storage – 16MB Flash
Connectivity – 2x 10/100 Mbit Ethernet ports, 802.11 b/g/n Wi-FI up to 150Mbps
USB – 1x USB 2.0 port, 1x micro USB port for power
Debugging – Serial console via UART header (GND, Tx, Rx)
Expansion – 6 GPIOs, 5V, 3.3V, and GND.
Misc – Reset button, LED indicator
Power – 5V (micro USB)
Dimension – 5.8 x 5.8 x 2.2 cm
Weight 42 grams.
The device is also said to support USB webcams (MJPG or YUV), and USB mass storage with FAT32, EXFAT, EXT-2/3/4, and NTFS file systems using the stock firmware. There are also Android and iOS apps to manage the router.
6416A router, and its little brother, 6408A, with 8 MB flash, are now part of mainline OpenWRT. You can also follow news and access short tutorials for the board on GL.iNet website, and check out the product page.
Thanks to Nanik for the tip.