Tronsmart Draco AW80 (click for full specs) is the first octa core Android TV box / mini PC thanks to Allwinner A80 processor. Draco AW80 Meta model comes with 2GB RAM / 16GB eMMC, and the upcoming Draco AW80 Telos will feature 4GB RAM and a 32GB eMMC. Geekbuying sent me the Meta version for review, and since I've already posted pictures of the device and board, today I'll post my findings after testing the unit.
First Boot, Settings and First Impressions
I've inserted two AAA batteries in the provided remote control, and it works as expect, but as usual, I've used Mele F10 Deluxe air mouse to control the device during my testing, since it's impossible to use most apps with an IR remote control, XBMC/Kodi being one exception. I've connected an HDMI cable, a USB 3.0 hard drive to the USB 3.0 OTG port of the TV box, an Ethernet cable, a USB webcam, inserted an SD card, as well as a USB hub with RF dongles for my air mouse and Mars G01 gamepad, and USB flash drive. There's no power button, and the board boots immediately as you connect the power. It takes about 44 seconds to complete, which is quite slower than the 20 seconds with Rockchip RK3288 TV boxes coming with a fast eMMC such as HPH NT-V6 or Kingnovel R6.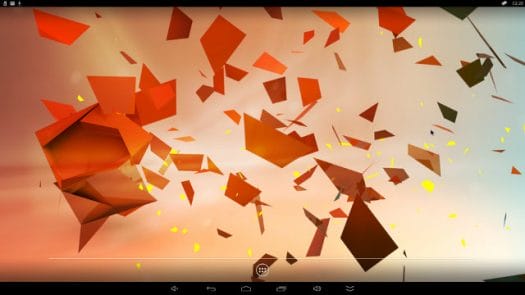 We've got a clean Android home screen without any icon. The output resolution was 720p by default, but I switched to 1080p60.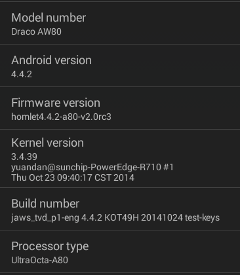 Let's go to the Android Settings. The Wireless and Networks menu features the usual Wi-Fi, Bluetooth, Ethernet, and Data Usage sections, as well as a "More" section with VPN, and Tethering & portable hotspot.… You can enable pass-through in the Sound Settings, and select three audio output modes: "AUDIO_CODEC", "AUDIO_HDMI" and "AUDIO_SPDIF". The dpi settings are set so that he box is better used as a mini PC (1 meter from screen) rather than a TV (e.g.3 to 4 meters) and the font size is quite small, so you may want to change the font to "Huge" if you are using the device as a TV box. The Display menu also let should select several output modes: 720p 50/60, 1080p 24/50/60 or 4K 30 for HDMI ,and PAL or NTSC for composite output. I've only used HDMI, not composite output.
The 16 eMMC flash in Tronsmart Draco AW80 Meta is partition in a single 12.04 GB "internal storage" partition for apps and data, with over 11.2GB available space. There are also some options to "enable media scanning" on SD card and USB, and enable "Blu Ray directory play mode", but I'm not sure what's the exact use of these functions.
The "About Box" section lists the model number as Draco AW80, and Android 4.4.2 running on top of Linux kernel 3.4.39. The build number is jaws_tvd_p1-eng 4.4.2 KOT49H 20141024 test-keys, which jaws_tvd_p1 being the board/platform name. The firmware is  rooted, and the "System Update" (no s) menu can perform OTA updates. I haven't been able to test this feature, as there's no new firmware, but the server check seemed to work.
In the video below, I boot the device, and go though the system settings, and play a video in Kodi.
I could install all apps required for the review from Google Play Store, except Vidonn activity tracker app again reported as "incompatible with your device". This happens with many devices, so it could be any issues wit hthe app, rather than the firmware. I've also downloaded and installed Amazon AppStore in order to load Riptide GP2 game, which I got as a "free app of the day".
Power handling may look like a detail, but the lack of power off function may lead to flash corruption because you need to cut the power from the mains, so I first was disappointed when I discovered Draco AW80 did not have power button in the unit itself. But luckily, they've done things right after all. The first time you connect the power supply, the box will start automatially, but you can use the remote control (Mele F10 Deluxe also work) to put the box in to standby (short press), or power the device off (long press). You can also turn it back on with the remote control power key, so you don't need to get up from the sofa…. Thanks to the large heatsink and metallic enclosire, the box stays pretty cool, and after Antutu benchmark, the maximum temperatures measured with an infrared thermometer on the top and bottom of the box were respectively 39°C and 41°C.
Draco AW80 firmware is very stable, and the box feels fast and snappy, with a performance "feeling" pretty similar to Amlogic S802 and Rockchip RK3288 based devices. I did not have any problems of the box hanging, except with Riptide GP2 as we'll see below.
Video Playback
This media player comes pre-loaded with Kodi 14-alpha 3. Normally, I would use a SAMBA share to play video over Ethernet, but at first XBMC/Kodi failed to find any network shares, so instead I played most videos from a USB hard drive, and only switched to SAMBA + Gigabit Ethernet later for the remaining videos, once I manage to connect. If Kodi had problem to play a particular video, I switched to MX Player for further testing.
Videos samples from samplemedia.linaro.org, plus H.265/HEVC video by Elecard, and a low res VP9 sample:
H.264 codec / MP4 container (Big Buck Bunny), 480p/720p/1080p – OK
MPEG2 codec / MPG container, 480p/720p/1080p

Kodi – It can play smoothly at first, but after several seconds, many frames are dropped, leading to a slow motion effect.
MX Player – OK

MPEG4 codec, AVI container 480p/720p/1080p – OK
VC1 codec (WMV), 480p/720p/1080p – OK
Real Media (RMVB) – RV8, RV9, and RV10 – OK. Smoother than other ARM platforms.
WebM / VP8 – OK
H.265 codec / MPEG TS container

Kodi – XBMC simply exits once I tried to play these samples
MX Player – Black screen with H/W decode. The videos can only be played by selecting S/W decode, which looks OK for 480p/720p, but can be choppy in some scenes @ 1080p.

Vp9 (low re) – OK
Most videos can play, even though I had to switch to MX Player for smooth MPEG2, but H.265 / HEVC video completely failed to play with both players.
Higher bitrate videos:
ED_HD.avi

– OK, no problem even in fast moving scenes
big_buck_bunny_1080p_surround.avi (1080p H.264 – 12 Mbps) – OK.
h264_1080p_hp_4.1_40mbps_birds.mkv (40 Mbps) – OK at first, for some frames are skipped and dropped near the end.
hddvd_demo_17.5Mbps_1080p_VC1.mkv (17.5Mbps) – OK, but many frames are dropped, so the video does not feel that smooth.
Jellyfish-120

-Mbps.mkv

(120 Mbps video without audio) – OK both from USB and SAMBA (Ethernet).
High definition audio codec:
AC3 – OK, but aspect ratio strangely set to 1:1.
Dolby Digital 5.1 / Dolby Digital 7.1 – OK
TrueHD 5.1 & 7.1 – OK
DTS-MA and DTS-HR – OK
Sintel-Bluray.iso could play well in XBMC/Kodi, so Blu-Ray ISO are also supported.
Yet again 4K videos are a disappointment, especially with the latest HEVC/VP9 codec, but none of the recent devices can handle all of these properly.
HD.Club-4K-Chimei-inn-60mbps.mp4


Kodi – OK most of the time, but some frames are skipped
MX Player – OK

sintel-2010-4k.mkv – OK!
Beauty_3840x2160_120fps_420_8bit_HEVC_MP4.mp4 – Slow motion (S/W decode) in Kodi, and even in MX Player where the app (incorrectly) mentions H/W decode.
Bosphorus_3840x2160_120fps_420_8bit_HEVC_MP4.mp4 – Slow motion (S/W decode) in Kodi, and even in MX Player where the app (incorrectly) mentions H/W decode.
Jockey_3840x2160_120fps_420_8bit_HEVC_TS.ts – Slow motion (S/W decode) in Kodi, and even in MX Player where the app (incorrectly) mentions H/W decode.
phfx_4KHD_VP9TestFootage.webm (3840×2160)

Kodi – The app exits
MX Player – S/W decode, super slow as with HEVC videos
I've also been asked to try 1080i MPEG2 videos, so I did just that:
GridHD.mpg – OK
Pastel1080i25HD.mpg – OK
Finally, I played some several AVI, MKV, FLV, VOB and MP4 videos all from the SAMBA share, and they could all play. However, I could notice some serious dropped / skipped frame issues in a t least two videos, sometimes it plays smooth for a while, and suddenly frames start to be dropped. I could not find a sure way to reproduce the issues.
In order to test stability, I also played a 1080p H.264 MKV video (1h50), and I had no problem. I did not notice frames dropped during my periodic checks, but Kodi did report 522 dropped frames, and 1021 skipped for the whole movie. As a side note, Kodi/XBMC normally makes use of all cores available on a platform, but with Allwinner A80 only two cores are used.
Links to various video samples used in this review and be found in "Where to get video, audio and images samples" post, and especially in the comments section.
Network Performance (Wi-Fi and Ethernet)
In order to evaluate network performance, I transfer a 278 MB file between a SAMBA share and the internal flash, and vice versa, using ES File Explorer, and repeat the test three times. Since Draco AW200 support both 802.11 b/g/n (2.4/5.0Hhz) and 802.11ac (5.0GHz), I use both my default router TP-Link TL-WR940N router for 802.11n, and TP-Link TL-WDR7500 (Archer C7) for 802.11ac testing. Wi-Fi performance of this mini PC is quite good reaching 2.89 MB/s (23.12 Mbps) for 802.11n, and 4.010 MB/s (32.08 Mbps) for 802.11ac with a reported link at 390 Mbps.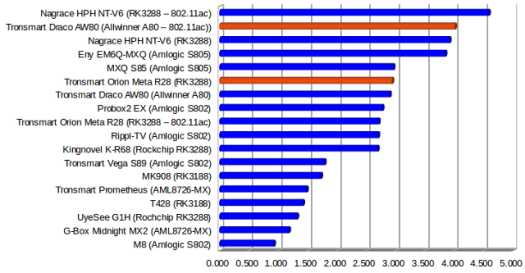 This mini PC is one of the few devices I've tested with a properly working Gigabit Ethernet connection, the only other being Orion R28 Meta, also from Tronsmart. I'll also tested it by copying a file between SAMBA and the internal flash for reference only, since the transfer is limited by the flash writing speed, but this still gives an idea of time it would take to copy a file.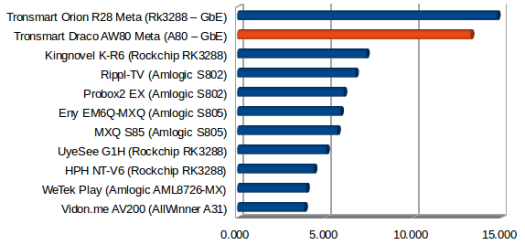 As we'll see below, the fastest storage option in this box is a USB hardware drive formatted with FAT32, where I can transfer a 928MB file between SAMBA and USB FAT32 in 44 seconds (21.09 MB/s), and from USB FAT32 to SAMBA (SSD) in just 35 seconds or about 26.50 MB/s.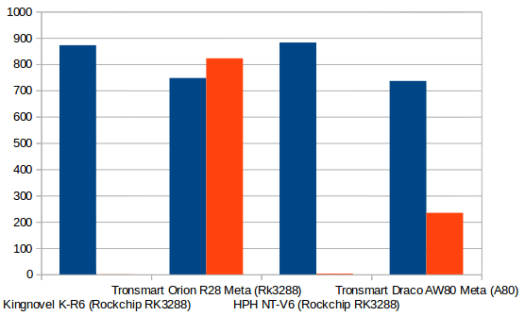 For a raw network performance number, I also used iPerf app and iperf in my Ubuntu PC, using "iperf -t 60 -c 192.168.0.104 -d" command line in Android. I've only tested Gigabit Ethernet, and skipped Fast Ethernet.
In the chart above, but Kingnovel K-R6 and HPH NT-V6 only transfer data quickly in one directory, and are painfully slow in the other directory. Draco AW80 Meta could make a transfer at 736 Mbits/sec in on direction, but only 234 Mbits/sec in the other. as you can see from iperf output below:
--

--

--

--

--

--

--

--

--

--

--

--

--

--

--

--

--

--

--

--

--

--

--

--

--

--

--

--

--

--

Server

listening

on

TCP

port

5001

TCP

window

size

:

85.3

KByte

(

default

)

--

--

--

--

--

--

--

--

--

--

--

--

--

--

--

--

--

--

--

--

--

--

--

--

--

--

--

--

--

--

[

4

]

local

192.168.0.104

port

5001

connected

with

192.168.0.102

port

43225

--

--

--

--

--

--

--

--

--

--

--

--

--

--

--

--

--

--

--

--

--

--

--

--

--

--

--

--

--

--

Client

connecting

to

192.168.0.102

,

TCP

port

5001

TCP

window

size

:

204

KByte

(

default

)

--

--

--

--

--

--

--

--

--

--

--

--

--

--

--

--

--

--

--

--

--

--

--

--

--

--

--

--

--

--

[

6

]

local

192.168.0.104

port

38064

connected

with

192.168.0.102

port

5001

[

ID

]

Interval

Transfer

Bandwidth

[

4

]

0.0

-

60.0

sec

5.14

GBytes

736

Mbits

/

sec

[

6

]

0.0

-

60.0

sec

1.63

GBytes

234

Mbits

/

sec

I've got about the same numbers with A80 OptimusBoard, a development board powered by Allwinner A80, so the asymmetric performance may be due to limitations of the Allwinner octa core processor (TBC).
Miscellaneous Tests
Bluetooth
I could transfer a few pictures by pairing "Draco AW80" to my ThL W200 Android smartphone.
I managed to connect my PS3 wireless controller clone to the device with Sixaxis Compatibility Checker app, and get the device recognized by following those instructions.
I installed vidonn.apk manually, since It's reported as not compatible in Google Play, and my Vidonn X5 activity tracker could connected to the device with Bluetooth 4.0 LE, and data was synchronized properly.
So full mark for Bluetooth!
Storage
Both a micro SD card and USB flash drive formatted with FAT32 could be mounted and accessed by the system
NTFS and FAT32 partitions on my USB 3.0 hard drive could be mounted, and read/written to, but as usual EXT-4 and BTRFS are not working.
| | | |
| --- | --- | --- |
| File System | Read | Write |
| NTFS | OK | OK |
| EXT-4 | Not mounted | Not mounted |
| FAT32 | OK | OK |
| BTRFS | Not mounted | Not mounted |
A1 SD Bench was used to benchmark performance of the internal flash and USB 3.0 partitions. I also planned to test the SATA connector, but taking out the hard drive from the USB enclosure prove a bit more challenging than expected, so I skipped that part. I set the custom location to /mnt/usbhost0/8_17 in the benchmark app to test the NTFS partition. Since my external drive is a USB 3.0, and it can deliver 100+ MB/s read speed, and 46 MB/s write speed (NTFS partition) in my PC, I was expecting some very good results. But I quickly got disillusioned, as it's even slower than some other devices with a USB 2.0 connection. The read speed was 25.29MB/s, and the write speed of 12.57MB/s.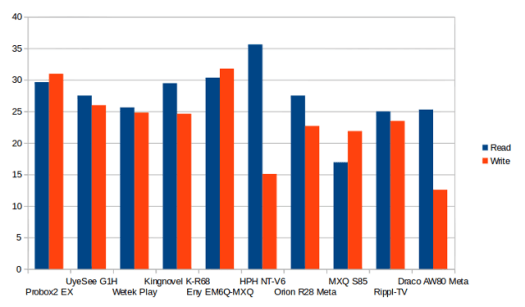 Draco AW80 has actual the slowest USB NTFS write speed ever recorded. I also experienced a slow write speed with A80 OptimusBoard, even worse at 3 to 4MB/s, but never published due to other issues, so I'm simply guessing Allwinner SDK has not been optimized for NTFS performance. To prove the point, I also tested the FAT32 partition (/mnt/usbhost0/8_19), achieving a more respectable 36.32 MB/s and 24.61 MB/s for respectively read and write speeds. These are still USB 2.0 kind of numbers however…
I haven't tested SATA, but since it's based on a USB 2.0 to SATA bridge, you should experience a similar or slower performance compared to the USB 3.0 hard drive. [Update: SATA on Draco AW80 now tested]
The Samsung eMMC found on the board has pretty decent performance, but quite far from the theoretical values (160/50 MB/s) with 32.41 MB/s read speed,, and a 11.06 MB/s write speed.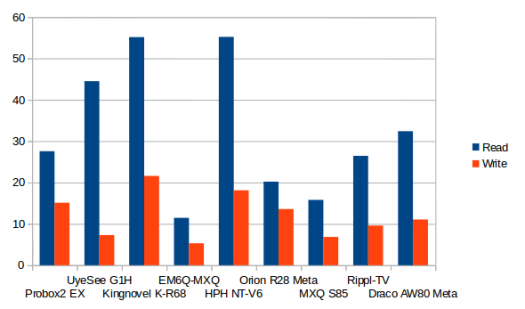 It's not quite as fast as some RK3288 devices, which partially explains the relatively slow boot time. Nevertheless that's fast enough, and I only experienced a severe slowdown once (mouse pointer stuck for 2 or 3 seconds) while I installed multiple apps.
USB Webcam
Skype works OK, both with Echo service in Skype, and making a call. However, once I tried to record a video message, and it looked OK during recording, but the video was corrupted when I played it.
Google Hangouts is basically unusable, as it quits whenever I start a chat session.
Gaming
The three usual games where used to test gaming: Candy Crush Saga, Beach Buggy Blitz, and Riptide GP2. I played Candy Crush Saga with Mele F10 Deluxe, and it was nice and smooth as expected, and the two racing games with Tronsmart Mars G01 wireless gamepad. Beach Buggy Blitz is ultra smooth even with graphics settings set to the maximum. However, I had great problems while playing Riptide GP2. The first time, the image simply froze after 6 seconds in my first race, but I had used to box a few hours before. So I waited for a little while bit, and restarted the box. I could play one full race relatively smoothly, but in the second race the image froze again. Sometimes, the races won't even load, so it was quite a disaster with that. So I also had to skipped the temperature measurement after the game, so I would not play it for more than 3 to 4 minutes if I was very lucky.
Tronsmart Draco AW80 Meta Benchmark
Before benchmark the device, I ran CPU-Z app toget some more information. An octa core processor is detected with ARM Cortex A15 cores, so it seems CPU-Z does not handle heterogeneous CPU architectures for now. The GPU is correctly detected as an Imagination Technologies PowerVR Rogue G6230. The model is called Draco AW80 (jaws_tvd_p1), with 1624 MB RAM (the rest being used by the GPU. VPU, and other hardware blocks), and the storage partition is 12.04 GB just like in the Android settings. The screen resolution in pixel and dp are the same at 1920×1032, which explains why the font looks small. Other systems often have a lower dp resolution, but if you plan to use the system as a computer a higher resolution in dp is better.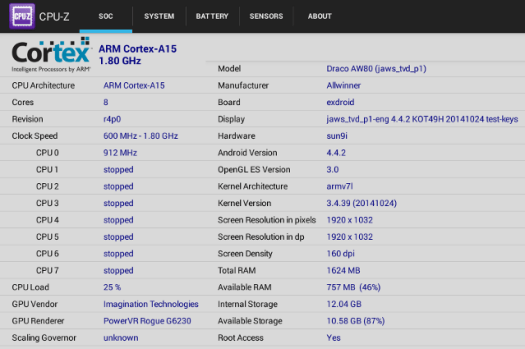 With 49,657 points (unverified), Draco AW80 is by far the fastest Android mini PC on the market, at least according to Antutu. Having said that, silicon vendors and manufacturers tend to try to cheat with Antutu, so the score should not be blindly relied upon.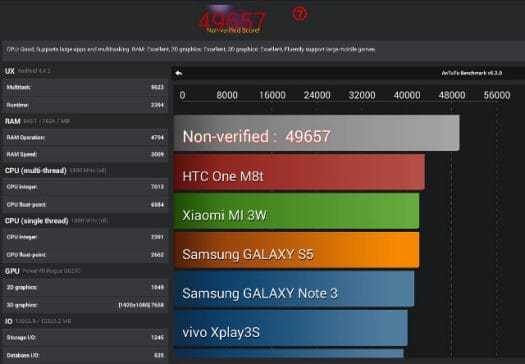 That's why i could be useful to run other benchmark, such as Vellamo 3.x.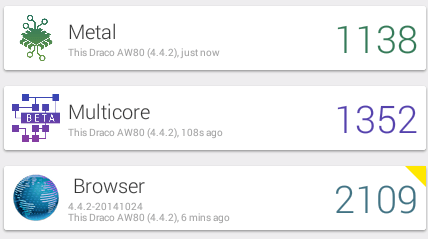 For some reasons the scores are significantly lower than on Rockchip RK3288 (Nagrace HPH NT-V6) for all three benchmarks: 2,109 points for the Browser test (vs 2,549), 1,138 points for the Metal test (vs 1,457), and 1,352 points for the multicore test (vs 2,003). The latter is all the more surprising because Cortex A15 cores are supposed to be faster than Cortex A12/A17 cores, and Allwinner A80 has 8 cores to play with (4x A7, 4x A15) instead of the four Cortex A12/A17 on RK3288. Maybe the scheduler reduces the frequencies of the cores if they all run simultaneously. I'll write a separate post to compare all these results side-by-side between A80 and RK3288.
Ice Storm Extreme benchmark score (6,461) in 3DMark is also lower compared to Rockchip RK3288 based media players which score between 7,000 and 7,500 at 1080p resolution.

Conclusion
Tronsmart Draco AW80 has some exciting specifications with a fast octa-core processor, high speed interfaces like USB 3.0, SATA, and Gigabit Ethernet, and the potential to support Linux. The device feels fast indeed, and stable, with very good Wi-Fi and working Gigabit Ethernet (a rare thing!). Video playback is OK most of the time, but VP9 and H.265 are simply not properly supported in either Kodi and MX Player, and I've noticed some apparently random issues with skipped frames while playing some videos. USB 3.0 performance is disappointing, and if you thought SATA would bring a boost in storage performance, I would not hold my breath (not now tested) as it's implemented via a USB 2.0 to SATA bridge. So all in all it's a pretty good device, but maybe not just as good as could have been expected from the specs.
PRO:
Fast new processor, the only octa core mini PC / TV box in the market (excluding some ODROID development boards)
Very good 3D graphics (when ti works)
Stable and fast firmware.
USB 3.0, and SATA interfaces (with caveats)
Very good Wi-Fi performance, and Gigabit Ethernet working
Video Output – 1080p support 24, 50 and 60 Hz output. 4K @ 30Hz should be supported (not tested).
Proper power off/standby handling.
Aluminum casing and heatsink keep the device cool (40 C).
Webcam supported in Skype
Bluetooth well supported – File transfer, Bluetooth Smart (BLE), Sixaxis gamepad
OTA update appears to be supported
CONS:
Some 3D games may have problems to run, at least, Riptide GP2 is basically unplayable for me due to the game freezing.
H.265 / VP9 codec not supported properly in both Kodi/XBMC and MX Player
Skipped frame issues in some videos (appears to start randomly).
Google Hangouts can be used with webcam (can't start chat).
Slow write speed on NTFS/USB partition, USB 3.0 performance slower than most TV boxes with USB 2.0 port. SATA should be the same (USB 2.0 to SATA bridge) performance is equivalent to, or even lower than, USB 2.0 drives performance.

Gigabit has an asymmetric performance (720Mbps / 220 Mbps) according to iperf, but still good enough for most use cases.
Tronsmart Draco AW80 Meta reviewed in this post sells for $149 on GeekBuying, and the upcoming Draco AW80 Telos with 4GB RAM and 32GB eMMC flash is available for pre-order for $199, and is expected to ship by the end of the month. You can also purchase either model on Aliexpress or DH Gate.

Jean-Luc started CNX Software in 2010 as a part-time endeavor, before quitting his job as a software engineering manager, and starting to write daily news, and reviews full time later in 2011.