Earlier this month, a new firmware for Tronsmart Prometheus with Android 4.2 and XBMC with hardware acceleration has been released. Several users left divergent opinions about this firmware, so I've decided to give it a try, and write an updated review of Tronsmart Prometheus. I'll focus on the new features and performance of Android 4.2, XBMC video testing, and see if some of the bugs I found in my earlier review have been fixed.
Android 4.2 Features and Benchmarks
The firmware file and instructions are available on Tronsmart website. The procedure is straight forward so I won't repeat it here. During the first boot after the upgrade, you'll be taken through a wizard to configure your device (e.g. Ethernet, WiFi,…). The first think you'll notice is a slightly different Home Screen in Android 4.2.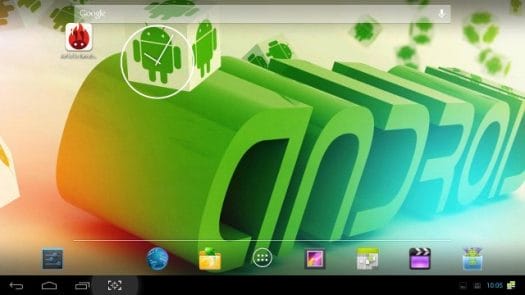 There are several small UI improvements / modifications, but the most interesting features for me in Android 4.2 for this type of device is multi-users support. I could not find a way to configure it in the settings, and a Google search led me to a page showing how to enable multi-users. There suppose to be a Users tab just under Apps in the Settings, but it's not there. So multiple user profile is not available in the current firmware.
In the settings, you'll find Bluetooth is there, but still not usable, there's no a bit more space for application, and if you're interested in the kernel version this Android 4.2.1 firmware runs on top of linux 3.0.50.
I also want to check if Android 4.2 firmware would bring some performance improvements, so I tried to run both Antutu and Quadrant.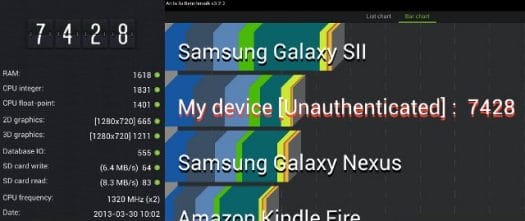 Prometheus STB gets 7428 in Antutu 3.2.2/Android 4.2.1 which is a bit lower than the score it got in Antutu 3.1.1/Android 4.1.2 (7827).
I could run Quadrant in the original firmware, but with updated firmware it won't run Quadrant benchmark, and just show a black screen instead. So it seems Prometheus might be slightly slower with this firmware, although it's not noticeable during normal use.
The firmware comes rooted, Google Play is working fine, and is quite stable. I only had to reboot the device once during testing, as I suddenly lost Ethernet connectivity.
You can see the latest firmware in action with a video from Somecooltech1.
XBMC in Tronsmart Prometheus
Alnost it's part of the firmware package, XBMC is not installed during firmware upgrade, so you'll have to use a file manager to go to the external SD card and run xbmcapp-armeabi-v7a.apk to install it. If you don't like the status bar while using XBMC or playing videos, you may also want to install a small hack by deadhp1 to hide the status bar when XBMC is running and/or you play videos. Once this is installed, you won't be able to access the status bar in XBMC anymore, and you'll have to quit XBMC to switch to other applications. If you want to see how it's done, have a look at /system/bin/set_display_mode.sh.
XBMC runs very smoothly in this device, as the default UI is rendered at 50 fps, and this only drops to around 35 fps if a video plays in the background. This version of XBMC does not use an external video player, and everything is done within XBMC UI.
There are many features that can be tested with XBMC as you can have lots of adds, but in this review, I'll just test video playback from to 2 SAMBA shares. I remember this was not possible in the very first release of XBMC for this device, but with this version of the app, the configuration went smoothly.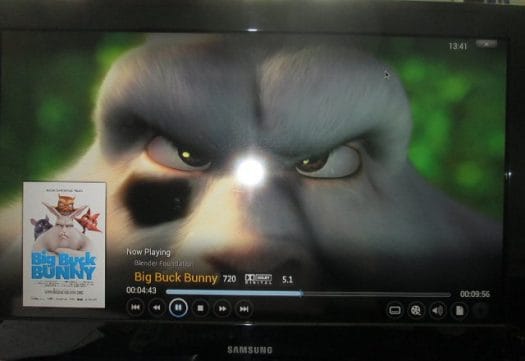 As usual, I tested some videos from samplemedia.linaro.org:

H.264 codec / MP4 container (Big Buck Bunny), 480p/720p/1080p – OK
MPEG2 codec / MPG container, 480p/720p/1080p -Videos can play with it's not perfectly smooth, as if only i-frames were decoded.
MPEG4 codec, AVI container 480p/720p/1080p – OK
VC1 codec (WMV), 480p/720p/1080p –
Real Media (RMVB) – RV8/RV9/RV10 samples all make XBMC exit (crash?).
WebM – 480p/720p OK, 1080p is very choppy.
Then I tested some high bitrate videos since we are connected via Ethernet:
ED_HD.avi (1080p MPEG-4 – 10Mbps) – Black screen audio only.
big_buck_bunny_1080p_surround.avi (1080p H.264 – 12 Mbps) – OK
h264_1080p_hp_4.1_40mbps_birds.mkv – OK
hddvd_demo_17.5Mbps_1080p_VC1.mkv – OK, but I can see pink or green (it depends) artifacts at the beginning for 1 or 2 seconds.
I've also tested some videos with common Audio codecs, and the box passes all tests with flying colors:
AC3 – OK (It's a VOB files so the video is very sluggish, but the audio is fine)
Dolby Digital 5.1 / Dolby Digital 7.1 – OK
TrueHD 5.1 & 7.1 – OK
DTS-MA and DTS-HR – OK
I did the tests with the box configured to downmix audio to PCM, but you can also select HDMI or SPDIF pass-through, if respectively your TV supports it or you have the equipment to support SPDIF in.
I also played some movies (AVI, MKV, VOB…) and I found one major issue I did not notice with the test files: audio / video sync issue. It's particularly problematic during  static scenes where people talk to each others, as there's an obvious delay (at least 1 second) between the audio and the lips of the actors. As mentioned previously MPEG-2 videos (e.g. VOB) won't play smoothly, but the same problem also happens with some DivX videos.
The first time I tried to play a movie, I did not get audio because it appears the Audio is muted in the system, and twice I would not get audio during video playback in XBMC, and just adjusting the volume down and up again in XBMC would fix the issue.
Bug Fixes and Conclusion
In my first review, I could list quite a few bugs, let's see what's fixed and what's not:
AV output

Component output does not work properly on my TV –

It still outputs in black and white with some ghosting.

Composite output: Snow on the screen, audio noise in the Home Screen –

This seems to have improved a lot. The snow is gone, the funny audio noise is gone, but the colors are too bright and there's still some ghosting.

Video/Audio issues:

WebM / VP8 video decoding does not work –

I can now play VP8 videos up to 720p, but it's still choppy with 1080p videos.

Static noise with DTS audio –

Fixed

One video failed to play: Elephant dream (MPEG-4) –

Same issue.

One video appears to skipped a lot of frames: hddvd_demo_1080p.mkv (VC1) –

Apparently fixed.

One RV8 video failed to play and switched the TV to "unsupported mode". –

RV8/RV9/RV10 videos make XBMC crash.

Potential 3D performance issue (Cf. low Antutu 3D graphics benchmark score) –

No changes

Lack of soft power and full screen buttons. –

No changes. Full screen can be achieved with a patch

.
Auto-detection and enablement of Ethernet when cable is detected at startup, or plugged during use – 

I went through a wizard after firmware upgrade that basically takes care of that.

Game input support for games such as Temple Run 2, Subway Surfers, Shadowgun… –

Same issue
In conclusion, Android 4.2 firmware currently does not bring much to this device by itself, but there have been several important bug fixes such as proper DTS support to the device since the previous firmware I tested. XBMC support appears to be pretty good and the app is stable, but there are still some issues, including some that I would consider critical such as audio/video sync, and choppy MPEG-2 video playback. Yet this firmware is a clearly a step in the right direction when it comes to video playback and XBMC support, although there's a bit more work to do.

Jean-Luc started CNX Software in 2010 as a part-time endeavor, before quitting his job as a software engineering manager, and starting to write daily news, and reviews full time later in 2011.