After taking a few pictures of Eny EM6Q-MXQ Android media player, it's time for a full review. I'll first give my first impressions and go through the user interface, test video playback, test the system, network, and storage performance, try a few games, and check various hardware ports are working as they are supposed to do.
First Boot, Settings and First Impressions
I've inserted two AAA batteries in the provided infrared remote control to check it's working, and it's usable in the main user interface and XBMC, but once you start using most Android apps it's useless, so I quickly switched to  Mele F10 Deluxe air mouse. Before powering up the device, I've connected an HDMI cable, an Ethernet cable, and made with use of the 4 USB ports by connecting two RF dongles (Air mouse and gamepad), a USB hard drive, and a UVC USB webcam. The box lacks a power button, so it starts as soon as you connect the power supply. The boot is pretty slow as it completes in about 1 minute 50 seconds…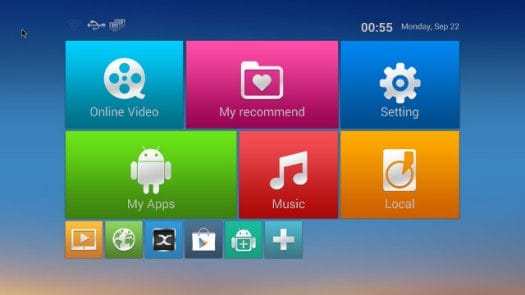 The user interface is exactly the same as found in Amlogic S802 TV boxes such as M8 and Vega S89. With some big icons that are folders for apps, and a link to a custom Setting menu, and there's a customizable shortcut bar at the bottom with smaller icons. The status bar is disabled by default, but I prefer to have it when using it with an air mouse, so I restored it via the Setting menu. The first boot, the resolution was automatically detected to 720p, but I changed that to 1080p60, and the resolution is indeed 1920×1080.
The "Setting" menu provides access a Metro-style interface for settings with four sub menus: Network, Display, Advanced and Other.
Network – Enable and configure Wi-Fi or Ethernet
Display:

Automatic or manual HDMI resolution: 480p/i @ 60 Hz, 576p/i @ 50 Hz, 720p @ 50/60 Hz, 1080i @ 50/60 Hz, or 1080p @ 50/60 Hz
CVBS Mode Setting: 480 CVBS or 576 CVBS (if Composite output selected on TV).
Hide or Show status bar
Display Position
Screen Save (Never, 4, 8 or 12 minutes)

Advanced:

Miracast
Remote Control (app)
CEC Control
Location for weather(Chinese cities only)
Screen Orientation settings
Digital Audio Output (Auto, PCM, S/PDIF pass-through, or HDMI pass-through)

Other – System Update: Local file or OTA (not working), Backup, and "More Settings" for standard  Android Settings.
I've tested the device using HDMI set to 1080p60 most of the time, but there's also an AV port for connect to the composite input and RCA stereo audio port of older TVs, and it worked just fine for 480 CVBS and 576 CVBS settings.. Component (YPbPr) output however is not supported.
You can watch a video with the user interface walk-through, XBMC user interface, and H.265 video playback in MX Player.
In the standard Android Settings,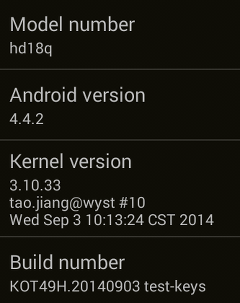 EM6Q-MXQ's 8GB NAND flash has a single partition (5.26 GB) with 4.95 GB free for both apps and data. The "About MediaBox" section indicates the model number as "hd18q″, that happens to be the name of the board, and the system runs Android 4.4.2 on top of Linux kernel 3.10.33. Root Checker confirmed the firmware is rooted. which can be convenient if you don't have the right cable for the full-size USB OTG port on the device. The company gave me a link to the firmware (September 3), which brings peace of mind in case something goes wrong.
I could install all apps I tried with Google Play Store including Antutu, 3D Marks, ES File Explorer, MX Player, Beach Buggy Blitz, etc…  I did not try paid apps, as the only one I have requires Bluetooth, that's not built-in into the device. I could also install Riptide GP2 via Amazon AppStore.
There's no power button on the device, and the remote control only allows you to enter and leave standby mode, so the only way to actually power off the device is to disconnect the power adapter. The latest ARM based mini PCs powered by Amlogic S802 and Rockchip RK3288 get pretty hot, but as expected with a Cortex A5 processor, the temperature is pretty much under control. I measured 39°C and 51°C with an infrared thermometer respectively on the top and bottom of the box, right after running Android 5 benchmark. After playing Riptide GP2 for 20 minutes at 1080p, and a few hours of usage previously,  the maximum temperature on top and bottom reached 42°C and 65°C…
The system itself is very stable, and it only freezes when I try to play a 4K video in XBMC (100% reproducible). However, apps often exit for no obvious reasons. which in theory, could be some bugs within the apps themselves, but it happens a bit too often to my liking… Amlogic S805 is not designed to be the fastest processor around, but while the box runs smoothly most of the times, at other times the box is really sluggish, and becomes frustrating to use. It's probably not because of the processor, but rather the NAND flash with poor performance, resulting on slow loading times (Close to 2 minutes boot time, XBMC loads in 12 seconds), and in a few instances, I've experience very high CPU usage (e.g. 10) with the blue bar (I/O interrupt time) taking most of the load. This compares to 20 seconds boot time, and 2 seconds XBMC start time on recent RK3288 devices with an eMMC. During high load, it may take over 5 seconds to reach the launcher after pressing the Home key of the remote, compared to virtually instantaneous access when there's no I/O activity.
Video Playback
I played videos from a SAMBA share over Ethernet using XBMC, only switching to MX Player in case of issues. At first, I had some permissions issues connecting to a specific shared folder in XBMC, but eventually I could connect to SAMBA with both XBMC and ES File Explorer,
I started with videos from samplemedia.linaro.org, H.265/HEVC videos by Elecard, as well as a new VP9 video:
H.264 codec / MP4 container (Big Buck Bunny), 480p/720p/1080p – OK
MPEG2 codec / MPG container, 480p/720p/1080p – OK, but there's a regular blinking effect (about 1sec) in  some scenes, especially visible with the grass and trees. The same issue happens in many devices.
MPEG4 codec, AVI container 480p/720p/1080p – OK
VC1 codec (WMV), 480p/720p/1080p – OK
Real Media (RMVB) – RV8, RV9, and RV10 – OK but not that smooth (S/W decode)
WebM / VP8 – 480p/720p OK, 1080p plays in slow motion
H.265 codec / MPEG TS container

XBMC – Audio only
MX Player – OK (H/W decode), but if you jump to another time in the video it will switch to S/W decode. Probably a bug in MX Player.

WebM / VP9 (no audio in video)

XBMC – Won't even start
MX Player – OK (H/W decode).
Once I mostly lost control with the keys in XBMC, and I could only use the mouse pointer and the OK button. Same result with Mele F10 Deluxe or the included IR remote control. Restarting XBMC fixed the issue.
Now some higher bitrate videos:
ED_HD.avi

– XBMC: audio only; MX Player: black screen only, no audio.
big_buck_bunny_1080p_surround.avi (1080p H.264 – 12 Mbps) – OK.
h264_1080p_hp_4.1_40mbps_birds.mkv (40 Mbps) – OK
hddvd_demo_17.5Mbps_1080p_VC1.mkv (17.5Mbps) – OK, but could be smoother, and XBMC reports skipped frames regularly.
Jellyfish-120

-Mbps.mkv

(120 Mbps video without audio) – OK (Play from USB hard drive)
High definition audio codec could be decoded (PCM output) in XBMC, but performance could be better:
AC3 – OK
Dolby Digital 5.1 / 7.1 – OK
TrueHD 5.1 – OK &
True HD 7.1 – Some audio cuts playing from SAMBA, OK from USB hard drive
DTS-MA – OK
DTS-HR – SAMBA: Audio completely cuts after a few seconds. USB: No problem with audio, but video feels slow.
Sintel-Bluray.iso video could play in XBMC, meaning Blu-ray ISO files are supported.
S805 is not supposed to support 4K video playback, but I tried to play HD.Club-4K-Chimei-inn-60mbps.mp4 anyway. Result: the box freezes, requiring an hard reboot. I tried another time, and the same result occurred.
I also played some AVI, MKV, FLV, VOB and MP4 videos in my library. They could all play, and I did not notice any A/V sync issues, or other obvious problems with playback. I also tested XBMC stability by playing a complete 1080p video (1h50). Sometimes XBMC refuses to exit immediately, and I need to press the "Home" button to get the the main menu. This must be an XBMC issue, as I've had this problem in some other devices previously.
Links to various video samples used in this review and be found in "Where to get video, audio and images samples" post and comments.
Network Performance (Wi-Fi and Ethernet)
In order to test network performance, I simply transfer a 278 MB file between a SAMBA share (Ubuntu 14.04) and the internal flash, and vice versa, repeating the test three times with ES File Explorer. I left the Ethernet connected when I first tested Wi-Fi performance, and with the numbers I got during transfer, I decided to disconnect the Ethernet cable to make it was not done over Ethernet, as throughput peaked at up 5.0MB/s, whereas I'm usually lucky to see 3MB/s for most other devices. But this was all real, and when it comes with Wi-Fi performance, EM6Q-MXQ is truly amazing, and crushes the competition with an average throughput of 3.84 MB/s.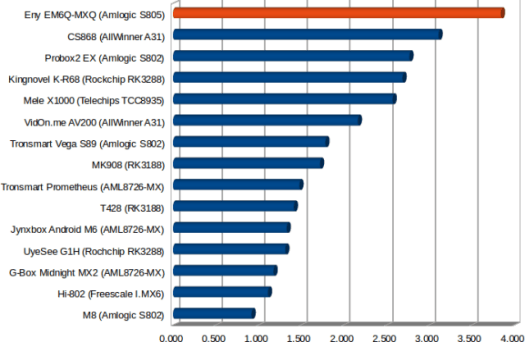 I wonder if the internal Wi-Fi antenna connection to a stainless steel plate inside the case has anything to do with it.
Ethernet worked fine @ 100Mbps even connected to my pesky Gigabit switch.
I've also tested Ethernet performance with iPerf app to get a raw number using "iperf -t 60 -c 192.168.0.104 -d" command line. It does not max out the Ethernet bandwidth but I suppose the results are still decent, even though not outstanding. As reference, Kingnovel R6 achieved over 90 Mbits/sec in both directions via a Fast Ethernet switch.

Client

connecting

to

192.168.0.102

,

TCP

port

5001

TCP

window

size

:

 

136

KByte

(

default

)

--

--

--

--

--

--

--

--

--

--

--

--

--

--

--

--

--

--

--

--

--

--

--

--

--

--

--

--

--

--

[

 

6

]

local

192.168.0.104

port

47764

connected

with

192.168.0.102

port

5001

[

ID

]

Interval

      

Transfer

    

Bandwidth

[

 

4

]

 

0.0

-

60.0

sec

  

570

MBytes

 

79.7

Mbits

/

sec

[

 

6

]

 

0.0

-

60.0

sec

  

484

MBytes

 

67.7

Mbits

/

sec
Miscellaneous Tests
Bluetooth
EM6Q-MXQ does not support Bluetooth, at least the model I have, does not.
Storage
FAT32 formatted micro SD card and USB flash drive could be recognized and properly mounted by the system
I've also connected my USB 3.0 hard drive, and only NTFS and FAT32 could be mounted automatically, as for some reasons EXT-4 does not seems to be supported by Android.
| | | |
| --- | --- | --- |
| File System | Read | Write |
| NTFS | OK | OK |
| EXT-4 | Not mounted | Not mounted |
| FAT32 | OK | OK |
| BTRFS | Not mounted | Not mounted |
I've run A1 SD Bench  to benchmark performance of the USB hard drive and internal flash, starting with the NTFS partition in /storage/external_storage/sda1. The read speed was 30.35MB/s, and the write speed of 31.79MB/s, both of which are the best readings I've ever got, but only marginally better than the competition. We should probably expect very little variability between devices using USB 2.0, and see some performance boost and more variability with devices that support USB 3.0.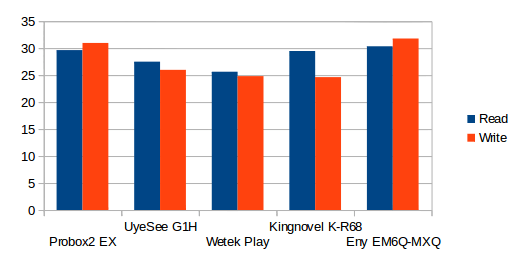 A slow internal storage can make a device behave very poorly, especially during write operation, and unfortunately the NAND flash used cripples a device that would otherwise be a pretty decent product.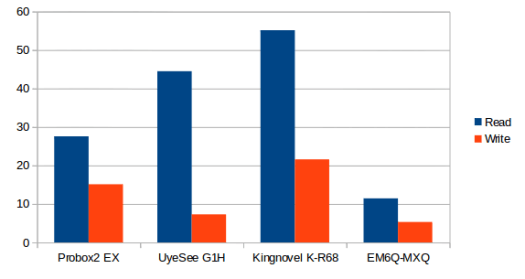 This confirms the NAND flash is the likely cause of slow boot time, and apps loading times, as well as temporary, but annoying, slowdowns when flash is written to, for example while installing apps.
USB Webcam
My USB webcam with built-in microphone worked with Skype. I could test audio successfully with the Echo service in Skype, and I could see the video from the camera while making a call. Google Hangouts could detect the webcam, I could start a video call (ringing), and the webcam image was displayed albeit at a very slow framerate (1 or 2 fps), but after a few seconds massive colorful artifacts started to show up.
The Android camera is pre-installed, and I could take a few shots, and record a video.
Gaming
As usual, I've tested Candy Crush Saga, Beach Buggy Blitz, and Riptide GP2. I played Candy Crush Saga with my air mouse, and at the beginning audio cut due to I/O interrupts (kswapd0, irq/60-sdio processes), and logging into Facebook was sluggish as hell, but once actually playing the game, everything worked pretty well, and smoothly.
I played the two other games with Tronsmart Mars G01 wireless gamepad. Beach Buggy Blitz just as smooth as more recent processors (S802, RK3288) with default setting,s but when I maxed out the graphics settings, it was still very playable, but the framerate was impacted. Riptide GP2 was playable, but not perfectly smooth, actually not that much different from Amlogic S802. Decreasing the graphics quality improves playability (frame rate). I've raced on several circuits, and after the third circuits, I noticed the 3D image froze once. Playing a fourth games, it was clear I had the same problem as with Amlogic S802 (Probox2 EX), where the 3D image with just stop for a few seconds, before resuming, stop again and so on, but the 2D graphics (position on track) will still render properly and continuously.  So I checked the temperature and I got 42°C and 65°C on the top and bottom of the enclosure. I could be Mali-450MP GPU overheats due to the workload of this specific game, and does not work properly.
EM6Q-MXQ / Amlogic S805 Benchmarks
Since it's the first device with Amlogic S802, I had to run CPU-Z.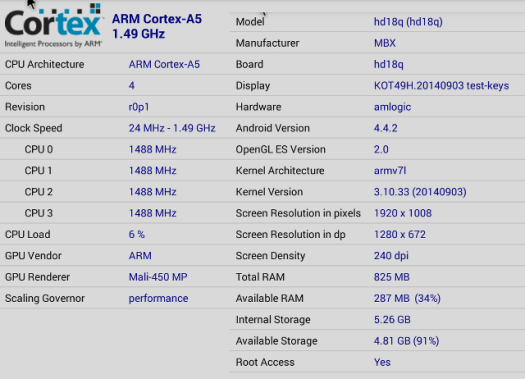 The app correctly detect a quad core Cortex A5 @ 1.49 GHz with a Mali-450 MP GPU. The scaling governor is set to performance which explains why the cores' frequency is set to 1488 MHz, as the developers preferred to give full performance to the system, since there's no overheating issues. The screen resolution is set to 1920×1008 (not 1080 because I enabled the status bar on) with 1280×672 resolution in dp. 825 MB RAM is available to the system, and 5.26 GB internal storage as mentioned previously.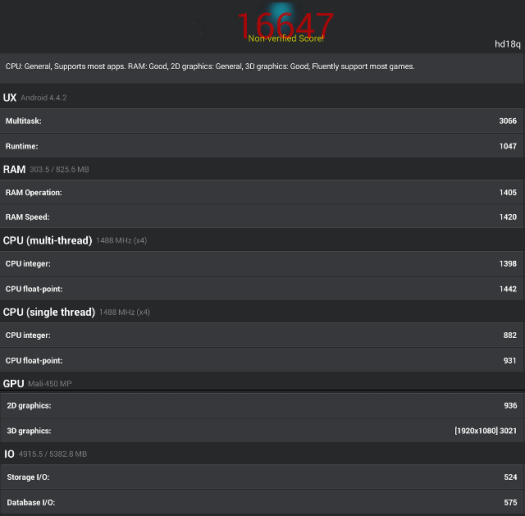 The device gets 16,647 points in Antutu 5.1, and is right at the bottom of the scale in the graphics chart. For reference RK3188 based device usually have a score just above 20,000, so I suppose this score is to be expected because of the slower CPU cores, and despite the faster GPU.  I'll make a side-by-side comparison with Amlogic S802 in a separate post.
EM6Q-MXQ got 3985 points in Quadrant, close to the score of Asus Transformer Pad (TF201) tablet based on Nvidia Tegra 3.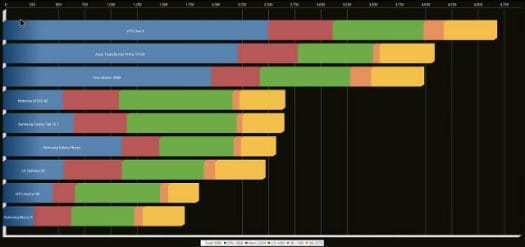 I've also run Vellamo 3.x which shows a performance similar to Samsung Galaxy S3 smartphone (Exynos 4).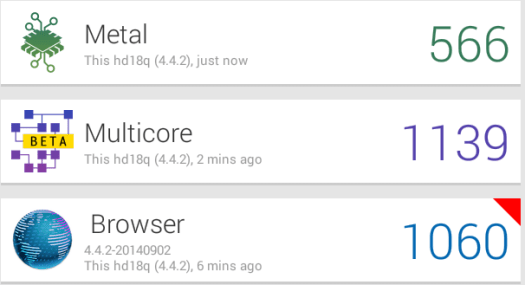 For comparison with other devices, you can download Metal, Multicore, and Browser comparison charts.
Ice Storm Extreme test in 3DMark really shows the lower performance of the quad core Mali-450MP GPU used in S805 (Mali-450 MP2?) against something like Mali-T764 found in RK3288 SoC that gets a score three times higher. I haven't tested Amlogic S802 with an eight core Mali-450 MP6 GPU yet.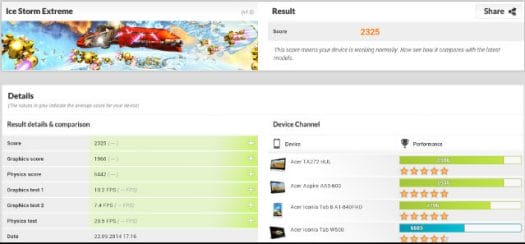 Conclusion
EM6Q-MXQ could really have been a low cost device with pretty good performance, where it not for the subpar NAND flash used in this hardware. Wi-Fi is the best I've ever seen, and by a large margin, video decoding is pretty good, although H.265 is still not supported in XBMC, and the firmware is stable, despite apps exiting randomly at times, but I wonder if it's related to the I/O performance, and the app are just killed because the system does not respond fast enough.
PRO:
Best Wi-Fi performance I've ever experienced in a TV box, and by a wide margin.
The system is rather stable, and only hung once when trying to play a 4K video
Both 720p and 1080p user interfaces are supported
Decent video playback capabilities.
HEVC hardware video decoding support. Working in MX Player, but not with XBMC (yet)
Webcam supported in Skype (but the image was garbled in Google Hangouts)
4x USB 2.0 host port available
CONS:
Very slow internal storage, leading to severe slowdowns especially while installing apps, or other write operations.
Apps may exit suddenly for no reason, maybe related to first point above.
Slow boot time, and apps loading times, most probably related to first point above
No proper power off (standby only)
Lack of Bluetooth support (No Bluetooth module)
No option for 24Hz, 25Hz, 30Hz video output
Eny Technology EM6Q-MXQ can be purchased on Aliexpress for about $70 including shipping. In that link, bothEM6Q-MXQ and MXQ S85 are listed so you'll need to check the USB port (4x port with EM6Q-MXQ only), and/or the Red MX stripe found in S85 version. Resellers can visit EM6Q-MXQ product page to contact the company for larger orders.

Jean-Luc started CNX Software in 2010 as a part-time endeavor, before quitting his job as a software engineering manager, and starting to write daily news, and reviews full time later in 2011.