MINIX is a Hong Kong company known for its NEO series Android media players, which are a bit more expensive that the company, but the hardware and especially support is supposed to be better, justifying the higher price. I had never tried it a MINIX device, but thanks to Tinydeal I now have MINIX NEO X6 powered by Amlogic S805 quad core processor, with 1GB RAM, and 8GB eMMC, so I'll soon be able to find out if the praises for the company are justified, or simply hyped. Today, I'll take some pictures of the devices, and try to open it to check out the hardware, before writing a full review in a few days, and compare it a much cheaper device like MXQ S85.
MINIX NEO X6 Unboxing Photos
The parcel was sent by Singapore Posts so it took a couple of weeks to be delivered.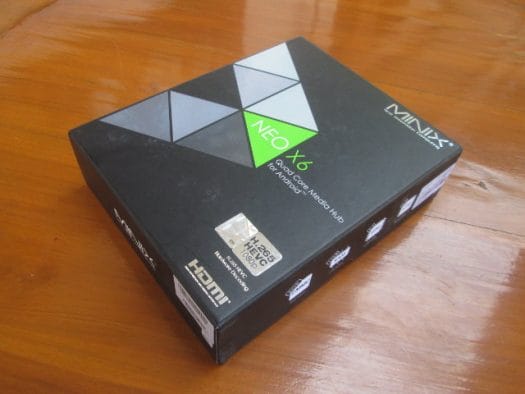 The device is stored in a MINIX branded black, grey, and green pakage, listed the key features of the bo (H.265 1080p video playback, XBMC, Android 4.4…), and the full list of specifications.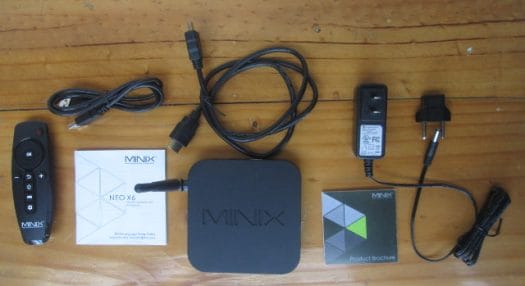 The box comws with a simple IR remote control (2x AAA batteries required), an HDMI cable, a USB cable, a 5V/2 power adapter (US) with EU plug adapter, a product brochure, and a setup guide in English, German, Chinese, Japanese, and Russian.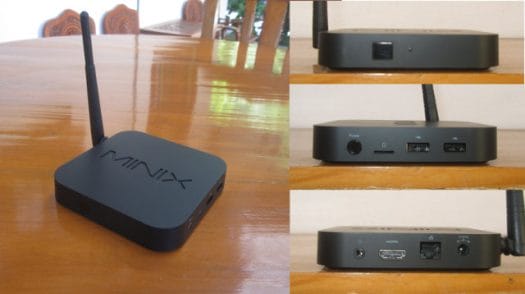 MINIX NEO XEO features an external high gain Wi-Fi antenna. An IR receiver window and power LED can be found on the front panel, a power button, micro SD card slot, and two USB 2.0 host ports on one side of the enclosure, and the rear panel features a headphone jack, an HDMI video output, a 10/100M Ethernet (RJ45) port, and the power jack (5V). So compared to MXQ S85, MINIX NEO X6 adds an external antenna, but replace the AV port with a stereo audio port, and lacks optical S/PDIF output, and a micro USB OTG port.
Unboxing video:

MINIX NEO X6 Board Pictures
In order to open the box, you need to remove four rubber pads, and untighen four screws… Unfortunately, the screws are tightened extremely firmly, and I had to use a precision screwdriver together with a pliers, and managed to remove two screws, but destroyed the two others in the process. So I'm sorry, but I won't be able to show pictures of the board for this device…
MINIX Support
To compensate for the lack of internal pictures, I've decided to have a look at MINIX support when it comes to firmware, software and support forums. MINIX NEO X6 is pretty new, so instead I've check the number of firmware updates they've made for their older MINIX NEO X5, but checking directly on their Download page.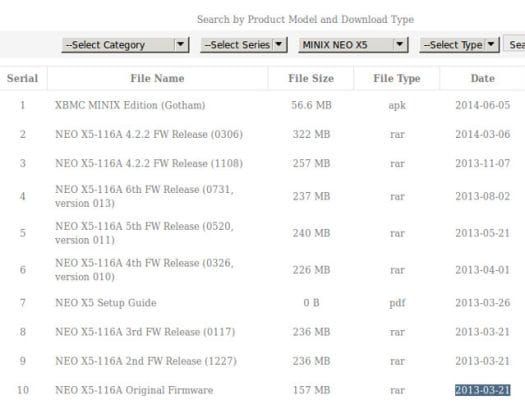 NEO X5 was released in March 2013, and the company provided a total of eight firmware updates for the device, over a period of one year, with the latest update being released on March 2014, so it's pretty safe to assume there won't be any more updates now, but they've provided updates for a year, which is better than most other devices on the market. Now, I'm expecting manufacturers to provide OTA updates, but that's something we'll find out in the review.
You'll also notice XBMC MINIX Edition is in the list of downloads.  It's an optimized version of XBMC, and the latest beta iteration XBMC 13.3.3 Beta MINIX Edition even supports automatic refresh rate switching, e.g. if a video is encoded @ 25 fps, video output will switch to 1080p25, at 60 fps to 1080p60 and so on, something that was only possible in Linux until recently. However, MINIX may not comply with the GPL license with this version, as I could not find any source code (TBC).
Finally, I had a look at MINIX NEO X6 support forum, and people reports issues like HDMI-CEC not working, H.265 not supported in XBMC, etc… which is sort of normal for new devices, but MINIX team and the community at large appear to be respond to most requests, and committed to fix users' issues.
So based on this quick analysis, I find reasonable to pay a little more for this support, but to justify the $50 extra you have to pay for the MINIX NEO X6, the hardware and firmware needs to be better than the competition, we'll see soon.
I'd like to thanks Tinydeal for providing the sample, and you could consider buying MINIX NEO X6 for $99.99 including shipping from them, if you want the device. Since MINIX NEO X6 is quite popular it can be found on many online resellers such as DealExtreme, Amazon
, Pandawill, GeekBuying, and so on.

Jean-Luc started CNX Software in 2010 as a part-time endeavor, before quitting his job as a software engineering manager, and starting to write daily news, and reviews full time later in 2011.