BuyForSure (BFS) is a company that sells various item on Aliexpress and Ebay, and then might also be involved in some product development (TBC). A couple of weeks ago I wrote about an inexpensive HiSilicon Hi3798M based TV box (quad core Cortex A7) supporting 2160 (4K UHD) video output and decoding, HEVC/H.265 video decoding, and featuring a USB 3.0 port. The company asked me if I wanted to receive a sample, and I accepted because few companies promote HiSilicon and MStar based products for oversea markets. So they send me their BFS 4KH TV box, my first HiSilicon device, and early next year, I'm likely to receive Zidoo X9 based on Mstar MSO9180 from another company, so that's another story… Today, I'll start by taking pictures of the media player and its board, and in several days I'll post a review showing what this $50+ box is capable of (or not).
BFS 4KH Unboxing Pictures
Since I'm currently quite busy with various hardware, I asked them to send it by registered mail, so I received  China Post airmail package, and amazingly it only took 10 days for delivery (to Thailand). The package itself is entirely in Chinese, with some reference to X3, X5, A6 and A8 devices, and a 499 CNY price tag. But it's quite possible they use the same box for all their devices.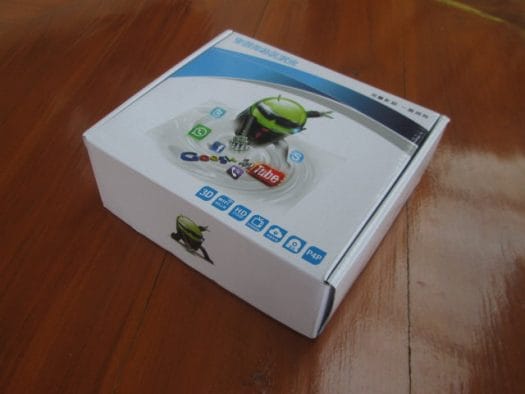 Inside the package, we'll find the 4K media player, an IR remote control (requiring 2x AAA batteries), an HDMI cable, a 5V/2A power supply, a BufForSure business card, and another card reminding you to give 5 stars on Ebay or Aliexpress…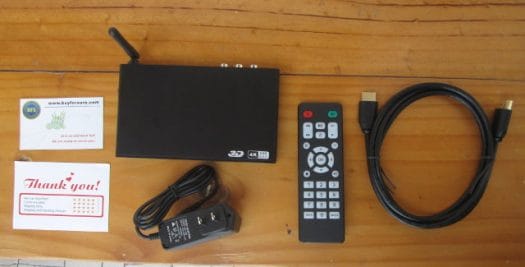 Let's now have a closer look at the box itself.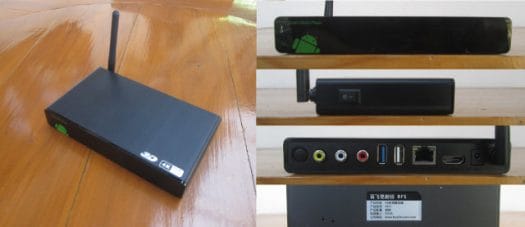 There's not much to see at the front, but we'll later see a power LED, and an IR receiver. A mechanical switch on the side is used to turn on and off the device, and most ports are on the back: composite RCA connector, Left and right audio RCA connectors, a USB 3.0 port, a pinhole for recovery, a USB 2.0 host port, Fast Ethernet, HDMI output, a power jack, and the Wi-Fi antenna. Looking on the botton of the case, we'll find a sticker mentioning the name of the company in Chinese (which read like Bai Fei "something", hence the BFS / BuyForSure name in English), as well as the product name which is indeed BFS 4KH.
BFS 4KH Board Pictures
There are no screws holding the case together, so you have to use a thin or hard object (I used some scalpel-like tool), between the front panel and the bottom part of the enclosure to start separating both parts, and work from there.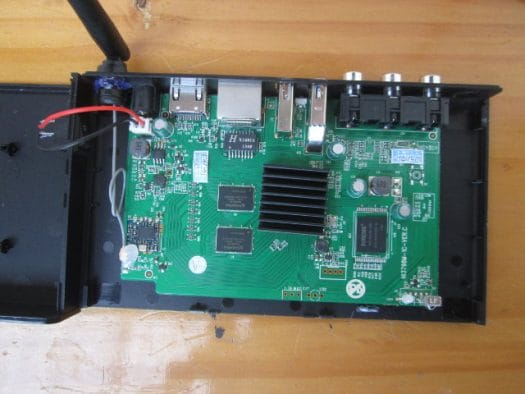 One of the first thing, I noticed was that the green and black solder point are quite close to each other. It's not really dangerous (5V), but potentially that means both wires may short-circuit so the box would always be on, and the switch inactive. Anyway, I was not careful enough, and the black wire detached from the switch, so I have a small soldering job to do tomorrow. Otherwise there's a small heatsink firmly attached to Hi3798M SoC, the eMMC is the commonly used FORESEE NCEFES78-08G (8GB, which has decent performance on M-195 box), and two Kingston N04268-01 chips are used to get the 1GB RAM used in the device. The Wi-Fi module is Realtek RTL8188ETV, which normally delivers very good performance (better than AP6xxx modules), but it's only 2.4 GHz, so it's not for people with a busy Wi-Fi environment that may require 5GHz to "escape the crowd". The board name is HI3798M-1C-VER.C, and the unpopulated J18 connector on the bottom right side of the heatsink, is probably the UART pin for the serial console.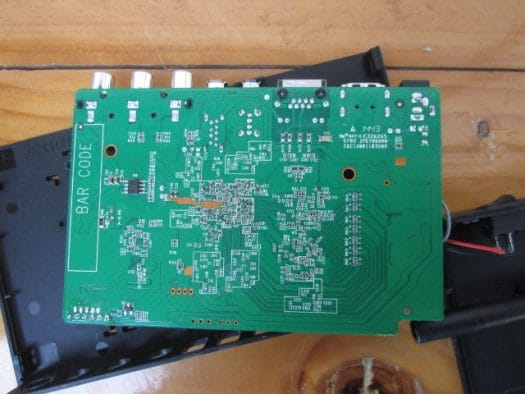 In order to take out the board from the case, you need to remove the two QC covering two screws, untighten these, and take out the board. There's not much interesting to see on the bottom of the board.
BFS 4KH is currently selling for $52.99 on Aliexpress including shipping, as well as Ebay for $61.99 from the same seller. a BFS 4KH Tiny version is always offered with 512MB RAM and 4GB flash, for just $1 less on Aliexpress, so most people will probably prefer its big brother.

Jean-Luc started CNX Software in 2010 as a part-time endeavor, before quitting his job as a software engineering manager, and starting to write daily news, and reviews full time later in 2011.