Buyforsure (BFS) 4KH is a low cost Android TV box powered by HiSilicon Hi3978M quad core Cortex A7 processor supporting 4K video output and decoding, HEVC/H.265 video decoding, and featuring a USB 3.0 port. I've already taken a few pictures of the device and board, so today I'll reports about my findings after testing features and performance of this media player.
First Boot, Settings and First Impressions
The remote control included in the package does the job as long as you use the box user interface and play videos with the included player or XBMC, but I also switched to Mele F10 Deluxe air mouse when I need a pointer or to input text. I've connected an Ethernet cable, an HDMI cable, a USB 3.0 hard drive to the USB 3.0 port, and a USB hub to the USB 2.0 port including a USB webcam, two RF dongles for the air mouse and wireless gamepad, and a USB flash drive. There's no power button on the unit, and the box starts automatically as you connect the power adapter. The boot time is very fast (25 seconds) if you boot by plugging the power adapter, but somehow boot time increases to 55 seconds, when you use the remote control button to power it back on.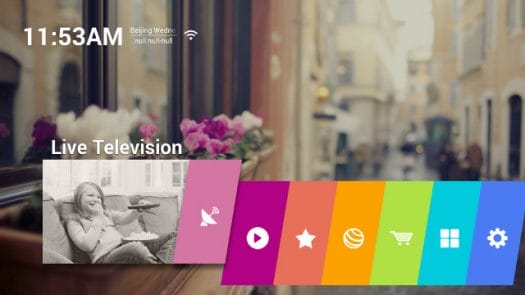 The user interface is much different from the other boxes. The Home Screen display the date and time, network connection, and features 7 menus: Live Television, VOD, Favorite, Media Center (media Player with supports for storage and network shares), App Store (Shafa app store), Applications, and System Settings. The first two link to a Chinese app (VST) allowing you to watch Chinese live TV and Chinese and foreign movies. The resolution was correctly automatically detected and set to 1080p, and the user interface resolution is 1920×1080.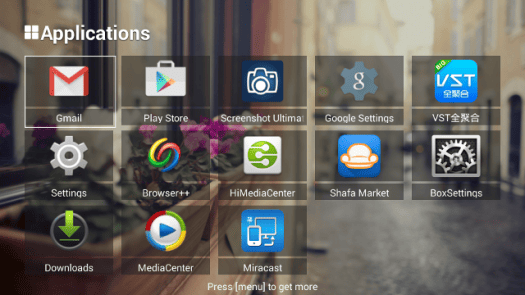 There are just a few applications pre-installed as shown above (Excluding Screenshot Ultimate), and with the stock firmware, a custom version of XBMC 13.1, but as I entered recovery mode, a factory reset was automatically performed, and the XBMC app was gone. So I asked BFS to send the app again. You can download it on baidu (password: amaw). There are two files: xbmc13.1_hisilicon.apk and xbmc13.1_seahisilicon.apk, with one for YunOS, one for Android. Not sure which one I had to use, but I installed xbmc13.1_seahisilicon.apk, and it worked OK.
The system settings remind me a little of OpenHour Chameleon EasySetup app with six sections:
Network Set – For Wi-Fi and Ethernet (Automatically select Ethernet if the cable is inserted)
Display – Scale and Move for overscan adjustment, and Video output selection between: 2160p 24Hz/30Hz, 1080p 60Hz/50Hz, 1080i 60Hz/50Hz, 1080i 60Hz/50Hz, 720p 60Hz/50Hz, PAL or NTSC
Security – Allows/disallows unknown sources for apps.
Normal

Input Method – Remote control or VirtualIME
Language- English or Chinese
Samba service – On or Off
Device name – For UPnP / DLNA
Factory reset
Super set – Redirects to standard Android settings

Play Set – Audio and video settings

HDMI Output – Auto / LPCM / RAW / Close
SPDIF Output – LPCM / RAW / Close
HBR Output – Auto / 5.1 / 7.1
Video aspect ratio – Auto / 4:3 / 16:9
Maintain aspect ratio – Add black side / Extrude

System – Local Upgrade or Upgrade Online
In case you set one of the video output by mistake (e.g. 2160p on a 1080p TV), you can use the "TV" button on the remote control to cycle between video output options.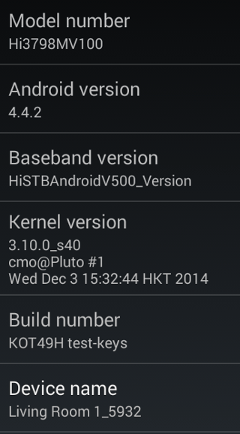 The 8GB eMMC flash has two partitions: a 0.97GB partition, and a 4.67 GB partition. This partitioning means you can't install too many apps until filling the 0.97GB partition, and even in the review, I had to delete some apps, or click on Move to SD to save some space. The Android settings also have some interesting options that cannot be found in the Setting app such as: adding a password for SAMBA, and setting the UI to 720p or 1080p, which can be convenient while playing games. The "Device Info" reports the model number as "Hi3798MV100" running Android 4.4.2 on top of Linux 3.10.0_s40. The UPnP device name is also listed. The firmware is not rooted, and I could not find a way to root the device since it's a production build.
Google Play Store is also installed, and although I could install most app, many were also listed as incompatible including: Antutu Video tester, iperf, Antutu, Chrome browser, Facebook, messaging apps (Facebook, WeChat, LINE,Facebook Messenger), vidonn smart band, Vine, CNBC, and so on. So it's not ideal, and I had to side-load some to complete the review. I've also installed Riptide GP2 via Amazon AppStore.
BFS 4K does not support standby, it's only power on or power off, and you can do both from the comfort of your couch using the power button of the remote control. After Antutu 5.5 benchmark, the max. temperatures measured with an IR thermometer were 50°C and 52°C respectively on the top and bottom of the case, and 56°C and 57°C after playing Riptide GP2 for 15 to 20 minutes.
I show the user interface including the Live TV and VOD app, and all settings in the walk-through video below.
BFS 4KH is rather stable, as the system become unresponsive only once at the end of Vellamo browser test (not reproducible), and perform smoothly most of the time, but with some slowdowns from time to time. The main issue I found was poor Google Play Store support that may require side-loading some apps, instead of using the Play Store. The lack of rooting method may also be an issue for some people.
Video Playback
XBMC 13.1 (built in July 2014) is pre-installed in the box, and since it's supports H.265 and 4K videos, it's certainly a close source custom version (XBMC Hisilicon download link (password: amaw). All videos were played in XBMC from a SAMBA shares in Ubuntu 14.04, except otherwise noted.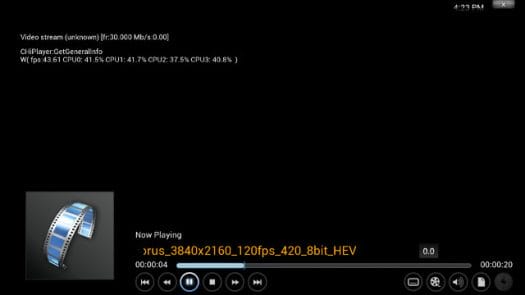 I've included the screenshot above because it reveals two things:
Custom version of XBMC based on the unusual overlaid debug info with much less info, and a reference to CHiPlayer. The fps info also seem unrelated to the actual video, but to the video output instead.
The video playback is not shown in the screenshot. This is actually a good thing, as that means a different layer is used for video, so even though the UI is limited to 1080p, it may still display 2160p video at the correct resolution. But it's something I can't test, as I don't have a 4K TV just yet.
[Update: Going into factory reset will delete a few apps including XBMC, and remove Dolby/DTS support. I've now received a new firmware, and re-tested the videos with audio output issues]
Let's start by reporting results from videos Big Buck Bunny samples from samplemedia.linaro.org and Elecard (H.265), and a low resolution VP9 video:
H.264 codec / MP4 container, 480p/720p/1080p – OK
MPEG2 codec / MPG container, 480p/720p/1080p – OK
MPEG4 codec, AVI container 480p/720p/1080p – OK
VC1 codec (WMV), 480p/720p/1080p – OK
Real Media (RMVB), 720p / 5Mbps – RV8, RV9, and RV10 – OK
WebM / VP8 480p/720p/1080p – OK
H.265 codec / MPEG TS container (360p/720p/1080p) – OK
WebM / VP9 (no audio in video) – Does not play at all (Stays in XBMC UI).
So it's started pretty well. let's move to some higher bitrate videos:
ED_HD.avi

– Slow motion.
big_buck_bunny_1080p_surround.avi (1080p H.264 – 12 Mbps) – OK.
h264_1080p_hp_4.1_40mbps_birds.mkv (40 Mbps) – OK
hddvd_demo_17.5Mbps_1080p_VC1.mkv (17.5Mbps) – OK, and very smooth contrary to most other Android media players, but no audio.
Jellyfish-120

-Mbps.mkv

(120 Mbps video without audio) – OK (using USB drive)
That lack of audio on some videos with AC3 audio is worrying, and high definition audio codec testing confirms something is very wrong:
Video
PCM Output
XBMC
PCM Output
"MediaCenter"
HDMI Pass-through
XBMC
SPDIF Pass-through
XBMC
AC3 / Dolby Digital 5.1
OK, but Video 1:1 Aspect ratio
OK
Not tested, since I don't own an AV Receiver. You can help me by making a donation, or purchasing one of my review samples.
E-AC-3 / Dolby Digital+ 5.1
OK
OK
Dolby Digital+ 7.1
OK
OK
TrueHD 5.1
OK
OK
TrueHD 7.1
OK
OK
DTS HD Master
OK
OK
DTS HD High Resolution
OK
OK
That's very odd to ship a device that can't support AC3 at all, and I double checked the HDMI audio setting to make sure there were on LPCM. I'm not sure what's wrong here.
I tested Blu-ray ISO with Sintel-Bluray.iso, and it works OK. 1080i MPEG2 videos (GridHD.mpg & Pastel1080i25HD.mpg) could play fine too.
4K videos playback is working quite well in XBMC, even H.265/HEVC, except for very new formats that are not even supported in my PC yet:
HD.Club-4K-Chimei-inn-60mbps.mp4 – OK

sintel-2010-4k.mkv – OK, but no audio (AC3)
Beauty_3840x2160_120fps_420_8bit_HEVC_MP4.mp4 (H.265) – OK
Bosphorus_3840x2160_120fps_420_8bit_HEVC_MP4.mp4 (H.265) – OK
Jockey_3840x2160_120fps_420_8bit_HEVC_TS.ts (H.265) – OK
MHD_2013_2160p_ShowReel_R_9000f_24fps_RMN_QP23_10b.mkv (10-bit HEVC) – Massive artifacts, the effect is quite artistic though…
phfx_4KHD_VP9TestFootage.webm (VP9) – Does not even start (stays in XBMC UI)

BT.2020.20140602.ts

(Rec.2020 compliant video) – Playing with large blu-ish bands, and lots of artifacts, an the audio is bad
The results in MX Player and "MediaCenter" apps are the same.
1080p 3D videos can be played, but not 2160p videos:
bbb_sunflower_1080p_60fps_stereo_abl.mp4 (1080p Over/Under) – OK
bbb_sunflower_2160p_60fps_stereo_abl.mp4 (2160p Over/Under) – Audio only
Turbo_Film-DreamWorks_trailer_VO_3D.mp4 (1080p SBS) – OK
Please note that my Panasonic TV is not a 3D TV according to the specs, so I can only check if video decoding is working.
Most AVI, MKV, FLV, VOB, and MP4 videos could play without A/V sync issues, or noticeable frame dropped. Unfortunately, many video are with AC3 codec so I got no audio. AAC codec is OK. IFO can't be played, but clicking on the VOB file instead works OK.
The full 1080p movie (1h50 / MKV / 3GB) test passed, and with audio.
Links to various video samples used in this review and be found in "Where to get video, audio and images samples" post and comments.
I side-loaded Antutu Video Tester, and it could play all files, and gave 704 points, the highest score in the app comparison table, share with Himedia Q5 (also based on Hisilicon processor). The strange thing is that it reported DTS, and AC3 decoding a success, so I may have a problem with my settings, but I could not find out what.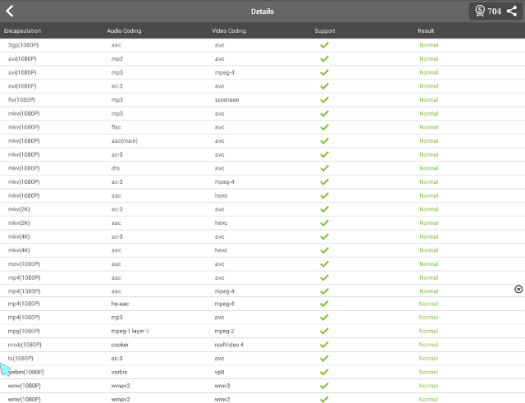 Network Performance (Wi-Fi and Ethernet)
In order to evaluate transfer speed, I copy a 278 MB file between a SAMBA share (Ubuntu 14.04) and the internal flash using ES File Explorer, and vice-versa, repeating the test three times. BFS 4KH averages an excellent 3.70 MB/s placing it in the top performers, and even outperforming one device with 802.11ac Wi-Fi.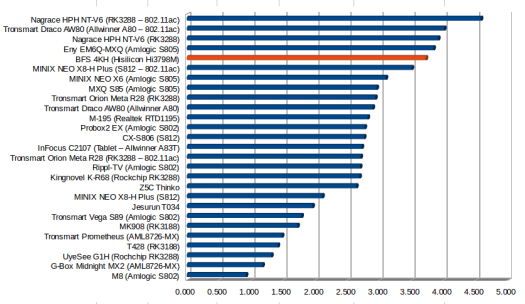 Despite having a USB 3.0 port, the device only comes with 10/100M Ethernet, and using ES File Explorer the performance is also very good, among the best devices without Gigabit Ethernet.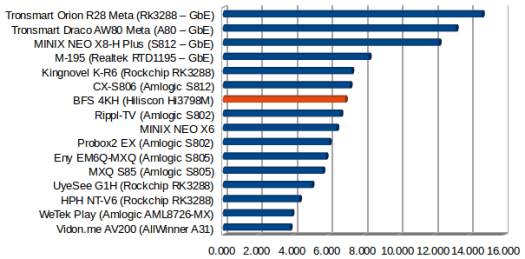 The raw Ethernet performance test with iPerf app using "iperf -t 60 -c 192.168.0.104 -d" command line shows very good performance in one direction, and a little weakness in the other: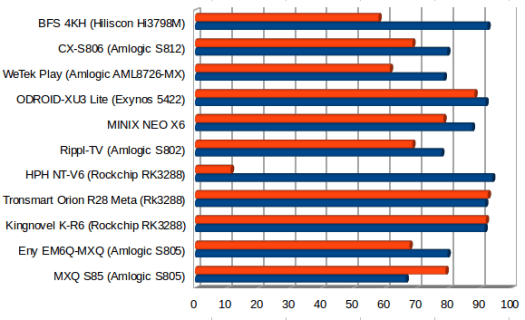 iperf output:

Client

connecting

to

192.168.0.108

,

TCP

port

5001

TCP

window

size

:

 

136

KByte

(

default

)

--

--

--

--

--

--

--

--

--

--

--

--

--

--

--

--

--

--

--

--

--

--

--

--

--

--

--

--

--

--

[

 

6

]

local

192.168.0.104

port

59950

connected

with

192.168.0.108

port

5001

[

ID

]

Interval

      

Transfer

    

Bandwidth

[

 

4

]

 

0.0

-

60.0

sec

  

660

MBytes

 

92.3

Mbits

/

sec

[

 

6

]

 

0.0

-

60.0

sec

  

414

MBytes

 

57.9

Mbits

/

sec
Miscellaneous Tests
Bluetooth
Bluetooth is an option in the system, but won't turn on because Bluetooth is not built-in. So I tried two USB Bluetooth dongles, but without success.
Storage
There's no SD slot in this device. A USB flash drive formatted with FAT32 could be mounted by the system. NTFS, EXT-4, and FAT32 partitions on my USB 3.0 hard drive could be mounted and accessed, only the BTRFS partition could not be mounted.
| | | |
| --- | --- | --- |
| File System | Read | Write |
| NTFS | OK | OK |
| EXT-4 | OK | OK |
| FAT32 | OK | OK |
| BTRFS | Not mounted | Not mounted |
The hard drive is located in /mnt/sda, with sda1, sda2, and sda3 the respective partitions. So I run A1 SD Bench to benchmarks both the NTFS and EXT-4 over USB 3.0, and the results were amazingly, as this little $50 device delivers PC like performance with read and write speed respectively 100,77 MB/s and 95.39 MB/s for NTFS, and 92.45 MB/s and 90.94 MB/s for EXT-4.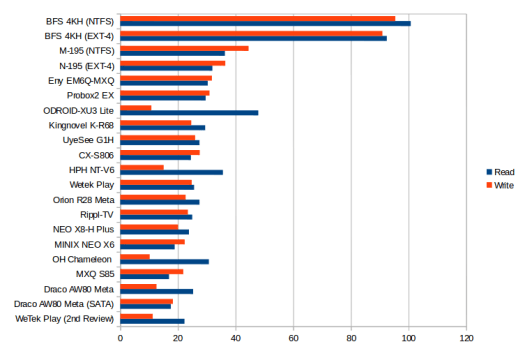 The 8GB FORESEE eMMC flash in the device reads at 16.43 MB/s and writes at 15.35 MB/s, so that's not really great, but acceptable, and probably expected for a low cost device. Having said that M-195 has the same eMMC, but A1 SD Bench reported a much higher read speed (25.61 MB/s).
USB Webcam
Skype was pre-installed, and I installed Google Hangouts from the play store. Both app worked pretty well, the Echo service audio was rather clear, video worked, and I could even send a video message, something that often makes other boxes crash. Hangouts worked well too.
Gaming
I played three games (Candy Crush Saga, Beach Buggy Racing, and Riptide GP2) with the device. I played Candy Crush Sage with MeLe F10 air mouse, no problem here. Tronsmart Mars G01 wireless gamepad was automatically by the system, and I could control the user interface and launch and play both Beach Buggy Racing and Riptide GP2. I played with 1080p user interface, and with default settings the user experience is OK, but setting the graphics settings to highest framerate improve things a bit. I have not try setting the UI to 720p while playing games, but this should help too. I played 5 races in Riptide GP2 for 15 to 20 minutes, and it worked just fine.
BFS 4KH (HiSilicon Hi3798M) Benchmarks
HiSilicon Hi3798M is a completely new SoC (to me), so I started with CPU-Z.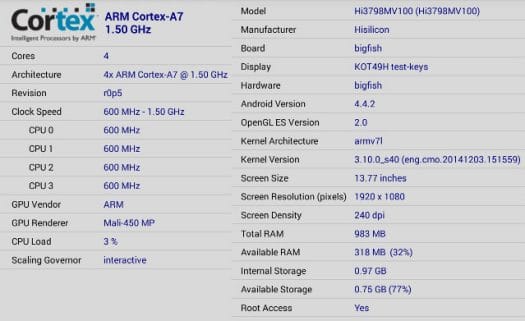 A quad cortex A7 processor @ 1.5Ghz with a Mali-450MP GPU is correctly detected. The model is Hi3798MV100, and even though Kaiboer is most probably the manufacturer, the name makes me think it's just an HiSilicon reference design. The board name is bigfish. The resolution 1920×1080 (240dpi) and the system has 983 MB RAM available, with 0.97 GB reported internal storage, since only the first partition is usually detected by CPU-Z. I don't know why but CPU-Z usually gets Root Access wrong. (The firmware is not rooted).
The Antutu 5.5 score is only points, which is equivalent to the score I got with WeTek Play box (1280×720 resolution) with Amlogic AML8726-MX (Cortex A9) processor. I was expecting a little more, even though the framebuffer resolution is different. The explanation is that at equal frequency Cortex A7 is weaker than Cortex A9, so a dual core processor may still outperform a quad core processor in Antutu.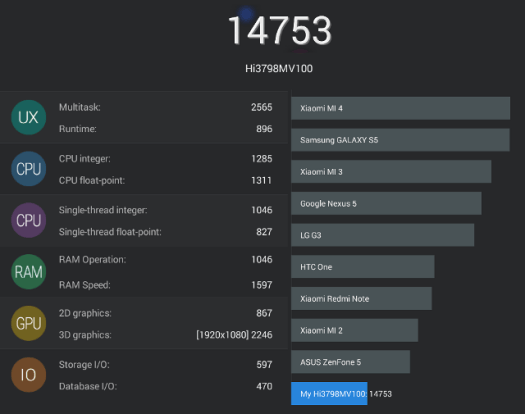 Vellamo 3.1 scores for Metal is similar to Amlogic AML8726-MX, the Browser score is weaker (894 vs 1197), but using Browser++ instead of Android browser, and the Multicore benchmark is better (1147 vs 723).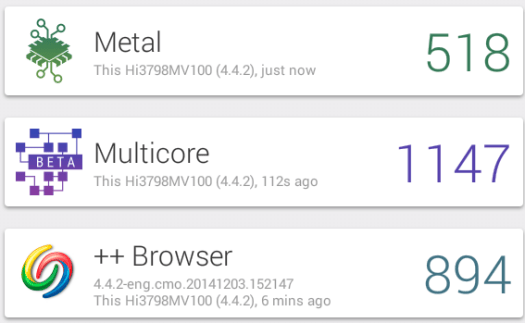 I also ran 3D Marks Ice Storm Extreme in case the Mali-450MP GPU can lift the somewhat weak CPU, but the score (1,840) is really on the low end.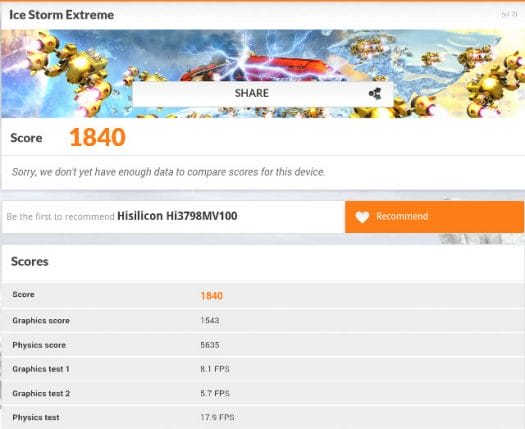 Conclusion
BFS 4KH user interface is quite different from other Android devices I've seen, and includes a Live TV and VOD app, but only in Chinese with some foreign movies too (illegal of course). The firmware is rather stable, and although slowdowns do occur, most of the time the user experience is nice and smooth. USB 3.0 storage performance blew my mind, as it's almost as fast as on my computer. Wi-Fi and Ethernet are all good, but it's too bad Gigabit Ethernet is not supported by HiSilicon processor, because it just wastes the amazing USB 3.0 performance. XBMC 13.1 plays most files, and it would be a very good device, if only it could support Dolby and DTS audio codec, as I got no audio even for AC3, a very common audio codec. (This is just a factory reset issue)

PRO:
Firmware is stable most of the time
PC class USB 3.0 storage performance (~100 MB/s) with FAT32, EXT-4, and NTFS file system support
Excellent Wi-Fi and Fast Ethernet performance.
4K up to 30Hz video output.
Good video playback in XBMC, including H.265 / HEVC 4K video playback
High Antutu Video Tester score (704).
Built-in SAMBA server support meaning you can easily access the USB hard drive connected to BFS 4KH from your computer(s).
Proper power handling with remote control.
Relatively Fast boot time – 25 to 50 seconds
Google Hangouts appears to work OK.
Price / performance ratio
CONS:
Some common audio codecs are not supported by any players: Dolby Digital 5.1 (AC3), TrueHD, DTS MA/HD all fail even with HDMI set to LPCM. [Update: The factory reset I did before the review had deleted several apps and Dolby/DTS codec support, and I've re-tested it successfully with another firmware]
Many apps are reported as "incompatible with your device" in Google Play
Bluetooth not supported even with external dongle.
Skype could not detect my camera
This quad core processor performance looks equivalent to Amlogic AML8726-MX dual core processor
Firmware not rooted, and I could not find a method to root the firmware. The company also replied there's not rooted firmware.
Factory rest with delete a few apps including XBMC, and remove support for Dolby/DTS audio codecs.
If you live in China, the Live TV and VOD app might be quite nice, but outside of China it's probably useless as the download speed may be too slow, at least it's what happened on my side, but YMMV. Overall this box could be very good for the price, if only they could fix this audio codec issue. Thix box is very good value for money with good XBMC support including 4K and H.265 codec.

BFS 4KH is currently selling for $52.99 on Aliexpress including shipping, as well as Ebay for $61.99 from the same seller.

Jean-Luc started CNX Software in 2010 as a part-time endeavor, before quitting his job as a software engineering manager, and starting to write daily news, and reviews full time later in 2011.