Open Hour Chameleon is yet another Rockchip RK3288 based Android TV box, but it comes with aluminum enclosure, and boots from SD card instead of internal storage like all other devices I've seen on the market so far. Cloud Media (previously Syabas) also have a long history of making Linux based media players based on Sigma Designs processor, and when I worked on IPTV products, we used their PopCorn Hour has comparison platforms. So we should probably expect some interesting customization and features from the company. I've already posted pictures of Chameleon box and its board, so today, I'll focus on reporting my experience with Android 4.4, and later I may also try their Lubuntu image.
First Boot, Settings and First Impressions
Normally I quickly try the remote control, and get it out of the way. But this time, I've spent a little bit more time with the remote since they user interface is designed for the remote, and it also comes with an IR learning function with 5 keys, which may be convenient if your TV does not support HDMI CEC. I successfully recorded the power, source, mute, and volume buttons from my Panasonic TV remote control. so I could both the media player and my TV with a single remote. But in Android, it's really useful to have a mouse and keyboard, so I switched to Mele F10 Deluxe air mouse.
I've inserted the 8GB class 10 SD card with Android 4.4 into the SD card slot of the device, and connect a bunch of cables and accessories: HDMI cable, Ethernet cable, the power adapter, one extra micro SD card, my USB hard drive, and a USB hub with two RF dongles for air mouse and gamepad, a USB flash drive and a webcam. I've then turned the device with the mechanical ON/OFF switch on the rear panel. Boot time is bearable (1m20s), but significantly slower than on other RK3288 device with fast eMMC that can boot in 20 seconds. It can probably been brought down by using a faster SD card.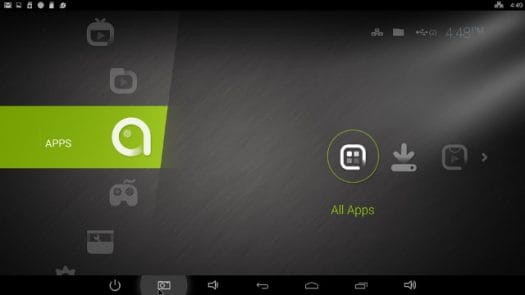 By default the launcher and notifications do not show, and that's fine if you simply use the IR remote control, but if you like to an air mouse, or a wireless keyboard / touchpad like Logitec K400, you'll probably want to access the notification and the status bars. To do simply, simply go to the Settings->Advanced Settings->>Display, and tick "System bar" to show the system bar and notifications.
I had been told a new firmware was available before the review, which can be updated over the air, offline from a storage device, and by flash an SD card. Since I'm a big fan of OTA updates, I went to Settings->System->System Update, and the system found a new firmware, downloaded it, rebooted the device, and installed the new firmware automatically. Perfect!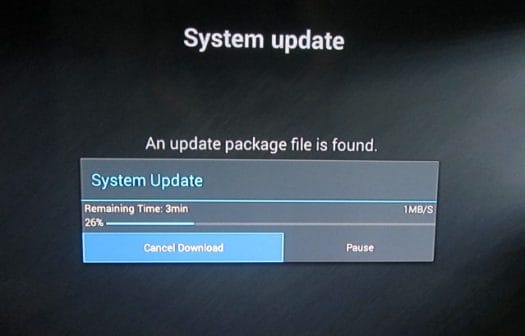 The launcher mostly consists of folders linking to app or settings, allowing to add shortcuts for your favorite applications. If you have a lot of apps it may be cumbersome to browse through the list, as only one line is displayed at a time. The file manager included with the device does not look too bad, as it can handle both local and network storage, but I did not play with it too much, since I prefer using ES File Explorer.
The Settings app is called Easy Settings. Six main sections are provided in the app:
Network – For Ethernet and Wi-Fi. The latter requires an external USB Wi-FI dongle, since Wi-Fi is not built-in
Screen – Adjust the scale of the display, and select the output resolution: 1080p 24/25/30/50/60Hz, 720p 50/60, 720x576p-50 or 720x480p-60. If you have a 4K TV, 2160p options should show up there too.
Localization – Language and Timezone
Audio – For audio output selection: Default Output, S/PDIF Pass-through, or HDMI Bitstream. It also listed my USB webcam as "Venus USB 2.0 Camera", probably since it was detected as an audio device because of its microphone…
System – Local storage (show usage), System Update (OTA or offline), and Factory reset
Advanced Settings – Redirect to Android settings with the usual settings found in all other RK3288 devices.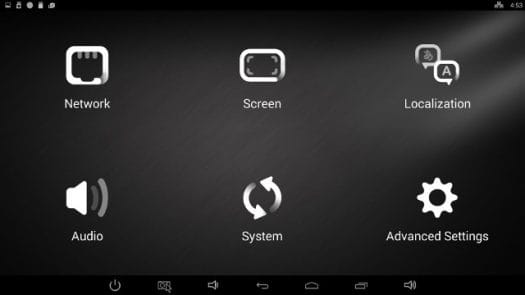 The 8GB SD card is partitioned into two partitions: a 1.91 GB "Internal Storage" partition for apps, and a 4.11GB "NAND Flash" partition for data. If you find the NADN flash is too small, you could always use a 32GB SD card instead of the 8GB card provided, and even top that with a 32GB "external" micro SD card.
The "About device" reports the model number as simply "rk3288", with the system running Android 4.4.2 on top of Linux 3.10.0 kernel. The firmware is not rooted by default, but I used E3288 EZ-Root-Tool to do the job easily with a micro SD card.
If you are interested in checking even more details about the user interface and settings, I've shot a walk-through video, also including H.265 4K video playback in SPMC, and the Antutu score.
I could install various apps such as ES File Explorer, Antutu, Beach Buggy Blitz, CPU-Z, etc…, as well as one paid app (Sixaxis Controller). I also downloaded and installed Amazon AppStore without issues.
The power button at the back of the device is an ON/OFF switch, that cuts the power just as if you were to pull out the power cord, and I've not found a way to power off the device cleanly. All you can do is to enter standby mode with the remote control, or the power button in the status bar. Pressing the power button again reactivates the box. Mele F10 Deluxe can only enter standby, but not activate the device again. Cloud Media boasted Chameleon's thermal design in their marketing materials, and for good reasons. After Antutu benchmark, I measured 35 and 34 °C on top and bottom of the enclosure using an IR thermometer, and after 20 minutes of play with Riptide GP2, the temperature went up to 40 and 38 °C. Compare that to a box like Orion R28 Meta which can reach temperature up to 67°C, and it's not the worst offender. The temperature is also uniform on the top of the metallic enclosure, whereas others have hot zones.
If you worried that the SD card may negatively affect the performance of the device, you don't have too worry, as I only noticed slowdowns once or twice while installing apps, with the most obviously downside being the slow boot time (1m 20s). Otherwise, Open Hour Chameleon performance feels just as fast and smooth as other Rockchip RK3288 with fast graphics, but contrary to other devices it stays cool (40 C or less) under all loads. Firmware is also stable, and I only hung once, when I tried to record a video message in Skype.
Video Playback
XBMC / Kodi / SPMC is not pre-installed in the firmware, but the company recommended me to install SPMC 13.3.4 apk apparently modified and optimized by RockChip and the SPMC team. I'm not sure how much different it is from SPMC found on Google Play or on SPMC website. Nevertheless, I downloaded and installed SPMC from that link into the box.
I connected to my SAMBA shares in Ubuntu 14.04, and started my usual list of videos, adding some 3D videos to the mix.
Videos samples from samplemedia.linaro.org, plus some H.265/HEVC videos, and a low resolution VP9 video:
H.264 codec / MP4 container (Big Buck Bunny) – 480p/720p/1080p – OK
MPEG2 codec / MPG container – 480p/720p/1080p – It's playing sort of OK, but it could be more smooth (Playing at ~22 fps instead of 25 fps)
MPEG4 codec, AVI container – 480p/720p/1080p– OK
VC1 codec (WMV) – 480p/720p/1080p – OK
WebM / VP8 – 480p/720p/1080p – OK
RealMedia – RV8/RV9/RV10 – OK
H.265 codec / MPEG TS container – 360p/720p/1080p – OK
Some higher bitrate videos all played fine in SPMC:
ED_HD.avi

– OK, no problem even in fast moving scenes
big_buck_bunny_1080p_surround.avi (1080p H.264 – 12 Mbps) – OK
h264_1080p_hp_4.1_40mbps_birds.mkv (40 Mbps) – OK
hddvd_demo_17.5Mbps_1080p_VC1.mkv (17.5Mbps) – OK
Jellyfish-120

-Mbps.mkv

(120 Mbps video without audio) – OK (That's over Gigabit Ethernet)
High definition audio codec (downmixed to PCM output):
AC3 – OK, but video does not feel that smooth
Dolby Digital Plus 5.1 & 7.1 – OK
TrueHD 5.1 & 7.1 – OK
DTS-MA and DTS-HR – OK
I don't own an AV receiver, but some people found a hack for Dolby & DTS 5.1, and it appears to work, although a user reports noise during pause.
I played Sintel-Bluray.iso without issues, so Blu-ray ISO are supported. 1080i MPEG2 videos (GridHD.mpg & Pastel1080i25HD.mpg) could also play
Even though video playback performance / quality seems to have improved on RK3288, some 4K videos still have problems:
HD.Club-4K-Chimei-inn-60mbps.mp4 – Starting OK, but many frames are dropped near the end.

sintel-2010-4k.mkv – The video is not smooth (Playing at ~24 fps instead of 29.970 fps). Also seeking may introduce artifacts that won't go away, until I sought again.
Beauty_3840x2160_120fps_420_8bit_HEVC_MP4.mp4 (H.265) – OK (but background blinks a bit)
Bosphorus_3840x2160_120fps_420_8bit_HEVC_MP4.mp4 (H.265) – OK
Jockey_3840x2160_120fps_420_8bit_HEVC_TS.ts (H.265) – OK
phfx_4KHD_VP9TestFootage.webm (VP9) – SPMC reports 8 to 10 fps, and all four cores are maxed out at 100% CPU usage. (Software decode)
I've also added some 3D videos to my test. The anaglyph videos play normally, but these are pre-processed video and they are actually just like normal videos. I've also tested two stereoscopic videos (Over and Under) at 1080p and 2160p resolutions, and the system can't really handle them:
bbb_sunflower_1080p_60fps_stereo_abl.mp4 – Plays at 13 fps (instead of 60 fps)
bbb_sunflower_2160p_60fps_stereo_abl.mp4 – Audio only
I've never tried 3D videos before, so I've included a screenshot , but I assume it's displayed the way it should be. I'd also like to add one or two 3D BD iso file to my test, but I haven't found any so far.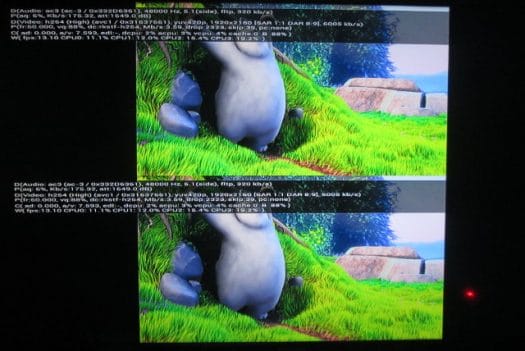 Most of the AVI, MKV, FLV, VOB/IFO, FLV and MP4 videos in my library could play fine, except a few FLV which make SPMC exit, and the system return to the launcher. Finally I played a 2-hour video (1080p / mkv / h.264) to test stability.
So video playback in RK3288 is slowly improving, but some 4K video still have issues, some videos can't play at their native frame rate, and seeking may introduce artifacts in video. Stereoscopic 3D video can't be played at an acceptable frame rate in SPMC, but it's the first yime I test this type of video.
Links to various video samples used in this review and be found in "Where to get video, audio and images samples" post and comments.
Network Performance (Ethernet)
Wi-Fi is not built-in in Open Hour Chameleon, but the company provides a Bluetooth / Wi-Fi USB dongle at extra cost. If was not included with my sample, so I skipped Wi-Fi performance, and only tested Ethernet.
I've transfered a 278 MB file between SAMBA and the SD card and vice versa. The SD card write speed is the bottleneck from SAMBA to SD card, as the file was transfered in one minute (4.63 MB/s), but from SD card to SAMBA, it's clear Gigabit Ethernet is working just fine, as the transfer took just 22 seconds (12.63 MB/s). If I transfer from SAMBA to the USB hard drive (ext-4 partition), the throughput gets much higher at 26 MB/s in both direction with a 885 MB file.
Running "iperf -t 60 -c 192.168.0.104 -d" command line in iPerf app in Android, confirms the Gigabit Ethernet works, and performance is decent, without being outstanding, but at least good enough for any USB 2.0 storage device you may attach to the player.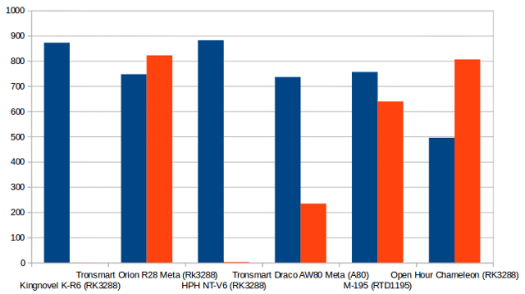 iperf output:

Server

listening

on

TCP

port

5001

TCP

window

size

:

85.3

KByte

(

default

)

--

--

--

--

--

--

--

--

--

--

--

--

--

--

--

--

--

--

--

--

--

--

--

--

--

--

--

--

--

--

[

 

4

]

local

192.168.0.104

port

5001

connected

with

192.168.0.109

port

39823

--

--

--

--

--

--

--

--

--

--

--

--

--

--

--

--

--

--

--

--

--

--

--

--

--

--

--

--

--

--

Client

connecting

to

192.168.0.109

,

TCP

port

5001

TCP

window

size

:

 

230

KByte

(

default

)

--

--

--

--

--

--

--

--

--

--

--

--

--

--

--

--

--

--

--

--

--

--

--

--

--

--

--

--

--

--

[

 

6

]

local

192.168.0.104

port

46062

connected

with

192.168.0.109

port

5001

[

ID

]

Interval

      

Transfer

    

Bandwidth

[

 

6

]

 

0.0

-

60.0

sec

 

3.46

GBytes

  

495

Mbits

/

sec

[

 

4

]

 

0.0

-

60.0

sec

 

5.63

GBytes

  

806

Mbits

/

sec
Miscellaneous Tests
Bluetooth
The device does not come with Bluetooth, but the firmware supports Bluetooth, and the company sells a Wi-Fi / Bluetooth USB dongle for the device. I've tried two of my own USB Bluetooth but neither worked. I did try one of them successfully in ODROID-XU3 Lite in Android a few weeks ago, so in theory Chameleon should support it too if the firmware is updated with the right drivers.
Storage
A micro SD card and USB flash drive formatted with FAT32 could be mounted and accessed.
The box is also one of the few Android media player supporting EXT-4 file systems, the other one being M-195 media player. So FAT32, NTFS, and EXT-4 partitions in my USB 3.0 hard drive were support, and only BTRFS was not supported. However, I had to root the device in order to support writing to EXT-4 with ES File Explorer.
| | | |
| --- | --- | --- |
| File System | Read | Write |
| NTFS | OK | OK |
| EXT-4 | OK | OK after rooting the device only |
| FAT32 | OK | OK |
| BTRFS | Not mounted | Not mounted |
A1 SD Bench was used to test the bootable SD card provided with the player, as well as USB 3.0 NTFS performance. I could not measure EXT-4 performance, as A1 SD could not write to the partition, even after changing permissions for external storage.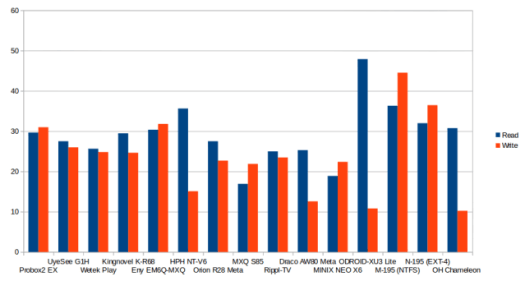 USB NTFS read speed (30.75 MB/s) is good for a USB 2.0 device, but the write speed (10.22 MB/s) is the worst I have measured on a TV box so far, so some firmware optimizations are probably needed here. Albeit I could not test EXT-4 with A1 SD, I could transfer a file from/to EXT-4 at 26 MB/s, which mean the read and write speed to the EXT-4 partition should be over 26 MB/s.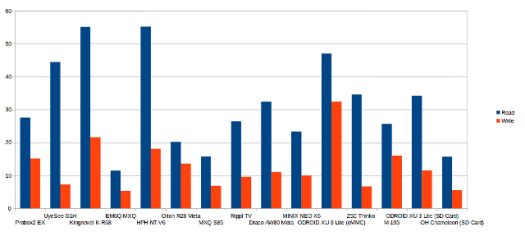 Either Rockchip RK3288 SD interface is slow, or Cloud Media provided a cheap Class 10 SD card, as it delivers one of the weakest internal storage performance on record, and compared to devices with high speed eMMC, Chameleon is in another (lower) league. There's even a large difference compared to ODROID-XU3 Lite with SD card (ADATA Class 10 – 16 GB) just next to OHC on the right of the chart, which doubles the read/write performance. The SD card reads at 15.65 MB/s, and writes at 5.54 MB/s, so I'm surprised I haven't experienced much slowdowns during use, apart from the slow boot time.
Gaming
Candy Crush Saga, and Beach Buggy Blitz played extremely smoothly on this platform, Riptide GP2 had a decent frame rate with high quality graphics. I played Candy Crush with Mele F10 airm ouse, and the two other games with Tronsmart Mars G01 wireless gamepad. I played Riptide GP2 for about twenty minutes (5 races) to test stability and temperature. As mentioned above, the enclosure temperature never exceeded 40 °C.
Open Hour Chameleon Benchmarks
Open Hour Chameleon must be the sixth Rockchip Rk3288 I'm testing, so I only ran Antutu 5.3 and 3DMark Ice Storm Extreme, and with respectively 36,525, and 7,563 points, the results are in-line with the other devices I tested. So no problem here.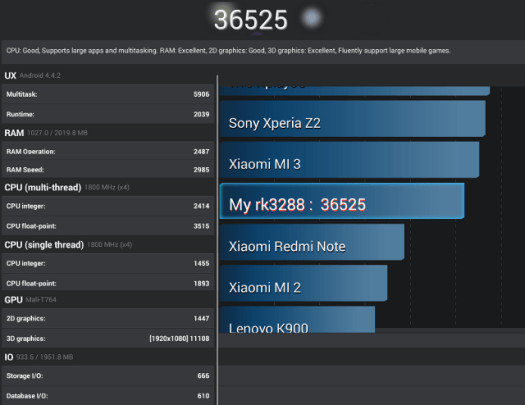 Conclusion
Open Hour Chameleon is a pretty good device, with a stable firmware, properly working Gigabit Ethernet, EXT-4 file system support for external devices, relatively decent video playback capabilities in SPMC (fork of XBMC), at least compared to earlier Rockchip RK3288, but that may mostly due to improvement in Kodi/SPMC itself rather than specific work from Cloud Media. Performance is very good despite the somewhat slow (Class 10) SD card provided with the device, and leading to a 80 seconds boot time. I also found the user interface a little awkward and frustrating to use, but maybe it's just matter of getting use to it, and it should be easy to install your own launcher.
PRO:
Fast processor and excellent 3D graphics performance
Stable and fast firmware.
Gigabit Ethernet is working fine.
Video Output – 1080p support 24, 25 ,30 , 50 and 60 Hz output. 4K should also be supported (not tested).
NTFS, FAT32, and EXT-4 file systems supports (EXT-4 write requires root access)
Enclosure always cool (40 C max) due to thermal design
Support for OTA update (tested)
Video playback in XBMC (SPMC) improved compared to earlier RK3288 firmware
Skype is working OK (except video message recording)
SD card boot with support for Android and Lubuntu from the company. (Lubuntu not tested yet).
Support forums and Wiki
CONS:
Video playback issues – Some 4K video have problem, 3D stereoscopic videos not supported, some videos can't play at their native frame rate, seeking in video may generate artifacts.
Lack of automatic refresh rate switching
No clean power off available, only standby.
No built Wi-Fi and Bluetooth, and my two USB Bluetooth dongles did not work with the box. So you may need to purchase the company's Wi-Fi/BT USB dongle to get these features.
Google Hangouts does not work.
Slow NTFS write speed to USB hard drive
Slow boot time with provided SD card
Price is higher than other devices with equivalent specs, probably mostly due to the aluminum enclosure, and (hopefully) commitment to firmware updates.
Open Hour Chameleon is available for
$149 on Cloud Media Store
. They always mention the shipping schedule, but the product is currently mass-produced, so it's not a pre-sale. The media player is also available on
Ebay
, and
Amazon US
, as well as
Amazon DE for 159 Euros
. If you need working Wi-Fi & Bluetooth, you can also purchase the supported
Wi-Fi/Bluetooth module for $21.90
.

Jean-Luc started CNX Software in 2010 as a part-time endeavor, before quitting his job as a software engineering manager, and starting to write daily news, and reviews full time later in 2011.