When I first started to review Rockchip RK3288 based TV boxes I noticed several had critical issues with Ethernet including Nagrace HPH NT-V6 and Kingnovel K-R6. The main cons of the Nagrace media player included:
XBMC has too many issues: VC1 not supported, H.265 support only partial, audio/video sync issue, some MPEG-2 and XVID videos are skipping frames, some of the 4K videos I used could play properly, etc…
Some MPEG-2 file won't play smooth in either XBMC or MX Player
Potential Ethernet issues, confirmed with my Gigabit switch (D-Link DSG-1005A) and 10/100Mbps D-Link router (configured as a switch).
Since then SPMC and Kodi must have improved video playback issues, but as late as last month I still got feedback from one person (Mr. B.) complaining about Ethernet on HPH NT-V6, but he finally got an email with a new firmware that is said to fix the Ethernet issues and more:
Below is the new firmware you can download and update the device.

https://mega.co.nz/#!NtxSQbTD!ke8fGZEFJAtoNtYpsx9qu8QlvvOeczIqrYsj5ddrfEg

1. Add Lehome assistant, use your mobile phone control the box, download the apk by setting/lehome

Android OS support both wifi and Bluetooth in english version and Chinese version
IOs support Chinese version only currently, english version will coming soon

2. Update the voice problem caused by media library. update the media library.

Here is how to update. Below information for updating a box with new firmware for your ref.

Find the folder: androidtool_Release_v**
enter "config" to chose select=2 (english version)
back and open AndroidTool (the same folder with config)
Connect USB with box and computer, use a small hard tool push the recover, connect Charger at the same time, then you will find the "Found one LOADER device",then "LowerFOrmat",Then "Run" then finished

You can try the TF card/U disk upgrade as well, method as below,

After you download the firmware, and decompressing the file
find the" V1.4.4 "file and open it and find the file "

full_package.zip

" and rename it to "

update.zip

" and then copy the file which you renamed to TF card/U disk to upgrade
So I downloaded that firmware, which was a breeze since the file is hosted on mega, extracted it, and found the "full_package.zip" files as advertised in OTA_TRN6A_HPH-FO-N6_RK3288_4.4.2_EN_US_FT0_V1.4.4_150129/V1.4.4 directory, and copied it to a micro SD card formatted with FAT
32, renamed the file to "update.zip", and inserted it in to the device, and after a few seconds I got a pop-up windows asking me if I wanted to upgrade the firmware.



I clicked on Install, then the system checked the firmware, rebooted, and installed it successfully. The firmware in my device was still v1.1.9, and there was no problem updating to the latest v1.4.4 version, so you can probably give a pass to the annoying AndroidTool Windows utility. You can also check the full changelog for the firmware since November 2014. The Ethernet problem was fixed on the 16th of January:
2015-01-16 3d05ed8 Kernel->gmac:改大rx_delay改善部分机器网口速度慢的问题
translating into
2015-01-16 3d05ed8 Kernel-> gmac: change large parts of the machine rx_delay improve the problem of slow network port
So if you still have Ethernet serious issues with another Rockchip RK3288 box, it may pay to find a newer firmware. I've doubled checked the fix, with iperf app, and the command line: iperf -t 60 -c 192.168.0.104 -d, and sure enough the improvement is there, and Ethernet is now usable in full-duplex, as you can see the difference for the red bar between firmware 1.1.9 and 1.4.4.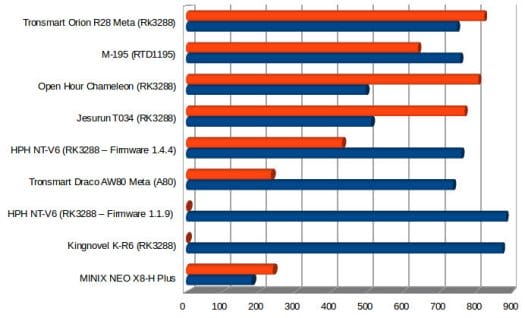 I've also quickly checked LeHome smartphone app, which you could download via a QR Code in the Android settings, or this link. After you install the apk (LeHomeRemoteControlClient_v1.5.apk), and run it, the app should look for a device. In my case it detected "T-Chip Tchip-DMR 001", which I selected.

Then you'll have access to various input devices like "Direction Key", a keypad, a touchpad, and"Gestures", as well as Miracast / EZCast like features for media.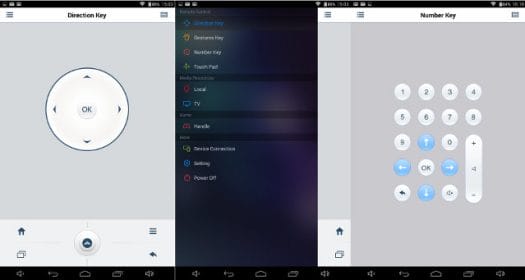 There's also a gamepad mode which can be useful for games.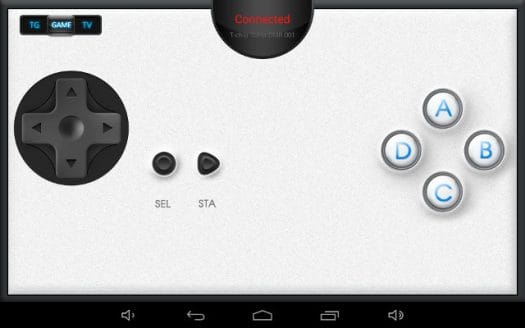 I have not tried the gamepad, but the touchpad, keypad, and Android keyboard input all work fairly well, albeit you may have to switch between input methods a bit too often.

Jean-Luc started CNX Software in 2010 as a part-time endeavor, before quitting his job as a software engineering manager, and starting to write daily news, and reviews full time later in 2011.