Last week-end, I finally received TP-Link TL-WDR7500 router (Chinese variant of Arched C7) router, so I could complete my review of Nagrace HPH NT-V6 including 802.11ac Wi-Fi. I've already listed the specifications, and taken a few pictures of the device and the board, and today I'll focus on the test results. I'll start by giving my first impressions, going through the user interface and settings, before testing video playback, as well as benchmarking networking, storage and overall system performance, playing some games, and testing most hardware features of this mini PC.
First Boot, Settings and First Impressions
A simple infrared remote control is provided with the device, and I've quickly tried it by inserting two AAA batteries, and it works fine, but for the rest of testing I switched to Mele F10 Deluxe air mouse to control the device, as it's much more user friendly than any IR remote. Before booting up the device, I've connected an HDMI cable, a USB hard drive, an Ethernet cable, a USB webcam, and a USB hub with RF dongles for my air mouse and gamepad, and USB flash drive. Finally connect the power supply to boot the device in about 20 seconds.
The company has made their user interface, but in a similar style than the one common found in Amlogic S802 devices. On the top right, you've network status (Wi-Fi, Ethernet, and Bluetooth). The status bar won't show in the main menu, but in some other apps and settings, you'll be able to access it. A large section with 9 folders can be found on the left with Movie (Videoplayer), XBMC (yes a folder too containing XBMC, so you have to click twice), Music, Game, Browser, Stream (Youtube and Netflix), Screencast, Social and Market. On the right, you've got the time, and weather (that does not work), and four more icons: "My Device" (Actually a file manager), "All Apps", "Settings", and "All Tasks Killer". The user interface resolution is set to 1920×1080.
The Android settings are very similar to other RK3288 TV box. The Wireless and Networks menu comes with Wi-Fi, Bluetooth, Ethernet, and Data Usage sections, as well as a "More" section with VPN, Portable Hotspot, etc… Display settings let you set the font size, adjust the screen size, select between HDMI, YPbPr (Component), and "TV" (Composite) video outputs, and the resolution: "auto", 1080p 24/25/30/50/60Hz, 720p 50/60, 720×576 or 720×480. I don't own a 4K UHD TV, but if I did, there should also be some 4K options. You can choose between "Default Output" (PCM), "Spdif Passthough", and "HDMI Bitstream" (HDMI pass-through) in the Sound settings. HDMI video output is working, but composite and component (YPbPr) video outputs failed to work. An AV cable was not included, so I used some other cables, and I could only see a black screen. Audio (L/R) works fine.
What about HDMI In? I've connected Orino R28 meta to the HDMI input port of the NT-V6, clicked on HDMI IN app, and I could see R28 user interface, but apart from that I could not do much. Things like Android notifications of the "host" won't show up, as as it stands the HDMI In function is just like a cheap HDMI switcher. To go back to main user interface, simply press the back key on the remote.
The version of HPH NT-V6 I got comes with a 32GB eMMC, other options includes 8, 16 or 64 GB, which is partitioned into a 1.91GB "Internal Storage" partition for apps, and a 25.99 GB "NAND FLASH" partition for data. After I installed all applications I needed for this review, I was left with 568 MB available. It would have been preferable to design the system with a single flash partition, or make the "Internal Storage" a bit bigger. Nevertheless with 26 GB for data, there's plenty of data, even to download and place movies directly from eMMC flash.
The "About device" section only lists the model number (HPH-F0-N6) and the Android version (4.4.2). It's running on top of Linux kernel 3.10.0, but it's not indicated in this section. The firmware is not rooted, and NT-V6 is another device with a USB A receptacle, instead of a micro USB port, and I could not root it via the OTG port since I don't have a proper cable. There's a System Update app for OTA firmware upgrades, and the firmware version is currently 1.1.9 in my device. I'm not 100% sure it works, because I have not received a firmware upgrade yet.
In the video below, I boot the device, and go though the user interface, and system settings.
Google Play Store mostly works. I could install most apps, install a paid app, such as ES File Explorer, MX Player, Antutu, Beach Buggy Blitz, CPU-Z, etc… Vidonn activity tracker app was reported as "incompatible with your device". I discover an easy way to quickly scan through compatible apps that you've installed in other devices previously with the same account. Go to My Apps->All in the Play Store, and you can scroll down to see which apps are already installed, or incompatible. You can also select multiple apps, and click Install for bulk installation. Since I got Riptide GP2 as a "free app of the day", I installed Amazon AppStore to install the game.
Power control work as it should. A short press on the remote will put the device in standby mode, and you start it again but pressing the remote button again. A long press on the power button will pop-up the Android menu with Power Off/Airplane Mode/Silent Mode, in order to achieve true power off. A press on the box button will have the same effect. When the device is powered off, you can press the remote power button, or the power button on the media player, although I've found the latter does not always work… It takes 3 to 4 second for power LED to run blue after pressing the power button, so it's a bit confusing at times. and you need to wait 4 seconds to make sure you've really powered the device on. Both the included remote control and Mele F10 Deluxe could power on/off NT-V6. As with other RK3288 devices, the case may become hot. After Antutu benchmark, the maximum temperatures measured with an infrared thermometer on the top and bottom of the box were respectively 58°C and 64°C, and 58°C and 66°C after playing Riptide GP2 for over 20 minutes.
HPH NT-V6 mini PC is very stable, and I never had a reboot and hang up during my 6-8 hours testing. Boot time (20s) and XBMC load time (2s) are very similar to Kingnovel R6 as both integrate a fast eMMC flash.
Video Playback
Video playback results are the same as Kingnovel R6 (previously known as K-R68), so I invite you to visit R6 review for video testing. To summarize, a version of XMBC 13 alpha12 is pre-installed, and suffers from not-so-smooth MPEG2 playback (in some files), lack of support for VC1, some 4K videos are not smooth at all, as well as audio/sync issues.
What's different however is that I could play some HEVC/H.265 videos in XBMC:
H.265 codec / MPEG TS container (Elecard 360p / 720p / 1080p) – Audio only
Beauty_3840x2160_120fps_420_8bit_HEVC_MP4.mp4 – OK
Bosphorus_3840x2160_120fps_420_8bit_HEVC_MP4.mp4 – OK
Jockey_3840x2160_120fps_420_8bit_HEVC_TS.ts – Won't start to play
I've also test some VP9 videos. They can't be played in XBMC, but can in MX Player:
out9.webm (low resolution) – OK. H/W decode according to MX Player.
phfx_4KHD_VP9TestFootage.webm (3840×2160) – Maybe 1 or 2 frames per second, still with H/W decode according to MX Player, but internally it's certainly using S/W decode.
I also played a complete FullHD video (1h50) with XBMC to test stability. I had the same slow XBMC exit as with other boxes, which does not happen all the time, and apparently only during scanning or other background tasks.
Links to various video samples used in this review and be found in "Where to get video, audio and images samples" post and comments.
Network Performance (Wi-Fi and Ethernet)
To evaluate network performance, I transfer a 278 MB file between a SAMBA share and the internal flash, and vice versa, using ES File Explorer, and repeating the test three times. I now have two routers, but I'll keep testing 2.4GHz Wi-Fi with my old TP-Link TL-WR940N router, and test 5GHz Wi-Fi with TP-Link TL-WDR7500 (Archer C7) which also support 802.11ac. I already tested NT-V6 in TL-WDR7500 review, and found the connected with NT-V6 to be unstable, and not that fast. That was on Sunday… But on Monday I tested it again, and the performance and stability was much better. I have no idea why. The only differences are: it was raining on Monday, and I was the only one using Wi-Fi, whereas on week-ends, TL-WR940N may get 4 to 5 connected clients. So it went from 1.92 MB/s to 3.91 MB/s average speed with 802.11n, and 3.02MB/s to 4.85 MB/s with 802.11ac, the best performance I ever got with Wi-Fi.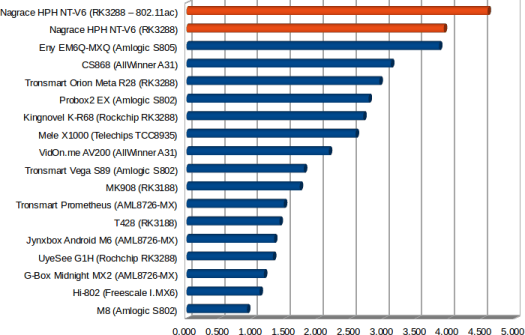 The top line is with 802.11ac, and the second line with 802.11n @ 2.4GHz. But as I said this chart may overestimate the actual Wi-Fi capabilities of NT-V6, and performance seem irregular… Using "sunday" results, 802.11ac would have been in third position in the chart, and 802.11n between Vega S89 and VidOn.me AV200.
And now Ethernet…. I had rather disappointing performance with Fast Ethernet, and still more problems with Gigabit Ethernet… I should really buy another Gigabit switch to make sure that's not the root cause.

I could actually get a Gigabit Ethernet connection, but I got a transfer rate of 250 KB/s from network to flash, and 1.8MB/s from flash to network…
In order to get a "pure" network test, I also used iPerf app and iperf in my Ubuntu PC, using "iperf -t 60 -c 192.168.0.104 -d" command line in Android. It clearly show some issues with both Fast and Gigabit Ethernet, and whereas one direction has good performance, the other is problematic (100Mbps first, then Gigabit):

Client

connecting

to

192.168.0.108

,

TCP

port

5001

TCP

window

size

:

85.0

KByte

(

default

)

--

--

--

--

--

--

--

--

--

--

--

--

--

--

--

--

--

--

--

--

--

--

--

--

--

--

--

--

--

--

[

 

6

]

local

192.168.0.104

port

35429

connected

with

192.168.0.108

port

5001

[

ID

]

Interval

      

Transfer

    

Bandwidth

[

 

4

]

 

0.0

-

60.1

sec

  

672

MBytes

 

93.8

Mbits

/

sec

[

 

6

]

 

0.0

-

60.1

sec

 

81.0

MBytes

 

11.3

Mbits

/

sec
Client

connecting

to

192.168.0.108

,

TCP

port

5001

TCP

window

size

:

85.0

KByte

(

default

)

--

--

--

--

--

--

--

--

--

--

--

--

--

--

--

--

--

--

--

--

--

--

--

--

--

--

--

--

--

--

[

 

6

]

local

192.168.0.104

port

35764

connected

with

192.168.0.108

port

5001

[

 

4

]

 

0.0

-

60.0

sec

 

6.16

GBytes

  

882

Mbits

/

sec

[

 

6

]

 

0.0

-

60.9

sec

 

16.5

MBytes

 

2.27

Mbits

/

sec
Miscellaneous Tests
Bluetooth
File transfer over Bluetooth works fine. I use ThL W200 Android smartphone to send a picture to NT-V6.
I skipped Sixaxis test for PS3 Bluetooth Gamepad support, because the firmware is not rooted, and I'm not sure how to root it without OTG cable.
Vidonn X5 activity tracker was used to test Bluetooth 4.0 LE. I could not install Vidonn app from Google Play (incompatible), so I instead installed vidonn.apk, and successfully connected to my wristband to get the data. Note-to-self: make sure to set the time on the mini PC before making the connection to the wristband, or it will mess with the data…
Storage
The system could detect and mounted a micro SD card and USB flash drive formatted with FAT32.
It seems nobody is interested in having EXT-3/4 working for external storage in Android, and as usual only the NTFS and FAT32 partitions on my USB 3.0 hard drive could be mounted.
| | | |
| --- | --- | --- |
| File System | Read | Write |
| NTFS | OK | OK |
| EXT-4 | Not mounted | Not mounted |
| FAT32 | OK | OK |
| BTRFS | Not mounted | Not mounted |
I benchmarked the eMMC and the NTFS partition on my hard drive with A1 SD Bench. There does not seem to be a standard for mount points in Android, and firmware from various (SoC) vendors, have different mount points. In this firmware, the NTFS partition is located in /mnt/usb_storage/USB_DISK2/USB3_NTFS. The read speed was 35.62MB/s, and the write speed of 15.08MB/s, so NT-V6 gets both the best read speed, and the worst write speed of all devices I tested.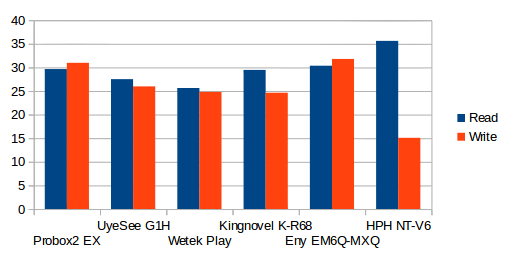 Hopefully, the only solution is some optimization for NTFS writing speed.
The Samsung eMMC found on the board has very good performance, reading at 55 MB/s, and writing at 18 MB/s.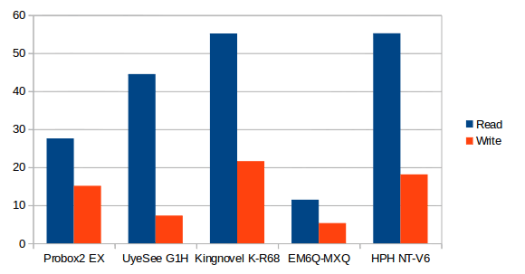 Beside fast loading times, a product with a fast eMMC is much less likely to experience slowdowns.
USB Webcam
I could test audio successfully with the Echo service in Skype, but unfortunately although my webcam appeared to be detected in both Skype and Google Hangouts, I could only see a black screen during video calls.
Gaming
Candy Crush Saga, Beach Buggy Blitz, and Riptide GP2 all worked pretty well. I played Candy Crush Saga with Mele F10 Deluxe, and the two racing games with Tronsmart Mars G01 wireless gamepad. Beach Buggy Blitz is super smooth all the time, even after maxing out graphics settings. Riptide GP2 is very playable as well, but not optimal all the time, but clearly mini PCs based on Rockchip RK3288, and much better than the rest of Chinese Android mini PCs thanks to its Mali T-764 GPU. I played the latter game for over 20 minutes to test stability, and I did not encounter any specific issues. Temperature measurements after game: 58°C (top) and 66°C (bottom).
Nagrace HPH NT-V6 Benchmark
CPU-Z app returns similar data as other TV boxes with Rockchip RK3288 processor being a four Cortex A12r0p1 core processor with a Mali-T764 GPU, except this time, the CPU frequency is between 312 MHz and 1.61 GHz, instead of topping at 1.8GHz for other devices.. I could also check there's indeed 4GB RAM installed with over 2700 MB free.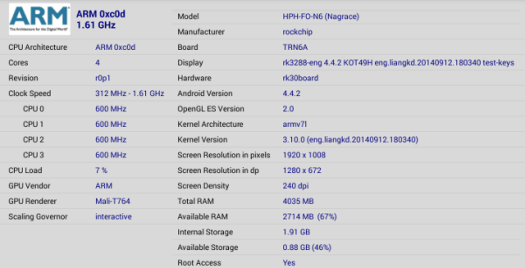 NT-V6 could achieve G1H got 35,321 points in Antutu 5.1, a bit lower than Kingnovel R6 score (37,428), most probably because of the lower CPU frequency.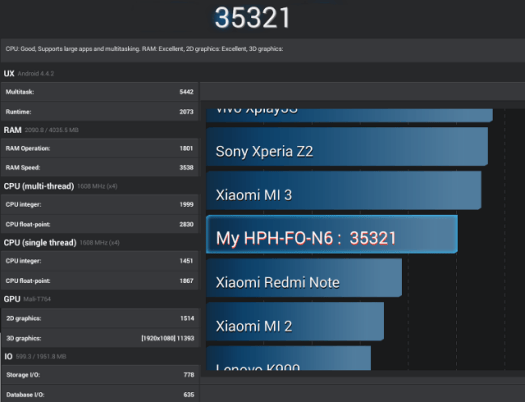 I had not run Vellamo 3.x test in R6 media player, but the scores in NT-V6 are better than the ones for Uyesee G1H.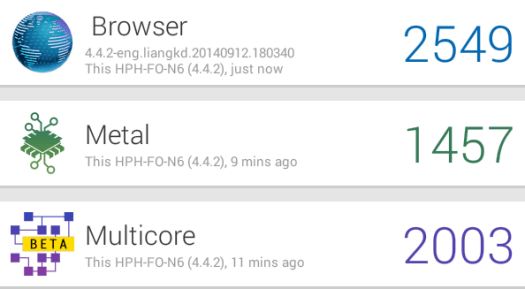 Ice Storm Extreme benchmark score (7,056) in 3DMark is however a bit lower than the two other RK3288 box I tested (7,278 and 7,531).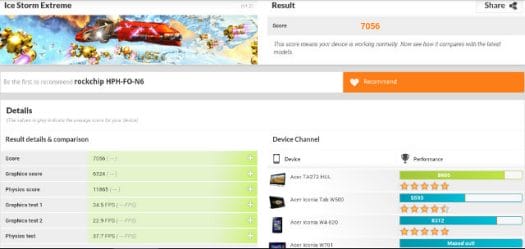 Conclusion
Nagrace HPH NT-V6 is a pretty good hardware with a fast processor, excellent 3D and eMMC storage performance. The firmware is stable, and provides a smooth user experience, without slowdowns. Wi-Fi can be excellent too, but stability may be an issue. As with other Rockchip RK3288 devices I've tested, video playback in XBMC is rather disappointing, but at least there's partial HEVC/H.265 codec support. partial, nbecause only some caontainers appear to be supported.
PRO:
Fast new processor
Excellent 3D graphics performance for games
Stable and fast firmware.
Memory and Storage capacity (4GB / 32GB)
Excellent Wi-Fi performance,

when it works

Fast eMMC, both for reading and writing speeds.
Both 720p and 1080p user interfaces are supported
Video Output – 1080p support 24, 25 ,30 , 50 and 60 Hz output. 4K @ 60Hz should be supported (not tested).
Partial HEVC/H.265 video decoding support in XBMC.
OTA update appear to be support
Proper power off/standby handling.
HDMI In
CONS:
XBMC has too many issues: VC1 not supported, H.265 support only partial, audio/video sync issue, some MPEG-2 and XVID videos are skipping frames, some of the 4K videos I used could play properly, etc…
Some MPEG-2 file won't play smooth in either XBMC or MX Player
Potential Ethernet issues, confirmed with my Gigabit switch (D-Link DSG-1005A) and 10/100Mbps D-Link router (configured as a switch).
Video output – Component and composite do not work atall (black screen)
Webcam not working properly (black screen) in Skype and Hangouts
Relatively slow write speed on NTFS/USB partition.
Wi-Fi may be unstable at times
HDMI In support is quite basic (only as HDMI switcher)
HPH NT-V6 with 4 GB RAM and 32 GB eMMC (as reviewed in this post) purchased for $189 including shipping by DHL or EMS, but there's also a 2GB RAM/16GB eMMC available on Aliexpress for $129 + shipping. I've also been told Ugoos UT3 is based on the same board (TRN6A), but should have a different firmware. It is listed on Chinavasion for $149.99, and DealsPrime for $134.99 (bot 2GB/16GB versions). Resellers and distributors can check out Nagrace NT-V6 product page to order in quantities.

Jean-Luc started CNX Software in 2010 as a part-time endeavor, before quitting his job as a software engineering manager, and starting to write daily news, and reviews full time later in 2011.