Low cost Intel Bay Trail mini PCs such as Pipo X7, MeegoPad T01, MeLE PCG03, etc… almost all share one thing in common: they lack an IR receiver, and for people who'd like to use their box as a dedicated HTPC running Kodi for example, this could be a problem as connecting a keyboard might not the best of solutions. Since I've been asked about this recently, I've decided to dig into the issue to see what options could be available, and I also hope to trigger a discussion in comments to discover other interesting solutions.
RF Air Mouse
I'm using MeLE F10 Deluxe air mouse during my reviews, and such device can be used with HTPC. You just need to connect a tiny USB RF dongle to one of the USB ports of your mini PC, and you'd ready to go with having to configure anything. In Kodi, you would not use the air mouse function, but the remote mode is working well, and you can use the QWERTY side for the rare times when you need to input text.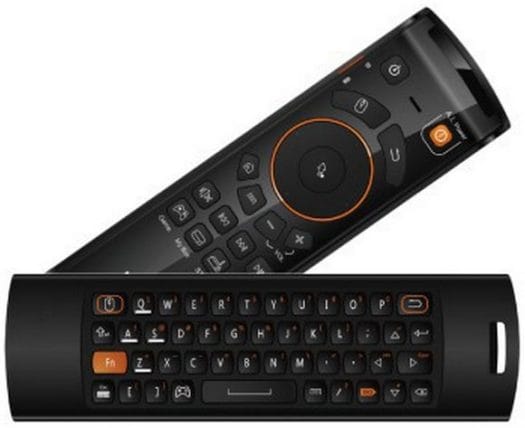 This type of device is compliant with USB HID class, so it should work with all common operating systems. MeLE F10 Deluxe sells for about $30, but you can also find cheaper model like Tronsmart TSM01 that goes for $17. Whatever air mouse you choose, make sure a play/pause button is included, as it's not always a given.
Small form factor RF or Bluetooth Keyboards
If you don't mind something a little bigger, but still smaller than a full-sized keyboard, a wireless Bluetooth or RF keyboard may be an option, such as the popular Logitech K400, which beside a keyboard also includes a multi-touch touchpad.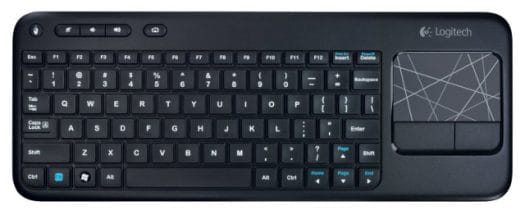 It should also be easy to setup, as you just need to connect the "USB unifying receiver" to your mini PC, and you're good to go. Logitech K400 costs $25 on Amazon US. I also mentioned iPazzport KP-810-35BTT Bluetooth keyboard recently with backlit keys, and a touchpad that can be used as a numpad.
USB IR Remotes
If you don't need something too fancy, and just want to control Kodi with the arrow keys and enter most of the time, you could get a USB IR remote. The cheapest one could be SANOXY Wireless USB PC remote control / mouse that sells for $5 on Amazon US.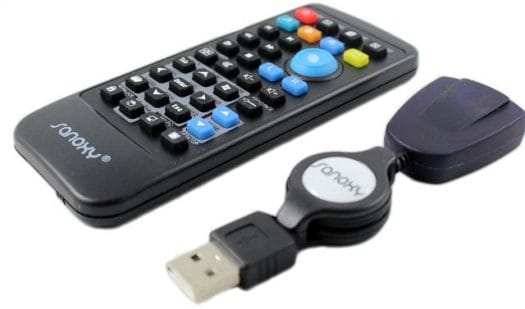 The remote is said to be driverless, so even though the specs says it only works with Windows, it should also work with Linux or other operating systems. You just need to connect the USB IR receiver into a USB port of your mini PC, and it should work. In case of issues, you may have to double check  "Remote control sends keyboard presses" is enabled in "Input Devices" menu. Reviews are mixed on Amazon with some people saying it works great for the price, while others complained it only lasted a few weeks, and the range is 10 feet (3 meters) max.
Use your TV or AV Receiver Remote Control with HDMI CEC
HDMI CEC allows you to control multiple devices over HDMI using a single remote control, and in theory you could use your TV or AV receiver remote control to control Kodi on your mini PC. Unfortunately, HDMI CEC is not usually implemented in computers, but there's a workaround thanks to HDMI USB CEC adapters such as the one provided by Pulse Eight.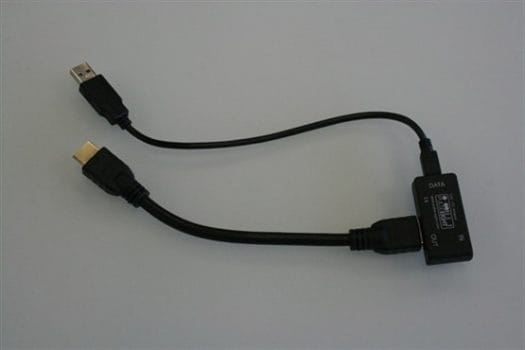 It looks pretty straightforward to use: connect the HDMI out and USB port to your mini PC, and the HDMI IN part to your TV or AV receiver, and it will be automatically detected in Kodi, and you should be good to go.

You can buy on Pulse Eight website directly for $44.60, and it's also available on Amazon US for $49, where you'll find mixed reviews. I've also tried to find Chinese clones / alternatives, but without success.
Remote App with an Android Smartphone
A final way to control your HTPC is to use your smartphone, or if you prefer recycle one of your old smartphone, with a remote control app such as Yatse.
This may not be as easily to use as the other solution above, but it should be much more powerful feature-wise.
That's all I could come up with, so I'm now eagerly waiting for your suggestions, or just let us know what you use.

Jean-Luc started CNX Software in 2010 as a part-time endeavor, before quitting his job as a software engineering manager, and starting to write daily news, and reviews full time later in 2011.